June Special on Greek Products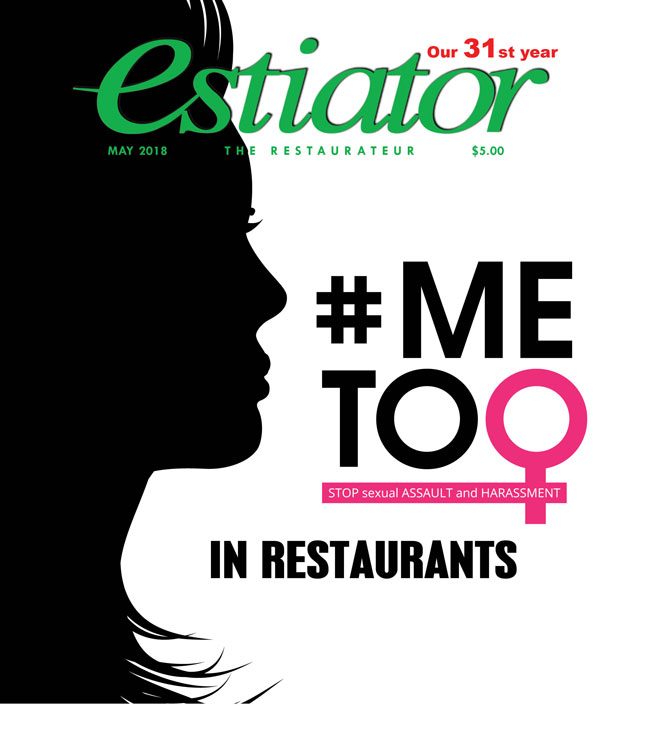 «Εορτασμός» των Ελληνικών Προϊόντων
ΤΟ τεύχος Ιουνίου του Estiator θα είναι αφιερωμένο στα εισαγόμενα ελληνικά φαγώσιμα και κρασιά και στα παραγόμενα εδώ στην Αμερική
Καθώς τα ελληνικής κουζίνας παντός είδους εστιατόρια ανοίγουν με γοργούς ρυθμούς σε μεγάλες και μικρές πόλεις της Αμερικής, το μέλλον των ελληνικών προϊόντων προδιαγράφεται λαμπρό. Ίσως να εξηγείται έτσι και το ευπρόσδεκτο (έστω και όψιμο) ενδιαφέρον των Ελλήνων παραγωγών για την αμερικανική αγορά. Η μεσογειακή διατροφή έχει γίνει «της μόδας», και η λέξη «Greek» βρίσκεται στα μενού όλων των εστιατορίων και στα ράφια όλων των σούπερμαρκετ. 
Εισαγωγείς υπολογίζουν ότι το 70-80% των περισσοτέρων εισαγομένων καταναλίσκονται στα ελληνικά κυρίως εστιατόρια. Η σημερινή κατανάλωση έχει τουλάχιστον τετραπλασιαστεί σε σύγκριση με 10 χρόνια πριν, όπως μας λέγουν εισαγωγείς. Η χώρα μπορεί να λύσει το εξαγωγικό πρόβλημά της αν κράτος, παραγωγοί, εξαγωγείς και εισαγωγείς καταστρώσουν από κοινού ένα πρόγραμμα προβολής και προώθησης των εξαγωγών στην απέραντη Αγορά της Αμερικής. 
Για πολλά χρόνια, αυτές οι στήλες καλούν τους εστιάτορές μας να «αγοράζουν ελληνικά», όχι μόνο για πατριωτικούς λόγους αλλά και διότι τα προϊόντα αυτά είναι πιο γευστικά και τους συμφέρει η κατανάλωσή τους, ακόμη και όταν είναι ακριβότερα. 
Από την Αθήνα δεν υπήρξε καμιά σοβαρή κρατική πρωτοβουλία. Μόνο με προγράμματα της Ευρωζώνης γίνεται κάποια υποτυπώδης προβολή. Ούτε και υπήρξε αναγνώριση, έστω, για την προβολή που κάνει το περιοδικό αυτό και τις πρωτοβουλίες των εδώ εισαγωγέων χωρίς διαφημιστική υποστήριξη από το Κέντρο. Ο σημερινός Εμπορικός αντιπρόσωπος στη Νέα Υόρκη δεν μας τηλεφώνησε ποτέ για θέμα της αρμοδιότητάς του. 
Τα σημειώνουμε αυτά με την ευκαιρία της ειδικής έκδοσης του Estiator που γίνεται ταυτόχρονα με το Fancy Food Show, τον Ιούνιο, με το σύνθημα «εορτάζοντας τα ελληνικά προϊόντα». Το τεύχος αυτό δίνει μια εξαιρετική ευκαιρία στους Έλληνες και στους εδώ παραγωγούς, εισαγωγείς και διανομείς, να δώσουν το «παρών» σ' αυτόν τον «εορτασμό».  
Me too & Sexual Harassment in Restaurants
In this month's Estiator, we explore the issue of sexual harassment in the workplace and how the Me Too movement is impacting the restaurant industry. This is a topic that we could not ignore as data indicates that 90% of women experience "some form" of sexual harassment in the restaurant industry. These numbers and the headlines related to them are often inflammatory. What the data is not showing, however, is that not all sexual harassment is equal.  In fact, the definition of sexual harassment in the workplace is very broad. In other words, there is no distinction in that figure between a manager that grabs a waitress's crotch and a manager that doesn't formally document a co-worker for cracking sexually-suggestive jokes. Indeed, one employee offering an innocent hug to another can be a concern and some employers are afraid to comment on the beauty in a sunset.  In the eyes of the courts, all of this can be considered a form of sexual harassment (if said hug makes another employee feel "uncomfortable"). And in the eyes of the courts, each is subject to litigation. 
Chicago Welcomes New Metropolitan
FOLLOWING the recommendation of Patriarch Bartholomew, the Holy Synod unanimously elected Bishop Nathanael new Metropolitan of Chicago. He was ordained a bishop of the Church with the title Metropolitan of Chicago on March 17 in New York City and he was enthroned on March 24.
"I will do all that I can to open those doors that were once shut and be inclusive of everyone in the work of the Church—especially those who were once ignored or marginalized. I beseech each of you to get involved so that together we can serve as God's left and right hands, thus sharing His hope and love with the world. As I have in my prior ministries, I intend to continue actively working in the community to help those in greatest need, and I will expect the same of our clergy. We must extend the love of God beyond the walls of our churches and into society, particularly to those in greatest need of that love" the new Metropolitan said, speaking at his enthronement.

    
    
Me Too Awareness Raises Questions About the Customer-Server Dynamic
Restaurant Workers Are Increasingly Unaccepting of Inappropriate Behavior
Go into any restaurant and it seems like common, innocent behavior:  Customers semi-flirting with their server or bartender, usually just lightheartedly, with no mal intent.  But there are times when that lighthearted behavior crosses the line, and with a cultural shift underway instigated by the Me Too movement and the national conversation it has initiated, service professionals are beginning to talk openly about the need to reexamine the way that customers and restaurant staff interact.
Where workplace harassment is typically perpetrated on subordinates by their superiors (and the restaurant industry is not without its high-profile examples of this variety), hospitality workers have to also navigate the terrain of customer-on-server harassment; a phenomenon with complex nuances that calls into question many of the industry's orthodoxies.  The topic was the subject of a recent article in the New York Times that explored the dynamic between customers and service staff and how the lure of a generous tip can sometimes cause restaurant workers to tolerate behaviors that would otherwise be unacceptable. 
They Could Change America! / Ίσως αλλάξουν την Αμερική!
The massive student demonstrations that took place in the aftermath of the massacre at a high school in Parkland, Fla,. gave new hope to the possibility of legislation targeting the major problem of gun possession. March 24th will go down in history as the most dynamic national demonstration undertaken by students who are afraid of going to class because any mentally imbalanced person over the age of 18 is free to buy 3-4 assault rifles without any restriction and create a bloodbath in a classroom, public square, nightclub, or house of worship.
The demand put forth by demonstrators and the large majority of the American people calls for strict limitations and background checks on people purchasing guns, as well as increasing the age limit for gun ownership to 21. 
Anti-Semites Now and Forever?
By NIKOS DIMOU
I am tired of seeing Greece appearing last on all the international lists. Looking for a first place, I came upon a very unpleasant one. As supported by the evidence, we are the leaders in anti-Semitism across Europe. According to an ADL Global survey that was conducted in 2014, 69% of Greeks harbor anti-Semitic sentiments. This study was confirmed by another in 2017, which was carried out by Greek and foreign scientists under commission of the Heinrich Böll foundation, across a representative sample of one thousand individuals. Of this sample, 75% feel certain that the Jews exploit the Holocaust for their own benefit, while 71% believe that the Jews "have a great deal of power" either as citizens, as a state, or as entrepreneurs.
Very similar to these findings is the opinion that you will hear from every other taxi driver; namely, that "the Jews rule the world." The surveys did not shed any light on the reason why we are so anti-Semitic. Of course, our archaic Orthodoxy has a tradition of anti-Semitism, which has been condemning the Jews from within the church for years. 
Managing for Success: Closing Time
By CONSTANTINE N. KOLITSAS, Consultant
I had a client that was an absentee owner and was struggling to understand why sales in his restaurant had declined over ten percent year-over-year.  He blamed it on a change of manager (an easy excuse), and, to some extent, that was true.  But the real reason wasn't so much because customers missed the old manager (which was the prevailing theory), but because the old manager (let's call him Evan) honored the restaurant's hours of operations, and in more ways than one.  
In all fairness, the new manager (let's call him "Johnny") didn't necessarily lock the door an hour early.  If the sign said that the restaurant was open until 10PM, he would keep the restaurant open until 10PM (at least at first).  Pressured to control labor, and finding that there was no one to challenge him, he did what many other managers allow themselves to do – start "pre-closing" as soon as the big rush is over.  Now, there are ways to do a pre-close that don't jeopardize your business, and there are ways to pre-close that precipitate a premature closure on a business-sized scale.  Stocking the kitchen and cleaning stations in the kitchen (while still serving from those stations) as soon as the business volume permits is a smart and efficient management of labor and time.  Putting up chairs in the bar isn't.  
Ένας περίπατος στην όμορφη Χαλκιδική
Μια από τις πιο όμορφες περιοχές της Ελλάδας

 

με πάρα πολλά παραδοσιακά προϊόντα
Του ΔΙΟΝΥΣΗ Ε. ΚΟΝΤΑΡΙΝΗ
Κατάφερα κι΄έκανα έναν περίπατο στην ιστορική και πανέμορφη Χαλκιδική. Δύσκολος αλλά πολύ όμορφος περίπατος. Γνώρισα και είδα πολλά. Βουνά, λαγκάδια, κάμπους, ποτάμια, ακρογιαλιές. Γνώρισα και μνημεία πολλά. Είδα μνημεία ιστορικά και πολιτιστικά. Γνώρισα και υπέροχους ανθρώπους. Όμως γνώρισα και τα προϊόντα τους. Και κυριότερα το λάδι τους, τις ελιές τους και το μέλι τους. Ένα προϊόν που αποτελεί κάτι το ξεχωριστό για την περιοχή αλλά και για την Ελλάδα. Ελάτε και πάμε να τα δούμε όλα αυτά.
«Σαν την Χαλκιδική δεν έχει" λένε περήφανοι για την περιοχή τους οι κάτοικοί της. Και δεν έχουν άδικο.
Ζηλευτή η περιοχή κουβαλάει στην αγκαλιά της έναν μεγάλο πλούτο από ιστορία και πολιτισμό. Κουβαλάει θρύλους αλλά και πάρα πολλά υπέροχα παραδοσιακά προϊόντα. Mε μια πρώτη ματιά στον χάρτη θαυμάζει κανείς τα τρία καλλίγραμμα "πόδια" της Χαλκιδικής, όπως τα ονομάζουν οι κάτοικοί της. Τις τρεις χερσονήσους. Την Κασσάνδρα, την Σιθωνία και τον Άθω, το άκρο δεξιό "πόδι" όπου πάνω του
Pulitzer 2018: Ύψιστη τιμή σε εφημερίδες
Η ύψιστη τιμητική διάκριση του διεθνώς γνωστού, περίφημου βραβείου Πούλιτζερ για την δημοσιογραφία που απονέμει κάθε χρόνο το Πανεπιστήμιο Κολούμπια, επεδόθη τον περασμένο μήνα σε δημοσιογράφους των εφημερίδων New York Times και Washington Post.
Η βράβευση αφορά την δημοσίευση πληροφοριών και την αρθρογραφία των δύο εφημερίδων που σχετίζονται με τους πιθανούς δεσμούς της προεκλογικής εκστρατείας του Προέδρου Τραμπ με τους Ρώσους. 
Οι δημοσιευθείσες πληροφορίες αναφερόταν στις επαφές συμβούλων και συνεργατών του Προέδρου Τραμπ με Ρώσους που είχαν σαν αποτέλεσμα την παραπομπή σε δίκη τεσσάρων από αυτούς. Οι τρεις παραδέχτηκαν την ενοχή τους και συνεργάζονται με τον ανακριτή, ενώ διεξάγονται ανακρίσεις και για τον στενότερο σύμβουλο, γαμπρό του προέδρου, Jared Kushner, τον προσωπικό δικηγόρο του Mike Cohen και τις μυνήσεις για σεξουαλικές σχέσεις του προέδρου με μια σταρ πορνοταινιών και από ένα πρώην «λαγουδάκι» του Playboy.