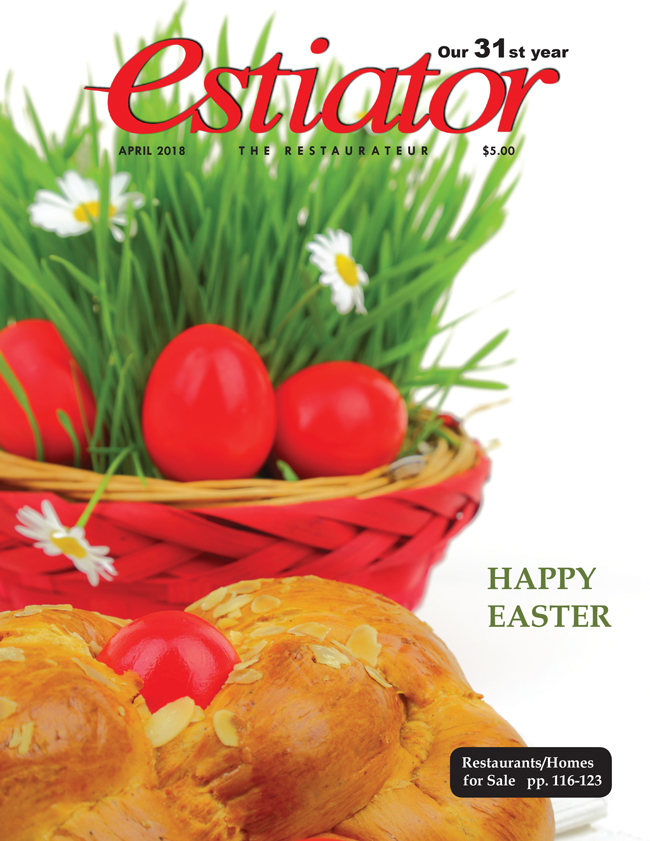 «Εορτασμός» των Ελληνικών Προϊόντων
ΟΠΩΣ αναγγέλλουμε στη σελ. 3, το τεύχος Ιουνίου του Estiator θα είναι αφιερωμένο στα εισαγόμενα ελληνικά φαγώσιμα και κρασιά και στα παραγόμενα εδώ στην Αμερική
Καθώς τα ελληνικής κουζίνας παντός είδους εστιατόρια ανοίγουν με γοργούς ρυθμούς σε μεγάλες και μικρές πόλεις της Αμερικής, το μέλλον των ελληνικών προϊόντων προδιαγράφεται λαμπρό. Ίσως να εξηγείται έτσι και το ευπρόσδεκτο (έστω και όψιμο) ενδιαφέρον των Ελλήνων παραγωγών για την αμερικανική αγορά. Η μεσογειακή διατροφή έχει γίνει «της μόδας», και η λέξη «Greek» βρίσκεται στα μενού όλων των εστιατορίων και στα ράφια όλων των σούπερμαρκετ. 
Εισαγωγείς υπολογίζουν ότι το 70-80% των περισσοτέρων εισαγομένων καταναλίσκονται στα ελληνικά κυρίως εστιατόρια. Η σημερινή κατανάλωση έχει τουλάχιστον τετραπλασιαστεί σε σύγκριση με 10 χρόνια πριν, όπως μας λέγουν εισαγωγείς. Η χώρα μπορεί να λύσει το εξαγωγικό πρόβλημά της αν κράτος, παραγωγοί, εξαγωγείς και εισαγωγείς καταστρώσουν από κοινού ένα πρόγραμμα προβολής και προώθησης των εξαγωγών στην απέραντη Αγορά της Αμερικής. 
Για πολλά χρόνια, αυτές οι στήλες καλούν τους εστιάτορές μας να «αγοράζουν ελληνικά», όχι μόνο για πατριωτικούς λόγους αλλά και διότι τα προϊόντα αυτά είναι πιο γευστικά και τους συμφέρει η κατανάλωσή τους, ακόμη και όταν είναι ακριβότερα. 
Από την Αθήνα δεν υπήρξε καμιά σοβαρή κρατική πρωτοβουλία. Μόνο με προγράμματα της Ευρωζώνης γίνεται κάποια υποτυπώδης προβολή. Ούτε και υπήρξε αναγνώριση, έστω, για την προβολή που κάνει το περιοδικό αυτό και τις πρωτοβουλίες των εδώ εισαγωγέων χωρίς διαφημιστική υποστήριξη από το Κέντρο. Ο σημερινός Εμπορικός αντιπρόσωπος στη Νέα Υόρκη δεν μας τηλεφώνησε ποτέ για θέμα της αρμοδιότητάς του. 
Τα σημειώνουμε αυτά με την ευκαιρία της ειδικής έκδοσης του Estiator που γίνεται ταυτόχρονα με το Fancy Food Show, τον Ιούνιο, με το σύνθημα «εορτάζοντας τα ελληνικά προϊόντα». Το τεύχος αυτό δίνει μια εξαιρετική ευκαιρία στους Έλληνες και στους εδώ παραγωγούς, εισαγωγείς και διανομείς, να δώσουν το «παρών» σ' αυτόν τον «εορτασμό».  
Greek Easter Recipes
CRISPY GREEK LAMB MEATBALLS RECIPE
(about 40 meatballs)  
INGREDIENTS:
1 kg ground lamb (35 oz.).
1 large red onion, grated
2 cloves of garlic, minced
1 tsp dried oregano
2 tbsp fresh mint, chopped
1/2 tsp ground cumin
1/2 tsp ground coriander
1/2 a cup breadcrumbs
1 egg
1 tbsp olive oil
1 tbsp finely grated Greek kefalotyri cheese or good-quality pecorino or Parmigiano-Reggiano (optional)
salt and freshly ground pepper
flour for dredging
oil for frying
DIRECTIONS:
To prepare this traditional Greek lamb meatballs recipe (arnisioi keftedes), add all the ingredients into a large bowl and mix, squeezing with your hands, to allow the flavours to blend. Cover the bowl with some plastic wrap and let it rest in the fridge for at least 15 minutes.
Exceed Customer Expectations
WHEN we visit a restaurant, regardless of the type of restaurant such as fast food, mid-scale or upscale establishment, the expectations are the same. Most of us want to enjoy a good meal in a clean environment with good service; when this happens, we say that our experience was positive, and if given the opportunity we may tell others about our positive experience. Most restaurants attempt to offer a positive experience to their guests. Now imagine a restaurant with a goal not just to offer a positive experience, but to really impress the customer so much that the customer becomes eager to tell others about it. This can only happen when your restaurant has the processes in place, along with trained employees, to cause your customers to feel that their expectations were not only met, but were exceeded. Incidentally, extraordinary things are judged to be so by the customer based on their perception.  So, let's see what you can do to make the customers feel that you always go the "extra mile" for them and thus they become eager to speak to others about it.
Always collect feedback from customers and understand what they like and what they dislike.
Ensure that you incorporate valid feedback into your processes.
Have a process manual that identifies possible customer complaints and ways to address them. If a customer brings up a new problem that is not in your process manual, always involve management to deal with it; upon resolution, ensure manual is updated.
Always keep ALL employees trained. Make sure that you maintain appropriate records so you may assess training requirements.
Ensure that you receive employee feedback; evaluate such feedback and act accordingly, as happy employees make happy customers.
Always treat customers as unique individuals. People react differently in similar circumstances. Employees must be equipped to handle any situation with excellent interpersonal skills to handle any case.
When mistakes occur, never attempt to cover up for it; simply offer a sincere apology. You may go even further by offering a free dessert or drink or by picking up the check.

    
    
Symposiums in ancient Greece
By CHRISTOPHER XENOPOULOS JANUS
AS we know from Plato and other writers, ancient Greeks much loved to have drinking parties or symposiums - and most any excuse could be used to party: a birth, marriage, or death, the arrival or departure of a loved one from abroad, a feast day or merely a change in the seasons. Actually in most cases, however, no purpose was required. The ancient Greeks loved to party. The drinking party or symposium was not however the ancient equivalent to a few guys getting together to pass the breeze and down a few drinks. On the contrary, it was a highly ritualized institution with its own precise and time-hallowed rules. Plutarch described the drinking party as "a passing of time over wine, which guided by gracious behavior, ends in friendship."
It was customary for the host to inscribe the names of his guests on a wax tablet, together with the day and hour appointed for the symposium and then hand the tablet to a slave who would make the rounds of the guest's houses. The usual hour for convening was the ninth. Generally, the ideal number of guest was nine, including the host. In Athens in the fourth century B.C., however, the symposia grew so large that it became necessary to appoint a commission to insure that the number of guests did not exceed the legal limit. Since wives and daughters were not permitted to attend the symposia, the only females present were hired companions known as hetairai.
Managing for Success
Advocate for the Business

Here are a few restaurant philosophy maxims for you that can help to structure your behaviors and decisions in the workplace: When it comes to anything having to do with the guest, ALWAYS advocate for the guest. When it comes to dealing with staff, ALWAYS advocate for the business.
Sounds cruel, right? All of the best business books and all of the esteemed business gurus will tell you that your success depends on your people, and that people are your greatest resource. All of that is absolutely true. But at the same time, putting the interests of your individual employees ahead of the greater interests will always yield poor results, and very frequently will destroy your business. So, are we looking for "the enemy within"? No, not at all. We're establishing a culture in which your employees are all focused on doing what's best for the business at all times, and understanding that when this occurs, all employees stand to benefit along with the business.
In my travels with clients and with business associates I see it over and over again: Independent restaurateurs who have a patriarchal relationship with many of their staff. They invite their closest staff members to their homes and to their life's celebrations; they exchange gifts; they all hug one another—it's a big lovefest. All well and good, but along with all of that love come habits and not all of them so well and good (I hate to call them policies because they are not codified, although these habits do become de facto policies by nature of repeat occurrences). For example: you don't give a hard time to someone when they are habitually late; or you allow staff members to switch shifts without getting prior approval; or you allow a server to have a particular section because he or she is having a financial crisis and needs to be in a section that will generate the most revenue. You may not see it, but what is happening is you are allowing your staff to take advantage of you, and frequently to the detriment of the business. To address those very examples: others staff members will come to regard their start time as a "range" and your shift transitions will be a mess; your schedule will become something that only reflects the hours that your staff wants to work, eliminating the strategic components that enable you to balance strong and weaker team members and keep overtime to a minimum; and your other servers will become unhappy because, after all, they're not there to watch other people make money—they have their own financial burdens and it's not fair to have their piece of the pie trimmed because someone else is having problems.