Posted by estiator at 23 April, at 14 : 08 PM Print
The Fourth Generation At The Helm
AN INTERVIEW WITH CEO AND PRESIDENT
Stefanie Kasselakis-Kyles
Prior to joining Vassilaros Coffee, Stefanie enjoyed a successful Wall Street career in corporate law and investment banking. Trading in her corner office for the family business, she recently took the helm of the century old company which roasts millions of pounds of coffee a year in a 25,000 square foot facility in Queens. Between riding along on the company's delivery trucks, Stefanie shares with us her experience and what lessons can be learned from a business founded nearly 100 years ago.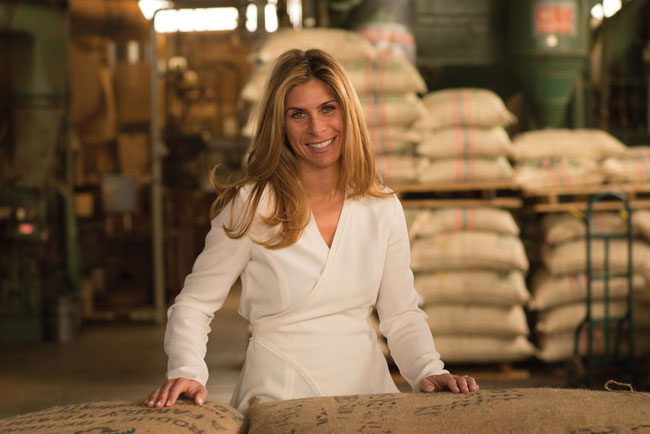 CEO & President, Stefanie Kasselakis Kyles at the warehouse.
Vassilaros Coffee is nearly 100 years old; tell us about the founder, your great grandfather, John A. Vassilaros and the secret to his success.
My great grandfather, John Vassilaros came to America from Ikaria in the early 1900's. Like many of his countrymen, he came with almost nothing in his pockets. He started out working as a waiter, holding down two jobs and taught himself English at night. To gain financial independence, he and his wife, Sofia, roasted and packed coffee in their kitchen and delivered it on foot to their first costumers. As his business grew, he helped other Greek immigrants by providing finance and other support to open their restaurants and become established in America.
He focused on quality in everything he did and on building relationships. He knew that if his customers were successful, his business would grow too. One restaurant in a family became five. People were very loyal to him. He baptized hundreds of children up and down the East Coast. There was no separation between business and family. He treated his employees like family, even sending some of them to school, marrying them off and helping them start their own businesses.
I never had the chance to meet him; he died just before I was born. Growing up, he was a legend to us. But now that I sit in his chair and walk in his steps, I am in learning so much more about him and I am in awe. Think about if you could go back a hundred years and write a business plan that would last a hundred years – this is what would it look like. He was a giver and his generosity of spirit turned out to be a sustainable business model for nearly a century.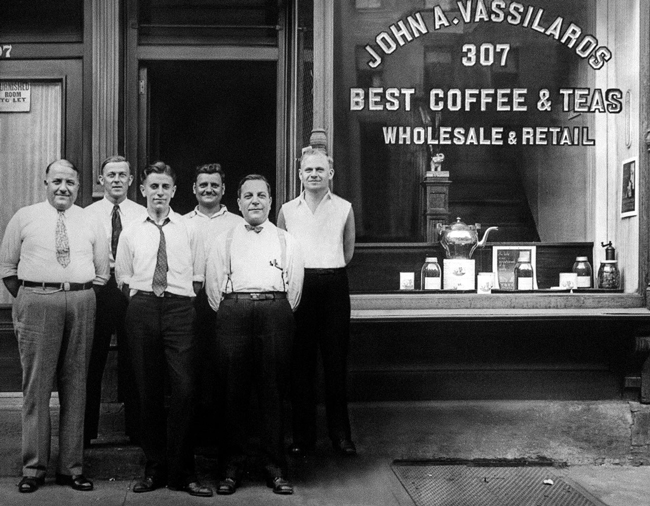 Vassilaros first store.
Vassilaros has a long history and standing in the community. How are things the same or different then in those days?
Well, first off, everything is bigger. The company, the market – at the start, my great grandfather sold as much coffee as he and his son, Anthony, could physically carry on their backs. Today we have a fleet of ten trucks, five smaller vans and a team of equipment mechanics crisscrossing the New York Area every day. Literally, millions of cups of Vassilaros Coffee are served every week. Also, the trends are changing quickly and there is real challenge to keep up. So things are bigger and faster and more competitive than ever.
But what hasn't changed, and will never change is our commitment to quality and a dedication to our customers. These are timeless principles. All my predecessors brought something different to the company. My great grandfather was an entrepreneur, my grandfather was a people person who loved being with the customers. My uncle John had a talent for buying green coffee. He modernized and perfected the blends we produce today. My father, George, has been with the company for forty years and is passionate about sales and service. What we all have in common is that we take a very long term view. When you do that, the culture of the business and the decisions naturally follow. We take a conservative approach and have never sacrificed our quality for short term gain.
We understand you had a corporate career before joining the family business. How has that shaped your approach to the business?
Yes. I started out as a corporate lawyer and then became an investment banker. My family encouraged me when I expressed interest in going to law school. Everyone in our family always worked in the business; but they wanted me to have my own career and independence. It was hard because I had no role models in my new world, but I eventually found my niche. With such a strong Greek heritage, I've always understood other cultures. I always thought of myself as a bridge between international companies and the U.S. financial markets – even taking many Greek companies public on the New York Stock Exchange. I think coming from a family business, I always looked at things from the owner's point of view. I was lucky to work in some great organizations with some very smart people. They taught me a lot about business and leadership. As the world has become more corporate, I see myself as a bridge in the evolution of our family business. I'm very focused on how I can transition our company to the future, without losing our important roots in the past.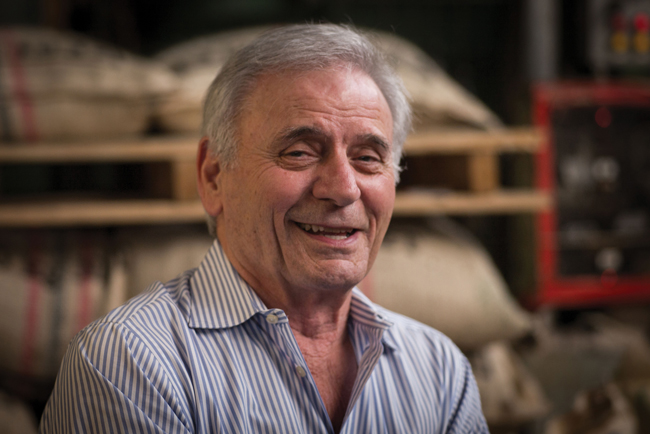 George Kaselakis, Stefanie's father and General Manager for 38 years.
Tell us about your products. How have they changed or expanded.
We focus on what we do best. We offer a variety of blends, but all are based on our sourcing of premium, strictly high grown, hard beans from Central and South America. Coffee is a crop. We source beans to maximize flavor throughout the growing cycle. Freshness is key. To be doing what we are doing for this long, it means we are doing something right.
Our Classic roast is still our number one product. It has great balance and body. It's strong and delicious; you can drink it all day long. Our Metro Roast has a darker roast profile, with that coffee house flavor which is very popular these days. We also sell espresso under our Vassi label, Greek coffee, as well as a handful of other select premium blends including a 1918 line, named for the year of our founding.
What are your favorite parts about your new role?
Well, of course, the coffee at work is a lot better than when I was working in a skyscraper. But really, riding along on our delivery trucks is incredible. We roll out before 5:00 a.m. Seeing New York before dawn, coming over the bridge, it's just beautiful and there is an excitement that comes with the first light. On the truck, I can visit 50 customers in a day, going into the kitchens, understanding their needs and how we can serve them better.
I have a tremendous amount of respect for our people. With the amount of coffee we roast and deliver, the amount of equipment we service, every day is a challenge and everyone works very hard to get it right. I think we are the hardest working coffee company in New York.
I also love working with my family and the Vassilaros team, some of whom have been with the company for decades. Our company is still very much a family affair. It's a great experience to have had an outside career and then come back. We are learning from each other, there are no egos, just a dedication to get results.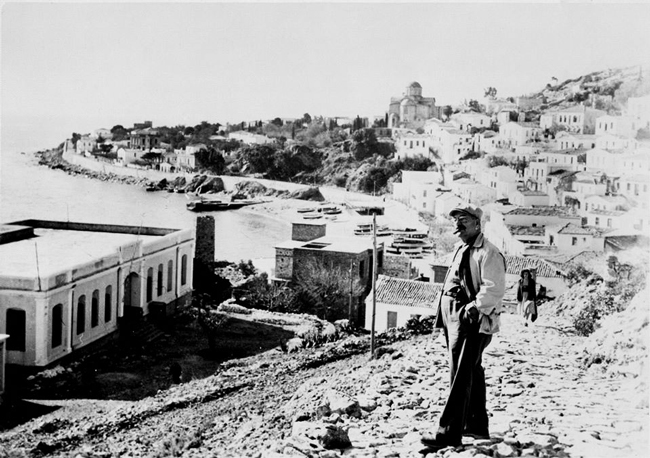 John Vassilaros standing on the side of ahill in Ikaria, across of the first hospital on the island, that he built and donated to the Red Cross.
The business is well established but have there been any unexpected surprises?
The breadth of our websales has surprised me. We are a New York brand but we get orders from all over the country. People are so happy that now they can get their favorite coffee no matter where they live. They send us great letters. I'm seeing that there is a market for us beyond our backyard. It's very exciting.
How do you feel about the future?
I'm optimistic about the future. But I'm also realistic and know that we will face great challenges in these uncertain times. I am completely committed to getting this right and to honor the legacy left by those before us.
There are things we can't control, but what is in our hands is to keep working very hard to turn out the best product we can. That will never change – just like the view from the Queensboro Bridge at 5:00 a.m.
John Vassilaros the latest.
VASSILAROS COFFEE:
29-05 120th Street, Flushing, NY 11354
info@vassilaroscoffee.com
www.vassilaroscoffee.com
(718) 886-4140
HOURS: Mon – Thu: 8am to 4pm
Fri: 8am to 3pm