Posted by estiator at 26 November, at 00 : 45 AM Print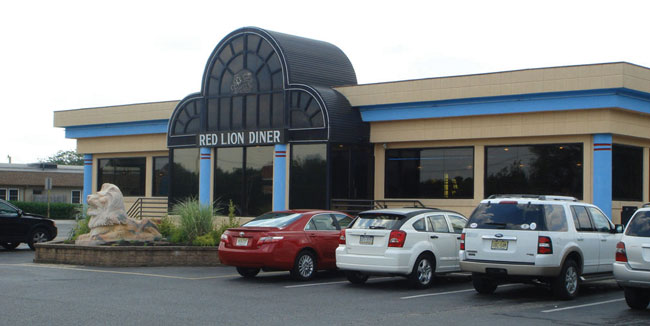 FOR THE major part of his 50 years in business, Demetris Lontorfos, now 64 years old, hasn't moved away from Route 70 in South Jersey, though he's worked both ends of it, starting with Ponzio's in Cherry Hill out west. Some 43 years ago, however, the native of Athens, who hails originally from Andros, left that job and headed east, stopping at the Red Lion Circle in Westhampton, NJ, where he fancied a small rail-car diner at 1753 Rt 206 that didn't seem to go anywhere.
The lady who owned the diner where Rte 206 meets Rte 70 was only too glad to sell it to him, and over the years that followed, the Greek spirit and know-how prevailed, turning this failing business into a big winner. Needless to say that the old rail-car structure has been replaced with an enormous, stunning building that can accommodate 350 people (609-859-2301). By the entrance is a large display of dishes, as well as the desserts, plus adequate counter space, and inside are a number of rooms with booths and tables. A high flagpole in the spacious parking lot flies both the American flag and the Red Lion colors.
Though years ago Lontorfos used to travel to the fish market to pick the seafood himself, this duty has been relegated to his trusted chef of 15 years, George Saviaras, who serves both as the executive chef and master baker. Among the many entrée highlights are broiled dishes such as the Combination (shrimp, stuffed flounder, scallops, and salmon), broiled crab cakes (jumbo lump crab meat), and so many others, but the Seafood Fantasy special, with every kind of shellfish, is a clear winner. There are meat and poultry entrées, as well as Italian entrées, and six delightful salads, including the Greek, Caesar and deluxe Red Lion.
There are 24 specialty sandwiches you can order by number, as well as breakfast items galore. There are soups, the most popular of which, the lobster bisque, is served on Saturdays. Side dishes such as corn on the cob, meatballs, linguini, and french fries are available. Let's not forget that at the Red Lion, you can have your favorite cocktail, too, or opt for a glass of wine or beer.
A mild-mannered, likable man, Lontorfos has worked since the age of 15, getting his early experience at the Somerdale Diner, where he needed to take two buses to get to work every morning. This taught him that he had to move close to where he works. Since it gets very busy this season, Demetris asks his wife Cynthia for help, which she very gladly gives him, working alongside him from morning to nighttime. The couple have a daughter, Jessica.