Posted by estiator at 1 August, at 09 : 30 AM Print
Riding the Yogurt Wave to American Shores
By Constantine N. Kolitsas / Photos by Vicky Tsavalias
Taking on the partner country position for one of the largest food shows in the United States is no small feat, especially for a country that has been struggling to emerge from an economic crisis for the last ten years. So it was with particular enthusiasm that Estiator and its Greek-American readership greeted the news that Greece, its exporters, food traditions and culture would be the highlight of this year's Fancy Food Show.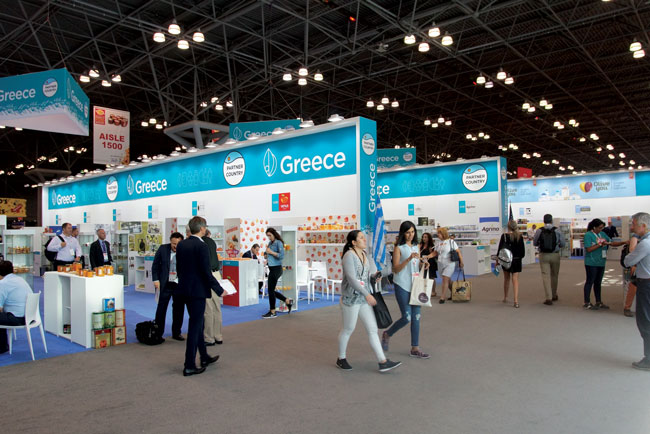 The Greek pavilion at the Fancy Food Show.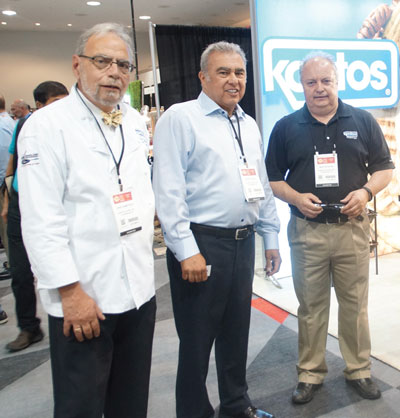 Kontos Foods: Chef Demetrios, Steve Kontos VP and CEO, and Nick Zavolas.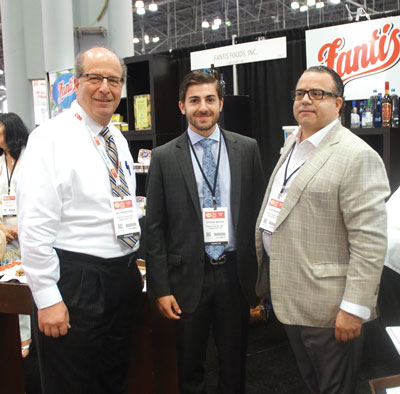 Fantis Foods: Zach Morfogen Sales Manager, George Makris son of Gerry Makris CFO, and Steve Makris COO.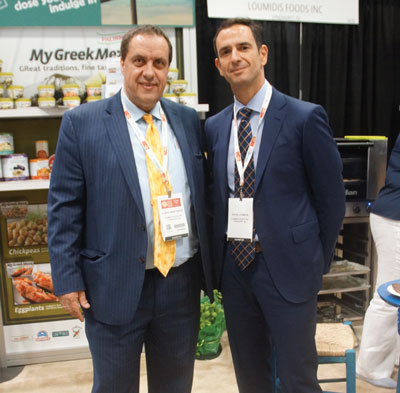 Loumidis Foods, Lyndhurst, NJ: Vlasis Anastasiou Sales Manager, and Jason Loumidis, Executive Manager.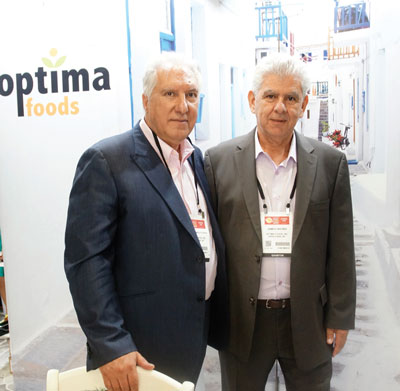 Optima Foods, Deer Park, NY: Kostas Mastoras Chairman, and James Hronis VP, partner.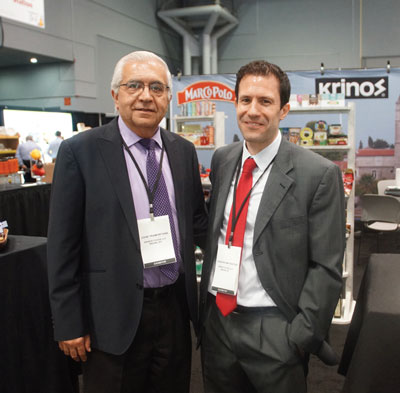 Krinos Foods: John Tramontana Manager & Operations, and Thanassis Matsiotas Sales Manager.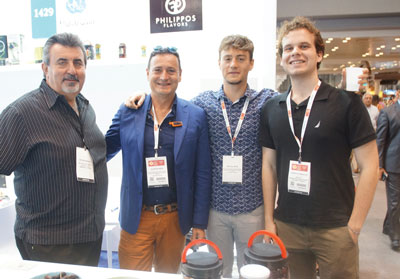 Filippos Flavors, Arta, Greece: Kostas Tyras (Food Fest-Victory Foods representatives), Filippos Beis (Founder), Michail Beis and Christos Nikolos.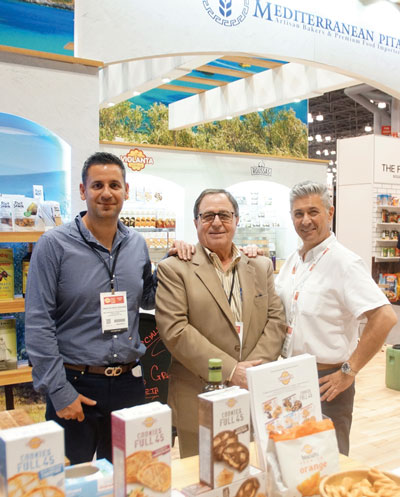 Mediterranean Pita, LIC, NY: Hristoforos Vekiaris, Vasilis Memmos President of the company and Founder and Chairman of Corfu Foods in Bensenville IL, and Yani Mavridopoulos VP Procurement & Sales.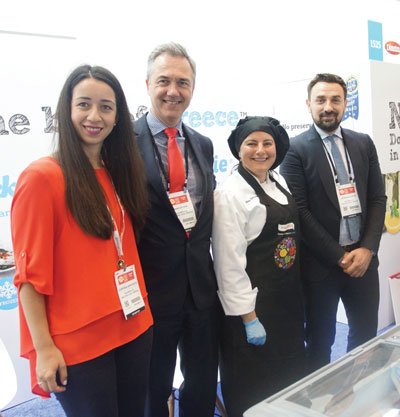 Palirria SA, Evia, Greece: Chryssa Sapountzi, Arnoud Oor Sales & Exports Director, Chef Maria Benardis and Georgios Raptis.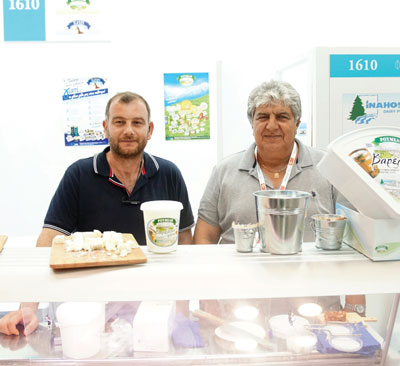 Inahos SA, Grammeni Makrakomi, Greece: Konstantinos Dimoulas Export Manager, and Spyridon Mpardis from Boboris Foods, Representative of Inahos.
For blocks, New Yorkers could see the blue canvas bags with the Greece logo that were given out to all of the show's 30,000 attendees, reminiscent of the branding that the country enjoyed during the 2004 Olympics. And for three days attendees had the opportunity to sample Greek products and meet with their producers. 
Americans largely learned about Greek food from Greek restaurateurs over the years, with the proliferation of Greek festivals in the 80s and 90s helping to spark America's love for gyros. In the last decade, Greek yogurt has been the catalyst that has created heightened interest in Greek products, while the growing number of upscale Greek eateries in metropolitan centers has helped to elevate the public's perception of Greek cuisine. To put it simply, today Greek is hot. And add to the mix the fact that the Mediterranean diet, with Greek cuisine at its epicenter, is widely viewed as the key to healthy living without sacrificing flavor and the pleasure derived from a delicious meal.
Phil Kafarakis, the president of the Specialty Food Association, the organization that hosts the annual summer show in New York (as well as its sister winter show on the West Coast), spoke to Estiator ahead of the show, indicating that the time for Greek food has arrived. Greek cuisine has moved beyond gyro, he said, in great measure due to the impact of Greek yogurt on the American food culture. 
Antonis Gravanis, the Director of International Trade Fairs for Enterprise Greece, a quasi-governmental organization chartered to assist Greek exporters in their entry into international markets, helped to coordinate Greece's participation in the show. He understands the current infatuation with Greek products and is helping Greek companies to capitalize on the trend. 
"I think it's the biggest participation we've ever had," Gravanis says of his country's presence at the show. "Compared to the size of the country, we have a really big participation: We are second or third after Italy and Spain."
Approximately 60 Greek companies participated in the show in one way or another, among them some small producers that were there for the first time, all of whom are eager to grow the country's $5 billion in food exports and carve a share of the American market for themselves. "Greek exports are on the rise since 2010," Gravanis maintained (an increase of over 30%), adding that the surge in interest is not isolated to the United States but is also taking place in Western Europe and the Middle East.
And the trend is still in its nascent stages. The demand for Greek products has just begun moving beyond the ethnic markets into mainstream channels, posing a challenge to Greek producers. 
Because Greece is a small country its production capabilities are limited, says Gravanis, insisting that Greece must make more out of this limited production. 
"We want Greek producers to sell directly to the United States themselves," he says, indicating that in the past, Greek products largely entered the U.S. market through intermediary countries such as Italy, which purchased oil from Greek producers before blending it and packaging it as an Italian product. 
The Greek agricultural model, he says, is focused on small farms, small family businesses, and small producers, all producing high quality products. "The idea is that Greece cannot feed the world, but that it can feed a segment that can afford premium products. Our targets are mature markets that can pay for our products."
Olives, Olive Oil

 

and Cheese

 
Greek olive oil, olives and cheeses have long been on every foodie's shopping list and there was no short supply of producers eager to introduce their products in these categories. 
Sirob Imports, owned by Nick Boboris, has been manufacturing, importing and distributing Greek products for the last thirty years. Among the products it was showcasing at the show were cheeses by Inahos SA, including feta from Roumeli, Greek yogurt and cheese made from 100% goat's milk under its Erifi brand. According to the company, the secret to great feta lies is in the milk produced by native breeds of sheep and goats that reside in mountain pastures. Inahos has been producing high quality dairy products in Greece since 1920. 
Great Flavors, in the meantime, was there to promote its PDO feta, graviera from Naxos, and olive oils from Thassos and Zakynthos. Victory Foods and its sister company, Food Fest, (owned by Mike and Kostas Tiras), import and distribute a number of products that were exhibited, including olive oil and olives from Mediteranee; olive oils by Creta and Lokris; and Tembi feta, among others.
Epiros, a company that boasts its feta as the "most awarded feta in the world", was also among the show's exhibitors. 
"This is our second time at the Fancy Food Show," George Lazaris, the company's General Manager for Sales & Marketing and Operations told Estiator, "and our aim is to be present at both the winter [in San Francisco] and summer shows on a yearly basis."
The company, which has been importing its products into the U.S. for the last six years, has a presence in the U.S. as well as in the U.K. and Australia. Produced in Epirus, the key to its number one position in Greece and its worldwide footprint, says Lazaris, is the fact that its feta is made from 90% sheep's milk. 
Among the other feta producers exhibiting at the show were several that were looking for distributors, including Greek Family Farm of Magnesia, Greece, which had a lovely line of organic cheese products waiting to be noticed by buyers. Spyros Nastopoulos, the company's Commercial Director, spoke about the growing interest in organic foods among Greeks domestically, and how his company is positioning itself to grow a presence internationally. 
According to him, the fodder the animals feed on has a tremendous impact on the flavor and quality of the cheese that their milk produces. "We work with small traditional farms in the area of Magnesia," he says, indicating that they take a unique integrated approach with their partners, providing them with feed and monitoring all aspects of production. In 2019, he says, cheeses from Greek Family Farm will be available in the United States. 
Olymp (a division of Konstantopoulos SA), which packages a variety of olives (as well as olive oils), was among those with a presence at the show's Greek Pavilion. In addition to its proprietary brands, the company, with plants in Larissa and Katerini, packages under custom labels for international retailers. Among the varieties it was showcasing at the show were Chalkidiki, Conservolea and the celebrated Kalamata olive. 
And, of course, the show included a number of feta producers from outside of Greece, including France and Bulgaria. Fantis Foods, in fact, offered a delicious feta produced domestically at its facility in Goshen, NY, located about 70 miles north of New York City. Under its Fantis and Greek Mountain labels, the company also produces PDO feta in Greece.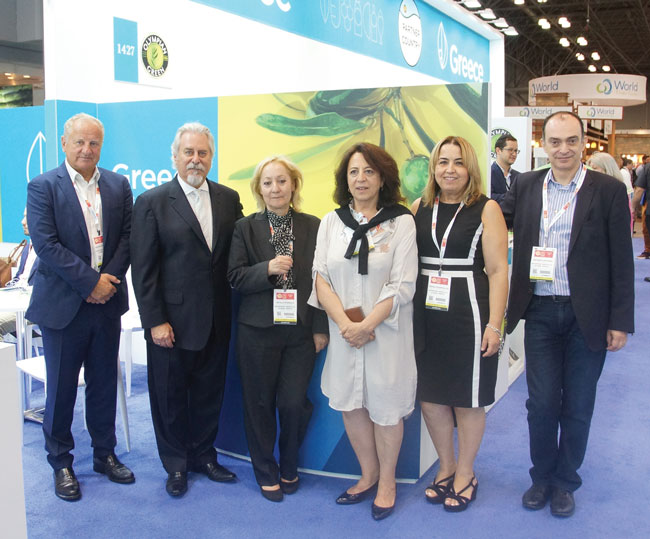 Enterprise Greece SA, Athens, Greece: Grigoris Stergioulis Chairman, Phil Lempert, Adela Stergiou, Margaret Leedis, Froso Zogopoulou, and Antonis Gravanis, Director of International Trade Fairs.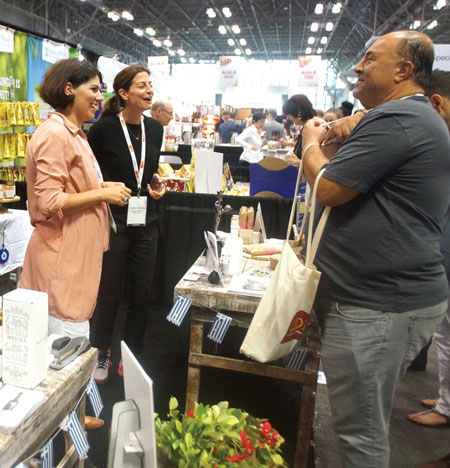 Hellenic Farms, Roselle, NJ: Vivian Karamanis, founder, with associates.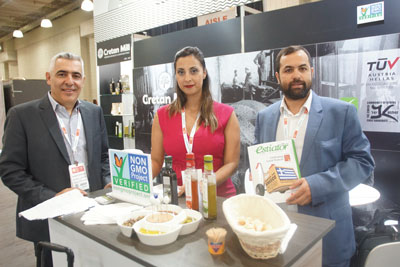 Cretan Mill, Heraklion, Crete: Georgios Kokkinakis, Maria Foule and Michail Almpantakis President.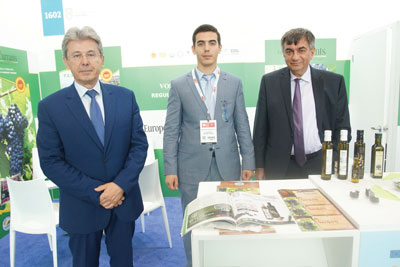 EU Currants, Aeghion, Greece: Miltiadis Stavropoulos CEO, Christos Stavropoulos and Vaios Karathanos.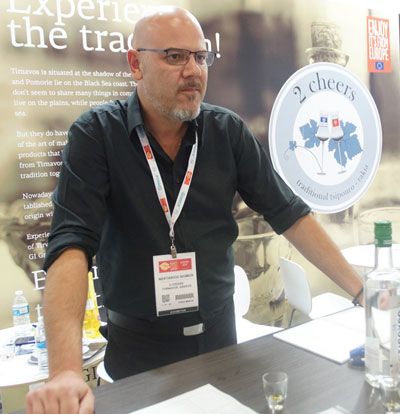 2 cheers, Tyrnavos, Greece: Nektarios Siomos.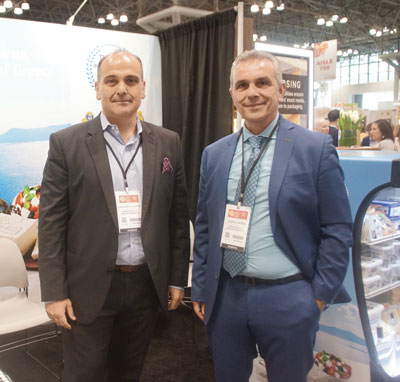 Epiros Feta, Prospect IL/Bonita Springs FL: Charalampos Vasileiadis and George Lazaris, General Manager.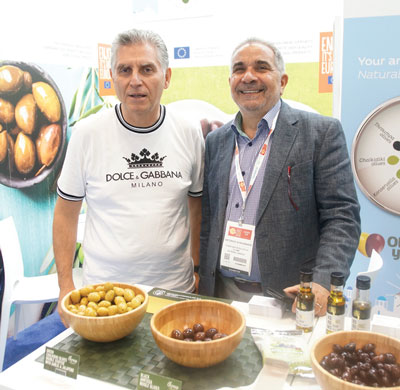 Konstantopoulos SA, Katerini, Greece: Prokopios Konstantopoulos Owner, and Antonios Sfakianakis.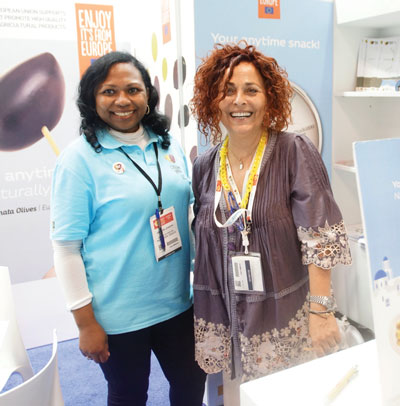 PEMETE, Athens, Greece: Derrin Joseph (Athos Olives) and Kimi Zazi, Manager.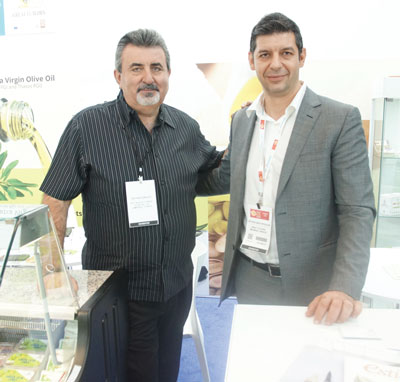 Great Flavors, Magnisia, Greece: Kostas Tyras from Food Fest (Bronx, NY) and Spyros Nastopoulos.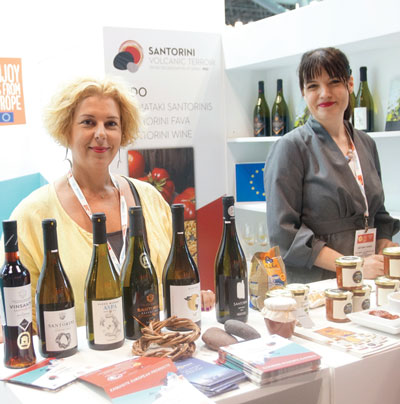 Santowines, Santorini, Greece: Stela Kasiola, Marketing Manager, and Antonia Tsaira.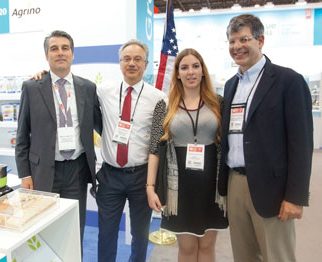 Agrino SA, Athens, Greece: Marc Schmettau, Agis Pistiolas Marketing & Exports Director, Elli-Eleni Konstantinidou (PEMETE), Constantinos Constantinidis (Source Atlantique).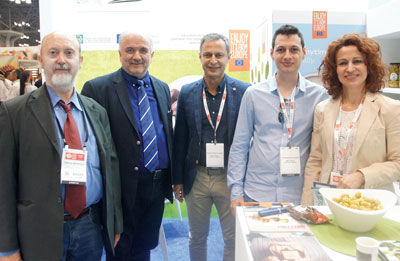 Amalthia SA, Aitoliko, Greece: Vasilis Antzoulis, Publisher Triiris magazine, Konstantinos Lyros, Konstantinos Zoukas, Athanasios Zoukas and Evangelia Zouka.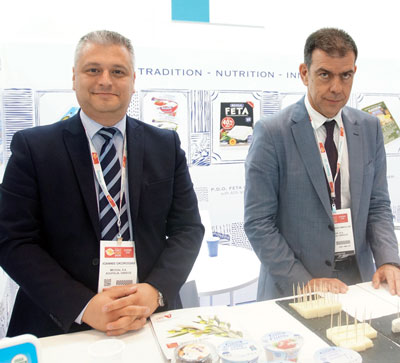 Mevgal, SA, Koufalia, Greece: Ioannis Gkorogias and Konstantinos Dimoulas, Sales Manager.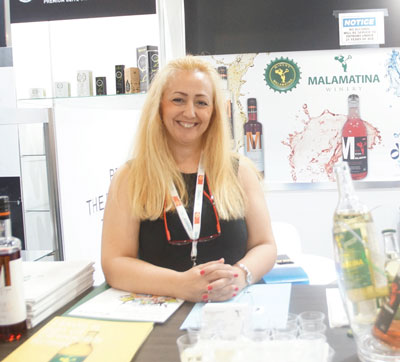 E. Malamatinas & Son S.A, Kalochori, Thessaloniki: Despoina Sachinidou, Export Sales Manager.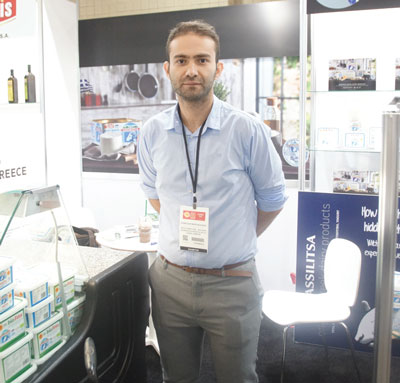 Feta Vassilitsa, Larisa, Greece: Konstantinos Nousias, Owner.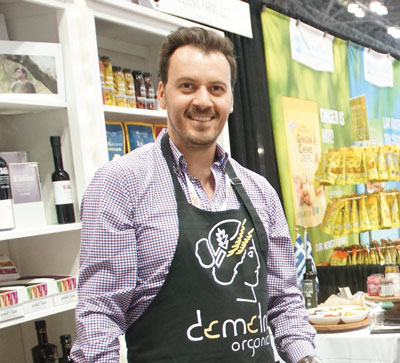 Demetra Organic, Astoria, NY: Evangelos Syllaios, Owner.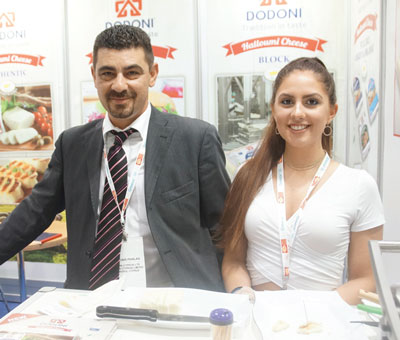 Dodoni, Limassol, Cyprus: Antonis Phialas Commercial Manager, Stephanie Savarese.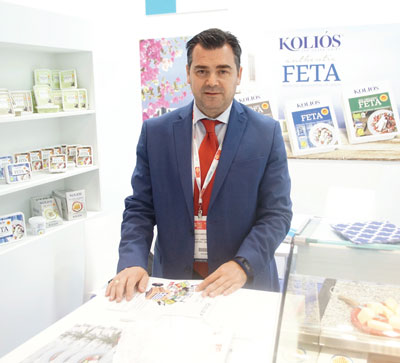 Kolios SA, Polykastro, Greece: Yannis Zacharopoulos, Commercial Director.
Looking for the Next Big Thing
At Fantis Foods, the older importer and distributor of Greek food and beverages established over a century ago, Sales Manager Zach Morfogen says that Greek yogurt has opened the American consumer's eyes to Greek products and their health benefits. And along with Greek specialty foods, consumers are becoming increasingly interested in the Greece's wines and the indigenous grape varietals that are exclusive to the country. 
According to Morfogen, the proliferation of fine Greek restaurants throughout the country has attracted attention to Greek wines. "The vehicle for exposure to Greek wines is Greek restaurants," he says, with consumers now becoming acquainted with grape varietals such as xinomavro and assyrtiko. 
"Everyone wants to try a bottle of Santorini and taste the Assyrtiko grape from the island's volcanic soil," he says. Indeed, on a recent tour of restaurants in Connecticut's culinary hub in West Hartford, two very well-established restaurant groups (neither with Greek ownership) have added the wine to their wine list.
Jason Loumidis, of Loumidis Foods, whose company (with a presence in Lyndhurst, NJ) is one of the largest importers of Greek products into the U.S. (think Papagalos coffee, Papadopoulos biscuits and Misko pasta products, among others), has been an exhibitor at the Fancy Food Show each year since 2004 and has been successfully capitalizing on the market's infatuation with Greek products. 
"Anything that is associated with food and has the word 'Greek' on top of it means that its good – it's quality, it's healthy, it's non-GMO," he says. 
Asked about some of the most attractive opportunities for Loumidis, he indicates Greek dairy products and ready-to-eat meals. "In general, the dairy industry is a growing market in the United States," he says, asserting that within that space are opportunities for Greek specialty products to earn market share. "The obvious choice is Greek feta, but there is a place for smaller, more artisanal specialty cheeses as well." Among them, traditional cheeses, spreadable cheese and lactose-free products from Olympus Dairy, one of the many products imported by Loumidis. The dairy, located in Trikala, is a third-generation family-owned operation whose products are sold in 38 countries. 
As for ready-to-eat products, Loumidis is importing traditional handmade pies, bougatsa and vegetarian delicacies produced by Ioniki Sfoliata of Thessaloniki. Palirria, best know for its dolma, is also among the producers his company imports that offers ready-to-eat products for the American consumer. Gradually," says Loumidis of Palirria, "we are together penetrating both the foodservice and the retail markets." 
Indeed, Palirria's booth was among those in the Greek pavilion that generated the most interest (this was their third time participating in the show). Samples of its dolma varieties (traditional, sweet and spicy and oriental seasoning) were constantly moving, while cookbook author and chef Maria Benardis served up some of the company's ready-to-eat packaged foods. 
In the meantime, the company's Sales and Export Director, Arnoud Oor, spoke enthusiastically about Palirria's success, particularly around its signature dolma product. "We are the number one producer of dolma in the world," he told Estiator, with the second largest being less than one third of Palirria's size. 
"Ours is a very honest product," he continued, indicating that there are no preservatives or additives and that the dolma are handmade. As to their process, "it's actually cooked inside the can," he said, explaining that the can works as a boiling pot. 
"The market for dolma is growing very fast," he added, indicating that it is moving from an ethnic to a mainstream product. Indeed, the samples proved his point: the sweet and spicy variety was deliciously spiked with peppadew peppers and seemed designed for American palates while the oriental variety had a wonderfully Asian flavor. 
Steve Kontos, the president of Kontos Foods, a long-established manufacturer and importer of Greek specialty foods, was excited about his company's innovations in the flatbread market where it produces over 60 varieties ranging from traditional pitas to Central Asian nan, lavash (a "roll-up" flatbread), and chapati, an unleavened flatbread from the Indian subcontinent. In addition to a variety of styles, his company is offering a variety of sizes, including pita bites, pita sticks and smaller portion-controlled products for the retail and foodservice markets. 
The company, in fact has long been a pioneering innovator in the manufacturing of phyllo dough. Under Steve's father, Euripides Kontos, the founder, the company created and put in place the first mechanized process for the production of phyllo products. Today it's line of Greek pastries is used in restaurants and delis around the country.
And while many U.S.-based companies have been participants in the show for decades, some were lured to participate this year because of the show's focus on Greek products. Mediterranean Pita of Long Island City, owned by Vasilis Memmos, was among those, demonstrating that Greeks in America have been producing superb pitas, flatbreads, pastas and baked goods for decades. 
Krinos, a colossus in the market that has been importing and producing Greek products for generations and has four manufacturing facilities in the U.S. and Canada (including its state-of-the-art Bronx plant completed in 2016), sees its products sold in all fifty states according to Thanasis Matsiotas, a sales manager with the company. Although the number of ethnic groceries is less than it was twenty years ago, says Matsiotas, the demand for Greek products in mainstream channels is growing significantly, with his company's products now sold in Walmart and Costco. 
Still, he says, the company's brand is growing within other ethnic markets with its Apollo phyllo dough steadily growing share amongst Arab-Americans.
Costas Mastoras, the chairman of Titan and Optima Foods, is a long-time veteran of the industry and of the Fancy Food Show, dating his first participation back to 1979 when he was an executive with Krinos. The show was held in Columbus Circle at the time and has since transformed from a local show to an international event. 
This, he says, was Optima's 25th show. "The Fancy Food Show has done a lot of good," he says, in that it provides a "unique opportunity" for Optima to present its products to American buyers from the West Coast, Midwest and the South. For the 2018 show, the company presented a line of olive oils by another Greek producer, Iliada. Down the line, says Mastoras, he sees great opportunity in importing frozen ready-to-eat meals as the American consumers appetite for authentic Greek cuisine grows. To satisfy that appetite, the company applied for approvals for a number of the factories they work with to export meat-based products into the U.S. (Currently it only imports non-meat frozen products such as spanakopitas). Once these approvals come through, he says, "this will be a very big thing."
New Kids on the Block
Alongside the large and well-known brands participating in the show were a significant number of emerging companies, including Cretan Mills, which has seen explosive growth in its demand for high-quality olive oil products, olives and sundried tomatoes, among others. "The Greek economic crisis made it necessary for producers to go outside of the domestic market," explains Michalis Almpantakis, the company's CEO, adding that, along with tourism, the Greek export market has, as a result, become one of the recovering economy's bright spots. "Every year we have seen 100% growth," he says indicating that what began with 50,000 euros in annual sales in 2010 has today grown beyond 20 million euros. 
When it started, he says, 90% of the company's business was from Greece's domestic market. Today, the numbers are inverted: 90% comes from exports with just 10% coming from domestic sales. 
His biggest U.S. customer, he says is Titan Foods, which through its Optima division imports and distributes his olive oils. He hopes to grow his U.S. footprint by selling to Whole Foods by next year, where Greek products such as Chef Maria Loi's line of Greek dips and pasta products are already a hit with customers. In the meantime, his company's products can be found in Greek and Italian restaurants as well as in specialty markets in New York, Boston, Houston, Chicago, Montreal and Toronto. 
But the Greek presence at the show wasn't all cheese and olives – also participating were producers of honey, spirits, bottarga and nuts, among others. The Farmers Union Vostizza, for example, presented its line of Corinthian currants, citrus, and mixed fruits.
Some of the newer products we came across at the show include a fig salami by Hellenic Farms, a four-time winner of the Specialty Food Association's Sofi Awards. The salami, which of course is vegetarian, is made with figs from Kymi and is a perfect example of the small artisan products that the Fancy Food Show is famous for launching. "My husband came across this product," on a trip through Greece, says the company's owner, Viviana Karamanis. "We partnered with the women who make it and helped them tweak the recipe." Today it is available in a number of specialty food shops.
Her company's products, which also include high-quality olive oils, herbs, honey bars, olives and marmalades, can be found in boutique gourmet shops as well as in Whole Foods, Roche Bros., and Mother's Markets, among others. 
"Our market is not Greek," says Karamanis, "it's people who just really appreciate great food." 
"People love Greece," she continues, "and they want to help. We just needed to alter the way that they see Greek products."
Sharing the booth with Hellenic Farms was another unique find that, of all of the products sampled, has the potential to be the next "Greek yogurt". Zea, an ancient grain produced in antiquity, is the flagship product offered by Demetra Organics. Flours and pitas made from the grain are currently available, with other products in the R&D stages. 
According to the company's president, Yannis Syllaios, flour produced from zea flour has only trace amounts of gluten (typically around 1%), where most flours are in the 10-15% range. While people suffering from Celiac can't find relief, others who have a mild sensitivity to gluten may be able to consume products made with zea without affect. 
Zea grains, says Syllaios, are naturally grown inside the husks, protected from pollutants and insects, resulting in nutritional consistency throughout production and during storage. It is, then, grown organically, without use of pesticides and has other nutritional benefits. 
Zea was cultivated throughout Greece until the 20th century, when it became less expensive to import other grains. In the last fifteen years, zea has seen a comeback in Greece. And with its presence at the Fancy Food Show this past June, Demetra Organics is bringing it the United States.