Posted by estiator at 6 February, at 18 : 16 PM Print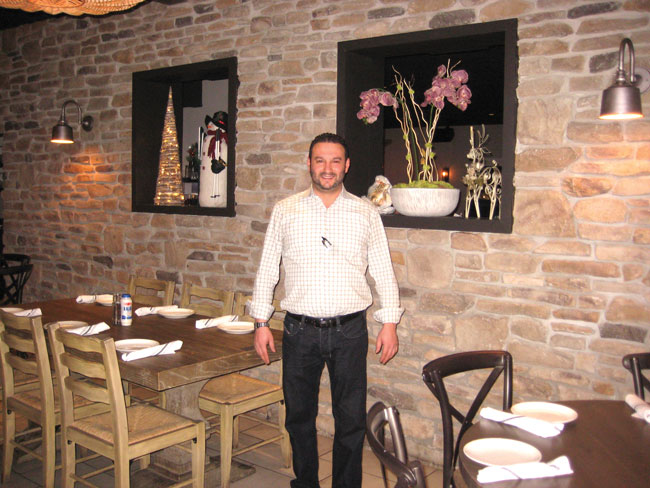 Plateia Mediterranean Kitchen & Bar is located at 9860 Milwaukee Ave in Des Plaines, IL. It first opened its doors on 9/20/2015. Yet, in this short time, Plateia managed to win a tremendous following and business is fantastic. One of the owners, Dimitris Douvlis explained to us that their secret weapon is their outstanding chef, Mario Kalampogias. Chef Mario, armed with experience gained while working in significant restaurants including the Athens Hilton, incorporates into his recipes concepts for longevity from his native island of Ikaria, Greece, one of the five Blue Zones in the world where people live longer and have healthier lives. Before we reveal a customer's comment, let's state that the three owners are: Dimitris Douvlis, who was born in Athens Greece and has strong family ties in Arahova; he arrived here in 1997.
The other two owners are Eustathios Stellatos and Petros Papadatos, both from Kefalonia. These three young men have created an outstanding restaurant; they named it Plateia, a Greek word that means "town square". In traditional villages, plateias are the central places for feasts, celebrations and events. Here, at their Plateia, they want guests to come together and experience the hospitality of the Greek culture with Mediterranean taste. Moreover, this place has pleasing décor, 220 seats inside and 170 seats in the outside patio. Finally, Plateia is the perfect place for all types of social functions. And now, let's see a customer's comment: "The interior of this restaurant is stylish and chic, and it is always busy. They have a large regular menu, and a whole page of specials. I had the Moussaka, which came in a little casserole. The top was puffed and browned, like a soufflé, and was wonderful".
In the picture we see owner Dimitris Douvlis.