Posted by estiator at 16 January, at 13 : 16 PM Print
By Peter Poulopoulos
Wishing you and yours a Happy New Year: These thoughts were written in December 2018. By the time you read this column, it's already 2019. I am certain that many of us attended New Year celebrations to exchange wishes and welcome the new year; in other words, we followed the process that we follow every year. Let me quickly add that there is nothing wrong with that process. However, regardless of our best wishes for the new year, some of us had better luck than others. In reality, one should expect nothing else; there are so many events in a year's time and so few ways for us to control their outcome. There is nothing we can do about it; we accept things that happened because of our actions and also the things that happened that had nothing to do with us.
Most of us set goals in life for ourselves for a variety of subjects and the objective is the betterment of our lives; and that's great. We would like to suggest that all of us should have an additional goal; what is that goal? Let's promise ourselves that our additional new goal in life should be to try to improve our world as we found it; if we can't do that, let's all do what we can not to leave it in worse condition that other left it for us. Happy New Year to all. (Note: should you wish to comment on this column, have any questions, or would like to share news about your business, please call 773 743-2100, or email peterjp@realpoul.com).
Brousko Authentic Greek Cuisine is located at 795 E Golf Road Schaumburg, IL and the owner is Mario Pappas. Before we say a few words about Mario, let's discuss see some details about Brousko. Brousko is serving for sure authentic Greek food and because of it has become a very popular place. In addition to it, this place of 300 seats and plenty of parking, has become a very desirable destination for people who seek a great place to host private parties. Let's not forget the catering menu of Greek style which is another reason for the success of this restaurant. But let's also mention another reason for the success of this place: Athenian Nights; on Fridays and Saturdays Brousko is featuring live entertainment straight from Greece.
And now let's reveal some facts about the person who is responsible for the success if this place, Mario Pappas. Mario was born in the Chicago are and attended DePaul University where he studied Computer Science. From young age fell in love for Greek music and for long time was performing as DJ in various events around the country. Because of his background, he noticed that an opportunity existed for internet-based entitlement and he founded Ellas TV. Now Ellas TV, among other palaces, is present in Australia, New York, Boston, Chicago, etc. In the picture, we see Mario inside the reasturant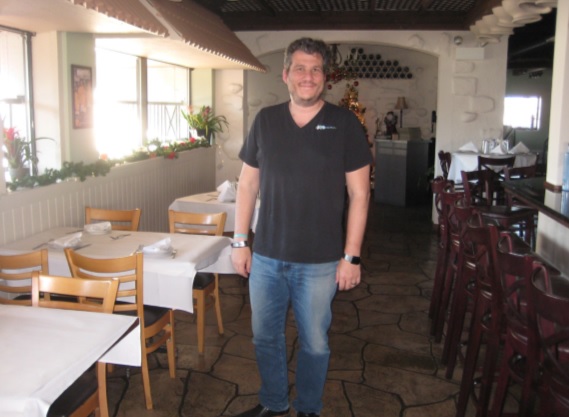 Here Is Some Interesting Restaurant News:
FROM EATER CHICAGO
Seven Chicago-Area Restaurant Openings to Know
LOGAN SQUARE A new Asian chicken wing restaurant, Landbirds, has opened, according to Block Club Chicago. Status: Certified open, 2532 N. California Avenue.
STREETERVILLE Wow Bao has opened another location for fastcasual Asian dumplings and more. Status: Certified open, 46 E. Chicago Avenue.
WICKER PARK Conrad's Grill, a fastcasual favorite among Michigan State University alum and students, has opened its first restaurant outside of Michigan. Its signature item is a wrap stuffed with tater tots. Status: Certified open, 1422 W. Milwaukee Avenue.
WRIGLEYVILLE Shake Shack has opened another Chicago restaurant. This one's only steps away from Wrigley Field. Status: Certified open, 3519 N. Clark Street.
EVANSTON Milwaukee's Colectivo Coffee continues its Chicago expansion with a suburban location. The coffee shop has locations in Lincoln Park, Logan Square, and Andersonville. Status: Certified open, 716 Church Street, Evanston.
FOREST PARK Skrine Chops, the barbecue restaurant once frequented by comedianPatton Oswalt, is no more. It's been replaced by a Mexican restaurant called Mi Tierra Nayarit. Oak Park Eats has more details. Certified open, 7230 Madison Street, Forest Park.
VERNON HILLS Kuma's Corner has opened another restaurant in the suburbs. Burgers named after metal bands, a solid craft beer list, and no waffle fries are part of the experience. Status: Certified open, 925 N. Milwaukee Avenue, Vernon Hills.
Six Chicago-Area Restaurant Openings to Know
IRVING PARK The Northwest Side has a new music-themed spot for burgers, hot dogs, shakes, and other Chicago street food. B-Side features rock decor and a jukebox in a fastcasual environment. Check out the menu and more on its website. Status: Certified open, 3734 W. Irving Park Road. UPTOWN Argyle Street has another intriguing Vietnamese option in Nha Trang, which cut the ribbon on November 16. It serves more than 250 "California-style" Vietnamese dishes. Status: Certified open, 1104 W. Argyle Street.
WEST LOOP Italian beef icon Buona Beef opened its 24th restaurant — but only third in the city — on Black Friday just steps from Randolph Restaurant Row. It offers the chain's usual menu, seats 56 people, and will have outdoor seating during warmer weather. Status: Certified open, 804 W. Washington Boulevard.
EVANSTON From popular farmers market vendor to standalone restaurant, Gotta B Crepes opened on Thursday in Evanston. Its menu offers an array of sweet and savory crepes — from smores to pepperoni pizza — as well as brunch dishes, bowls, salads, and nonalcoholic beverages. Status: Certified open, 2901 Central Street, Evanston.
OAK BROOK Another shack attack happened in the Chicago suburbs today. Shake Shack, Danny Meyer's worldwide burger phenomenon, opened its sixth Illinois location in Oak Brook, giving away free beanies to the first 100 people in line. The space is nearly 5,000 square feet, has a covered outdoor patio, local beer, and three frozen custard concretes that are only available at this location. Status: Certified open, 1950 Spring Road, Oak Brook.
WHEELING Popular suburban seafood haven Boston Fish Market is now open on the North Shore. The new Wheeling location offers a similar vast array of seafood in appetizers, sandwiches, fish fries, and full dinners as the Des Plaines location, plus some new steak options. Status: Certified open, 412 N. Milwaukee Avenue, Wheeling.
Dee's, a Lincoln Park Chinese Staple For 35 Years, Is Closing Its Dining Room -Dee's Mandarin & Sushi Lounge, a 35-year-old Chinese-American restaurant in Lincoln Park, is closing its dining room as take out and deliveries will continue. Open since 1983, owner Dee Kang and her staff served Chinese food in an upscale manner that was unusual for Americans at the time. The '80s were a realm for smaller Chinese spots that specialized in take out. Dee's last day will be New Year's Eve at 1114 W. Armitage Avenue, according to a Facebook post. Kang is shuttering the restaurant to free up more family time. Another Longtime Chicagoland Jewish Deli is Closing – The number of Jewish delis in Chicagoland is dwindling more as the owners of The Bagelannounced on Friday that they're closing their location in Old Orchard Mall in Skokie on November 29. The near suburban deli and restaurant has been open for 31 years. The Bagel location in Lakeview will remain open.
Another Corporate Steakhouse Shutters in Chicagoland – Plus, a fundraiser for the suburban bouncer shot by police raises $150K and more intel –
— Corporate-owned steakhouses in Chicagoland are becoming increasingly rarer. The latest to bite the dust is Sullivan's Steakhouse in suburban Lincolnshire, the Daily Herald reports. It joins the city location of Sullivan's in River North, which closed in June, and Del Frisco's Gold Coast, which will close soon. A Sullivan's in
Naperville is the last one standing in the area.
An online fundraiser for Jemel Roberson, the bouncer at suburban bar Manny's Blue Room who was fatally shot by police while holding down an active shooter last weekend, has raised nearly $150,000 at publication time. Organizers set up the campaign to fund his burial expenses. Meanwhile, a former bouncer wrote an op-ed in the Sun-Times describing the harrowing line of work, writing "there were times when I could have been Jemel Roberson." And CBS2 reports that Manny's Blue Room has been operating with an expired liquor license so it was serving alcohol illegally on the night of the shooting.
FROM BLOCK CLUB CHICAGO:
The Mutiny, Logan Square Dive Since 1990, Closing: 'I Don't Have The Fight Anymore,' Owner Says Owner Ed Mroz is emotionally preparing to shutter a bar at the center of his life for nearly 30 years. – LOGAN SQUARE Ed Mroz has spent the last few years fighting off rumors that his bar — one of the neighborhood's last-remaining dives — was on the verge of closing. Mroz is done fighting. He's ready to make the announcement: The Mutiny's days are numbered. After nearly 30 years of business, the beloved dive bar and rock club at 2428 N. Western Ave. will soon shutter "unless something miraculous happens," Mroz told Block Club. Mroz said he simply can't afford to pay to keep the place running and now he's in a position where his stack of unpaid bills has become unmanageable. That, combined with personal hardships, including his years-long battle with prostate cancer, have made things extraordinarily difficult lately. "Some people survive and thrive, which I did for many years. Maybe it's because I'm getting old, but I lost my ability to keep fighting," said Mroz, 68. .