Posted by estiator at 16 January, at 13 : 38 PM Print
New Arrivals: a coast-to-coast glance at some of the industry's newest additions
---
As the old Cole Porter Broadway tune goes, "Another Opening, Another Show…" And so it is with Greek themed restaurants that are mushrooming not just in the nation's metropolises, but also in its suburbs, boroughs and hamlets. Here, then, is a quick rundown of some of the places recently opened…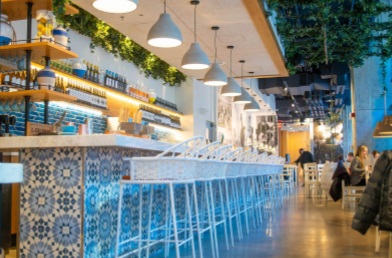 Boston, MA
Saloniki Greek
24 Dunster Street,
Cambridge, MA 02138
salonikigreek.com
Saloniki Greek, a popular fast casual concept started by partners Eric Papachristos, Jonathan Mendez and James Beard Chef Jody Adams, opened its third location last October; this time in Harvard Square. Papachristos and Adams have been partners since 2011, owning Porto and TRADE (where Mendez served as the head of Front of House Operations). This is the first Saloniki installment that offers sit-down options, with a mix of fast casual and table-side service (original orders are taken at the cash register and servers with tablets take additional orders). Adams, one of Boston's local celebrity chefs, looks to create a menu that expresses the bold, simple flavors of Greece with fresh regional ingredients. The concept announced its opening on EventBrite, offering free sandwiches to customers that downloaded and ordered through their app. In addition to a menu of sandwiches, salads and bowls, the Harvard Square location offers a full bar, with an all-Greek wine list and Greek-inspired craft cocktails.
---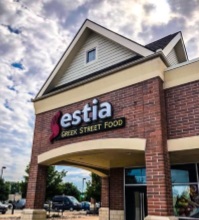 Detroit, MI
Estia Greek Street Food
5753 E 12 Mile Rd
Warren, MI
goestia.com
Fast casual concept Estia Greek Street Food has recently opened its third location, serving Chipotle-style build your own wraps, bowls and salads in the city of Warren, approximately 15 miles north of Detroit. The space, seats 90 people in its 3,000 square foot building that features an open floor plan and reclaimed materials. Opened in early October, the rustic-themed eatery is owned by partners Nina Bittas and George Xenos. Their original location is located in Troy, Michigan.
---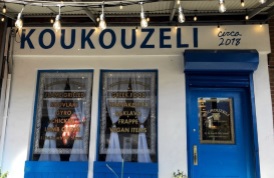 Philadelphia, PA
Koukouzeli Hellenic Grille
1134 S 9th St
Philadelphia, PA
Restaurateur Spyros Tsibogos opened Philadelphia's newest Greek entry in October, offering traditional street fare in a fast casual setting. His previous establishments include Bradford Street Café in Delaware and Brickhouse Café in Old City. His newest venture is located in Philadelphia's Italian Market section. The location is focusing on takeout and online ordering along with its 22 dining seats. Notable on his menu is a Vegan Souvlaki made with dairy-free tzatziki and marinated seitan (wheat gluten), which has a look and texture that is similar to meat when cooked. Another innovative menu item are Crispy Dolmades that feature the traditional rice-stuffed grapeleaves wrapped in phyllo and fried.
---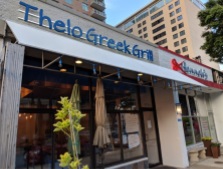 Washington DC
Thelo Greek Grill
8009 Norfolk Ave
Bethesda, MD 20814
thelogreek.com
Just nine miles north of the nation's capital, Thelo Greek Grill sports a traditional taverna menu with an emphasis on clean menu ingredients such as free range meats, imported olives, EVOO, capers and cheeses. "Olive oil is for cooking and butter for desserts", insists owner John Panas (Panagiotopoulos) and all items are non-GMO. Gyros are produced in-house.
---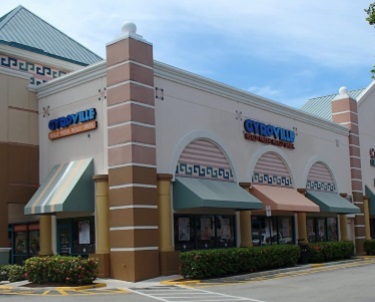 Fort Lauderdale, FL
Gyroville
1489C SE 17th Street
Fort Lauderdale, FL
gyroville.com
Jimmy Buffet's hit Margaritaville may need a Greekified version. The Fort Lauderdale-based chain Gyroville (in the heart of Buffetland) has opened several of its fast casual Chipotleinspired units in the last year, including one in Ecuador. The concept, founded by CEO Lambros Kokkinelis, has its largest presence in South Florida, but has one out-of-state franchise in Topeka, Kansas and another slated to open in Canton, Michigan. Kokkinelis grew up in New York City and cut his teeth working in family-operated Greek diners before relocating to Florida where he opened three Moonlite Diner locations in the early 2000s. He created Gyroville and opened its first location in 2010.
---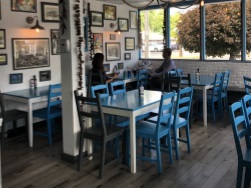 Grand Rapids, MI
Eklektico Greek Kouzina 2401 Eastern Ave SE
Alger Heights, Grand Rapids, MI
eklecticogreekkouzina.com
Husband and wife team Andreas Papangelopoulos and Nicole ThrasherPapangelopoulos offer up authentic Greek food in their cozy 30-seat restaurant opened earlier in 2018. Nicole, a native of Michigan, met Andreas while living abroad and in 2012 the couple moved to the U.S. Their menu focuses on authentic Greek fare (a mix of family recipes and recipes created by Andreas) and their décor is inspired by Mykonos.
---

Sonoma County, CA
YiaYia's The Grateful Greek
10007 Main Street
Pengrove, CA
This take-out only spot forty miles north of San Francisco is charming locals and nearby Sonoma State University students with a blend of authentic handmade Greek eats and some Greek-inspired twists on American classics. Chef Chris Adams-Albrecht's unique approach to gyro makes this spot especially interesting: instead of cooking his gyro on a rotisserie, the chef forms a meatloaf from ground beef and lamb, seals it in a food-safe plastic pouch, and cooks it sous vide (the sealed pouch with the meatloaf is cooked for hours in a bath of circulating hot water). The location, a onetime sausage factory, was opened recently by Tom Adams and Dr. Thea Robb. The restaurant's name is a playful homage to San Francisco's beloved rock legends, the Grateful Dead.
---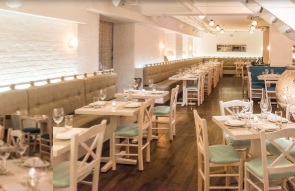 New York, NY
Eléa
217 West 85th St.
New York, NY
eleanyc.com
On the heels of the successful summer opening of Kyma Flatiron, veteran restaurateur Reno Christou and partners opened sister restaurant Eléa on Manhattan's Upper West Side last October. With an open split-level design punctuated with traditional Grecian pottery and décor, Eléa transports guests to a romantic island vacation while also evoking an intimate, softly lit aesthetic perfectly suited for the uptown neighborhood. Eléa offers guests a menu of soulful and modern Greek dishes that encompass flavors across the region's many islands and terrains.
---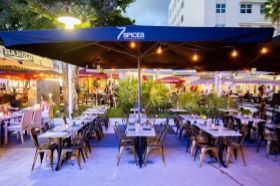 Miami Beach, FL
7 Spices Restaurant & Lounge
610 Lincoln Rd
Miami Beach, FL
7spicesmiami.com
Opened in late summer, 7 Spices Restaurant & Lounge, is a panMediterranean destination with a large, attractive patio and a hookah lounge. It's menu includes lamb, branzino and moussaka as well as shwarma, labne and mujadara, a dish of lentils, basmati rice and olive oil garnished with crispy onions.
---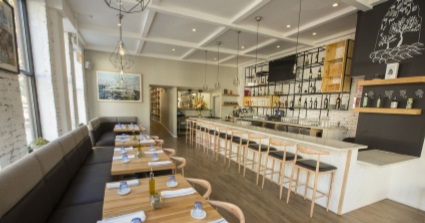 Chicago, IL
Avli Taverna
1335 W Wrightwood Ave
Chicago, IL
avli.us
Chef/restaurateur Louie Alexakis has brought his suburban Winnetka Greek concept to Chicago's Lincoln Park neighborhood along with two partners: William Glastris Jr., and sportscaster Lou Canellis. In addition to taverna classics, Avli offers up some interesting small plates that include hortopita (puffed filo pastry stuffed with endive, leeks and spinach); saganaki with peppered figs and honey; lettuce wraps stuffed with roasted vegetables and rice; and Cretan kalitsounia. The restaurant has an impressive Greek wine list and a craft cocktail menu created by mixologist Peter Vestinos, whose creations integrate a number of Greek elements including tsipouro, mastiha, Greek brandy, mountain tea, candied walnuts and bergomot.