Posted by estiator at 11 October, at 07 : 38 AM Print
By PETER J. POULOPOULOS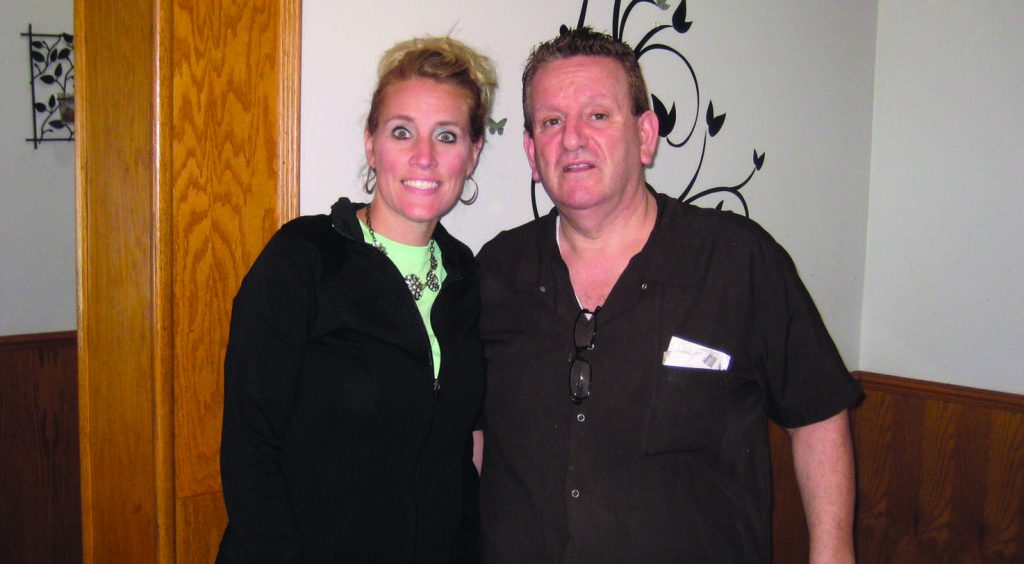 HOWE RESTAURANT is located at 5389 IN-9, Howe in Indiana; the owner is Angelo Tsitsos. Last time we visited Howe Restaurant was in 2004! Consequently, when Angelo called me a few days ago, I was happy to hear from him and promised that I will pay him a visit soon. And I did!  We were happy to discover that he has managed to make his restaurant a popular destination for Howe citizens and his business is a very successful establishment. Angelo was born in Montreal, Canada and in 1976 he moved to Des Plaines, Illinois to help his uncle in his restaurant. Eventually his uncle sold his restaurant and Angelo started to look for opportunities to open his own restaurant. In 2002, an opportunity appeared and without any hesitation he moved to Howe, Indiana. He purchased the Howe Restaurant and became its proud owner. He works hard, loves and respects all and his clients love him, including his girlfriend Breanna Kessler! In fact, Breanna deserves much credit for the success of Howe Restaurant. Angelo and Breanna have a 9-year-old son named Izen. In the picture we see Breanna and Angelo inside the restaurant. Here Is Some Interesting Restaurant News:
FROM EATER CHICAGO

CHICAGO RESTAURANT CRITIC CALLS TRUMP AN 'UNREPENTANT RACIST AND ADMITTED SEX OFFENDER  Veteran Chicago Reader restaurant critic Mike Sula delivered a scathing review of Terrace 16, the new restaurant inside Trump International Hotel & Tower in River North. The food prices, while lower than Sixteen — the Michelin-starred restaurant that Terrace 16 replaced — don't provide good value for Sula, who ripped the $28 burger and more. But the review covered more than food and service as Sula described his conflict reviewing a Donald Trump-owned restaurant in writing the president is "a proven liar, unrepentant racist, and admitted sex offender."
ANOTHER LONGTIME CHICAGO HOT DOG STAND WILL SHUTTER NEXT WEEK IN LAKEVIEW Sad news for fans of classic Chicago-style dogs on the North Side, as longtime Lakeview hot dog stand Murphy's Red Hots, will close. A new residential development is rumored to replace its building at 1211 West Belmont Avenue. The stand has been around since the mid-'80s and is a member of the Vienna Beef Hall of Fame.
NEW STATE LAW HAS CRAFT BEER OWNERS FEARING FOR THEIR FUTURES The surge in brewery taproom openings in Chicago may delight typical beer drinkers, but they pose a threat to some bars which are seeing fewer customers. Several popular Chicago craft beer owners are voicing concerns over a law passed a few weeks ago that they say will pose bigger challenges to their businesses.  Governor Bruce Rauner lifted restrictions that prevented larger breweries from serving beer and cider from other companies at their facilities. Now companies like Half Acre Beer Company and Revolution Brewing will be able to pour beers from other brewers if they want.
FIVE CHICAGO-AREA RESTAU-RANT SHUTTERS TO KNOW
AVONDALE Sugar Hills Bakery, a suburban-bred mini-chain, shuttered its shop in the Elston Plaza at 3235 West Addison Street, Block Club reports. Opened in fall 2013, it's the third bakery to close down in the neighborhood in recent months.
EDGEWATER Decade-old neighborhood Mexican favorite, That Little Mexican Café, is no more at 1055 West Bryn Mawr Avenue. The restaurant revealed the news on Facebook and Edgeville Buzz reported. It still has a location open in Evanston.
LINCOLN PARK Cedar House, a family-owned Mediterranean spot, lasted less than three months at 655 West Armitage Avenue. It opened in early March and closed over Memorial Day weekend. Although a similar restaurant named Cedar Palace recently opened in space, Cedar House ownership wrote that "we would just like to make it clear that we have no affiliation with it and have not been involved at the location since Memorial Day weekend."
THE LOOP 36-year-old downtown Italian favorite Bella Bacinos will close at 75 East Wacker Drive on October 15, the Tribune reported, as its landlord is taking over the space. Ownership, who also runs a restaurant in Lincoln Park and a seasonal spot at Diversey Harbor, hope to sign a lease soon for a replacement nearby.
PARK RIDGE Chain restaurant Houlihan's closed another Chicagoland restaurant, this time in suburban Park Ridge. Management shuttered its city of Chicago location in December 2015 and its Oak Brook location in February 2015. Multiple other suburban locations remain open.
NORTHWEST SIDE ITALIAN ICON SABATINO'S TO CLOSE AFTER FOUR DECADES The rumors that began swirling Thursday afternoon are true: Sabatino's, the old-school essential Italian restaurant that opened 40 years ago on the Northwest Side, is closing for good just before Christmas. Co-owner Angelo Pagni said he sold the property to a developer who will likely demolish the restaurant. He informed employees on Wednesday of his decision.
PILSEN RESTAURANT OWNER ACCUSED OF INTIMIDATING UNDOCUMENTED WORKERS AFTER ALLEGED BEATING A series of photos shared via social media on Wednesday show the battered face of an ex-employee at Canton Regio, a popular Mexican restaurant in Pilsen. The images show facial injuries that 42-year Guadalupe Vega sustained after an alleged fight between Canton Regio co-owner Daniel Gutierrez Jr. from Tuesday night at the restaurant. While he declined hospital care, Vega sustained swelling and a bloodied lip in the photos. Vega's step-daughter, Gabriela Nieves, posted photos to Facebook with a lengthy explanation. She and Vega accuse Gutierrez Jr. of abusing his employees at 1510 West 18th Street. Nieves wrote that Guttierrez "is known for treating his employees like shit, and because [they're undocumented immigrants] he knows they'll be too scared to press charges."
FROM THE DAILY HERALD
NEXT DOOR AMERICAN EATERY COMING TO VERNON HILLS Next Door American Eatery, to be launched by restaurateur and entrepreneur Kimbal Musk, is the most recent announced offering coming to the developing Melody Farm project in Vernon Hills. The restaurant will be the second in the Chicago area for Musk, the younger brother of billionaire businessman Elon Musk. His first, The Kitchen American Bistro, opened at 316 North Clark Street, overlooking the Chicago River in October 2014.
KITCHEN CLOSED: DES PLAINES REPLICA MCDONALD'S MEETS WRECKING BALL The last reminder of where Ray Kroc opened his first franchised McDonald's in Des Plaines went into the history books when the 33-year-old replica restaurant building met the wrecking ball. The one-story concrete block building at 400 Lee Street already had the tops of its golden arches and main "McDonald's" sign stripped from it in January. At the same time, the company had the 63-year-old original neon road sign dismantled, so it could be restored and preserved off-site.
PROSPECT ALLOWS VIDEO GAMBLING Mount Prospect added its name Tuesday to the list of communities offering video gambling. The 4-2 vote by trustees reflected strong feelings on both sides of the debate. The new ordinance allows video gambling in specific settings, including restaurants, private clubs, brewpubs and bowling alleys. However, it prohibits video gambling cafes.
SPORTS BAR WITH HIGH-TECH AUDIO, GELATO CAFE OPEN IN FAR WEST ELGIN Two more new eateries are open in a far west Elgin strip mall area that's been gradually coming alive this year. TJ's Bar and Grill and Café Mariani Java and Gelato are in the same strip mall at 3145 West Route 20, just east of Nesler Road.
LIBERTYVILLE BROTHERS REALIZE DREAM OF OPENING NEW RESTAURANT Chrisoula's Restaurant featuring Greek cuisine is expected to open in early October at School Street and Milwaukee Avenue in downtown Libertyville. The spot was last occupied by Salerno's Ristorante & Pizzeria. The next restaurant to open in downtown Libertyville's plentiful menu of offerings is the dream of two hometown brothers. "That's why we went to (culinary) school together. This ultimately was the end game," explained Nick Dimitriou, who with brother, Theo, is putting the finishing touches on Chrisoula's on the northeast corner of School Street and Milwaukee Avenue. "We want to bring you the kind of Greek food we grew up on," Theo said. "A lot of these (menu items) are family recipes," he added. Chrisoula's is the first name of their grandmother. "She's one of the main reasons why we love food so much," Nick Dimitriou said. For nine years, he had been the head chef at the former Philly G's in Vernon Hills. He was working at NorthShore Sports Club in Lake Forest earlier this year when he heard the space at 602 North Milwaukee Avenue, in Libertyville was available.