Posted by estiator at 10 March, at 10 : 54 AM Print
New Purchasing Co-Op Chairman Set Sights on Compliance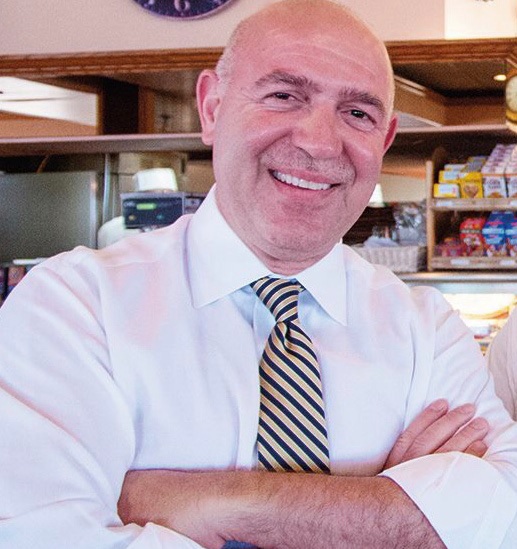 AN INTERVIEW WITH GARA'S STEVE THEOFANOUS
Just a few months  into his term, the newly-elected Chairman of Chicagoland's Greek American Restaurant Association Cooperative (the largest organization of its kind in the U.S.) talks about the organization's future and his plans to improve its purchasing strength.
Let's start off by understanding your organization's history for our readers that are learning about GARA for the first time.
GARA [Greek American Restaurant Association] was founded in 1986.  This was when Greektown was very strong.  Some of the restaurateurs there had multiple units in the city and decided to pull together to create a cooperative that would help them to save money and at the same time provide a vehicle through which they could put money back into the community.  It was formed with that dual purpose in mind – philanthropy and cost savings for their businesses.  At first they worked with Sysco Foods on the distribution side.  Coca Cola, Alpha Baking and Superior coffee were the first big manufacturers with whom they had a relationship.  After that, other companies partnered with us to get access to our members, and provide pricing benefits in return.
Today GARA Cooperative is a very large organization.  How did it grow?
About fifteen years into the GARA's life, we hired our first Chief Operating Officer, a gentleman by the name of Lou Latrofski.  Lou worked in the industry for years and was well seasoned.  We brought him out of retirement because we recognized that we needed someone to run the organization full-time.  He was aggressive and was able to bring more manufacturers and brokers into our network of partners and offer members more off-invoice allowances [GARA-specific discounts]. After Lou passed away, we brought Stan Greanias on as CEO.  I believe this was in 2008.  Stan had served as the CEO of Superior Coffee, which became Sara Lee Coffee & Tea.  With Stan, we decided to divide GARA into two separate entities – a cooperative and a philanthropic organization.  Up to that point, we were basically offering mostly off-invoice allowances.  When we made the cooperative its own entity, we created two types of memberships – non-paying associate memberships whereby businesses could join to receive the off-invoice allowances, and paid executive memberships, whereby businesses could receive rebates. Restaurants that joined as executive members didn't have to pay the membership fee upfront, which helped us to attract more businesses.   We had the membership fee deducted out of their rebates. So, you were able to overcome objections when canvassing for new members by eliminating the initial investment, or, at least, burying it into their savings.  It was a win-win situation. Exactly, and eventually we grew to become over 1,000 members.
What does GARA's geographic footprint look like?  Does it have a national presence?
Our members are primarily located in the Chicago metro area, with some members in Milwaukee, Wisconsin to the north of Chicago, and some in northern Indiana, to the city's south.  If I had to estimate, I would think that about 80% of the Greek American-owned restaurants in the Chicago area are members of GARA.  Our goal is not to make it a huge organization or to make it a national one.  We recognize that we are regional and we do not intend to push for major growth.  Our focus, instead is on becoming a stronger voice for our members in our dealings with our vendors.
How do you intend to accomplish that?
Since being elected to the chairman position in June, I have made compliance the theme of my leadership, looking to motivate and incentivize our membership to do more business with our vendor partners.  The phrase "the power of many working as one" embodies what I believe to be our greatest opportunity.  We have $100 million in purchasing power to leverage, and that leverage is most effective when our members work closely with the vendors that are, in exchange, offering attractive pricing and rebates, which help our member businesses to save thousands and thousands of dollars.
One thousand members, and $100 million in purchasing power – all concentrated in one city and its surrounding areas; this is an impressive presence.  I'm wanting to compare it to a chain like Applebee's, that has almost 2,000 franchises in its national (and global) network.  Most of the restaurants in that chain are able to achieve food cost targets in the low 20s (as a percentage of sales).  Are GARC's members able to leverage their purchasing power to achieve similar results?
Well, it's not an apples-to-apples comparison.  The chains don't have any autonomy – they are obligated to offer a specific menu; and to execute on that menu, they are obligated to purchase specific items from specific manufacturers and through specific distributors.  Our cooperative doesn't function the same way.  Our members are all individual businesses that have complete control over their own purchasing decisions.  However, there are greater benefits we can offer to our members through rebates and pricing when more of our members do business with our vendor partners.
So, then, how do you get your members to buy into the compliance initiative?
The board is working on a few ideas, although they are not finalized.  One of the thoughts is to create a new level of membership in which those members would receive a higher rate of savings, primarily through rebates.  To be accepted at that level, a restaurant would need to achieve purchasing thresholds by using at least one of our key distribution partners and three or more of our vendor partners.  So by offering a carrot, you are hoping to convince more of your members to comply with your purchasing recommendations or guidelines.
That's the idea.  Again, the details are being worked out, but this is the principle that we're working from.  It becomes a win-win solution: Our vendors win because they can secure more business for themselves from our members; and our members win because with that additional business comes a higher rate of savings.  The more you buy from our vendors, the larger the bonus you get back in return. And at the same time, more money is generated for our philanthropic endeavors.
Before we close, it seems important to touch on the other cooperatives in the Greek restaurant world; specifically Pan Gregorian.  Do GARC and Pan Gregorian work in tandem to any extent?  It seems a natural fit, and would enable both organizations to maximize the value they derive from the vendors that they have in common.  I can imagine a relationship in which each organization maintains its integrity and its autonomy, but finds mutual ground for cooperation.  It only makes sense for the two organizations to approach their common vendors; it increases the purchasing leverage for each of you. We may have had contact with Pan Gregorian in the past but I'm not aware of any mutual work that the organizations have done together.  We certainly recognize and congratulate them for their accomplishments and what they are doing for their members.  If there are ways to work together, we are open to it.
You mentioned that GARA was established with a dual purpose, can you elaborate?
As I said, in 2009 we separated the two entities: GARC [Greek American Restaurant Cooperative] is the business organization, and GARA is our philanthropic organization.  From the beginning we have made "giving back to the community" a priority of our organization.  Many of the members over the years have joined not simply to save money, but also as a means of supporting the community.  Some of the organizations that we have been instrumental in helping are the Greek American Rehabilitation & Care Center in Wheeling, Illinois; the National Hellenic Museum on Halsted Street; the Hippocratic Cancer Research Foundation; and the St. Iakovos Retreat Center, established by former Metropolitan Iakovos.  Of course, we have also given grants to various community organizations over the years, and have, since our inception, given scholarship awards to deserving Greek American college-bound students.
---
GARA/GARC has over 1,000 members and harnesses over $100 million in purchasing power from those members.  It works with over 300 foodservice companies and manufacturers, providing rebates and savings on more than 100,000 products.  In 2008, GARA purchased a building in Des Plaines, Illinois where it houses its offices.  Its key distribution partners are Sysco, US Foods and Panos Foods.
Members receive rebates on purchases from manufacturers as well as from distributors.  In most cases, members receive 75% of the savings through quarterly checks from GARA.  The remaining monies fund the organization's administrative costs and its philanthropic activities.
Chief Operating Officer GARC is Mike Sakelaris.
President of GARA is Sam Marcos, who is one of the founding members of the organization.
Steve Theofanous took over as Chairman of GARC from Tom Diamond in June 2018.  Mr. Diamond served as both Chairman of GARC and President of GARA for more than fifteen years.   Mr. Theofanous is the co-owner of Around the Clock Restaurant & Bakery in Crystal Lake, IL and Theofanous Property Management Company with his brother Fano.  He has been in business for 43 years and has been a member of GARA since 1986.   He also is a columnist whose commentaries on family values appears regularly in "Omogenia", a Chicago-based newspaper for the Greek-American community.  His articles are also published in Australia, England and Canada.  His weekly radio show as part of Chicago's "Greek Hours" is heard on WEEF 1430AM.