Posted by estiator at 2 April, at 16 : 42 PM Print
ABC Realty
Do you want to sell your diner?
I HAVE BUYERS!
"Korean and English speaking"
GREGORY HAHN
Cell: (201)-290-9185
Fax: (201)-857-0921
gregoryminhahn@gmail.com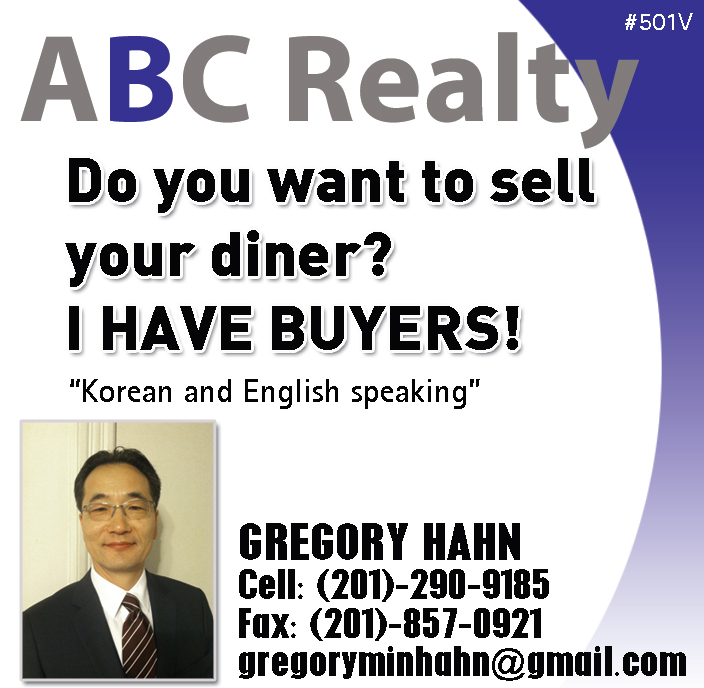 ΔΙΚΗΓΟΡΟΣ - ΙΩΑΝΝΙΝΑ
Ελένη Δ. Κούτμου
Τηλ: 0030-6972554830
Elen.kout@hotmail.com
Το δικηγορικό γραφείο παρέχει αποτελεσματικές και εξατομικευμένες νομικές υπηρεσίες σε Έλληνες κατοίκους του Εξωτερικού και Ομογενείς.
ΔΙΑΧΕΙΡΙΣΗ ΑΚΙΝΗΤΩΝ
ΡΥΘΜΙΣΕΙΣ ΦΟΡΟΛΟΓΙΚΩΝ ΥΠΟΘΕΣΕΩΝ
ΔΙΕΥΘΕΤΗΣΗ ΚΛΗΡΟΝΟΜΙΚΩΝ ΥΠΟΘΕΣΕΩΝ
Queens, NY I Diner for Sale
Established Business for 80 years.
Long term lease (with options). "Prime Location" on
a very busy Boulevard. Serious Inquiries Only.
For Information Call:
Mrs. Pappas (917) 968 -7963
East North Carolina
EAST NORTH CAROLINA Real Opportunity
Restaurant business for sale, 180 seats. 
Free standing building. Lunch-Dinner.
Plenty of Parking, Excellent condition.
Good location. Plenty of lease available.
Weekly sales: Over $50,000!
FOR MORE INFORMATION: 914-456-7490
BORDENTOWN, NJ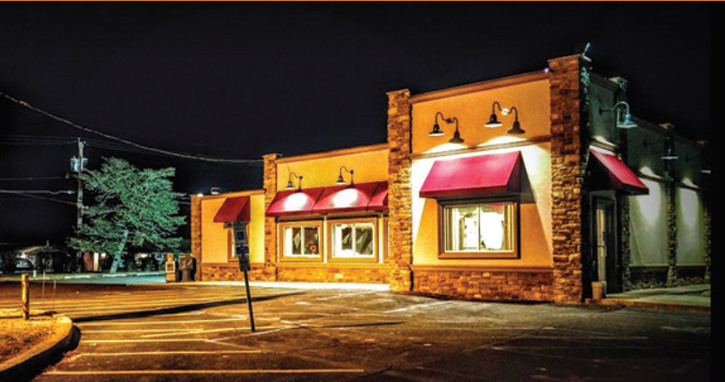 BUSINESS AND PROPERTY FOR SALE:
135 seats recently renovated (interior and exterior),
no money to spend. Turnkey operational, all has been changed eating AC gas, ground water. Parking lot with 50 spots. 6.7  acres property.
Income: $18,000-$20,000 weekly. Price: $975,000
Tel: 609-234-6924.
Exceptional Breakfast Restaurant for Sale
This beautifully designed upscale Breakfast destination is located in theup-and-coming sunny Tampa Bay Market, self-standing building nested in a wonderful community which supports local businesses, legal and medical offices, residential communities and churches.
Newly constructed in 2009, with an immaculate large kitchen, the original/current owners and operators of this successful, turn-key restaurant have kept this gem extremely profitable for the past eight (8) years. With capacity for 104 guests, this establishment has the opportunity to expand from breakfast and easily support a dinner service for a phenomenal return on investment.
Annual gross sales over $600K (with a potential of greater than $1.lM). Cash flow over $200k (with a potential of greater than $400k). Seventeen year triple net lease.
Only motivated and serious inquiries for the purchase of this profitable establishment at $329k for the business and contents (property and building available for sale as well.
Tom Kostas:727-359-1004
E-mail: tom.kostas@gmail.com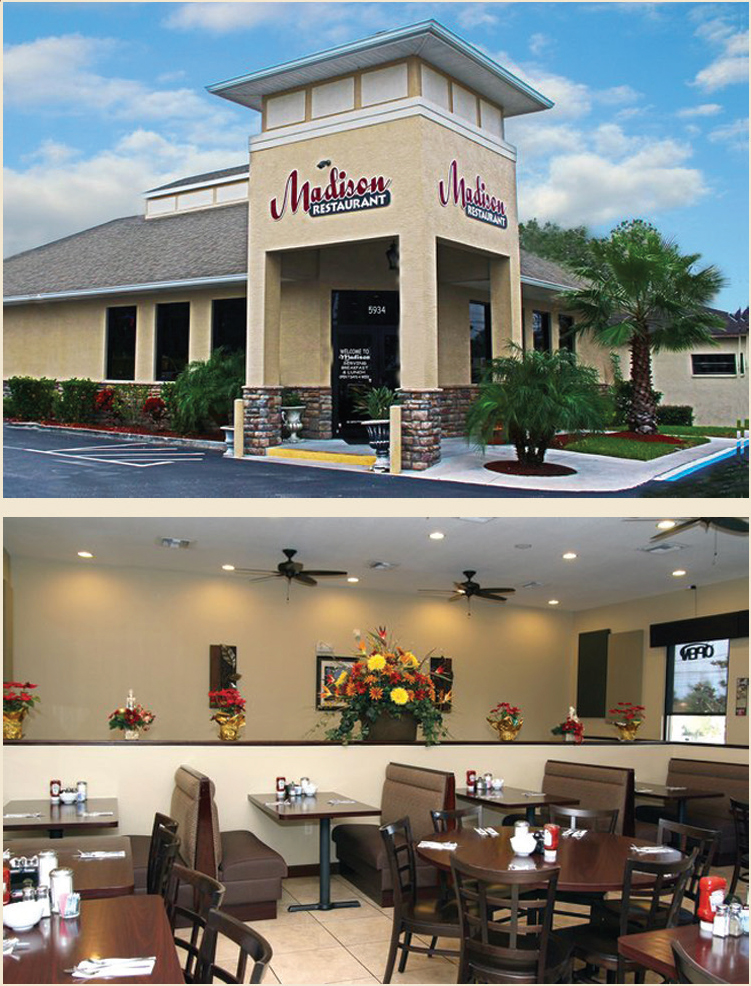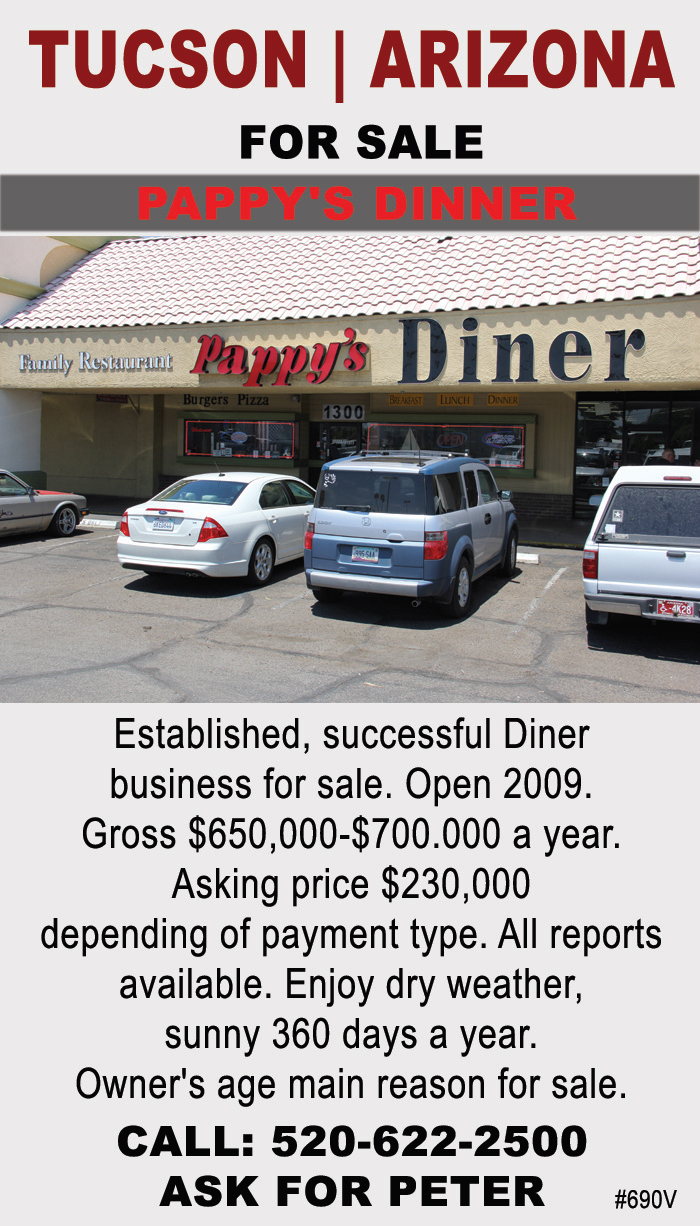 DINER FOR SALE | TUCSON, AZ
TUCSON | ARIZONA
FOR SALE
PAPPY'S DINER
Establishesd, successful diner business for sale. Open since 2009.
Gross $650,000-$700,000 a year.
Asking price $230,000 depending of payment type. All reports available. Enjoy dry weather sunny 360 days a year.
Owner's age main reason for sale.
CALL: 520-622-2500
ASK FOR PETER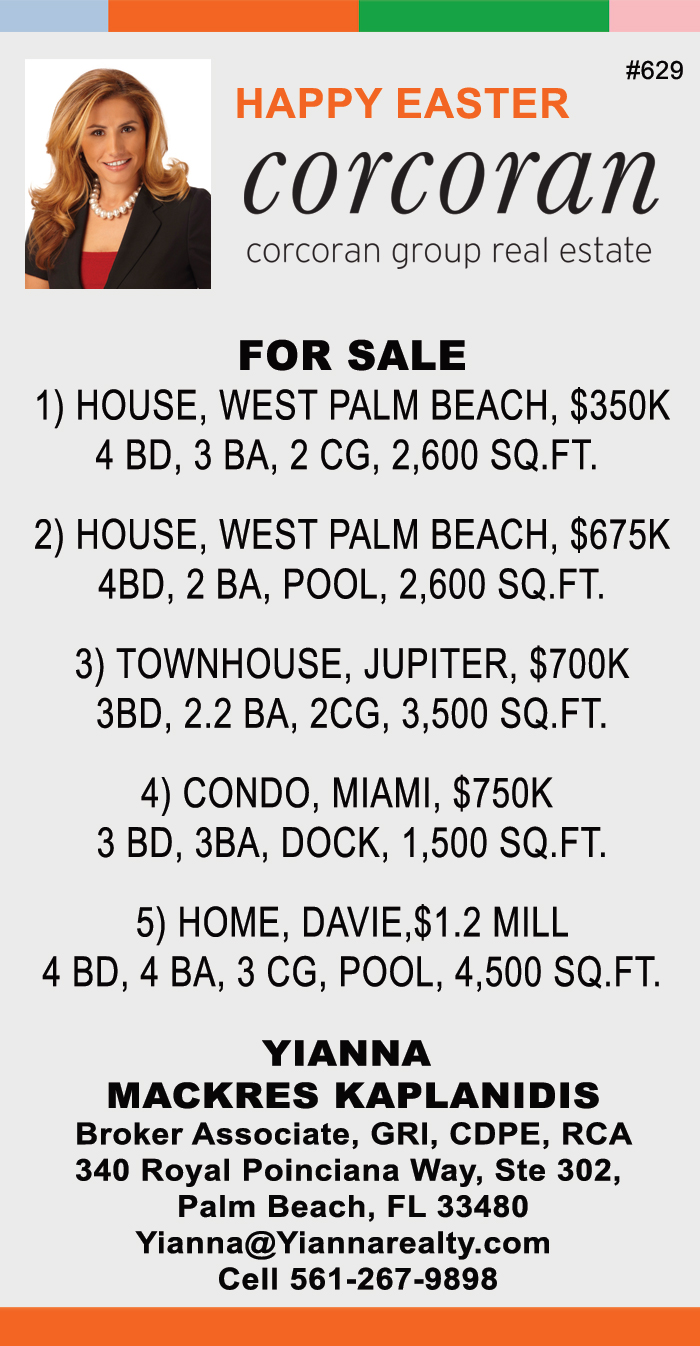 corcoran group real estate
FOR SALE
HOUSE, WEST PALM BEACH, $350K, 4 BD, 3 BA, 2 CG, 2,600 SQ.FT.
HOUSE, WEST PALM BEACH, $675K, 4BD, 2 BA, POOL, 2,600 SQ.FT.
TOWNHOUSE, JUPITER, $,700K, 3BD, 2.2 BA, 2CG, 3,500 SQ.FT.
CONDO, MIAMI, $750K, 3 BD, 3BA, DOCK, 1,500 SQ.FT.
HOME, DAVIE, $1.2 MILL, 4 BD, 4 BA, 3 CG, POOL, 4,500 SQ.FT.
YIANNA
MACKRES KAPLANIDIS
Broker Associate, GRI, COPE, RCA
340 Royal Poinciana Way, Ste 302,
Palm Beach, FL 33480
Yianna@Yiannarealty.com
Cell 561-267-9898
RESTAURANT - BAR - HOTEL | NORWICH, NY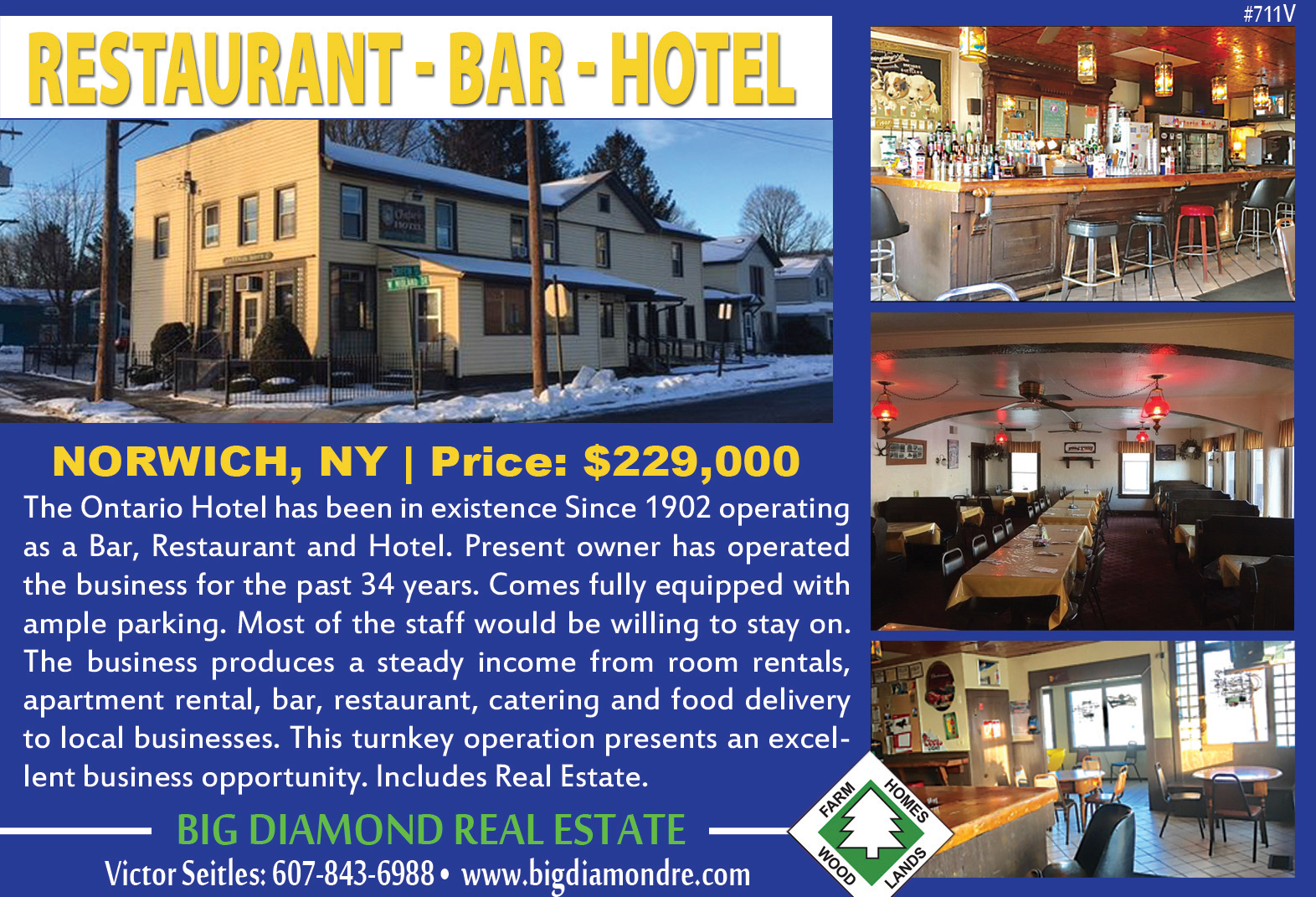 NORWICH, NY | Price: $229,000
The Ontario Hotel has been in existence since 1902 operating as a Bar, Restaurant and Hotel. Present owner has operated the business for the past 34 years. Comes fully equipped with ample parking. Most of the staff would be willing to stay on. The business produces a steady income from room rentals, apartment rental, bar, restaurant, catering and food delivery to local businesses. This turnkey operation presents an excellent business opportunity. Includes Real Estate.
Big Diamond Real Estate
Victor Settles: 607-843-6988
www.bigdiamondre.com
COMMERCIAL REALTY GROUP
CENTRAL PENNSYLVANIA
FAMILY STYLE RESTAURANT – Very well-known establishment. Over $1 million in gross sales annually. Great location. 100 Seats. Sale includes business, fixtures and equipment.
PRICE: $395,000.00
SPECIALTY MARKET – 3,000 SF located in touristic area. Excellent lease terms. Sale includes business, equipment, furnishings, and food inventory.
PRICE: $145,000.00
RESTAURANT & SPORTS BAR – Very well-known establishment. 4,482 SF Building with 160 seating capacity. Sale incl. business, liquor license, equipment, furniture, and real estate.
PRICE: $1,500,000.00
FAMILY RESTAURANT – 5,766 SF bldg. on 1.31 acres. Excellent visibility on main highway. Sale includes business, equipment, and real estate.
PRICE: $395,000.00
RESTAURANT (VIRGINIA) - 5,200 SF Bldg. 205 Seats. Extremely visible prime location near national retail tenants. Well known dining destination with over $2.5 million gross annual sales. The sale includes business, furniture, fixtures, equipment and beer and wine license.
PRICE: $1,300,000.00
DINER: Very well-known over 25 year established business located in busy, high pedestrian retail shopping center near heavily travelled major road. Good lease terms. The sale includes business and equipment.
PRICE: $145,000.00
THOMAS J. MALLIOS
1300 Market Street, Suite 305
Lemoyne, PA 17043
(717) 761-8106 Ext. 104
www.commercialrealtygroupinc.com
Realpoul Realty
A BEAUTIFUL SUMMARY OF OPPORTUNITIES
BAR / TAVERN HOME PROPERTY FS - 1.5 Ares, Bar-Tavern w/Apt above + 3-bed House / or Business only $735,000 - Lake Villa, IL

BREAKFAST LUNCH Only – Well Known – Outstanding – New Listing – Call us for Details - Oak Creek, WI

BREAKFAST LUNCH Only – Highly Respected Name with Great Following – Priced Right for a Quick sale – New Listing – Call us for Details – Midlothian, IL

FAST FOOD Free Standing, Profitable, Same Owner Over 17 Years – Great Asking Price - Chicago, IL

FAST FOOD - Free Standing , Corner, Drive-Thru, 65 Seats, W/Prop.-Video Poker $675,000 - Broadview, IL

LAND - 7.5 Acres Zoned C2, Unbelievable offering! Extend to Stop Light at Extra $'s $1,595,000 - Homer Glen, IL

RESTAURANT - Free Standing Family 185-Seat Restaurant, 5,500 sq. ft. W/Property $849,000 - Portage, IN

RESTAURANT BAR - with Property of 2 Acres -Spectacular offering! - Video Poker $1,595,000 Another $1,595,000 buys adjacent 7.5 acres land - Homer Glen, IL

RESTAURANT-BAR-PIZZA. Free Standing - 3.5 Acres - W/Property-Owner Financing $1,795,000 - Lake Barrington, IL

SPORTS BAR & 18K STRIP MALL - Profitable Sports Bar in 18,000 Sq. Ft. Strip Mall (Business & Property!!!) $993,000 - Chicago Heights, IL
Peter J Poulopoulos, MBA
(773) 743-2100
Peterjp@Realpoul.com
2731 W Touhy Ave, Chicago, IL 60645
-Licensed Illinois, Indiana, Wisconsin
Managing Real Estate Broker-
CHESTNUT CHATEAU RESTAURANT & BAR | UNION, NJ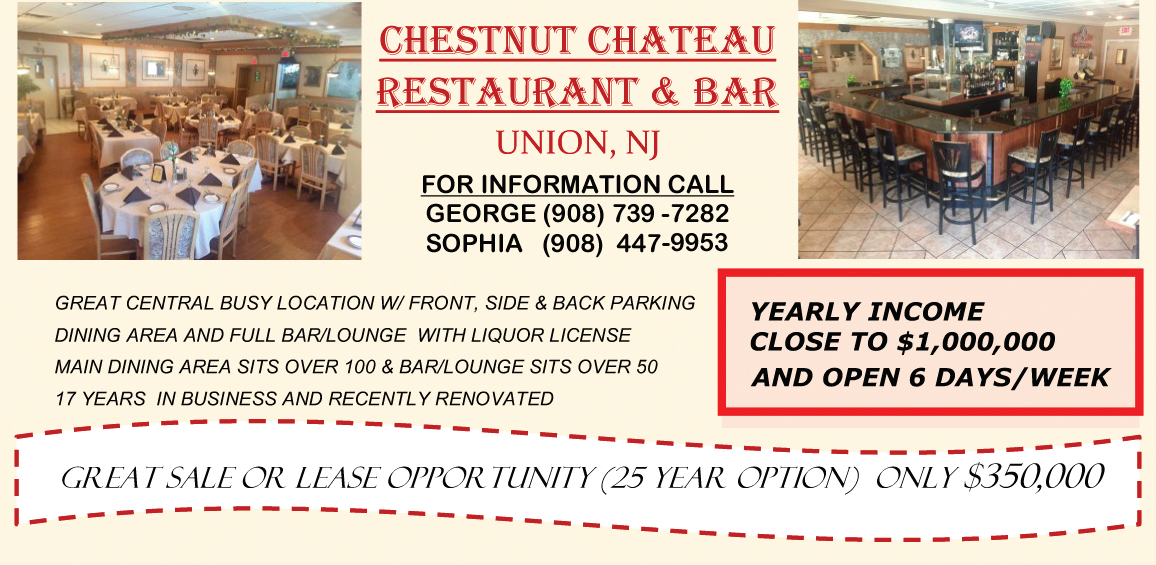 CHESTNUT CHATEAU RESTAURANT & BAR
UNION, NJ
FOR INFORMATION CALL
GEORGE (908) 739 -7282
SOPHIA (908) 447-9953
GREAT CENTRAL BUSY LOCATION WI FRONT, SIDE & BACK PARKING YEARLY INCOME
DINING AREA AND FULL BAR/LOUNGE WITH LIQUOR LICENSE CLOSE TO $1,000,000
MAIN DINING AREA SITS OVER 100 & BAR/LOUNGE SITS OVER 50 AND OPEN 6 DAYS/WEEK
17 YEARS IN BUSINESS AND RECENTLY RENOVATED
GREAT SALE OR LEASE OPPORTUNITY (25 YEAR OPTION) ONLY $350,000
DINER | WESTERN PENNSYLVANIA

Diner (business) for sale
160 seats, open 6:30 am-10 pm. Next to a busy road.
Gross $1,200,000 yearly. Rent: $4,200 monthly. Parking for 90 cars.
Landlord pays the property taxes.
Price: $726,000
FOR MORE INFORMATION CALL: 201-532-4354
ALLENSTOWN PIZZA MARKET | ALLENSTOWN, NH

BUSINESS FOR SALE
CALL OWNER: 603-485-8100
Good opportunity!
Pizza Shop, business for sale. Established, 18 years of operation with the same owner. Mostly delivery and pickup. Plenty of parking, located on a busy small plaza, right next to a busy road.
Price:$ 135,000.
iOmega
Business Brokers LLC
& MKK Realty LLC
6 WEST END COURT, 2ND FLOOR, SUITE 1A
LONG BRANCH, NJ 07740
FUNDTHISMARY@GMAIL.COM
MARY KOUTANTOS: 732.670.5899
REAL ESTATE SALES & FINANCING
Central Jersey, 300 seat, top Diner, high income - low expenses! Corner Lot, near University, Business and pharmaceutical companies. Asking only $3,200,000, financing available- Business only.
New Jersey, Diner with Ice cream drive through window - High Profit!!!! Asking $1,700,000.
Diners in Philly area with or without properties. Busy areas. Call for more info
Central Jersey, Bar Restaurant. High Profit $2.5M w/ property
11 O Seat Diner, updated w/ Land $1,700,000.
CHERRY HILL I NEW JERSEY
Πωλείται diner ανακαινισμένο, ολοκαίνουργια τα πάντα, εξοπλισμός, καθίσματα, κ.τ.λ. Είναι περίπου 180 καθισμάτων και έχει πάρκινγκ. Βρίσκεται σε πολύ καλό σημείο, κοντά στα μαγαζιά. Κερδοφόρος επιχείρηση. Πωλείται η επιχείρηση με το ακίνητο.
ΓΙΑ ΠΕΡΙΣΣΟΤΕΡΕΣ ΠΛΗΡΟΦΟΡΙΕΣ:
856-520-2477
BISTRO | MYRTLE BEACH SC
SMALL BISTRO FOR SALE
Small Bistro for sale with 38 seats, it comes fully equipped. Turn Key operation. Very busy restaurant, serves Mediterranean food and operates with local customers. Located in a plaza and next of a busy intersection. Plenty of parking, front and back. Rent: $1,375 per month. The owner is selling the business because of health problems.
FOR MORE INFORMATION: 585-773-0788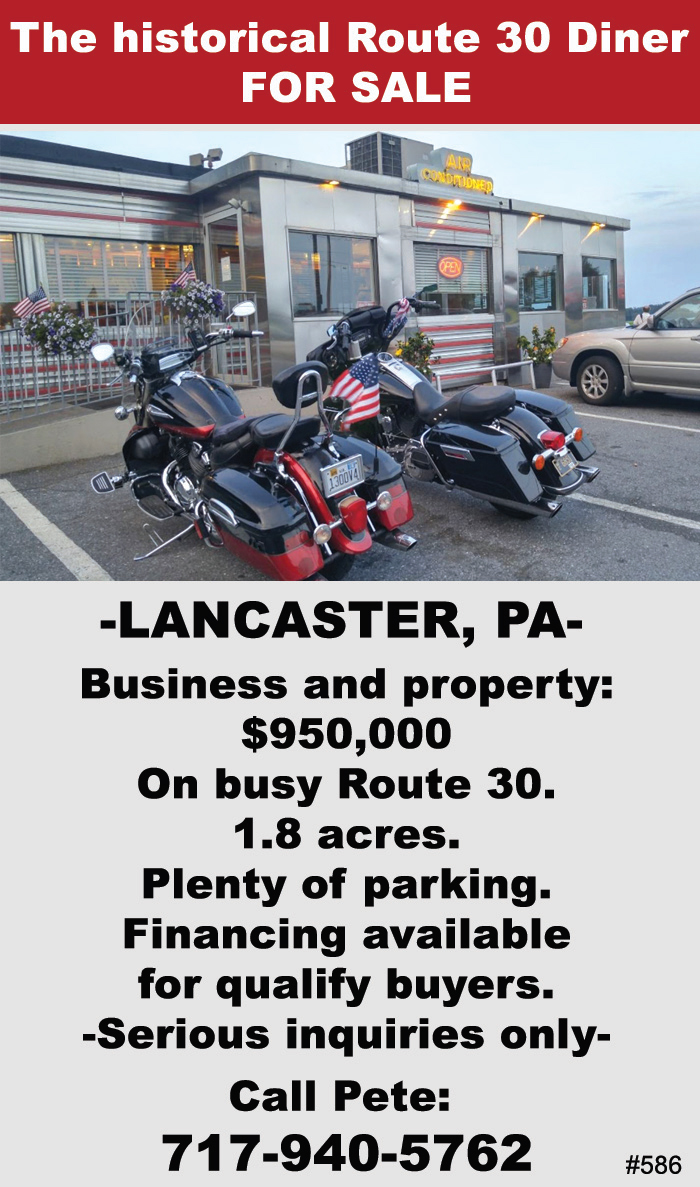 Route 30 Diner | LANCASTER, PA
The historical Route 30 Diner
FOR SALE
-LANCASTER, PA
Business and property:
$950,000
On busy Route 30. 1.8 acres. Plenty of parking. Financing available for qualify buyers.
-Serious inquiries only-
Call Pete:
717-940-5762
OLYMPIAN RESTAURANT | KINSTON NC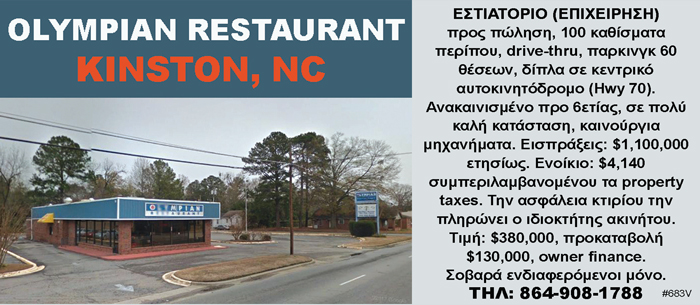 ΕΣΤΙΑΤΟΡΙΟ (ΕΠΙΧΕΙΡΗΣΗ)
προς πώληση, 100 καθίσματα περίπου, drive-thru, πάρκινγκ 60 θέσεων, δίπλα σε κεντρικό αυτοκινητόδρομο (Hwy 70). Ανακαινισμένο προ 6ετίας, σε πολύ καλή κατάσταση, καινούργια μηχανήματα. Εισπράξεις: $1,100,000 ετησίως. Ενοίκιο: $4,140 συμπεριλαμβανομένου  τα property taxes. Την ασφάλεια κτιρίου την πληρώνει ο ιδιοκτήτης ακινήτου. Τιμή: $380,000, προκαταβολή $130,000, owner finance. Σοβαρά ενδιαφερόμενοι μόνο.
Τηλ. 864-908-1788
NEW ENGLAND LOCATIONS
OLYMPIC GROUP REALTY
Tel.: (508) 274-1916
Nassos G. Prapas
Owner/Broker
MAINE PIZZERIA, Main Street. Free Standing Building. Εισπράξεις $28,000.00 την εβδομάδα. Μεγάλη λίστα, ενοίκιο $3,500 τον μήνα. Πωλούνται οι business για $300,000.
CAPE COD MA, PIZZERIA no delivery. Κέρδος $350,000. Κλείνει 6 εβδομάδες τον χειμώνα. Πωλούνται οι business για $650,000 με $300,000 κάτω. Μεγάλη λίστα με $6,000 τον μήνα. Στο ενοίκιο περιλαμβάνεται και διαμέρισμα με 3 υπνοδωμάτια.
CAPE COD MASSACHUSETTS, κεντρικός δρόμος, italian style pizza, liquor license. Εισπράξεις $2,500.000 τον χρόνο, πολύ κερδοφόρα επιχείρηση. Πωλούνται οι business για $1,150,000 με τα μισά προκαταβολή.
MASSACHUSETTS, PIZZERIA, no delivery. Εισπράξεις $55,000 με $60,000 την εβδομάδα. Ανεξάρτητο κτίριο με μεγάλο parking. Πωλούνται οι business για $1,400,000 με τα μισά προκαταβολή. Μεγάλη λίσταμε $9,000 τον μήνα ενοίκιο.
PIZZERIA/FAST FOOD. Κεντρικός δρόμος, ωραίο dining room, αρκετό parking. Εισπράξεις πάνω από $25,000 την βδομάδα. Ενοίκιο $4,000 /το μήνα, μεγάλη λίστα. Πωλούνται οι business για $450,000 με μισή προκαταβολή.
RESTAURANT | SARASOTA FL
SARASOTA | FLORIDA | EXCELLENT OPPORTUNITY
SEAFOOD AND STAKE RESTAURANT FOR SALE
Located in Sarasota County next to the water on a busy small Hwy, passing every day over 30,000 cars. Seating capacity 200 plus 80 seats outside on the water. Parking for 65 cars. 2 acres property. 15 years in business. Plenty of Lease. Everything is renovated with brand new equipment. Very busy restaurant, very good profit. Business and property for sale.
OWNER IS RETIRING. FOR MORE INFORMATION CALL: 941-356-7081
NEW HAMPSHIRE
Pizzeria (Business) for Sale
A Good opportunity for family
30 YEARS ESTABLISHED PIZZERIA
Owned by one person. No delivery, open 6 days a week. 50 seats. Large parking lot Free-Standing building. Great potential for more business. Prime location on a busy road. Long lease. GOOD OPPORTUNITY FOR A FAMILY. Only serious offers.
Leave a message: 
603-820-1966
WERNERSVILLE, PA
Well established and busy diner in Berks County, PA, on heavily traveled route for sale. Open 7 a.m.-2 p.m. daily, with sales over $650,000 year. Great opportunity for seasoned veteran or hungry entrepreneur. Sale includes business, 1 acre property, building and all furnishings.
Asking price $1.5M
For further details call:
484-955-6383
DINER FOR SALE | ELIZABETH NJ

Well established Diner for sale in Elizabeth, NJ. Very busy location with a long history. Grossing over 1 million annually. Great opportunity. 
Price: $450,000 | Financing available.
Call for details: (848) 565-7892
DINER FOR SALE | SOMERDALE NJ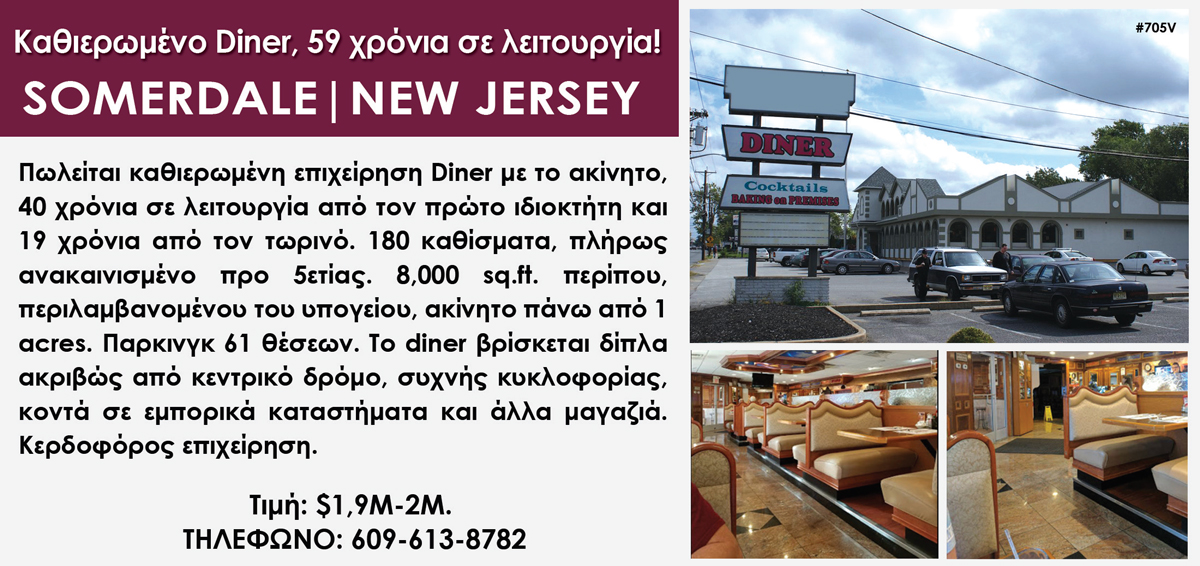 Πωλείται καθιερωμένη επιχείρηση Diner με το ακίνητο, 40 χρόνια σε λειτουργία από τον πρώτο ιδιοκτήτη και 19 χρόνια από τον τωρινό. 180 καθίσματα, πλήρως ανακαινισμένο προ 5ετίας. 8,000 sq.ft. περίπου, περιλαμβανομένου του υπογείου, ακίνητο πάνω από 1 acres. Παρκινγκ 61 θέσεων. Το diner βρίσκεται δίπλα ακριβώς από κεντρικό δρόμο, συχνής κυκλοφορίας, κοντά σε εμπορικά καταστήματα και άλλα μαγαζιά.
Κερδοφόρος επιχείρηση.
Τιμή: $1,9Μ-2Μ.
ΤΗΛΕΦΩΝΟ: 609-613-8782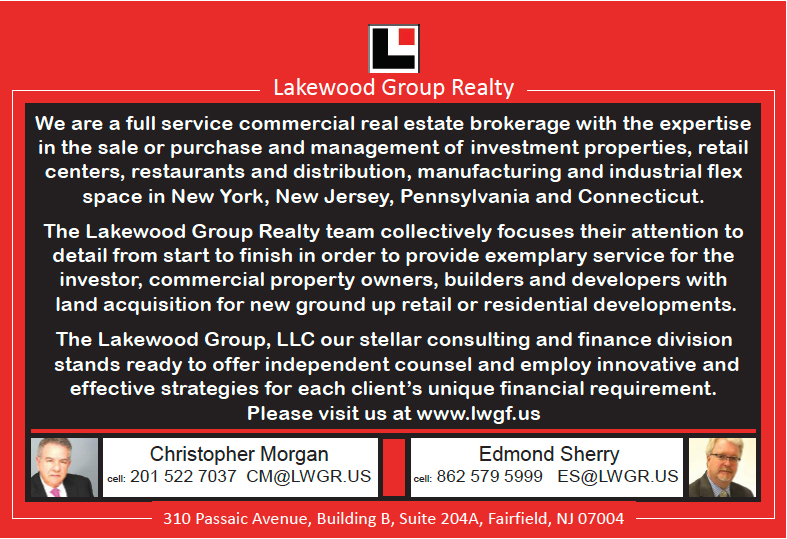 We are a full service commercial real estate brokerage with the expertise in the sale or purchase and management of investment properties, retail centers, restaurants and distribution, manufacturing and industrial flex space in New York, New Jersey, Pennsylvania and Connecticut. The Lakewood Group Realty team collectively focuses their attention to detail from start to finish in order to provide exemplary service for the investor, commercial property owners, builders and developers with land acquisition for new ground up retail or residential developments. The Lakewood Group, LLC our stellar consulting and finance division stands ready to offer independent counsel and employ innovative and effective strategies for each client's unique financial requirement.
Please visit us at www.lwgf.us
Christopher Morgan
cell: 201 522 7037
CM@LWGR.US
Edmond Sherry
cell: 862 579 5999
ES@LWGR.US
310 Passaic Avenue, Building B, Suite 204A, Fairfield, NJ 07004