Posted by estiator at 9 March, at 16 : 50 PM Print
Mission Statement for your restaurant: You Should Have It!
The dictionary defines the term mission statement as a formal summary of the aims and values of a company, organization, or individual. As Yogi Berra said: "If you don't know where you are going, you'll end up someplace else." Consequently, we need to precisely define what the purpose of our restaurant is and what we aim to accomplish. The purpose of this month's column is to remind all restaurant owners to (a) develop a mission statement if there is none and (b) review your existing mission statement and assess its relevancy and update as needed. We came across a last year's posting by AJ Beltis of Restaurant Management titled "15 Clever and Inspiring Restaurant Mission Statements" and we believe it can serve you well in dealing with your mission statement. According to AJ Beltis, here are 15 of the best restaurant mission statements and action statements. Read them, enjoy them, and learn from them.
15 Inspiring Restaurant Mission Statements:
Chipotle Mexican Grill: Ensuring that better food, prepared from whole, unprocessed ingredients is accessible to everyone.
Culver's: Our mission today is the same as it's always been: That every guest who chooses Culver's leaves happy.
Domino's: Sell more pizza, have more fun!
Dunkin' Donuts: To be the leading provider of the wide range delicious beverages and baked products around the kingdom in a convenient, relaxed, friendly environment, that insures the highest level of quality product and best value for money.
Flour Bakery: Make amazing food – Offer warm welcoming service – Give back to the neighborhood – Run an efficient, profitable business – Make Flour a better place for both our customers and ourselves.
Freshii: To help citizens of the world live better by making healthy food convenient and affordable.
Il Fornaio: At Il Fornaio, our mission is to provide our guests with the most authentic Italian experience outside of Italy.
Moe's Southwest Grill: To provide a one-of-a-kind experience that energizes everyone with an enthusiastic welcome, exceptional service, awesome food, killer tunes, and an unforgettable time.
Ninety Nine Restaurant & Pub: A passion to serve.
Orange Leaf: As the only national snack shop, Orange Leaf encourages people to be one-of-a-kind originals by creatively mixing and mashing up bites, flavors, music, and art to create an experience that's as unique as they are.
Panda Express: To deliver exceptional Asian dining experiences by building an organization where people are inspired to better their lives.
Panera Bread: A loaf of bread in every arm.
Philz Coffee: Bettering people's days.
Starbucks: To inspire and nurture the human spirit—one person, one cup, and one neighborhood at a time.
Tasty Burger: Becoming a real part of every neighborhood we open in.
---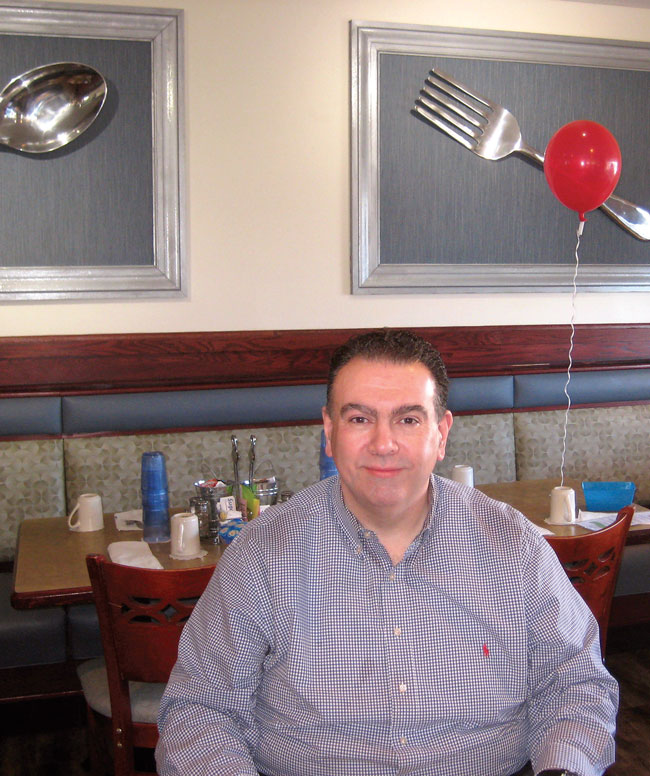 George Nikolopoulos inside his restaurant BLUEBERRY HILL CAFE at 4028 147th St Midlothian, IL.
BLUEBERRY HILL CAFE is located at 4028 147th St Midlothian, IL, and the owner is George Nikolopoulos. We visited with George at his Midlothian location, and to our pleasant surprise, we also found at the same table our friend and fellow townsman Andreas Bougas. Andreas has been the main contractor for most of the Blueberry Hill Cafe locations.
George was born in the Chicago area; his father, Dino, was a chef and from 1970 to 1978 had his own business. Dino attended a trade school and obtained a diploma as an auto mechanic. In 1983 he graduated college with a degree in computer science. He soon found himself working in a snack shop. He worked there from 1990 until 1994, and in 1994 he renamed the place Blueberry!
And that was the beginning of a great success story. The year 1997, he opened Blueberry Hill Cafe in Darien, IL. The year 1999, he opened Blueberry Hill Cafe in Aurora, IL. The year 2001, he opened Blueberry Hill Cafe in La Grange, IL. The year 2003, he opened Blueberry Hill Cafe in Homewood, IL. The year 2008, he opened Blueberry Hill Cafe in Homer Glen, IL. The year 2012, he opened Blueberry Hill Cafe in Oak Brook, IL. The year 2014, he opened Blueberry Hill Cafe in Plainfield, IL. The year 2016, he opened Blueberry Hill Cafe in Midlothian, IL.
The year 2017, he opened Blueberry Hill Cafe in Tinley Park, IL. We wish George our best and we are looking forward to seeing more locations opening soon. In the picture we see George inside his restaurant.
---
CHICAGO RESTAURANT NEWS 
FROM EATER CHICAGO: 
CUBS' JOE MADDON OPENING A RESTAURANT NEXT TO WRIGLEY FIELD 
Wrigleyville is booming with new restaurants nowadays, and now Cubs manager Joe Maddon is partnering with acclaimed chef Tony Mantuano (Spiaggia, River Roast) on a restaurant right next door to Wrigley Field. There's very little information known about the restaurant, other than it will be located at the Park at Wrigley—the plaza outside the Friendly Confines on Clark, just north of Addison. Levy Restaurants will operate the yet-to-be-named bar/restaurant.
BONCI PIZZA CONFIRMS ITS SECOND CHICAGO LOCATION 
It's official: World-famous Italian pizzeria Bonci will open a second restaurant in Chicago. Popular due to the eclectic topping combinations from founder/chef Gabriele Bonci, the owners of Bonci's American division plan to open this spring at 1566 N. Damen Avenue, the former home of Dox Quality Greek. Eater Chicago previously reported that Bonci was interested in opening in Wicker Park near the six corners intersection, but ownership in November said a deal wasn't official.
BIN 36 WINE BAR CLOSES IN THE WEST LOOP 
After 18 Years After serving fine wine and cheeses for 18 years, Bin 36 is closed in the West Loop. The wine bar/restaurant had been on an extended vacation since January 1, but owner Enoch Shully confirmed that his restaurant at 161 N. Jefferson Street is closed permanently. This was the newer iteration of Bin which moved from a larger River North location (the current Katana site) at the end of 2014 to cap a 15-year run.
CULVER'S AND ITS BUTTERBURGERS ARRIVE IN CHICAGO
Hungry Chicagoans hankering for "butterburgers" and frozen custards finally get their wish today. Culver's is now officially open at 3355 S. Martin Luther King Drive in Bronzeville, bringing a location of the Wisconsin-based cult-favorite fast-food chain to the city for the first time.
---
MORE RESTAURANT CLOSURES TO KNOW
LINCOLN PARK— The windows at Lincoln Park Stadium Club have been papered up and the blinds shut. No one's answering the phone, and its Facebook page has been scrubbed clean. Normally open on Wednesday afternoon, the space was silent. The sports bar, a popular place for college fans, appears closed after a five-year run at 2423 N. Clark Street.
WEST LOOP— After opening in September at 176 N. Wells Street, Cubano Latin Street Food has closed its doors, as noticed by an LTHForum member. It served Cuban sandwiches and salad bowls. A person who answered the phone at the number confirmed it was closed.
ELMHURST— After closing its last retail location in 2017 in Oak Park, Red Hen Bread is no more. Its last day was Wednesday, January 24, as "they're no longer supplying bread," according to a phone greeting from its headquarters in Elmhurst. Red Hen in 2014 closed its Bucktown cafe, a neighborhood stalwart for 17 years. It also had a Lincoln Park location.
SKOKIE— McCormick & Schmick's Seafood & Steaks has closed another Chicago-area location. Ownership has shuttered the restaurant at Old Orchard, 4999 Old Orchard Center in suburban Skokie. The brand, owned by Laundry's, now has three locations in the area—Chicago, Oak Brook, and Rosemont. It closed a Gold Coast location over the summer. Loyalty club customers were notified last week via an email.
83-YEAR-OLD MILLER'S PUB CLOSES FOR REMODELING IN THE LOOP
Miller's Pub, the 83-year-old Loop staple, has temporarily closed for renovations. The restaurant/pub is among downtown Chicago's oldest establishments, bringing together office workers, tourists, and students. Miller's Pub, 134 S. Wabash Avenue, closed on Monday and should remain shuttered for five to six weeks, according to a Facebook post.
---
CHICAGO'S RESTAURANT AND BAR CLOSURES FOR 2018
Market conditions, including rising real estate and labor costs, plus an oversaturation of restaurants, are often cited as reasons why Chicagoans are waving goodbye to their favorite restaurants and bars. Here are some closings:
Original Yak-Zie's in Lakeview
Barn & Company Barbecue Is Closing After Seven Years in Lincoln Park
Bin 36 Wine Bar Closes in the West Loop After 18 Years
Rick Bayless Shutters a Standalone Restaurant for the First Time in Chicago; Fonda Frontera in Wicker Park is Closed for Good
Acclaimed Fulton Market Restaurant Honey's Shutters After 18 Months
Decade-Old Wicker Park Bar Crocodile Evicted For Unpaid Rent
Chicago's First Dedicated Kombucha Bar to Close
After 14 Years, De Cero Tacos Closes on Randolph
STEAK 'N SHAKE IS PLANNING ITS FIRST CHICAGO RESTAURANT 
Steak 'n Shake, the fast-food chain many University of Illinois transplants are familiar with from their days in Champaign, is planning to open its first Chicago location. While the Indianapolis-based chain has restaurants in the surrounding suburbs, it hasn't opened within the city's limits. An opening timeframe hasn't been shared, but Steak 'n Shake is interested in the former Jamba Juice space at 1322 S. Halsted Street.
GREENRIVER, DANNY MEYER AND DEAD RABBIT'S MICHELIN-STARRED RESTAURANT, IS CLOSING 
Less than two-and-a-half years in, Danny Meyer's Union Square Hospitality Group will shutter its acclaimed foray into the Chicago restaurant scene. GreenRiver, Meyer's collaboration restaurant and cocktail bar in Streeterville with the folks behind NYC's Dead Rabbit, will hold its last service on January 24, according to social media posts and its representative. No specific reason was given for its closure.
AMERICA'S LARGEST VEGETARIAN CHAIN PLANS FIVE CHICAGO RESTAURANT OPENINGS 
Chicagoans who made New Year's resolutions to eat less meat have good news: Veggie Grill, the nation's largest vegetarian fast-casual restaurant chain, plans to open its first Chicago restaurant in mid-February at the northeast corner of Clark and Broadway streets. But that's not the chain's only news—it intends to open four more Chicago-area locations at an undetermined date. The locations are highlighted by a Loop restaurant at 204 N. Wells Street that should open in March. The remaining three locations should open over the summer and fall, part of the first Midwest expansion for the chain, according to a restaurant rep. The rep didn't immediately disclose the addresses for the trio of restaurants. The first Chicago restaurant, 614 W. Diversey Parkway, will break the design mold of the 12-year-old chain, he said. It will include a new logo and kitchen layout. The rep described it as the "next generation of Veggie Grill."
---
FROM WLS NEWS CHICAGO:
WON KOW, CLOSES AFTER 90 YEARS 
Won Kow, the oldest restaurant in Chicago's Chinatown, has closed permanently. On Tuesday, 2/6/2018, the tables were still set and the bar stocked, but the restaurant shuttered on Thursday after 90 years. "I think our motivation is just that we've done it long enough and it's time to take a break," said David Hoy, the restaurant owner's nephew. Won Kow first opened on South Wentworth Avenue in 1928. Hoy's family has owned the restaurant since 1991.
---
FROM JOURNAL & TOPICS: 
VILLAGE, PREVIOUS OWNER LAMENT LOSS OF PHOTO'S HOTDOGS 
After close to 30 years at Wolf and Kensington roads in Mount Prospect, Photo's Hotdogs has closed its doors. The restaurant's Palatine location is still in operation under different ownership.
EDGEWATER/ANDERSONVILLE LOCAL NEWS:
MYTHOS HEAD CHEF TO OPEN AUTHENTIC GREEK EATERY IN ANDERSONVILLE 
Got a craving for authentic gyros? A new restaurant is getting ready to open its doors on the Andersonville strip and will serve up traditional Greek food. Co-owner and head chef from Mythos at 2030 W Montrose, Vicky Zervas, is spreading her wings and opening her own restaurant named It's Greek 2 U at 5449 N. Clark in the heart of Andersonville. It will be a quick-service eatery where customers can order their selections at the counter and have them delivered to their table when ready.
---
Subscribe to Estiator to get the latest news in the foodservice industry, restaurant classifieds, news from the Hellenic diaspora, and more!
---