Posted by estiator at 6 February, at 18 : 47 PM Print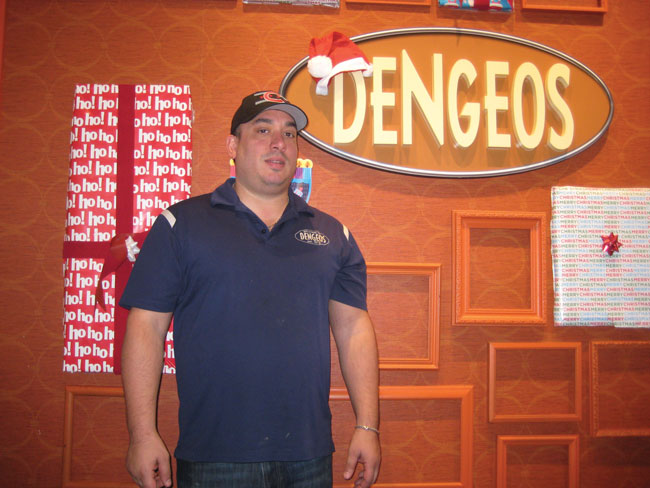 Dengeos is located at 3301 Main St in Skokie, IL. It all began in 1972 when Dennis and George (that's where the name Dengeos comes from) decided to open a restaurant to serve the best gyros in the Chicago area. Two brothers, George and Louis Atsaves and their brother in-law George Theodosis have owned the place since 1981. Their desire to expand became reality in the year 2000; the second Dengeos in Buffalo Grove, IL opened its doors and became an instant success. Nick, George Theodosis' son, with overall responsibility for the Skokie location, is a great contributor to the success of Dengeos. Nick tells us that they are committed to quality using always the freshest ingredients.
Dengeos serves over a thousand satisfied customers daily!  Known for their hospitality, home-style cooking and quick service, Dengeos has set the high quality standard for fast casual dining and is one of the fastest growing restaurants in the north suburbs.  They offer a wide variety of high quality Greek & American specialties such as gyros, ribs, Greek & BBQ Chicken, burgers and the famous Dengeos salads. Their spacious dining area is a great place to celebrate a birthday or little league championship.  This kid friendly restaurant welcomes the entire family to eat generous portions without the hefty price tab! Their employees are hardworking and dedicated in serving the many loyal customers of Dengeos.
Owners and employees have a common goal: never cut corners and always concentrate on the details. No wonder one of Dengeos customers commented: "I've been going to Dengeos for more than 8 years. I haven't yet found a dish I don't enjoy. The food is great. The place is welcoming and very clean. This is the best Greek fast food place in the Chicagoland area". In the picture we see Nick Theodosis inside his restaurant.