Posted by estiator at 10 October, at 13 : 05 PM Print
PERSONAL THOUGHTS AND COMMENTS:
5 Things you didn't know about the restaurant industry
I WAS surfing the web and came across a web page that listed "5 Things you didn't know About the Restaurant Industry". That web page is a project of the Job Creators Network Foundation. They state that "A well-informed public is the best defense against bad public policy." I do not know enough about them and therefore in no way, I endorse or encourage any of you to access it. Nevertheless, the credit for the "5 Things you didn't know About the Restaurant Industry" belongs to them. Let's see what they say.
The restaurant industry in the U.S. is vast and is a part of daily life in America—with 57 percent of us eating at a restaurant at least once a week. In fact, for the first time in recorded history, U.S. consumers are spending more money at restaurants than at grocery stores. With the restaurant industry growing and becoming more prevalent every year, here are 5 things you need to know about the restaurant industry:
Number one: In 2016 there were more than 1 million restaurant locations in the U.S. and they generate annual sales of $780 billion.
Number two: According to the U.S. Bureau of Labor Statistics, in 2017 the restaurant industry employed 12 million people—enough to fill Chicago's Soldier Field almost two hundred times over.
Number three: 425,000 of the 1 million restaurants located in the U.S. are either independently owned or ran by a franchisee—which means many of these establishments are considered small businesses. You see, while franchised restaurants are associated with a larger corporate body, the franchisee who owns and operates the establishment is not much different than the mom-and-pop diner down the street.
Number four: The average profit margin for U.S. restaurants usually hovers between 4 and 6 percent—meaning for every dollar in sales, the business owner only collects 4 to 6 cents. However, profit margins have historically been known to drop to as low as 1.4 percent.
Number five: 33 percent of restaurant revenue goes towards paying wages, which means that government mandated increases in the entry-level wage can really hurt an independent restaurant owner or franchisee. A business owner can only raise prices so much before customers start going away.
The restaurant industry plays a vital role in both the lives of ordinary Americans and the U.S. economy.
---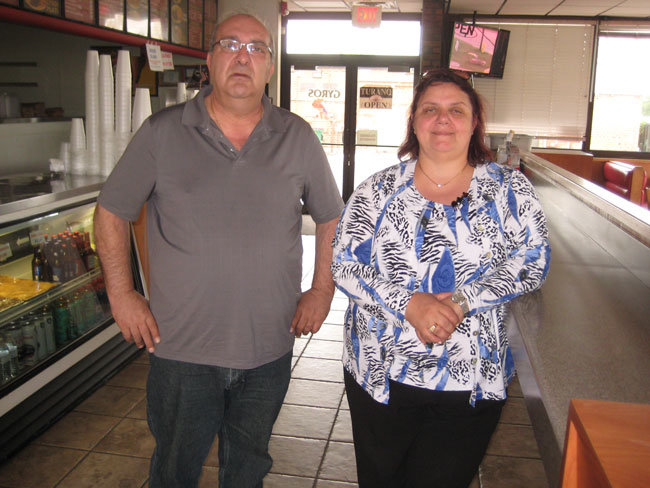 MARGIE'S BEEF & GYROS is located at 6410 S Cass Ave and the owner is George Karahalios. From their web site we learned that Margie's of Westmont is known for its homemade style cooking since 1977. Margie's of Westmont is known for its homemade style cooking since 1977. Margie's uses top quality meats and fresh ingredients daily. Every day we prepare and cook our own Italian beef with a recipe that dates back to the original Margie's on Cicero Ave since 1929. Cooking process takes 5 hours and is seasoned to perfection!!
It is true; no one can run this place better than the current owner George, who arrived in this country from Levidi in 1976, when he was just 17 years old. Previous ownership of successful fast food restaurants was a big plus for George; he is married to Eleni who was also born in Greece and arrived in Chicago in 1967. She was a junior in college and 25 years old when she met George, 26 years old in 1983. Now and a few years later, Eleni works for the Chicago Public Schools and also keeps the books for Margie's. More importantly, they have twin daughters, Maria and Christina, and both are college graduates. In the picture we see George and Eleni inside their restaurant.
---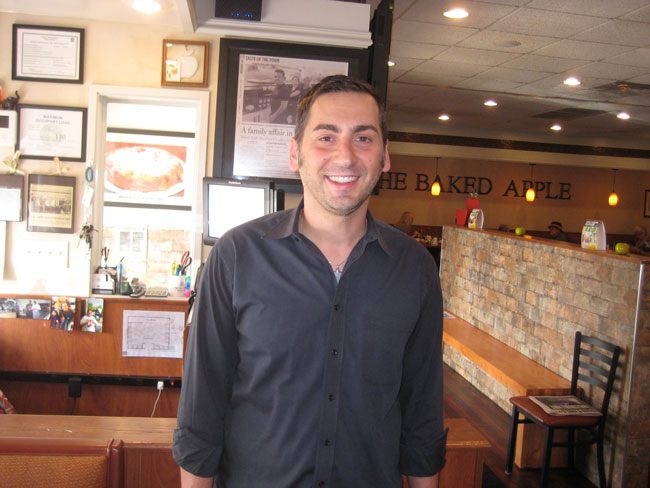 THE BAKED APPLE PANCAKE HOUSE is located at 1224 Ogden Ave in Downers Grove, IL. From the city's newspaper Patch, published the year 2013, and a few weeks after the place opened for business, we found that the restaurant is owned by George Doulas and his two sons, Angelo and Nick. The family has been in the restaurant business for three decades. Their last venture, Archway Cafe near Midway Airport, was sold in 2001.
"We've been in the business forever, and were looking for a good opportunity to open something in this area," Angelo Doulas told Patch in January of 2013. "Downers Grove and Ogden Avenue in particular is a great place for a family restaurant." The Baked Apple offers an array of breakfast and lunch items, including a large selection of sandwiches, salads and "create your own" omelets. The menu's "battery" section features nine varieties of pancakes, as well as several different waffles and French toast.The restaurant is open every day from 6 a.m. to 3 p.m.
We met Angelo at this very nice breakfast place and discovered a few interesting things such as: Angelo, a polite young man, was born in 1981, he is a DeVry graduate; he is married to Margarita, a Chase employee. Brother Nick, who is employed by Hilton, helps in the business a lot and at the same time they make plans to expand their business concept to nearby geographic locations. In the picture we see Angelo inside his restaurant.
---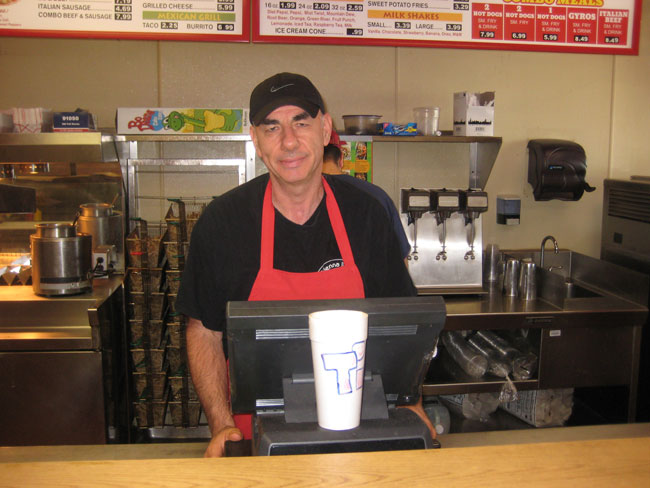 WIENER TAKE ALL is located at 1117 Weiland Road in Buffalo Grove, IL and the owner is Art Nati. The previous owner had the place for over 30 years and made history in the area in two important areas: a) he offered high quality food and excellent service b) always exhibited high sense of social responsibility and was a big supporter of various community organizations and local schools. Art is planning to continue this tradition of and possibly expand it even more. As far as the operation of the restaurant, not much is changing; the menu, basically is the same with the exception of a few new items. Another thing that did not change is the dedication of employees; they used to be happy with the previous owner and continue their dedication with the new. Just to illustrate the point, one employee is there for 30 years, another for 20 years and another for 10 years! You do not often find employees in the fast food industry staying at the same place for so long. Incidentally, Art was a Mechanical engineer in his native land of Albania and arrived in the USA in 2003. From 2003 to 2010 worked in New Jersey as a realtor; from 2010 until 2015 worked in the Chicago area as a realtor and also was involved as an owner in a bar / restaurant business in down town Chicago. Since last year he owns Wiener Take All. Incidentally, Art is married to Alma and they have two sons: Rei who is 42 years old and Tedi who is 18 years old. In the picture we see Art inside his restaurant.
---
SOME INTERESTING RESTAURANT NEWS:
From Curbed Chicago:
Construction underway on 12-story apartment development in Chicago's Greek town: Located across from Greek town's National Hellenic Museum, the transit-oriented project at 808 W. Van Buren comes from Lukas Development and Chicago-based design firm bKL Architecture. According to the prior building permit, the new structure will contain 148 apartment units, ground floor retail space, and 65 parking stalls on levels one and two. The site was previously home to Costa's restaurant that was destroyed in a 2010 fire and has been vacant since. The development is being built "as-of-right" with no change to the site's underlying zoning.
From Eater Chicago:
Franklin Barbecue, one of the city's best and most popular places for smoked meats, caught on fire early this morning. The fire began in the pit room on 8/26/17 at 5:27 a.m., according to KXAN and spread to second floor of the East 11th Street building, as well as the back. The room that houses the pits suffered "heavy damage" but firefighters were able to contain the fire, resulting only in smoke damage to the dining room and public portion of the restaurant. The restaurant tweeted that it will be closed, but it isn't sure when it will reopen. It might be in a couple of weeks.
From Daily Herald:
Passero, an Italian-American restaurant, is expected to open in October in downtown Arlington Heights. Passero, at 5 W. Campbell St., will have a menu inspired by family recipes and other creations of head chef Matt Peota, and be geared to families with kids.
---
Should you wish to share news about your business with others, we are encouraging you to do so; please do not hesitate to call or e-mail: Peter J Poulopoulos, MBA Managing Real Estate Broker Licensed in Illinois, Indiana, Wisconsin REALPOUL REALTY "Commerce with Morality™" 2731 W Touhy Ave Chicago, IL 60645 Phone: 773 743-2100 E-mail: peterjp@realpoul.com visit us at: www.realpoul.com