Posted by estiator at 10 November, at 09 : 19 AM Print
PERSONAL THOUGHTS AND COMMENTS:
Are we giving customers what they want?
THE READERS of this column sometimes call and express their opinion about a topic. I must admit however that this happens very rarely. On all instances, without exception, they have something positive and encouraging to say and I thank them for it. On the other hand, there must be some who have different opinions; yet these people have not called as of now; if you belong to this category, I encourage you to call. My goal is to make readers of this column better in what they do, not necessarily by defining step by step processes, but by mentioning some ideas and presenting facts.
The above brief introduction brought in mind something that I believe you should know and if you already know there is no harm with a little reminder. After all, the Ancient Greeks said "Repetition is the Mother of all Learning".
Studies about quality of service tell us that when someone receives service from a service provider such as a restaurant, he or she can feel either satisfied or disappointed. A satisfied customer may or may not tell anyone about the good service; they will mention it only if an occasion occurs that calls for them to express their positive experience. However, the same studies show that an unhappy customer will make sure that he / she will tell at least 8 other people about their "unfortunate" experience. That means that all of us who provide any type of service, if we care about the well-being of our business, should make every effort possible to reduce or even eliminate unhappy customers.
---
JIM VERROS PASSED AWAY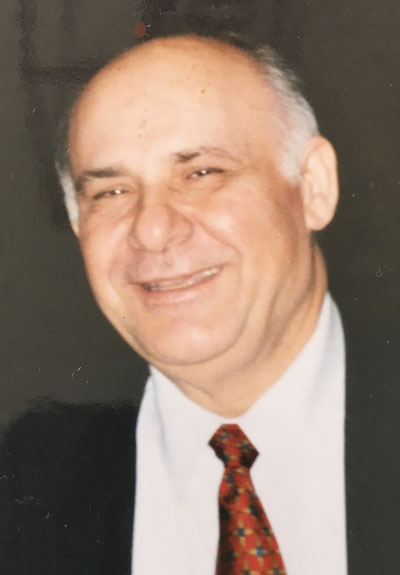 CHICAGO area mourns the loss of James Verros.
The Verros family is known to the Chicago area for their successful restaurants. We spoke briefly with Tom Diamond of Fountain Blue, president of GARC, who spoke very highly of the late Jim, one of the founders and the first president of the Greek American Restaurant Association in Chicago. Jim used to be a partner at Fountain Blue.
We also spoke with Jim's brother Dino and expressed our condolences to him. They were five brothers; now only two are still alive. Dino and his brother Petros. The other three brothers passed away in just one year's time; Peter on September 9, 2016, George on September 29, 2017 and Jim on September 19, 2017.
---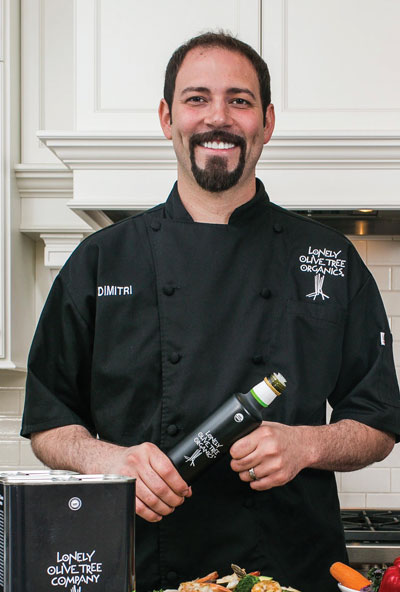 The SHANTY RESTAURANT is located at 38985 US-41 in Wadsworth, IL and next to it is Captain Porky's at 38995 US-41. They are owned and operated by the Kallianis Family. Dimitri Kallianis with his mother Elaine run the Shanty; Dimitri's father Dino, his brother George and sister Notah run the Captain Porky's place. Incidentally, it all started in 1969 when Dino Kallianis arrived in this country. Like many others from Greece, Dino who started working in in liquor and restaurant businesses soon became owner of the successful Captain Porky's that he was operating in a nearby location. We met and spoke with Dimitri for a few minutes and said hello to his brother George. As you are aware, our objective in this column is to highlight certain aspects of the business and write a few words about the business owner. There are so many things to write; suffice to state the following.
Dimitri is a very energetic person and displays a passionate love of his business and its many facets. In addition to his duties of running the successful restaurants, he and his family have managed to create a great company. In 1910, the Kallianis olive groves were nearly destroyed by a historic frost. Their oldest surviving olive tree stood on top of the mountain grove Monahi Elia or in English, Lonely Olive Tree. This last standing olive tree was grafted and replanted throughout the groves in the village of Kastori, Laconia. The Kallianis family is proud to offer us their first cold pressed organic extra virgin olive oil from the northeast territory of Mount Taygetus. They added the Organic because it is, and has been for generations, it was certified USDA Organic, NON GMO, DIO certified Organic, and certified that all of the oil is from a protected geographical area. Dimitri, his brother George and sister Notah are well educated and college graduates. Incidentally, the business is expanding and a multi-million expansion has already started; they are adding a 2-story structure to augment their current business; they plan to have banquet facilities as well. Dimitri is married to Christina and they have two kids: Eleni 3 and Deano 1. In the picture we see Dimitri Kallianis.
---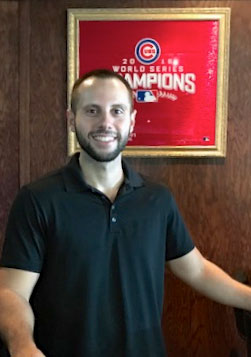 EMERSON'S ALE HOUSE is located at 113 S Emerson St Mount Prospect, IL and the owner, since 2015, is George Tselos. We knew his father Gus Tselos and Gus had mentioned a few things about his son. We had formed then an opinion about George but when we met with George at his place, we must admit, we were very impressed with this young man. George is only 29 years old and has accomplished a lot. Not only he owns and runs a very successful bar / restaurant business but he also owns and manages another successful breakfast lunchonly establishment known as Honey Butter located at 106 W Northwest Hwy Mount Prospect, IL.
George was born in Greece and arrived in this country when he was just 6 months old; the fact is that his parents were in USA and they had moved back to Greece; when George was born, they decided to come back. George from young age seemed that he loved the restaurant business and worked at pizza establishments, worked as a bartender and even opened a breakfast lunch place in Franklin Park. From 2006 until 2014 he served in the US Air Force as a security specialist; in 1992, he spent nine months in Middle East. While visiting with George at his Emerson's Ale House place we noticed his interaction with employees and customers and we admired the wisdom of this young man in dealing with challenging business related situations. In the picture we see George Tselos inside his bar / restaurant.
---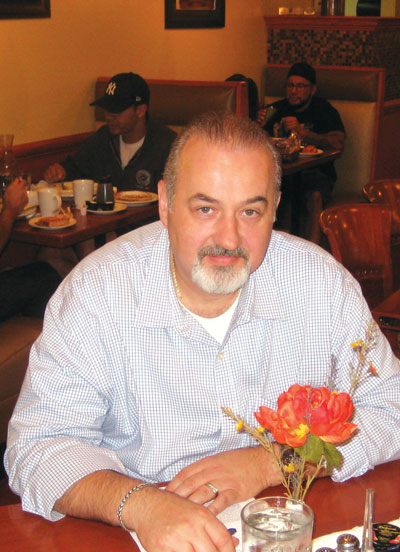 EGGHEADZ CAFE is located at 16952 Oak Park Ave Tinley Park, IL and the owner is Peter Mastorakos. When we arrived at his place the place was full of customers but Peter was aware of our arrival time and had reserved a table. As you probably know, we value direct and sincere people; Peter is definitely both sincere and direct. He arrived in this country in 1973 when he was 7 years old. Peter worked in restaurants and attended college. In 2005 he married Mina and they have kids named Tara 10, George 9 and Alex 7. We also had the chance to exchange a few words at the restaurant with his father in-law John Skordas, a fine person.
Peter was born in Merkovouni, Tripolis and when he was 25 years old his started his own business. From 1991 to 2002 he owned and operated restaurants in down town Chicago. In 2010 he opened his current business and he cannot be any happier. The business is great, the seating capacity of about 200 seats make him happy since many customers enjoy his food, and the hours of operation 6:30 am to 3 pm allow him to spend time with his family. Moreover, according to local press, Eggheadz Cafe has rightfully earned its reputation as one of Tinley Park's best-loved breakfast joints. A huge array of classic dishes awaits early morning guests. This successful breakfast and lunch restaurant offers: everything from skillets and omelettes to French toast and pancakes, plus healthy options and Eggheadz' signature specials. In the picture we see Peter Mastorakos inside his restaurant.
---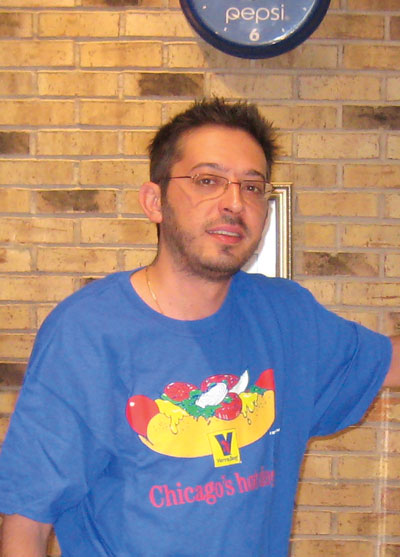 TASTY SPIN is located at 1038 Weiland Road Buffalo Grove, IL and the owner is Dean Parashos assisted by brother Spilio and parents Andy and Tammy. They are very close in celebrating the 4th year of ownership and they cannot be any happier. We had the chance to meet with Dean and his parents for a brief interview and we realized quickly that they are happy with their new business. More importantly, they had realized from the beginning what changes Tasty Spin needed to reach the next level. Immediately after they took over, they started implementing common sense changes and their business improve drastically.
Dean is a graduate in Accounting from De Paul University and his brother Spilio attended college as well. Moreover, Dean confessed to us that he loves music and occasionally is working as DJ in various functions. His father Andy, who was born in Ahladokampos, used to be an Insurance adjustor for a number of years. His mom Tammy is a very energetic woman who makes excellent Greek koulourakia; Tammy was in Kalavryta, Greece and met her husband Andy here. For a number of years Tammy was working in a sales office; when her late brother George Pistas passes away, she took over his glass company; she ran it successfully for a number of years until she sold it. In the picture we see Dean Parashos inside his restaurant.
---
SOME INTERESTING RESTAURANT NEWS:
From Eater Chicago:
Lincoln Parkers will officially get a Parson's Chicken & Fish soon. Land & Sea Dept.'s plan to convert a former auto garage into the third location (after a Nashville outpost) of its summertime hotbed of outdoor fun, slushies, and fried food was glowingly approved yesterday by the city council, DNAinfo reports. Ownership is targeting a spring opening, a rep says.
Charlatan is closing after a Three-Year Run on Chicago Avenue.
The shutter comes eight months after ownership closed Three Aces. Lyle and Jackie Aker, along with Anthony Potenzo ran the restaurant. While Three Aces was known for beer, pizza, and burgers, its younger sibling offered customers more composed dishes and wine in a rustic atmosphere.
Blind Barber Chicago Opens to Mix Drinks and Clip Hair in Fulton Market.
Men needing a make over can now visit Fulton Market and get a haircut or shave in an area where trendy restaurants and bars have already made over a neighborhood once ruled by meat butchers. Grooming services are just one aspect of Blind Barber, which opens its Chicago location today at 948 W. Fulton Market. It's a hybrid barber/cocktail lounge which debuted in 2010 in New York. They also opened in LA in 2012.
From Nation's Restaurant News:
"Nobody goes to McDonald's." That's what a fast-casual operator told me recently. Let's mull over that statement a bit. In the U.S. alone, the burger giant's 2016 system wide sales totaled $36.4 billion. McDonald's golden arches pepper the country to the tune of 14,000 units — and more than 37,000 locations worldwide. This quick-service company is by far the largest operator on the planet, maybe even the universe, if sentient life does exist in galaxies far, far away. But still, somehow, "nobody" goes there.
---
Should you wish to share news about your business with others, we are encouraging you to do so; please do not hesitate to call or e-mail: Peter J Poulopoulos, MBA Managing Real Estate Broker Licensed in Illinois, Indiana, Wisconsin REALPOUL REALTY "Commerce with Morality™" 2731 W Touhy Ave Chicago, IL 60645 Phone: 773 743-2100 E-mail: peterjp@realpoul.com visit us at: www.realpoul.com