Posted by estiator at 14 June, at 18 : 39 PM Print
---
Should you wish to share news about your business with others, we are encouraging you to do so; please do not hesitate to call or e-mail: Peter J Poulopoulos, MBA Managing Real Estate Broker Licensed in Illinois, Indiana, Wisconsin REALPOUL REALTY "Commerce with Morality™" 2731 W Touhy Ave Chicago, IL 60645 Phone: 773 743-2100 E-mail: peterjp@realpoul.com visit us at: www.realpoul.com
---
Chicago Area Restaurant News and More
Personal Thoughts and Comments: being "good" is the "right thing" for society.
The ancient Greek philosophers believed that a person should be "good" not because of something that might happen after death, but because being "good" is the "right thing" for society. I am certain that there are many "good" people amongst us as they are some others who do not belong to this category. In the following paragraphs we will attempt to show that it's better to be "good" rather than not. The little story has to do with restaurant that was for sale.
The owner / seller was a tenant in a strip mall for a numbers of years; because of advanced age and because family members elected not to continue as restaurateurs, the owner informed the landlord that he has decided to close the place down and had no intention to renew his lease. The landlord suggested to the tenant to see if he can sell the restaurant. The tenant did not attempt to sell the restaurant but when there were 30-40 days left on the lease, he notified again the landlord that he is leaving at the end of the lease. The landlord was surprised since he had suggested to the tenant to try to sell the place; he encouraged again the tenant to try to sell the place, at a low price; the tenant agreed. The landlord simply wanted the place to remain open so he can continue receiving monthly rent. They contacted a business broker and the place went on the market at a very low price.
Many interested parties saw the place and some of them were interested in buying the restaurant. However, as it usually happens in cases of buying a restaurant, the prospects take long time to decide. They ask friends, relatives, and other "experts" in order to validate their decision. Meanwhile the days were going by and eventually the place closed down.
One of the prospects who had seen the restaurant, had assured the business broker, many times, that he was about to submit an offer, but he never did so. It turned out that at the end he had a different thought; he figured "why should I pay to buy the restaurant that I know is closing down? Wouldn't be better to wait and then go to the landlord to secure a new lease without paying anything for the restaurant?" And that's exactly what he did.
He approached the landlord and he secured a new lease; he believed that what he did was very smart. But, was it a smart thing to do? Let's see what really happened.
The rent was increased with the new lease.
It took him months to open the place since municipalities have stricter requirements on a restaurant that starts as a new business rather than simply transferring ownership of an existing restaurant.
Because of these stricter requirements, upgrades were needed in the space at a cost of 4-5 times higher than the selling price when the restaurant was open.
Worst of all, after the delay of a few months and after incurring all the expenses, the new business was not generating the anticipated revenue.
What is the moral of the story? A dishonest person, at a minimum, caused unnecessary waste of time for the business broker, and the tenant; the waste of time had to do with multiple meetings, telephone calls, etc. That person is not "good"; moreover, the same person incurred a big financial loss because of his dishonesty. In closing, let's remind ourselves that being "good", is the right thing to do for all of us.
---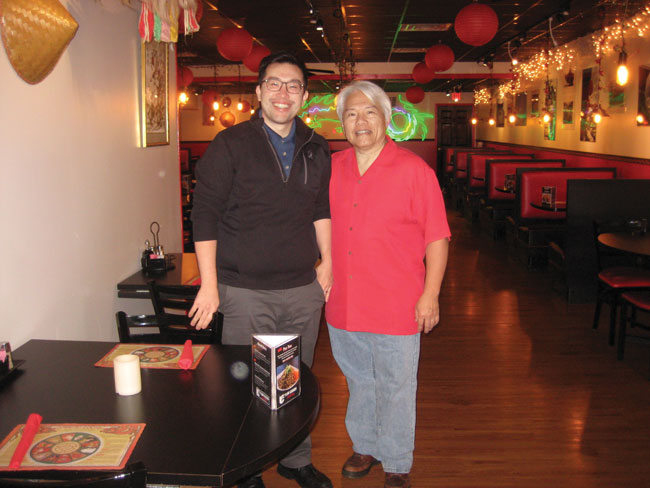 Plum Garden Restaurant is located at 3917 W Main Street in McHenry, IL and the owner is Perry Moy assisted by son Jason. There are many good things about this restaurant but one truly amazing thing is that they own this restaurant at the same location since 1965! When opening a restaurant most people emphasize location. As son Jason indicated, it all started with a woman and her dream. The Plum Garden Restaurant was created in 1965 by his Grandmother and Founder, Connie Moy. The Grandmother spent years in China perfecting her cooking skills with family recipes handed down from generation to generation. It was there that she created the core values that still hold true today at Plum Garden. Those values are Quality, Hard Work and Community. It is because of his Grandmother's values, that at Plum Garden they use only the finest quality ingredients and use perfected cooking preparations that never allow for shortcuts. All at Plum Garden have been honored to serve the McHenry community for over 52 years. While Perry's mom started it all, since 1970 Perry took over both the business and property. Not long ago, they expanded the restaurant and increased both capacity and business. In the picture, from left to right we see Jason and Perry Moy inside their restaurant.
---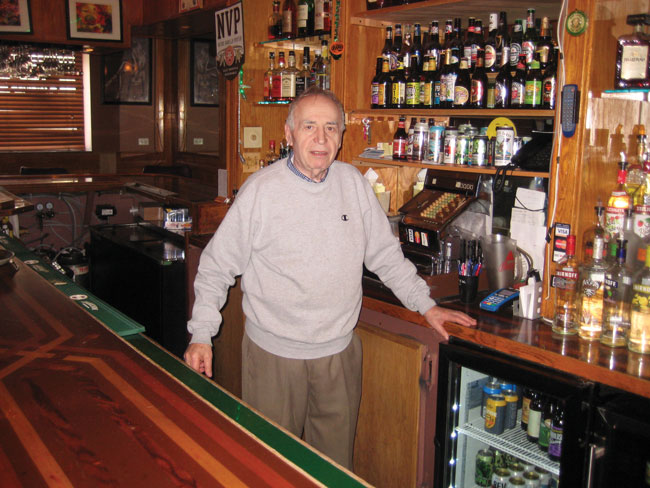 Oakwood 83 Bar & Grill is located at 1959 W Montrose Ave Chicago, IL and the owner is Gus Gzamouranis. We had not seen Gus for a number of years; when we met at his place, naturally, we talked about the past and we both realized once again the incredible speed of passing time! Gus came to this country from Aetos Messenia's in 1960 and in 1961 opened La Sabre Restaurant at the corner of Damen and Montrose; in La Sabre's location now is a new business called Marmalade. Eventually he purchased the entire corner. In 1983 Gus opened Oakwood Bar and Grill; because there was another Oakwood, they named the place Oakwood 83! At his place they specialize in steak, chops, and ribs. Their sandwiches are the best. They also offer Specials everyday and they are open daily from 5pm to 4am and on Saturdays from 5pm to 5am. Gus is married to Maria and they have 3 kids: Angie, Stella and John, all married and doing well. Moreover, Gus and Maria have 8 grandchildren. In the picture we see Gus behind the bar.
---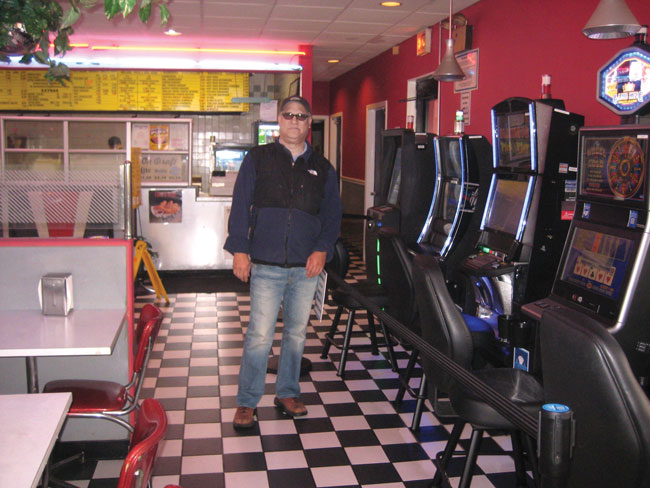 American Linen and Towels Inc is a business located at 10770 Joliet St. John, IN and the owner is Naveed Sheikh. Naveed is not only a great family man but also a great businessman. He arrived in this country from Pakistan in 1990 and started working at a Subway. In the early 1990's Subway experimented with buying Cajun Joe's and eventually the experiment failed. Regardless, Naveed got involved with Cajun Joe's and learned the fried chicken business as well. By 1995, Naveed was managing Subway and Cajun Joe's. Yet, at the same year, 1995, he purchased a convenient store. He was constantly moving! In 2004 he bought a Michael's fast food in Oak Park, IL and sold it in 2009 with the help of Realpoul Realty. In 2006 he bought Komb's Beef and Dogs in Broadview, IL that he still owns. In 2012 he bought Pizza Plus in Illinois that he still owns; just for the record, for years now, Naveed has moved to Indiana. We are certain that we did not list all of Naveed's accomplishments. In closing, Naveed is married to Nadeem and they have two sons: Shayan 21 and Zeeshan 18. In the picture we see Naveed inside his Komb's Beef and Dogs restaurant.
---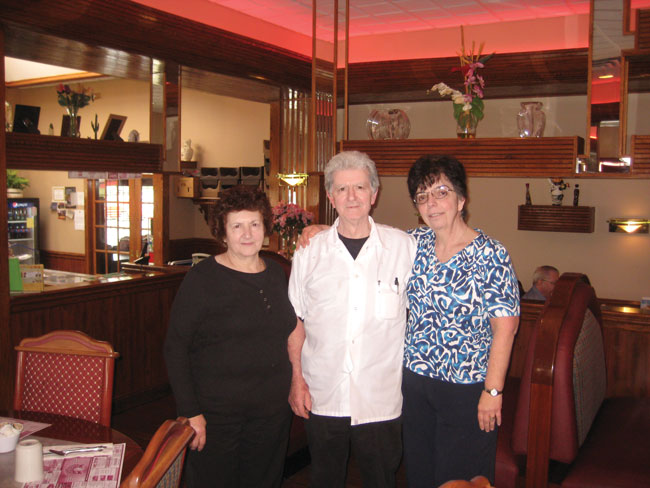 Rosewood Family Restaurant is located at 2606 Portage Mall Portage, IN and the owners are Marko & Maggie Karakozis and Kathy Mamounas. Moreover, the same family owns another Rosewood Family Restaurant in South Haven – Valparaiso, IN. Maggie was born in Arizona and husband Markos was born in in the island of Chios. Incidentally Markos and Maggie have twins 18, Lazaros and Hrysovalantou we are ready to attend college. In 1975, Markos and brother in-law, the late Pete Mamounas (Pete was married to Markos' sister Kathy), opened the restaurant; in 1992 the restaurant was totally destroyed by fire. As a result, the restaurant was rebuilt from bottom up and in 1993 opened its doors again as a completely new restaurant, yet with the same name and at same location. The restaurant has been a great success for many years and is a beautiful place with a great following. A separate room can be used for all kind of social functions. The place in South Haven – Valparaiso is managed by Kathy's son George. In the picture we see from left to right, Kathy Mamounas, Markos and Maggie Karakozis.
---
Here Are Some Interesting Restaurant News:
From Eater Chicago:
Nuevo León, the Oldest Restaurant in Pilsen, May Not Rebuild After 2015 Fire. The restaurant site is now an empty lot.
La Josie, a Family-Owned Mexican Restaurant, Opens On Randolph Row
Byron's Hot Dogs' location at 1017 W. Irving Park Road suffered a "small" fire, according to a Facebook post, and is now "closed for repairs until further notice." Customers can get their fix at its sister restaurant at 1701 W. Lawrence Ave. for now, as there's no word on when it might reopen.
Chicago's Oldest Bar, Schaller's Pump, Closes after 136 Years of South Side Tradition. The historic bar witnessed prohibition and three White Sox World Series wins
Giant's Jason Vincent to Open Restaurant in Fulton Market's Ace Hotel. The highly-anticipated hotel is getting a restaurant from the team behind a newly-minted Eater 38
Chicago Restaurant Closings to Know
Bacci Pizza, a late-night and post-bar haven to sop up booze with giant pizza slices, has shuttered at 950 W. Addison St.,
Two Birds One Stone has signs posted at its storefront that the restaurant is closed at 2476 N. Lincoln Ave
After 55 years, Monastero's Banquets is closing its doors — in around six months.
The space that housed Mista, 2921 N. Broadway St., has a "for lease" sign up in the window.
Lakeview's Snaggletooth, The Acclaimed Cured Fish Haven, To Close This Summer. One of 2016's biggest restaurant openings is waving goodbye
20 East, the restaurant inside the Talbott Hotel, is now open in the Mercadito Kitchen space. It's a Four Corners Tavern Group project with input from Hogsalt Hospitality (Au Cheval). Status: Certified open, 20 E. Delaware Place.
I Dream of Falafel is opening the first of three new restaurants. Find gyros, falafel, and more at the new location. Status: Opening on Monday, 19 N. Wells St.
The Hotel Felix has a new sushi restaurant. The folks from Troquet have opened Taketei. Status: Certified open, Hotel Felix, 111 W. Huron St.
A new assembly line lunch spot has opened inside the strip mall that's anchored by a Mobil gas station on the corner of Halsted and Division. It's called KorFusion. Looks like Korean-style tacos are the name of the game. Status: Certified open, 1234 N. Halsted St.
Insomnia Cookies is giving away free cookies this week in honor of their opening. They've taken over a former stationary store space on Wells. Status: Certified open, 1350 N. Wells St.
A new Chinese-American restaurant has opened on Taylor Street. Chinese Kitchen has a menu with wings, mapo tofu, and egg foo young. It also has lunch specials. Status: Certified open, 1139 W. Taylor St.
Lou Malnati's continues its expansion. They've opened another deep-dish pizza spot near Chicago's Midway International Airport. They've even posted a little video. Status: Certified open, 6456 S. Cicero Ave.
Gina's Italian Ice is open for the season. It's the suburban ice stand's 40th year. Status: Certified open, 6737 W. Roosevelt Road, Berwyn.
The Chicago suburbs aren't close to New York, but sub chain Penn Station has found another home. Find the "East Coast Subs" chain inside a strip mall. Status: Certified open, 7923 Golf Road, Morton Grove.
Jar Bar, the healthy restaurant that takes the "salad in a jar" gimmick to the suburbs has opened its first location. The owner, a former Oprah producer, has designs on suburban domination. Status: Certified open, 1350 Shermer Road, Northbrook.
From Restaurant News:
Starbucks Corp. is doubling down on its commitment to hire veterans, vowing to hire 25,000 military veterans and their spouses by 2025.  The goal, an expansion of a plan set in motion three years ago to hire 10,000 veterans by 2018 — a goal it has already reached. Overall, Starbucks wants to hire 240,000 people globally, including 68,000 in the U.S., by 2021, as part of the company's expansion plans.
From Local Press:
The Buffalo Restaurant and Ice Cream Parlor in Buffalo Grove is reopening this weekend under old management. Chris Papaioannou and his father John Papaioannou.