Posted by Peter J. Poulopoulos at 10 July, at 15 : 08 PM Print
Windy City Gyros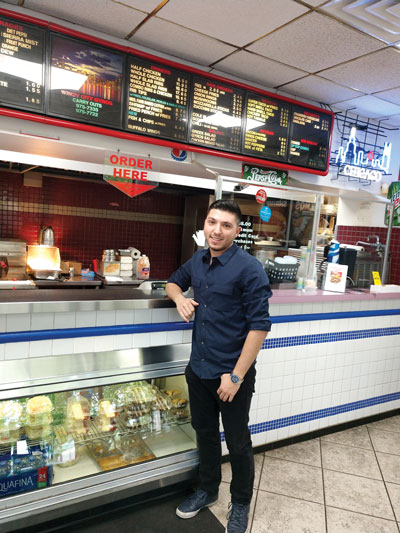 Windy City Gyros is located at 3932 N Broadway St, Chicago, IL; the owners are brothers Steve and Nick Tselepatiotis. Windy City Gyros has been at the same location for many years and it is one of the best and busiest fast food places in the Chicago area. The founder was Panagiotis Tselepatiotis who is now retired. His two sons Steve and Nick now carry on the tradition! We had the chance to meet Steve at his place and spent some time enjoying an interesting conversation with Steve and his son Dimitris.
As Steve tells the story, in 1977, when he was 15 years old, his entire 5-member family visited Chicago; they loved what they saw and made arrangements to stay for good. His father Panagiotis, a smart man with business acumen, got involved very successfully in the cleaners business. In the mid-80's, he purchased the property at this location and a bit later he secured the business as well. Now that he is retired, his two sons Steve and Nick take care of the business. Steve, a well-mannered man is the proud father of three sons: Takis, who is 28 years old and working as an engineer in IT; Dimitris, who is 22 years old and a Finance graduate; and finally, Christos, who is 20 years old, and College senior also majoring in Finance. In the picture, we see Dimitris Tselepatiotis inside the restaurant; Dimitris is the General Manager and oversees the smooth operation of the business.
---
News from Chicago Restaurants July 2018:
From Eater Chicago:
Trump Tower Chicago Is Trying to Lure Restaurants by Ignoring the President's Name
Chicago real estate agents are trying to lure in new restaurants to vacant spaces inside the Trump International Hotel and Tower by omitting the president's name in property listings. In one brochure, agents omitted the Trump name by either digitally removing the giant Trump sign on the tower, or by using photographs prior to 2014, before the Trump sign was installed.  This news comes about a month after Sixteen, the fancy and acclaimed restaurant inside the tower, closed to re-concept in part due to sagging business.
Heisler to Close All-Star Bartender Jim Meehan's Chicago Bar and Neighboring Restaurant

 
After eight months, Meehan says "It just wasn't enough to make ends meet". Despite all-star bartender Jim Meehan's presence, Heisler Hospitality has pulled the plugs on Prairie School and Regards to Edith, their neighboring bar and restaurant in Fulton Market inside Google's 1K Fulton building. The spot hasn't had much luck, as Smack Shack — a seafood spot — lasted only 11 months at 326 N. Morgan Street before Heisler took over.
From Journal & Topics:
Boston Fish Market

 

To Open In August?

 
Plans to open a new Boston Fish Market location in Wheeling have been pushed back from initial estimates of Summer 2017, with a new target date set for this August, representatives of the local business said Monday. Owners of the restaurant currently operate a Boston Fish Market location in Des Plaines. The Wheeling location will be similar to the Des Plaines restaurant, including sit-down service and a retail counter where customers can purchase pre-prepared dishes or seafood to cook at home. The new location will be larger, with over 75 seats compared to 58 in Des Plaines. Since owner Louis Phisghos announced plans to open the Wheeling restaurant in late 2016, renovations have been underway at the former Pete Miller's Steakhouse location at 421 Milwaukee Ave. along Wheeling's "Restaurant Row."
From Glenview Patch:
Dragon Inn North To Close In Glenview After 44 Years

 
A North Shore Chinese food institution is closing its doors. The Dragon Inn North is permanently closing after more than 40 years in Glenview, its owner announced. The restaurant developed from Chicagoland's first Mandarin restaurant, which opened in south suburban Glenwood in 1964, according to its menu. 
From Daily Herald:

 
Greek, Polish Restaurants Coming to Schaumburg

 
Schaumburg officials have approved a Greek restaurant for the western end of the Woodfield area and a Polish restaurant to the south, with at least one expected to open by late summer. Little Greek Fresh Grill will occupy a 1,500-square-foot space at 130 E. Golf Road, next to H&R Block in the Woodfield Corners Shopping Center. Its owners are aiming for a late August or early September opening, a representative said.
Did ICE Raid St. Charles Restaurants

 
Instead of serving in her usual role as operating partner at Puebla Modern Mexican, Kim Lawson found herself alone in the kitchen of the downtown St. Charles restaurant Tuesday night because her kitchen staff did not show up for work. Lawson said she heard of at least two restaurants nearby that were visited by U.S. Immigration and Customs Enforcement officers earlier that day. On Wednesday morning, she was notified by several of her employees that they wouldn't be coming to work again, she said. They were afraid Puebla would be next for ICE visit.
Capital Grille Taking Over Joe's Crab Shack Location in Schaumburg

 
The Capital Grille restaurant, which already has locations in Rosemont, Lombard and downtown Chicago, will soon replace the long-vacant Joe's Crab Shack with a new building at Golf Road and McConnor Parkway in Schaumburg.
Lake Zurich Chooses Local Bar Owner to Operate Sunset Pavilion
Sunset Pavilion at Breezewald Park, the village-built beer garden opening this summer, will be operated by the owners of the restaurant across the street. The Lake Zurich board has unanimously approved a two-year lease agreement with PB & S Investments LLC, the company that owns Scoreboard Bar and Grill.
From Chicago Tribune:

 
80-Year-Old Man Crashes Car Into Seafood Store in Niles, Then Walks a Few Doors Down to Get a Haircut

 
A man who reportedly drove his vehicle through the window of a Niles seafood market Wednesday morning wasn't going to let that interfere with his plans to get a haircut. "He was as calm as could be, getting his hair cut," said June Saraceno, owner of Hair Designs Unlimited in Niles, describing the driver's demeanor just minutes after the crash. The 80-year-old Skokie man had driven his silver, four-door vehicle into the front window of Captain Alex Seafood, 8874 N. Milwaukee Ave., said Niles Police Cmdr. Robert Tornabene. He then got out of the vehicle and walked several doors down to his hair appointment, Tornabene said.  
---
Should you wish to comment on this column, have any questions, or wish to share with us some news about your business, please call 773 743-2100, or email peterjp@realpoul.com