Posted by estiator at 5 June, at 10 : 09 AM Print
Modern Greece, adorned with the great glory endowed to it by the unsurpassed Golden Age of the 5th century B.C. over the years, has been in a state of "virtual welfare" for many years, with a problematic political, social and syndicalist establishment without vision and accountability.
The result was excessive debt, a dramatic increase in imports and a decrease in exports, the destruction of the productive fabric, a rise in unemployment, and the sharp reduction of wages and pensions. And right next door, to the east, an aggressive neighbor who has methodically created a Muslim arc on the northern border of Greece (Albania, Skopje), constantly threatening to re-establish a neo-Ottoman fantasy.
Greece was led to the "mechanisms" of the International Monetary Fund (April 23, 2010) and the European Union. The IMF continuously made tremendously misguided projections for the Greek economy, each being disproven by the next, which naturally resulted in an increasing number of Greeks sinking into poverty.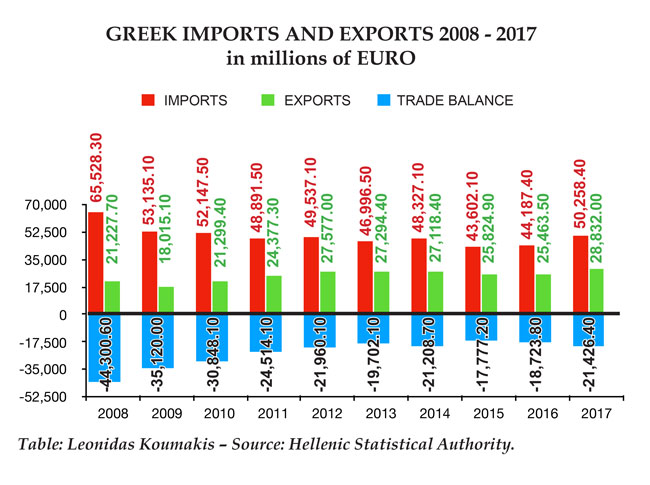 The Greeks have never been an easy prey, even for the most powerful. They have proven this on several occasions during their timeless course throughout the years.
Today, among the dozens of challenges Greece is facing, one of the most essential is the increase of exports and the reduction of the deficit in its trade balance.
In just one year, the last of its "virtual welfare" (2008), Greece had a negative trade balance of 44.3 billion euros—total imports of 65.5 billion euros, total exports of 21.2 billion euros!
Precisely ten years later (2017), total imports fell to 50.2 billion euros, while exports rose to 28.8 billion euros, limiting the trade deficit in 2017 to 21.4 billion euros. An amount that still remains very high, although it dropped to 50% of the final "virtual welfare" year.
As evidenced by Greece's imports and exports during the decade 2008–2017, the total Greek trade deficit reaches 298 billion euros, i.e. it accounts for an overwhelming 80% of Greece's total public debt!
Therefore, it goes without saying that a very substantial increase in exports is of utmost importance for the Greek economy.
In 2010, when the financial crisis became crystal clear and articles on food, beverages and consumer products with the indication "Made in Greece" began to be published, Estiator magazine launched a campaign in America titled "We Buy Greek"—a slogan that spread throughout Greece as well through significant article writing, which continues until today!
The rationale behind the "We Buy Greek" movement was that by purchasing products labelled "Made in Greece," we offer the Greek economy employment, taxes, investments, social insurance contributions, reduction of the trade deficit and, simultaneously, the diminution of reliance on demanding lenders!
In 2010, Greece's total exports to the U.S. amounted to 1 billion euros, while imports amounted to 1.6 billion euros, with a deficit in our trade balance of 626 million euros.
In 2017, Greece's total exports to the U.S. amounted to 1.1 billion euros, while imports, due to the economic crisis, dropped to 749.5 million euros, creating a surplus in our trade balance of 373 million euros.
But also, over the last five years, the trade balance between Greece and the U.S. has remained steadily positive for Greece.
Out of the total Greek exports to the U.S.A., as much as 30% regards Greek food and beverages.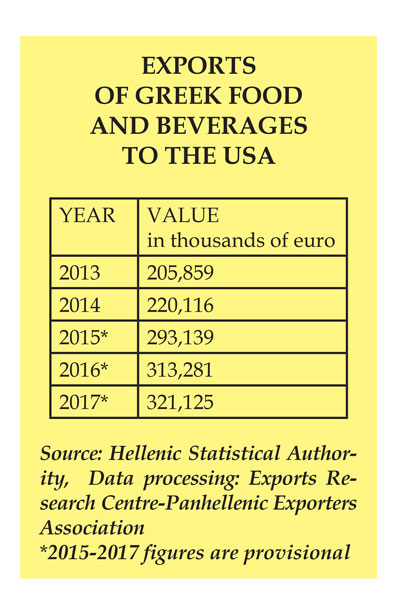 The steady upward trend of Greek exports of food and beverages to the U.S. market over the last five years is indicative of the huge potential of the U.S. market in regards to Greek food and beverages. All Greek products, but especially the products of this category, stand out for their capacity for very high quality that is ensured by the microclimate of the fertile Greek land with the prolonged sunlight and the sea breeze of the Aegean, Mediterranean and Ionian seas.
Technological progress is now ideally coupled, by almost all Greek exporters of food and beverages, with the unique natural resources that the Greek land generously provides. Therefore, it is no coincidence that an ever-growing number of Greek standardized foods and beverages are awarded at leading food and beverage competitions around the world.
Understandably, the prices of Greek products are usually slightly higher than the biggest competitors of Greek food and beverages in foreign markets. This difference, however, is entirely justified by the quality and quantity of Greek production. It is characteristic that major export companies in Italy, France or Spain are turning to Greek raw materials of food or beverages in order to package and export luxury goods at exquisite prices.
In this context, we must not forget for one minute that a prerequisite for Greece to truly emerge from the economic crisis is the deliberate choice of products with the indication "Made in Greece" by both the Greeks who are living in Greece as well as the Greeks abroad, who constitute another Greece outside its borders.
In particular, the Hellenes abroad progress and flourish in whatever part of the world they may be, continuing the endless odyssey that began with the Argonautic expedition four centuries before Christ.
An expatriate Hellenism that excels, stands out and earns the admiration and respect of each host country that becomes its second home. But Greece forever remains the intellectual model of every expatriate Greek and his descendants!
But besides Hellenes abroad, there is a huge wave of philhellenism all over the world. Every intellectual, every spiritual person on our planet, regardless of ethnicity, religion or skin color, feels admiration and awe for Hellenism's unsurpassed contribution to world civilization.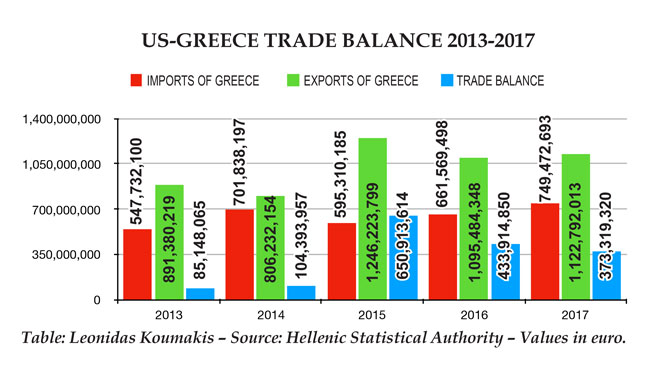 During the first three years of the awareness-raising of Hellenes abroad and philhellenes of every category for the need to prefer products with the indication "Made in Greece" (2010, 2011, 2012), the total of Greek exports increased by almost 30%, and the tendency to prefer Greek products within Greece became a consumer habit that is reflected in every monitoring of consumer trends.
Unfortunately though, all this is still not enough. We must continue the effort to increase Greek exports and reduce imports with perseverance and patience, so that we may be able to face the future with optimism.
The aid from Hellenes abroad and all philhellenes, many of whom are already applying in practice the message "We Buy Greek!" is invaluable and provides a huge breath of life to Greece, decisively helping it to speedily and safely break loose from the stranglehold that threatens not only its economic, but national survival as well.
For all Greeks, regardless of whether they are in Greece or abroad, it is their utmost duty to help by choosing products marked "Made in Greece" for their daily consumer needs, even if it means changing or adjusting their consumer habits!
In closing, let us recall just a few of the words spoken about Greece by countless intellectual giants worldwide:
Victor Hugo (1802–1885): "It is great to descend from Greece, the land that gave the light to the world."
George Bernard Shaw (1856–1950): "If in the library of your house you do not have the works of the ancient Greek writers, then you live in a house with no light."
Francois-Marie Arouet – Voltaire (1694-1778): "Defend Greece, because to them we owe our lights, our sciences and all of our virtues."
Friedrich Wilhelm Nietzsche (1844-1900): "There is no people in the world that has offered so much to humanity as the Greek one and has been fought so much by so many, who have offered nothing to it."    
---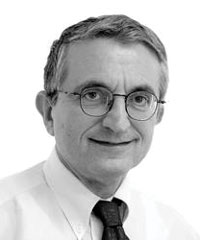 The writer of this article Mr. Leonidas Koumakis is an expert in Greece in the sector of exports. Following the economic crisis of 2009, he was the first in Greece to launch a campaign calling the Greeks to purchase domestic products over imports. He studied law and worked at the KOURTAKIS winery for 30 years, serving as the Deputy Director General and Director of Exports. In regard to his latter position, he oversaw its expansion from 100 cases annually during the 1970s to 1.5 million in 1998, distributing to 32 countries.
From 2003 to 2013, he was involved in publishing and e-publishing. He is the author of the autobiography "The Miracle – A true story," available in both Greek and English, as well as the Greek language books "Ματιές στις Ρίζες του Ελληνισμού" (A Look at Hellenic Roots) and "Αποχαιρετισμού," (The Farewell), as well as "Η Τουρκία στις φλόγες" (Turkey in Flames) (2017), available on Amazon. He is a member of the International Hellenic Association and writes articles for various websites and magazines (www.analyst.gr, www.huffingtonpost.gr, http://ardin-rixi.gr, etc.).