Posted by estiator at 10 November, at 06 : 43 AM Print
Vlore Bakery Reimagines the Classic French Toast, Captivating Breakfast  Goers From the Midwest and Heading East
By Constantine Kolitsas
It's common sense:  If you have a unique offering that the public likes, they've got to come to you to enjoy it.  And the more they like it, the more they come.
It's with this premise that Vlore Bakery's Agim Zendeli has helped diners and breakfast restaurants around the Midwest rebuild sluggish breakfast sales, bringing in repeat customers with a signature cinnamon swirl bread that he supplies to nearly 3,000 eateries.  In the war against the quick-service chains for share of the lucrative breakfast market, he's helped businesses recover customers that come to those restaurants for a French toast that is truly special.  And now his company is expanding to other parts of the country, where competition against the chains threatens the livelihoods of restaurateurs that have been in the business for generations.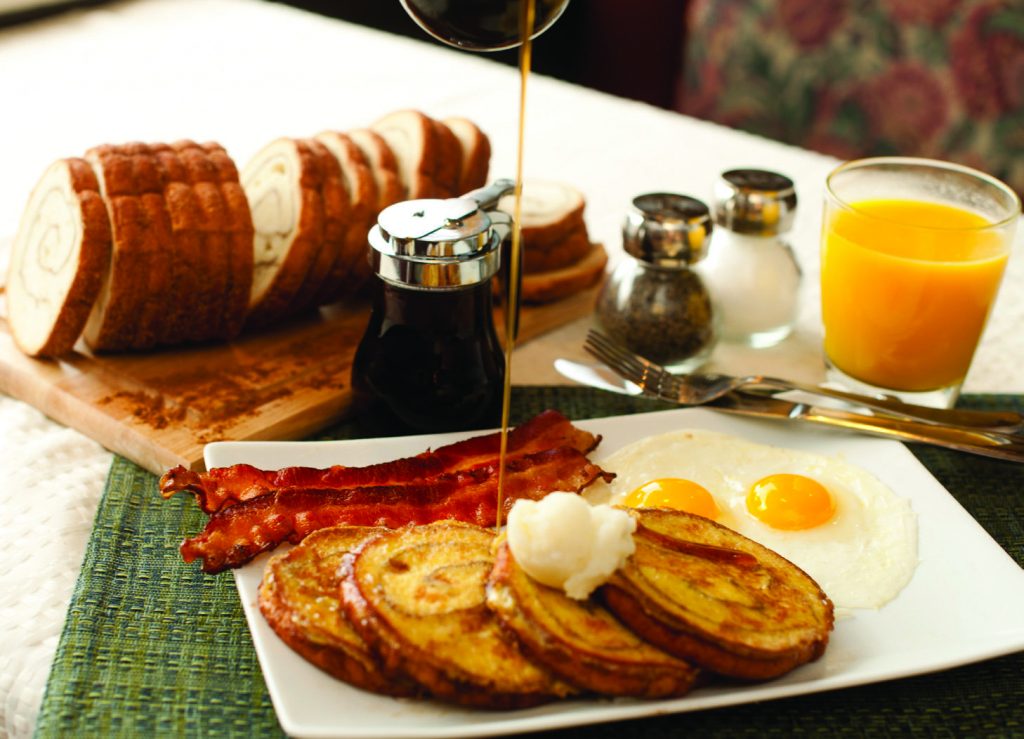 Zendeli, the owner of Vlore Bakery headquartered in Springfield, Missouri, is himself a restaurant veteran who has recently branched out from owning and operating restaurants into the business of supplying restaurants.  Today, his children manage the family's eateries while his focus is on helping other restaurant operators to build their breakfast sales with his unique signature product: Vlore's Cinnamon Swirl Bread, which has the added benefit of being all-natural, made with no chemical preservatives.
Zendeli, an award-winning chef, created the cinnamon swirl bread in 2011 as a means to attract repeat business for his family's diner in Springfield, Missouri.  With customers shifting to fast casual chains like Panera, he wanted to create a unique product that they could not find elsewhere, thus forcing them to choose his family-run business over the franchise giants.  And so, he focused on a single offering: French toast.  Through some experimentation and repeated tastings, Zendeli was able to develop a unique bread that, when dipped in egg wash and cooked on the flat top grill, made what many loyal customers attest to as the best French toast on the market.
"Vlore Bakery's vision," says Zendeli, "is to help independent restaurants to specialize in something that the chain restaurants don't have," adding that he gets tremendous satisfaction from helping independent restauranteurs to attract customers through his signature Cinnamon Swirl French Toast.  For this reason, he does not target grocery stores or retail outlets, preferring his product to be something uniquely available through the restaurants that purchase from him.
"I didn't intend to do this," Agim confesses, when reflecting on how the product went from being a specialty item on his menu to a regionally-beloved restaurant staple.  "When I started, I was making the bread out of my own kitchen.  A friend came and saw what I was doing and asked that I sell him some for his restaurant, and then another friend did the same, and soon I was supplying a number of businesses with the product."
Eventually, Zendeli purchased a refrigerated van and ventured into Illinois where he had more friends and family in the restaurant business that were clamoring for his bread.  Today, Greek- and Albanian-owned restaurants form the core of his customer base and his cinnamon swirl bread can be found in twenty states.  In addition to family restaurants and diners, it is served at casinos, colleges campuses, golf courses and catering facilities.
The early response to his bread inspired Agim, and as his children became able to run the family restaurant, he began to focus his efforts on growing the market for his product.  "In the beginning, we weren't making money, and I was travelling throughout the area," he says.  "But I wasn't ready to give up – I knew from my own restaurant that the product was a success and it was just a matter of time before it would take off."
In a couple of years, he had several hundred customers in the Illinois/Chicago market, a critical mass that finally attracted the attention of the area's distributors.
"It took a while to get into the distributors," says Agim of his first two years in the bakery business.  "We knocked on the doors, and called, but no one returned our calls. Once I reached five hundred accounts, however, that changed."
Fox River, a regional distributor that was later purchased by national player Performance Food Group (PFG), was the first to come knocking, in 2013, with U.S. Foods and Reinhart closely behind.  National giant Sysco and Miceli & Oldfield are also among the distributors that carry Vlore Bakery's goods.  Mina Foods in Connecticut became the first East coast distributor to jump on the bandwagon.
Today, the company is poised to expand again, venturing into new markets beyond the Midwest.  Early on, says Agim, Vlore's Cinnamon Swirl Bread found success penetrating the foodservice markets in Chicago, Michigan, Wisconsin and Missouri.  Eventually, restaurants in Iowa and Texas also joined his list of clients.  And most recently, the company has been making headways in New York, Connecticut, New Jersey and Florida.
Convincing restaurants in new markets to try his product requires an approach that is somewhat unique in the business, but is, nevertheless, very effective.
Zendeli works with potential customers in a way that makes them comfortable that they will find success with his bread.
Discussing one of his newest customers, the Bridgeport Flyer Diner in Milford, Connecticut, he explains the process.  "Dennis Kokkinos, the diner owner, had seen our bread in an ad in Estiator magazine and sent us an email requesting samples," says Agim.  "He tried it and loved the product."  At that point, he says, he sent the diner seven cases of bread, two at no charge, so that he could gauge his customer's response.
"I told him that I would send an invoice, but that he did not have to pay me until he was happy with the sales."
"He asked for two cases, but I knew that two cases wouldn't be enough to get through the week," says Zendeli.  He was proved correct.  Supporting the product, Vlore sent Kokkinos table tents with photographs, which attracted the curiosity of their dining patrons.  By the end of the first week they had sold 270 orders of Cinnamon Swirl French Toast; equating to almost five cases.  For the following week, the bakery shipped more cases and within a short time the success was enough for Kokkinos to arrange a meeting with one of his key suppliers, Mina Foods, which, as a result, now carries the product and is marketing it to other businesses in its region.
"Dennis Kokkinos called me and kept raving about the product," says Dimos Mitas, the owner of Minas Foods, a broadline distributor and wine importer that services restaurants in Connecticut and Massachussets from its base in Milford, Connecticut.  "When we sampled the product, we were amazed.  It's 'A' quality and it's something completely different.  Also, it's so simple to use, it only needs a little egg-wash and butter and you have a phenomenal French toast."
Minas Foods began carrying the product as this article is going to press.  "We are currently bringing samples to upscale breakfast restaurants as well as to our top diner operators and preparing the French toast with them to taste.  We expect in the next two months to have the product placed in two dozen restaurants or more."
For restaurants that are concerned that they don't have the potential for immediate volume but are interesting in using the bread to improve their menu, Vlore Bakery offers a direct mail option through its website at vlorebakery.com.  "And then, if there is volume", says Zendeli, "a local distributor arrangement could be put into place."
For Agim Zendeli and the Vlore Bakery, the future lies east before it heads west: Once the New York tri-state and Florida markets are established and his track record there is solid, he would like to venture West as well.
They key to the successful response that the Bridgeport Flyer and other restaurants have had, says Zendeli, is the marketing support that Vlore provides to its restaurants.  "We take pride in our product and we proudly promote it," he insists.
Table tents and menu special sheets with photos of French toast from Vlore's Cinnamon Swirl Bread have been tremendously effective in generating orders immediately, he says, maintaining that "what sells our product, is the pictures".  Indeed, the round pancake-shaped slices of French toast are at once mouth-watering and extremely interesting from a food-design standpoint.   In an era where food presentation is becoming increasingly important to guests and an increasingly important element of a menu item's commercial viability, the cinnamon swirl French toast made from Agim's bread is tapping the zeitgeist.
"When we are confident that the product is successful for a business, we take the support to the next level," he adds, "by designing and creating their menu at no cost."  The placement of his product inside the restaurant's menu eliminates the need to replace table tents that get destroyed over time, he says.
Vlore Bakery produces several varieties of its signature cinnamon swirl bread.  In addition to its anchor product, there are spin-offs that include raisin, apple, pumpkin, cranberry, honey wheat and chocolate chip along with the bread's famous cinnamon swirl and cinnamon sugar crust.  In the works are new breads that include old-fashioned white or wheat; whole grain with bran; eight grain; multigrain; ancient grain with cranberries; sunflower; olive focaccia; buttery brioche; and English toasting bread.  These offerings, says Zendeli, will present independent restaurants with attractive options for their sandwich offerings, enabling them to participate and compete in a market where unique breads are giving businesses a competitive advantage.
---
HAPPY, SUCCESSFUL CUSTOMERS
Our Place Restaurants in Mansfield and Burleson, TX sell an average of 540 servings of Cinnamon Swirl bread each week between their two locations.  They have created their own signature menu item, the "Stuffed Cinnamon Roll French Toast" which finds cream cheese layered between each slice of French toast and topped with bananas, strawberries, blueberries, caramel sauce and powdered sugar.  Eggman's Restaurant in Alsip, IL sells over 520 orders per month of French toast made with Vlore Bakery's Cinnamon Swirl Bread.  Located in the Chicago suburbs, they have been serving the product since 2013. Gus's Diner in Sun Prairie and Verona, WI sells over 470 orders per week between its two locations.  At the Verona location, the cinnamon swirl French toast is the second-highest selling breakfast item. Brothers Family Restaurant in Rapids City, IL sells over 220 orders per week and, during the holidays, sells on average 50 servings of Pumpkin Cinnamon French toast.  It also sells loaves of the bread as an over-the-counter offering.  They have been a Vlore Bakery customer since 2012. Esmeralda's Pancake House in Monticello, IN is a new addition to the Vlore Bakery customer family.  In its first week, they sold over 200 orders of Cinnamon Swirl bread.
---
HOW IT'S MADE
Where other cinnamon breads begin with a bland white bread dough, Vlore's Cinnamon Swirl Bread is formed from sweet dough.  And because the bread is already sweet, it means that when making French toast, nothing needs to be added to the egg wash – no vanilla, no nutmeg and no additional cinnamon.
To make the cinnamon swirl bread, the dough is laid out in sheets and heavily sprinkled with fragrant Korintje cinnamon, before it is rolled into a snake-like shape and cut into individual 14-inch loaves that have a cinnamon swirl from end-to-end.  Each loaf is then covered with additional cinnamon and baked in old-fashioned two-piece crimped pans, giving the loaves a unique and enticing cylindrical shape.  Out of the oven, the bread is dipped in butter and rolled in cinnamon sugar for a flavorful crust that compliments the rich swirl of cinnamon running throughout the bread's layers of roll.  Because the cinnamon sugar adheres to the butter, every bite provides an indescribably delicious taste sensation.
In addition to a uniquely special French toast, Vlore's restaurant customers market their signature bread on menus in a number of variations: with fruit toppings, as a fragrant toast, or as a unique and flavor-filled base for breakfast sandwiches.  The unique round shape of the bread's slices creates a beautiful presentation that makes an impression with guests and is certainly fixed in their memories.  It's easy to imagine that their subconscious goes directly to this visually-appealing product when the thought of French toast crosses their minds.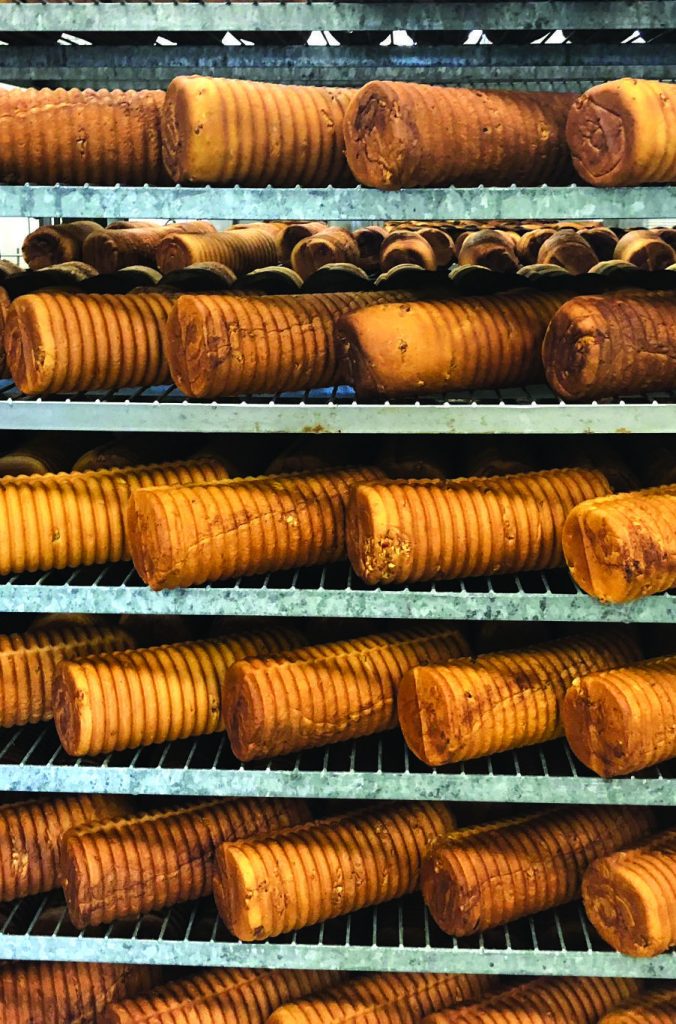 FROM RESTAURANTEUR TO RESTAURANT SUPPLIER
Cinnamon bread was not something that Agim Zendeli grew up eating in his native Skopje Kicevo, a part of the Former Yugoslav Republic of Macedonia. A member of that country's Albanian minority, Agim emigrated to the United States in 1983, when he was 12 years old.  His father, Zulbehar, had come in the 60s, and was running his own restaurant, bringing his son from overseas to visit him every year for summer vacation.  His passion for the business was established from a young age, when he would take cash at the register, and later, in his early teens, when he began to learn to work in the kitchen.  As he grew older, he took over the restaurant, and went on to spend decades in the business he had loved from childhood.  "I always enjoyed the business," he told Estiator.  "You have to have a passion and you have to love it" to be successful and to stay in it.  Today, the Springfield Family Restaurant to which he dedicated much of his life has been in his family for 35 years and the third generation of Zendelis have taken charge.  His children, he says, also own and operate a second business in town: the Springfield Avenue Café.  Asked if in his spare time, he ever gets the urge to get back behind the line or man the cash register, he offers a gentle chuckle before admitting that he still pitches in from time to time.
---
PROFIT PONTENTIAL

One of the first things that a savvy restaurant owner will do is calculate the costs when considering a new product.  And because he was for decades a savvy restaurateur himself, Zendeli is focused on helping his restaurants exact an attractive profit from his product.  From calculations on the company's sales brochures, a four-slice order of French toast made with Vlore Bakery's cinnamon swirl bread sold for $5.99 will yield a $4.83 profit, coming in at a 19% food cost.  The calculation is based on a per slice cost of $0.23 and with egg wash and butter estimated at an additional $0.24 combined.  While somewhat more expensive than French toast made with slices of white bread, the taste and the presentation cannot compare.  And the allure with guests is priceless as it helps to attract new customers that return for lunch and dinner.
---