Posted by estiator at 8 April, at 13 : 31 PM Print
The Name That's Not On the Cup – Yet
Vassilaros & sons Celebrates a Centennial, and sets Course for the Future
■ By Constantine n. Kolitsas
Their coffee has fueled New York's movers and shakers, workers, politicians, first responders and businessmen for a century. It's given energy to the workers that erected the George Washington Bridge, the Chrysler Building, the empire state Building, and every new York landmark built over the last hundred years. It's given Wall Street it's morning boost through capitalism's greatest growth periods. And it's pumped up American GIs through global deployments and wars. The new Yorkers that rely on Vassilaros coffee to start off or get through their day are, for the most part, incognizant of the brand, it's rich history, and the painstaking craft and care that go into each cup. But that's all about to change.
Alexandra Vassilaros is filled with excitement and energy – and it's not from being overcaffeinated. The source of her excitement lies in the course that she and her late husband's family are charting for the storied company built by John a. Vassilaros in 1919, grown by her father in-law, Andonis, and expanded by her husband. After his passing, in 2015, Alexandra and the family were faced with a difficult decision – to sell the company that has been at the core of the family's identity through three generations, or to rally together and take it into the 21st century. The decision wasn't easy – like the company's founder and her husband's father, John was the embodiment of the company. Aside from her deep personal loss, his untimely passing left the entire organization without its compass and driving force.
"I love the smell of coffee… i don't remember when i had my first cup, it was just part of my life." – John Vassilaros.
Family legend, according to Alexandra, says that when he was born, his grandfather had John brought to the factory on the way home from the hospital. "He wanted the aromas of the coffee to get into his blood," she said, indicating the mix of commitment and destiny that the family associates with the company.
the Vassilaros story, like so many Greek-American stories, is an immigrant story – a story of a family that came from an impoverished country with nothing in their pockets and created a vital business; and a story of America, built by immigrants who came, worked hard, contributed to their community, and propelled the country into the world's greatest political and economic power. But the immigrant dynamic is not something that the Vassilaros family holds as simply a chapter for the history books – the company has continued to sustain its immigrant work ethic and character, counting immigrants among many of its key personnel; most of whom have been with Vassilaros & Sons for decades.
"My grandfather believed in sharing the wealth," says Maria Vassilaros, one of John's sisters who continue to help run the company. "He took good care of his people. He believed it was the right thing to do, and that it was good for the business."
Her grandfather, she says, was known as "the Godfather", not because he had Corleone-like tendencies, but because in his lifetime he baptized over 300 children. The story has it that it once took her grandparents six months to drive from New York to Florida because they were continually stopping along the way to baptize more children.
---
On our Cover: Top left to right: Zachary Vassilaros, Ste fanos Vassilaros, Andonis Vassilaros, George Kasselakis. Sea ted left to right: John Moore, Maria Vassilaros, Alexandra Vassilaros, Robert Stockel.
---
"He was a dapper man," says Maria's sister, Ann, "larger-than-life; always very-well dressed with a carnation in his lapel." Although he had no formal schooling, he believed passionately in education, and maintained a library of Harvard books that covered a wide array of topics. To encourage his grandchildren to read, he would offer them $5 rewards for every book that they read, as long as they would write him a book report.
"When he would visit restaurants, he would always walk through the kitchen door and introduce himself to the cooks, dishwashers, waiters," she says as the conversation turns to his years as a well-known businessman within New York's Greek-American community. "He had tremendous respect for people, and treated them well. And he was always helping people to buy their own restaurants by giving them loans to get started," she adds.
And while they embraced their new home and helped other newcomers to find success here, her grandparents never forgot their roots, says Maria, sending donations back to their native island of Ikaria, most notably, helping to erect the island's first hospital, which bears their name.
Here in New York, the company's patriarch and founder focused on making his customers successful, providing them with a superb coffee that drew customers into their establishments, served most often in the ubiquitous blue-and-white paper cup that is now the stuff of New York legend.
When he took the baton, Andonis Vassilaros moved the factory to its present location in Queens, expanded its manufacturing capacity, and successfully bid on military contracts, which helped the company to grow.
The success of Vassilaros & Sons, says Alexandra, is due to a painstaking dedication to quality and consistency, and devotion to their customers, a culture that was created by her husband's grandfather and continued through the successive generations. With a tight family presence at the company that also includes two more Vassilaros sisters – Sophia (Kasselakis) and Irene (Boyer) – the company's identity continues to be defined by the value system instilled by its founder.
As he contemplates the future, the company's newly-named CEO, John Moore, is profoundly aware of its origins and culture. His mission, he says, is to make consumers aware as well, alluding to the anonymity of the brand beyond the network of restaurant owners and operators that have been purchasing and serving Vassilaros coffee for decades and decades.
Indeed, if New Yorkers, Long Islanders, New Jerseyans and Connecticutites have been starting their days with Vassilaros coffee for a full century, few are aware of it.
"Consumers are increasingly brand-driven," he says, acknowledging that companies like Starbucks and Dunkin' have created a market for branded coffee, and have helped to increase coffee consumption, as well as consumption of coffee-based beverages. The result, he says, has created fertile ground for premium roasters such as Vassilaros to extend their reach.
"I had to ask myself: How do we extend our great products into the real world, and the answer was to put boots on the ground," he says. So, to cultivate that business, Moore has brought on a Director of Sales along with five new salespeople; all of whom have experience in the various coffee markets (retail, grocery, institutional, on-line, etc). The new team members, says Moore, will augment the company's existing force, which has been focused on traditional Vassilaros customers – largely independent operators and small multi-unit groups.
"The synergy between John and the people he has brought into the company has been revitalizing, along with the help of longtime members of the team, most especially our 45-year veteran general manager George Kasselakis," says Alexandra.
"The new team members have been eager to share and leverage the true and authentic experience that exists in the company," adds Moore, while the veterans are invigorated by the passion that the new hires are bringing, along with their enthusiasm for the new opportunities that are being opened to them.
Moore says that in addition to a great product and a company culture of commitment to the customer and to quality, Vassilaros & Sons has the ability to scale quickly to meet the needs of new customers in new markets. "We have the equipment capability, the logistics and the experience to leverage as we embrace the opportunities ahead."
Indeed, on the operations side, the company is rock solid – it's aromatic roast is perhaps New York's most beloved (if anonymous) beverage; its veteran staff of salespeople and drivers interact with their customer base as if they were family members; and the team of roasters and quality control personnel are among the most expert in their craft. As an experienced coffee executive that has touched on every aspect of coffee cultivation, production and sales throughout his career, Moore believes that branding their product as a celebration "of where we've been and where we're going", and opening new revenue channels are his first priorities.
In the offices at the roasting facility, John Moore is seated alongside Alexandra, Maria and Ann Vassilaros, all of whom are a constant presence in the company. There is something about this that speaks to the concerted effort that has taken place to rally from the loss of John Vassilaros and to promote and leverage the integrity and value of the company legacy to revitalize the love and hard work that launched Vassilaros & Sons one hundred years ago.
A Coffee Evangelist at the Helm
TOURING THROUGH VASILLAROS'S roasting factory at College Point in Queens with its new CEO John Moore is almost like taking a tour of the
chocolate factory with Willy Wonka. Moore's passion for coffee – informed by his 25-plus years in all aspects of the industry – is contagious as his speech quickens, and his eyes brighten, fueled only partially by the caffeinated aromas produced as the green beans are roasted to a rich, deep brown.
The beans they are roasting at the moment, he says, have only been in the factory for a day or two. The company, he says, receives the shipping containers immediately as they come into port and within two days of roasting are in the restaurants, cafes and diners that the company services. As a result, he promises, Vassilaros drinkers are enjoying coffee that is the freshest on the market. With most other roasters, he says, the shipping containers can sit at the docks for months.
Throughout the chain, countless hands have an impact on the coffee that will end up in the consumer's cup, he says.
"From seed-to-sip, there are millions of decisions during the process chain that impact the end result," says Moore, whose evangelical devotion to the beverage is palpable. Those details – from how the beans are cultivated, to the microclimates in which they're grown, to the way they are harvested, to the roasting temperature, to the material used to package the ground beans – all have an impact on how the coffee will taste when brewed.
And because his professional journey has touched each stage of that chain (from coffee farmer to bean trader, and from roaster to retailer), Moore has developed a skillset and a depth of experience that is rare, if not unique.
Moore's infatuation with coffee began as a young man working as a barista and has taken him on a professional journey that has seen him stationed in Europe and South America, and up through the ranks of CEO for companies that include New York Café GmbH and Nobletree Coffee. Other positions of note include Senior Trader for Volcafe Specialty Coffee, Head Judge for the Cup of Excellence program, and management roles within Dallis Bros Coffee.
Today, Moore brings his breadth of experience and love of coffee to Vassilaros & Sons, the first person to hold his position that is from outside the family.
"The family has the vision to reinvest in the company," he says, "and it's my ambition to do everything possible to honor the legacy that the family has created and to build on it for the benefit of the next generation."
And with coffee consumption continuing to grow, and as more avenues to consume coffee continue to emerge, John Moore and the Vassilaros family are embracing the dawn of the company's second century in business with excitement and vigor.
Vassilaros & Sons… and Wives and Daughters
ALEXANDRA VASSILAROS
Alexandra Vassilaros met her husband John at a Greek Pan-Ikarian convention in New York City over 25 years ago. "My family sent me hoping that I would find a husband," she says. "That was the furthest thing from my mind, but then I met Johnny and the rest is history."
Johnny aka John Anthony Vassilaros was the President of the coffee company established by his larger­than­life grandfather, John Anthony Vassilaros, and built up by his father, Andonis John Vassilaros. For 30 plus years, John carried on the family tradition and developed Vassilaros into a thriving company with a rich, vaulted legacy. When John passed away in 2015 from colon cancer, it was Alexandra with the help and skill of her brother-in-law and General Manager, George Kasselakis and the women of the family, that stepped forward to carry on that legacy.
As important to the family story as the company's founder and the men that built and grew it, are the women who supported their efforts, says Alexandra It's as much a story of the "yiayiades", she says; of those strong, capable and dedicated women whose stories too often go untold.
According to family lore, she says, it was her husband's grandmother, Sophia, Vassilaros & Sons… and Wives and Daughters who urged the first John Vassilaros into the coffee business. Surrounded by her sisters-in-law, Maria Vassilaros and Ann Vassilaros, the stories start to unfold.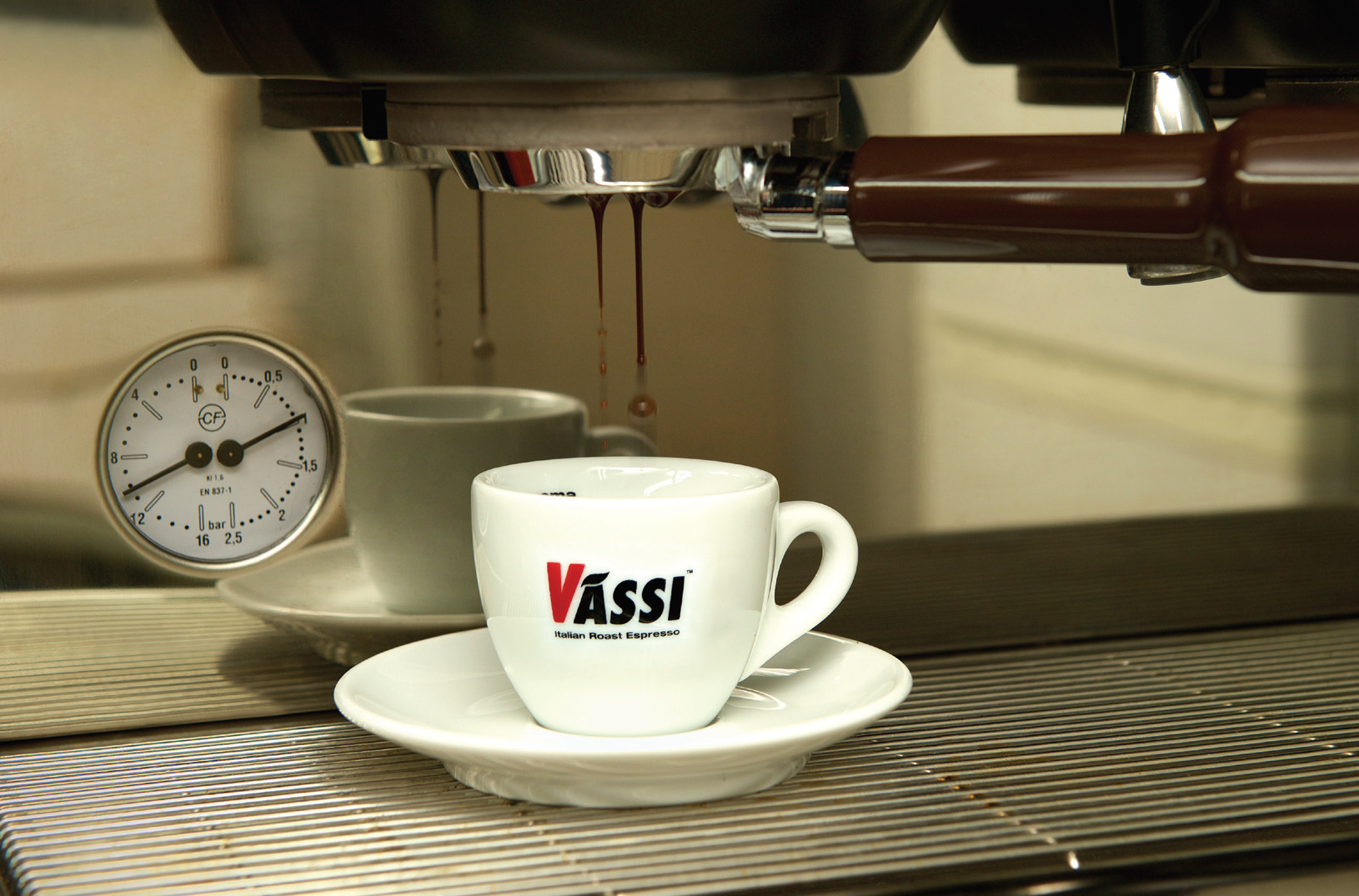 "Papou was a waiter in a coffee shop when he first came to the country," says Ann, whose quick patter and exuberance must be a family trait. "He took on a second job as a salesman with a coffee company and it was Yiayia that encouraged him to go out on his own in 1919."
But it was more than encouragement that she contributed – in those early days she would ride the subways with bags of coffee on her shoulder, helping to deliver to her husband's customers, she says.
"She was a very giving person," adds Maria. "She was always telling us stories about God's love, and she always looked to help and come to the aide of other people." Those qualities would become ingrained in the company's culture. Indeed, as Maria talks, you can feel Yiayia's presence, alongside her husband and founder, John A. Vassilaros, and the departed family members that built the company – benevolent spirits guiding not just the extended family, but the family of workers, many who have been with Vassilaros & Sons for decades.
As we walk through the factory, Alexandra is introducing me to the team of drivers, foremen, roasters and workers, greeting each warmly with a kiss to each cheek. The connection to the company is felt by each person in the building.
"When John passed, the loss was shocking and disorienting," she says. "His niece, Stephanie Kasselakis Kyles, left her lucrative job in the corporate world and came to work to stabilize our company when we needed it most, while the family took time to figure out which path was best for our future".
The dedication and hard work the family exhibited enabled Vassilaros and Co. to secure a future for their workers, and to continue to serve their loyal customer base until they brought on John Moore, a coffee industry veteran, to run the operation as the company's new CEO.
For her part, Alexandra who is a playwright by profession, (her play "Omnium Gatherum" was a finalist for the 2004 Pulitzer Prize for Drama and she is in development for a TV series whose central character is a woman who steps into the family business when her husband suddenly passes), put most of her pursuits on hold to become personally involved with the company's day-to-day affairs. Although not a Vassilaros employee through the years, she gained knowledge and experience through osmosis. "I was fortunate in that I was able to learn about some aspects of the business just being at John's elbow," she says. "Once, early in our marriage, he called to tell me he needed me to deliver a new coffee machine for a customer. I was seven months pregnant, with a toddler at home, I didn't know anything about the machines, let alone if I could lift it myself! He just said, 'Yeah, you gotta do this, they need the machine now – just drive up to the restaurant and someone will help you, bye!' And, sure enough, my connection to the coffee company grew throughout our wonderful time together," she says, laughing at the memory.
"I sell coffee where coffee is important," says John Vassilaros in a promotional video produced shortly before his pa s sing. "I make a real cup of New York City coffee."
Riffing on that theme, Moore says that New York will be an integral part of the company's brand as it seeks to introduce itself to end consumers.
"Companies pay millions to fabricate this kind of story," he says, with reverence. "It's time that the Vassilaros story is told."
And here, she turns back to the earlier conversation about the yiayiades…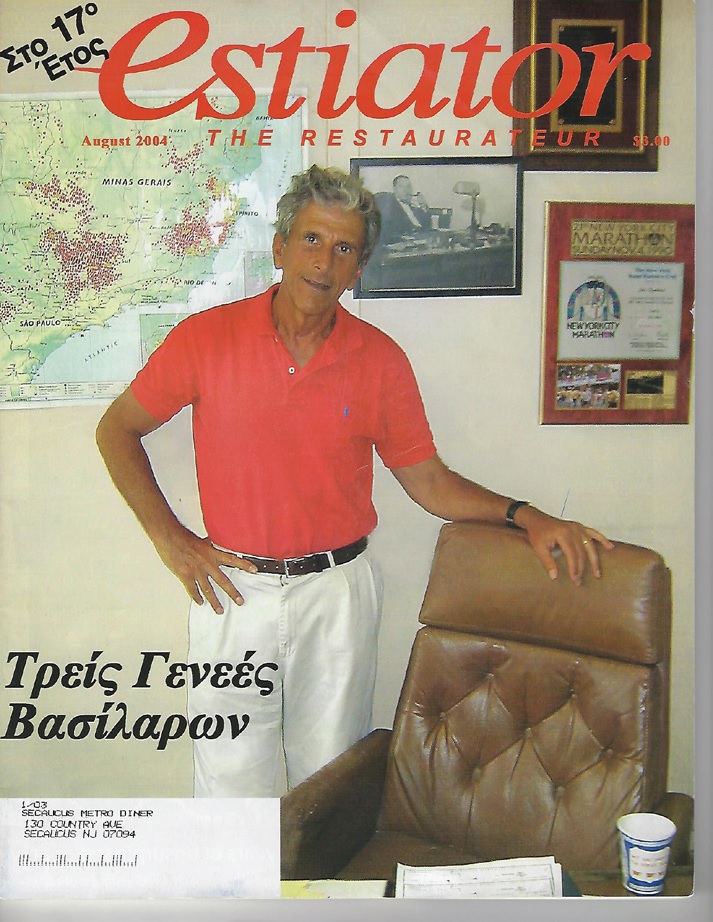 "For me, my own yiayia was an inspiration as well," she says, reveling in the memory of her grandmother's folksy wisdom and sound life advice.
"It's a true story," she says… "When I was a young woman, my grandmother, Eleni, sat me down to read my fortune in the coffee grounds from a cup of Greek coffee in her apartment in Astoria. "As she read the contents of the cup, she told me: "You will find a good Greek man who you will love very deeply and who will make you very happy and comfortable. And you will have three beautiful children. Well, John Vassilaros was that man and our three sons – Andonis John, Luka John and Stefanos John – are among the generation of Vassilaros great-grandchildren coming into their own today."
"The part that's really funny," she adds, "is that the coffee grounds in the cup she was reading from was Vassilaros coffee, the only coffee she ever drank!"