Posted by estiator at 15 May, at 07 : 45 AM Print
COVER STORY |  By Constantine N. Kolitsas
Team, Culture of Family, and a Sense of Common Purpose Equate to Growth as the Gyro and Specialty Foods Maker Expands its Operations and Product Lines
WHEN most companies measure their growth, they speak in terms of revenues, expansions in square footage, and market share graphs on pie charts.  When Devanco CEO Peter Bartzis talks about his company's growth, it's always in terms of its people.  Bartzis is not a "me" guy, but a "we" guy.  And the story of his company is the story of its staff, from the individuals that sit in its management offices to the people producing product on the lines.
When Bartzis initially purchased Devanco from its founder, George Apostolou (regarded as one of gyro's pioneers) in 2004, a group of his former co-workers from Kronos wanted to join him.  Peter, who had started at Kronos just out of college, worked for the company for nearly two decades, rising in the ranks from salesman to president of one of its two divisions.
"It was kind of like the Blues Brothers, 'putting the band back together again'," says Peter, whose reference to Chicago's favorite fictitious sons, Jake and Elwood Blues, is more than a gentle hint of the company's proud Second City pedigree.
And so, with him came Bob Geocaris (who, as well as being a teammate at Kronos, was a friend since high school), along with Greg Rashid and Peter Kanavos, Bartzis's brother-in-law and partner.  Both Geocaris and Rashid joined in sales positions, the former as Vice President of Sales and Marketing, and the latter as Vice President of National Sales, and both had ownership stakes in the newly-purchased company.
When Devanco was first purchased by Bartzis, the company was making gyros and Italian beef (another fabled Chicago food tradition) but was more of a distributor than a manufacturer, he says.  To help change that, he brought on Steve Hodges as Director of Operations, who (but for a short hiatus) has been with the company since the beginning.
Reunited with his "Dream Team", sales at Devanco spiked from $4 million to $10 million in their first year.  As sales continued to rise, Devanco's team grew, adding talent to areas that would facilitate the company's further growth.
"You can't grow sales without a production team that can execute," says Bartzis.  "And so, early on we beefed up our operations team," bringing on Orlando Thomas who had previously worked with Bartzis as Director of Human Resources, as well as Alfonso Arroyo, who became Production Manager.  Both had worked with him prior to purchasing Devanco.
The addition of these team members had an immediate positive impact, says Bartzis.  And together, they began to grow the company's manufacturing capabilities and its product portfolio.
"Once we had manufacturing operating at the level we needed, we looked for team members that could help with the office infrastructure," says Bartzis.
Among the first of that wave of hires, was Stella Argyropoulos, who joined to manage Devanco's Customer Service function.  As with many of the hires along the way, Stella was no stranger to Peter and the team.
"Stella and I have worked together a total of 23 years," says Bartzis.  "Fourteen here at Devanco, and nine at Kronos."
Focusing on the team members rather than the spread sheets and quarterly board meetings created a special culture at Devanco, says Bartzis.  "Everyone that works here is family," he says.
"And we pride ourselves with the fact that family comes first."
That family, he says, extends to the company's customers and its suppliers.
This team spirit, and the financial results that the culture created, have enabled the company to grow its footprint, constructing a 93,000 square foot facility last year in the Chicago suburb of Carol Stream, that has significantly enhanced Devanco's production capabilities, as well as its efficiency.  They can now produce in five shifts, what once required twelve or thirteen shifts, says Bartzis.  Those efficiencies, of course, have instigated a new round of talent acquisitions.
"As we were growing, each of us wore three hats," he says, indicating that the team worked long hours to build the business.  Steve Hodges, for example, was responsible for overseeing manufacturing, purchasing and R&D.  The company's recent expansion, says Bartzis, has allowed it to add personnel, enabling the senior team to focus on areas of expertise.  "Every time we make a new hire," he says, "we get better and better."
"When we moved to our new facility, we hired a purchasing manager that had previously worked with me, but went on to spend 17 years in purchasing at a large foodservice company.  That took some of the responsibilities off of Steves's shoulders," says Bartzis.  "The facility is now three times the size of the old plant – we needed to make his life a little less complicated."
In addition, Devanco brought on Susan to manage Quality Control, giving Orlando Thomas the opportunity to focus on Human Resources at a time that the manufacturing staff increased by almost 50%.  Bringing on Susan Duhig has helped drive the company to achieve its SQF Level II certification, which in turn has enabled Devanco to become a larger player with regard to national markets.  Since achieving the certification, the company's revenues have increased 20%.  Today, fifteen years after taking over, Devanco is now a $60 million company.
With the move, Devanco has hired a corporate chef, Eric Carré, an individual that Bartzis admits he had been wooing for the better part of ten years.  With Carré leading the company's R&D and technical services efforts, Devanco has been able to create new product lines, with more than twenty new offerings in the development pipeline, some of which, says Bartzis, are "going to be disrupters" in the marketplace.
Other industry veterans that have joined Devanco in its latest round of expansion include Kevin Miller, Director of Meat Procurement; Randy Mahar, National Sales Manager; and Phyllis Gerts, Executive Administrative Assistant.
With each round of new talent, one would think that the small-company culture that has been at the core of its success might get diluted.  But that, boasts Bartzis, is nothing near the case.  While large companies, particularly those that are publicly-traded or a part of larger conglomerates, tend to lose the personal touch, at Devanco, that spirit is alive and well, he says.  This was most vividly demonstrated, sadly, when, during the height of the new facility's construction, Peter's son, Joseph, became ill and tragically lost his life to amyloidosis, a rare blood disease that, if not detected early, could be fatal.
It was during his most difficult hour that the team proved to him again their passion for the company that (at varying stages) they helped to build and continue to help grow.
Testament to their cohesiveness, was a recent recognition by the Illinois Chamber of Commerce in collaboration with the Illinois Economic Development Association (IEDA). The Devanco team was awarded an "Edie Award", which honors outstanding economic development projects that bring jobs, growth and prosperity to Illinois communities.
The secret of the company's success, says Bartzis, is simple:  "People like to wo rk here."
"If you walk through our manufacturing facility you'll see people smiling, laughing, talking," he says.  "And they're being incredibly productive the entire time.
---
COMPANY MILESTONES

1965: George Apostolou claims to have served the first gyros in the United States; at his Parkview Restaurant in Chicago
1974: Apostolou opens Central Gyros Wholesale, manufacturing gyros from his 3,000 square foot facility in Skokie, IL 1986: Apostolou sells Central Gyros to Kronos
1993: Kronos founder Chris Tomaras retires and his company is purchased by a private equity group. With his non-compete clause expired, Apostolou goes ba ck into the gyro business, founding De vanco, which will also produce Ita lian beef and sausage
2001: Peter Bartzis leaves Kronos
2004: With the lapse of his noncompete clause, Bartzis purchases Devanco, along with his brotherin-law, Peter Kanavos, and Bob Geocaris, increasing sales from $4 million to $10 million in his first year
2007: Devanco achieves $20 million in sales
2015:  Devanco achieves $40 million in sales
2016: Devanco acquires Eleni's Modern Mediterranean and introduces vegan falafel, vegan egg scra mble and vegan gyros into the market
2017: Devanco invests $16.5 million into two new facilities in Carol Stream, Illinois, and St. Charles, IL, with more than triple the manufacturing space of its previous manufacturing plant. Carol Stream pro duces the company's meat products, while St. Charles serves as its vegan facility
2017: Devanco achieves SQF Level 2 certification, recognized by the Global Food Safety Initiative
2018: Devanco acquires Gridley Meats and Zacca Hummus
---
THE TEAM LOSES AN MVP
"If you have teenage children, please make sure they go to the doctor; please make sure they get annual blood screenings."
There is a plea in Peter Bartzis's voice.
Tragically, Bartzis recently lost his son Joseph, who, at the age of 26, was diagnosed with amyloidosis, a rare blood disease.  A blood test, says Peter, would have detected the disease earlier and possibly saved his son's life.  "When I was growing up, people didn't have to go to the doctor until they were forty," he says.  "When they're younger, their moms take them.  And then when they leave for college, they just stop going; this is especially true with boys."
They make every excuse not to go, he says.  They're too busy; they have too heavy of a work schedule; "it's nothing, it will pass"…
"Joseph was a shining star," he says, proudly listing his son's career accomplishments in the sustainable energy field.  "I told him to spread his wings; to prove how far he could go on his own, in this brand new field."  Devanco, he said, would be there when and if he ever wanted to return.
With his passing, Peter has established the Joseph Peter Bartzis Foundation in his son's honor.  Its mission: to get young people to go to the doctor and get blood tests every year; as well as to further the research into early diagnosis of and a cure for amyloidosis.
"It's different for these young people; they need to start getting screened at a much earlier age," says Peter.  Doctors are now encouraging colonoscopy screenings at age 40 instead of age 50 because we're seeing young people in their thirties contracting colon cancer.  The increase in diseases, he believes, stems from the impact of big business on the food supply and on the environment.  It was in the 90s that America saw widespread use of the herbicide Roundup throughout the food supply.  The product, made by Monsanto, contains the controversial chemical glyphosate, which many believe is linked to several cancers as well as to early onset puberty, obesity, diabetes, and poor gut health (which is then linked to inflammation and a host of other diseases).  The reason for the tremendous spike in cancers and illnesses in young people, he believes, is because these young people have been exposed to glyphosate, other dangerous chemicals and genetically modified crops from the time they're born.
Speaking to Peter, it's obvious that the loss of his son is still very painful to talk about.  But he talks nonetheless, hoping that the message gets through to people, is passed along to others, and will hopefully save some lives.
"Make sure your kids go to the doctor, and make sure they get their blood tested," he says again before we conclude our conversation and hang up the phone.  "And not just once; but every year."
---
PREPARING FOR THE NEXT CHAPTER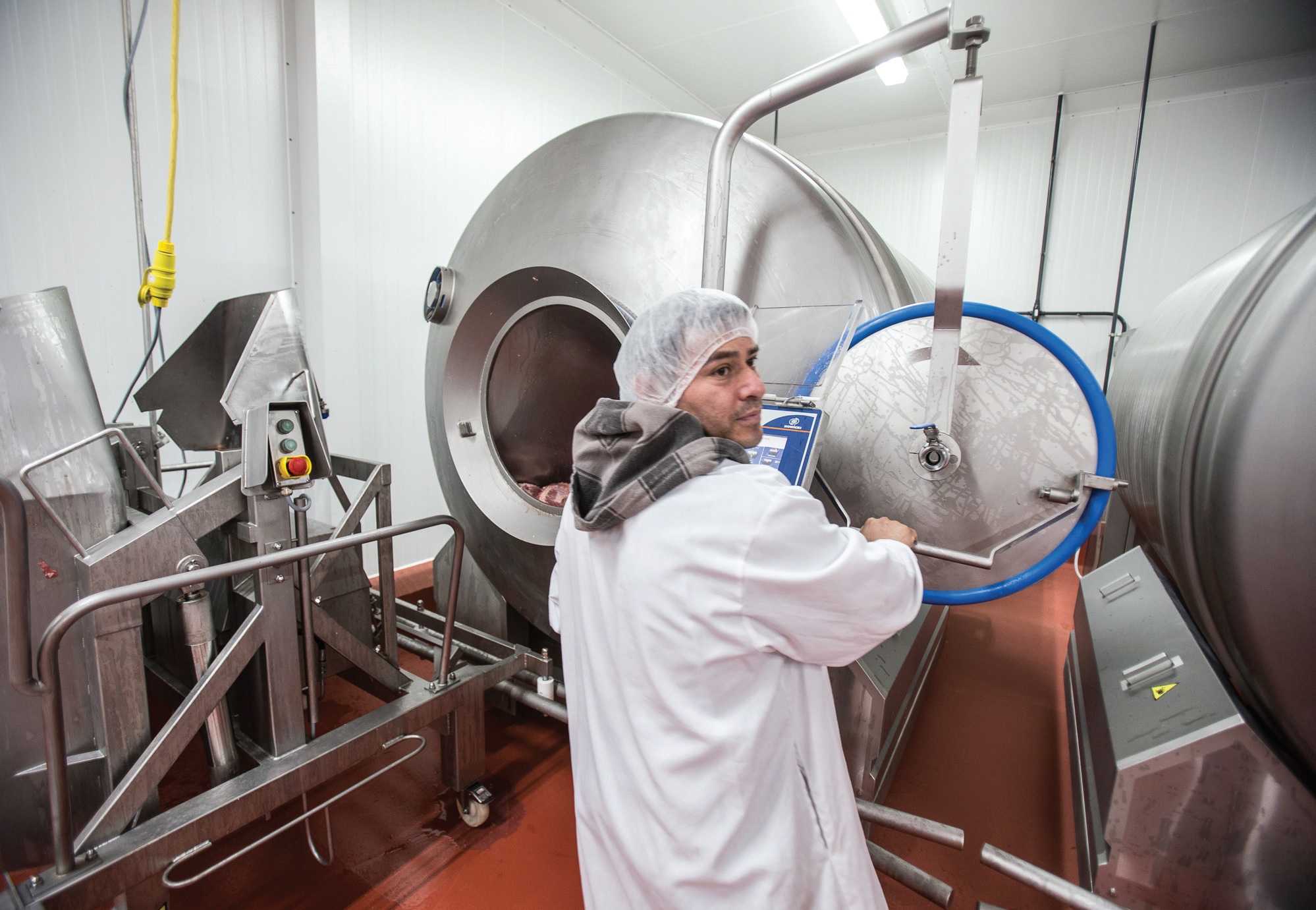 With its recent expansion, Devanco is positioned to increase its revenues, which, according to Bartzis and his team, are targeted to reach $100 million in the next three-to-four years.  The "Dream Team" that has been built over the last two decades is now developing a succession plan, actively cultivating new talent that will at some point take over the company helm, says Bartzis.
Greg Rashid, for example, is grooming George Kanavos, Bartzis's nephew, to be the eventual Vice President of Sales, "when Greg decides that he wants to slow down", says Peter.  At age 38, George has been with the company for over a decade, working his way up the ladder. George's brother, and sister, Evan Kanavos and Elaina Rankin, also work at Devanco, heading up Customer Service.
Of Peter's children, his 29-year-old son, Evan, is an integral member of the Devanco team.  Starting as an intern on the production line, and working most recently in the Finance department, Evan was promoted to General Manager.  His father, however, was not behind the promotion.
"I think you're holding back your son," he was told by one of his team members in a staff meeting. "He should be the General Manager."
"Ultimately, Evan was promoted by his peer group," says Bartzis, citing his exemplary work ethic. His daughter Ma deleine, a 2018 nutritional science gra duate, has also joined the company, working under Susan Duhig in the Quality Control department part time as she pursues her master's degree.
Surveying the market landscape and Devanco's recent moves, the future continues to look promising, as recent acquisitions of three retail lines have opened avenues for the company to grow its presence across a number of channels.
Along with the recent acquisitions, says Bartzis, is a concerted effort to bring the company closer to being 100% clean label across its full portfolio of offerings.  Although the definition of "clean label" is not clearly articulated, food products that make that claim are generally devoid of artificial ingredients and synthetic chemicals.  A consumer­driven movement, clean label generally connotates "a return to real food and transparency through authenticity", according to the website, gocleanlabel.com.
Zacca Hummus, which Devanco brought on in August, compliments the array of Mediterranean specialty products that the company already produces or imports.  Made exclusively from sustainably­raised chickpeas grown and processed in Idaho, the hummus it produces is free of artificial preservatives, added oils and GMOs, and heralded as perhaps the only "farm­to­table" product in the category.
With Gridley Meats, Devanco has increased its footprint in another rapidly growing food segment: the Halal meat industry.  Using only 100% Angus beef, the Gridley processing plant recently acquired by Devanco offers a line of cured meats, beef jerky, beef sticks and deli meats, all of which are cooked, smoked, ground, sliced and packaged on site.
And while Devanco's trinity of gyros, Italian beef and sausage (along with the rest of its traditional offerings) still accounts for the majority of its sales, the company is preparing for a future where a significant amount of animal protein consumption is replaced with plant­based alternatives.
Perhaps most ambitious of its acquisitions, then, is the company's purchase of Eleni's Modern Mediterranean line, which offers a number of plant­based meat alternatives to a growing millennial population whose numbers include the country's largest percentage of vegans (current research indicates that 26% of that demographic identifies as vegan or vegetarian).  The brand's growing product portfolio currently includes a vegan gyro, vegan sausage slices and vegan falafel.
According to Acosta, a sales and marketing firm in the consumer­packaged foods industry, plant­based meat alternatives continue to grow in double digits year­over­year, with 71% of shoppers that purchase plant­based meat alternatives also claiming to be consumers of meat.
"We're meatheads, but you've got to go with the industry trends," says Bartzis.  "There's no way we're going to keep feeding the world with just meat; even the big boys like Tyson Foods admit to that."
---
VITAL STATISTICS
■ Devanco is a SQF level 2 food manufacturing company that spe cializes in gyros, Italian beef, sausage, and other food products, inclu ding a line of plant­based pro  tein products, Greek specialty pro ducts, and a farm­to­table line of hummus.
■ Location: Carol Stream, IL (suburb of Chicago); secondary facility at St. Charles, IL,
■ Two facilities: 100,000 square fe et. ­93,000 sq.ft ­ Carol Stream ­7,000 sq.ft ­ St. Charles
■ Production: 400,000 lbs/week
■ Employees: 110
■ Annual Revenues: $60 million
■ Manufacturing Labels: Devanco (gyros, Italian beef, sausage, burgers, Halal beef, Chicken Shawarma, Tacos al Pastor), Gridley Meats, Zacca Hu mmus, Eleni's Modern Mediterranean
■ Import Partners: Epiros Dairy (feta, cheeses), Chasioti Pita Bread Di  stri bution Territories: All 50 U.S. states, Canada, the Middle Ea st, the Carribean
---
Devanco Foods: 440 Mission St, Carol Stream, IL 60188 (847) 228­7070 | www.devancofoods.com