Posted by estiator at 21 February, at 19 : 38 PM Print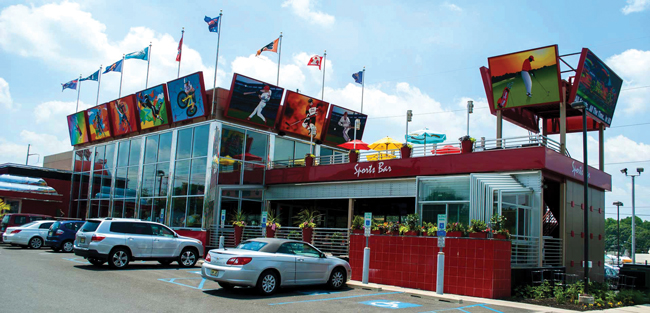 There's always plenty of action at the Sport Bar side of the celebrated Phily Diner, at 31 S. Black Horse Pike, Runnemede, NJ, 856-9394322, and the action usually centers around its long elliptical bar, where cool drinks like Sherbet, Mimosas and Bloody Marys are dispensed and inventive food is dished out from the adjacent brick-oven open kitchen under the watchful eye of operating partner Petros Kontos.
In January 2009 the long-awaited Phily Sport Bar opened its doors to the public after a complete renovation and expansion of the huge building housing both facilities, in operation since 1992. This added 9,000 sq. ft. to the structure on the two-story deck, equipping the space with over 40 plasma and HDTVs and the brick-oven kitchen entirely independent from the main diner facilities. From one-of-a-kind sports memorabilia to the life-size sports figures, the bar entity stands true to its name.
Having reported not long ago about the diner side of this establishment, which can very well be called an institution, ran in partnership with Bill Ballis the Adelphia Restaurant and Catering, we feel that concentrating on the Sport Bar side is necessary. But before going into the nitty-gritties, we'd like to add that Petros Kontos, who single-handedly manages the two-sided establishment, hails from Andros, the Noble Lady, as he says, of the Cycladic islands of the Aegean. Bill Ballis, on the other hand, traces his heritage to historic Nafpaktos.
Here you can partake of very special appetizers, like Big Daddy Nachos and "Stingers," a boneless wing dish that has been extremely popular. There's a signature Grilled Cheese corner that gives you choice of bread along with thin-cut or waffle fries or chips. All that of course is aside from the ten varieties of brick-oven pizza, including the Venetian, the Playa and the Rosalie. There's a Panini section with such varieties as Chipotle and Caprese, plus sliders and burgers. There's Tequila Shrimp and Jack Daniels Pork Chop, and I n the Fan Favorites section you'll find Thai-style Fried Calamari as well as the Jose Chicken with Mustard Fajita and lemon spices. Closing with sugary substances, the Adult Root Beer Float with Vanilla Ice Cream is a new offering recommended as an after-dinner alcoholic "dessert," and so is the Toasted Coconut Sundae served with strawberries and capped with Frangelico. Beers on tap served here exceed 20 and bottled ones feature those from local breweries such as Cape May Brewery, Cape May NJ, and Spellbound, Mullica Hill, NJ.
You can catch your every game here with the NFL Sunday ticket and MLB package deals. Though Phily Diner itself is a 24/7 operation, the Sport Bar remains open Sunday through Thursday until 2 am, extending that to 3 pm on Fridays and Saturdays. Sunday mornings at 9 am you can have your breakfast at the bar, sipping your signature PSB Bloody Mary or Sherbet Mimosa.