Posted by estiator at 14 June, at 16 : 19 PM Print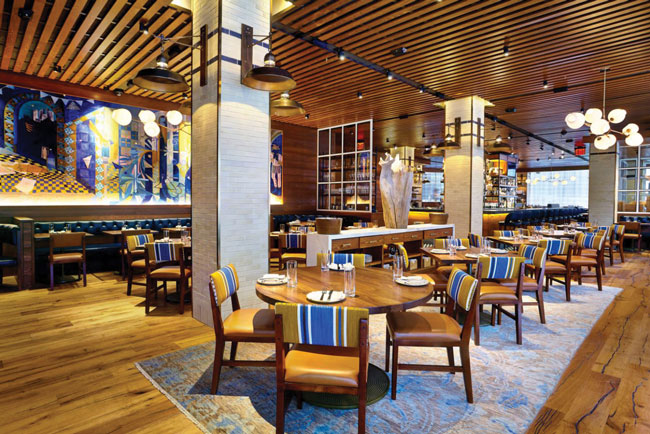 WHERE Manhattan's West 57th Street winds up just short of the Hudson River piers, with fancy new high-rises piercing the sky, is where restaurant mogul John Livanos chose to build his newest eating and drinking establishment, Ousia (629 West 57th Street; 212-333-2200). It occupies the entire ground floor of a high-rise.
The spacious new restaurant is latest contribution from the Livanos family, known for its high-end Mediterranean eateries. Family patriarch John is now surrounded not only by the second generation but also by a third generation of his progeny, led by his three children Bill, Nick, and Corina, and followed by their children as well!
Opened last February, Ousia is a 6,700-square-foot space, the centerpiece of which is a rectangular bar with a luscious black granite top, manned by two servers on weekdays, three on weekends. This large bar has four TV screens to provide comfortable viewing from every angle and can serve up to 35 guests; the total seating capacity is 185.
The acoustics system is as sophisticated as everything else in this space. The strips of oak that cover the ceiling hide the system with occasional openings for the absorption of the sound.
If you think the space is impressive, wait until you get a taste of the food. A sampling of appetizers includes classic hummus, taramosalata, cannelini and beet, edamame pistachio dip, tzatziki, htipiti, artichokes a la Polita, and cast-iron cauliflower. Entrees include phyllo-wrapped swordfish; whole grilled lavraki with lemon oil emulsion; striped bass moussaka with potato, eggplant, and caper skordalia; beef short ribs stifado; Kos meatballs; grillled lamb chops; and tiger prawns. Ousia also serves a variety of sandwiches and flatbreads as well as standards such as Molyvos spanakopita and Greek fries.
Last year the third generation of Livanos restaurateurs, Nick's eldest sons, Johnny and Enrico, joined the family business as managers at Ousia. Both Johnny and Enrico graduated with degrees in hospitality management and culinary arts, Johnny from Cornell University and the Culinary Institute of America's Greystone Campus in St. Helena, California, and Enrico from Syracuse University and The Culinary Institute of America. Johnny, with his seasoned knowledge of Greek cuisine, wine, cocktails, and hospitality, leads the bar program at Ousia, while Enrico guides Ousia's service operations to provide a dynamic and memorable dining atmosphere. John, along with his children and grandchildren, also own and manage the critically acclaimed Oceana, Molyvos, and Oceana Poke in New York City, as well as Moderne Barn in Armonk, NY, and City Limits in White Plains, NY.
Ousia is open daily from 12 noon to 11 pm for lunch and dinner.