Posted by estiator at 13 September, at 14 : 49 PM Print
AUTOMATIC FOR THE PEOPLE
AUTOMATION is everywhere you look these days. With the development of artificial intelligence technologies, the old idea of a machine on a production line is taking on a whole new meaning. We've seen this coming for decades as we've grown accustomed to machines flying planes, stacking warehouse boxes, processing our bank transactions and checking us in at airports around the globe.
With the latest technological advancements (have we finally entered into the Age of the Robots?) comes the ability to do more than ever as machines are programmed to "think" to some extent. As regards robotics in the workplace, the deployment of driverless smart cars, buses and trucks that has been taking place in pilot cities such as Boston and Las Vegas (and Trikala, Greece for those of us with eyes on the old country), is grabbing the lion's share of media attention, and is poised to move out to other major cities in the next few years. In ten years, some maintain, it may be hard to find a truck driver that isn't a robot. But it's not just blue collar functions that are relegated to automation – on Wall Street, traders are becoming obsolete as algorithms make investment decisions for our retirement savings.
Technology seldom develops for its own sake: Behind all of these innovations is the same simple purpose – the reduction of costs. And in the restaurant industry, increasing cost pressures are driving the same need for innovation. The question becomes, then: How will technological innovation benefit the restaurant industry, and what form will those innovations take? There are a few companies out there that think they have some answers.
For several years, casual dining chains like Red Robin, Applebee's and Chili's have had table-side tablets deployed that were designed to take down front-of-the-house expenses, particularly in states like New York, where the tip credit was slashed in 2016, doubling the hourly rate paid by restaurants to servers. (New York's Governor Andrew Cuomo is now attempting to push through legislation to remove the tip credit altogether, eroding slim margins for restaurant owners even further.) Thinking that standard section sizes of three tables could be increased to seven or eight, the plan seemed solid: Customers could place their own food orders and the server role would be relegated to running orders from the kitchen to the customer. There were a few holes in the theory, however, as most managers, long under pressure to control labor costs, had already allowed most servers to take sections of six or seven tables. Servers were then stretched too thin, resulting in not just a decrease in server interaction with guests, but also poorer service overall. Most guests rejected the
move and, as a result, revenues went into decline, with Applebee's alone closing 99 locations in 2017.
Where there has been success with regard to front-end automation is in the fast casual and QSR segments, where customers, while preferring human cashiers (according to a recent MSN survey), have not rejected the notion of placing orders through kiosks. Here, the difference in experience is minimal, as few customers go to a fast food restaurant to see their favorite cashier. The relationship is more transactional and not dependent on guest-worker interactions.
The pudding's proof lies in the fact that McDonald's, which rolled out a pilot kiosk program in 2015, plans to install 1,000 kiosks per quarter until all of the chain's 14,000 units have adopted the feature. And other concepts are quickly following suit, as the shift has reduced the critical time-to-order metric as well as improved order accuracy.
But with wages for all food workers expected to hit the $15.00 per hour threshold in the next few years, and with the labor pool tightening due to both lower levels of unemployment and the administration's policies on immigrant labor, the real need for automation is in the restaurant's back-ofthe- house.
Many of the most publicized attempts at back-end automation are being
made by burger chains. Elevation Burger, a company with a footprint of approximately fifty locations serving
organic burgers, installed a conveyor belt griddle several years ago that allowed kitchen workers to place a burger inside of a casing that traveled down a conveyor belt and came out cooked to the customer's requested temperature by the time it reached the other end. The cast iron griddle, which measured 20-feet-long, was capable of cooking three times the amount of food in an hour.
If the conveyor griddle at Elevation Burger doesn't quite meet the robot mustard, a recent addition to the team at West Coast chain CaliBurger certainly does. "Flippy", a robotic arm dressed in a white chef's coat sleeve and wielding a spatula, is programmed to cook burgers on a traditional flat-top grille and serve them up to kitchen staff which then assembles and packages them. And it cleans the grille as well.
Created by Miso Robotics, which had all of its employees work in CaliBurger kitchens as grill cooks as part of the design process, the robot is set to roll out of its Pasadena, California store and into all of the chain's fifty locations, at a cost of $60,000 to $100,000 per unit. Pasadena's Flippy, which works approximately three hours per day (according to a report in USA Today), takes just five minutes to install. OSHA-compliant laser sensors allow the robot to "see", working around staff members that share its space, while staff send directions via a computer screen that runs the robot's AI software.
But for all its fanfare (it made news as far as England), Flippy was sidelined for a short time, just a day after it's first day on the job. Rolled out in March, it was pulled for adjustments and reintroduced in early May.
But by far, the robot with the most advanced capabilities is that invented and manufactured by Creator, a San
Francisco-based company founded by a Greek American that grew up in his parents' burger restaurant before attending UC Santa Barbara where he studied physics.
Together with his co-founder, Steve Frehn, CEO Alex Vardakostas started out in 2009 with the vision to create a machine that could improve the burger making process. With $18 million in backing from the likes of Google's GV, Khosla Ventures (an investment group with significant food start-up holdings) and Root Ventures, his company (recently recast as "Creator" from its original Momentum Machines) designed and built a machine that does not simply cooks the burger on an existing griddle, but grinds the beef fresh to order, cooks it, slices the bun to order, slices the vegetables to order and applies condiments and seasonings to exact specifications of the diner.
Videos posted to YouTube demonstrate the scope of the work that this machine performs.
Measuring approximately 14 feet in length, the robot is a self-contained "kitchen" that is end-to-end automated. Outfitted with 350 sensors, 50 actuators and 20 microcomputers, the robot is able to deliver 120 burgers per hour – fully packaged.
"When your job is to make something like 400 of the same burger every single day, you realize that there are a lot of opportunities to make it just a little bit better," says Vardakostas, recalling his younger days spent cooking burger after burger in a hot kitchen. But rather than sell his robots to the scores of existing burger chains, Vardokostas plans to use them in the company's own restaurants, with the first set to open fully in September.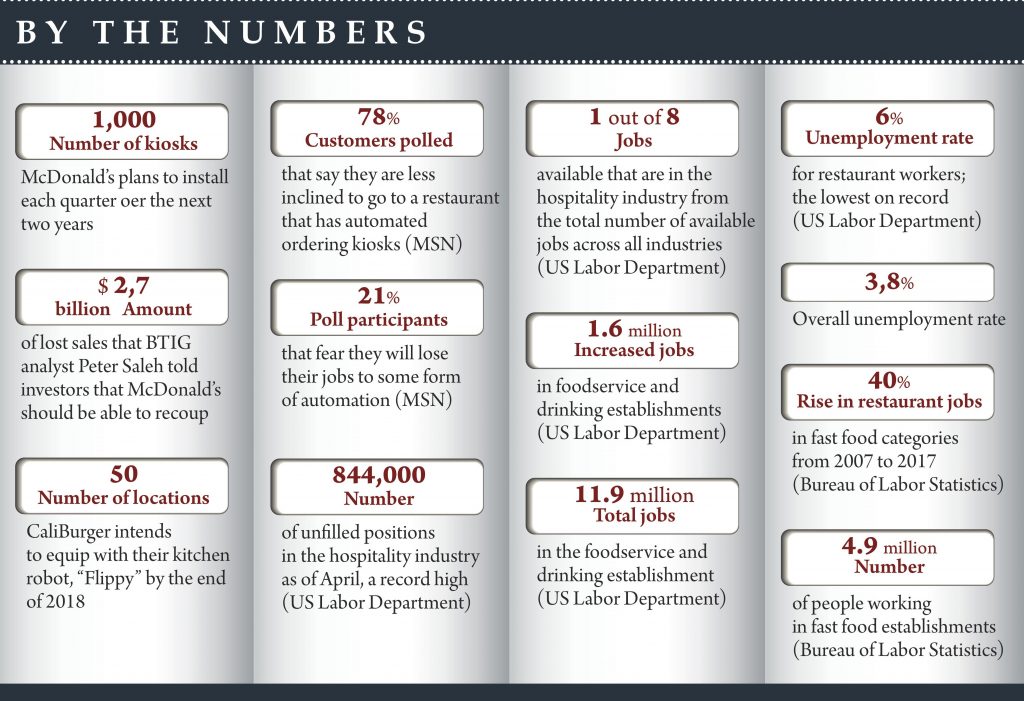 The restaurant, located in San Francisco, has been open two lunches each week to limited ticket-holding
customers in preparation for its grand opening. The machine is truly a marvel to behold. At the beginning of the process brioche buns baked that morning come through an air-compressed chute, are sliced fresh to order, toasted and buttered. Simultaneously, the robot grinds the combination of chuck and brisket to order, dropping a loosely held portion of the ground meat onto a self-contained griddle with the grinds lined vertically so that when a diner bites down, he is biting with the grain of the ground meat, allowing for ultimate
tenderness. Pickles, onions and tomatoes are placed whole into tubes and sliced fresh just seconds before
dropping onto the burger. A wide variety of condiments, some, like oyster aioli and shitake mushroom sauce, are designed by a collection of San Francisco's celebrity chefs and squirted on at the last moment. Cheese is sliced just seconds before it drops onto the burger. At the last phase of production, the machine packages the entire meal. And the entire process takes only about five minutes.
In one fell swoop, Creator completes tasks otherwise assigned to prep cooks, line cooks and expediters.
On the front end, customers place orders on tablets or through apps, which also process payments. The restaurant's staff, which are compensated at $16.00 an hour, meanwhile, act as concierges, helping guests through the experience.
The burgers, made with premium ingredients that are hormone- and preservative- free in most if not all cases, are priced at only $6.00, comparable to the cost of a Big Mac. The machine, say business experts, takes down the costs of labor as well as occupancy costs as the size of the machine is similar to a small car; taking up far less real estate than a fully-equipped cooking line and prep kitchen. In addition, Creator solves a number of operational challenges as labor pools shrink, exacerbated by immigration challenges. The robot, after all, doesn't require a Green Card.
Whether the classic Greek diner will benefit from automation is a matter of debate. So far, it is fast casual concepts with limited and specific menus that have been the subjects of early tests. How a robot would function in a setting where the menu reads like a never-ending Tolstoy novel is yet to be seen.