Posted by estiator at 15 May, at 07 : 24 AM Print
CHICAGO
Piggie Smalls Gyro Shop
205 W Wacker Dr — Chicago, IL piggie-smalls.com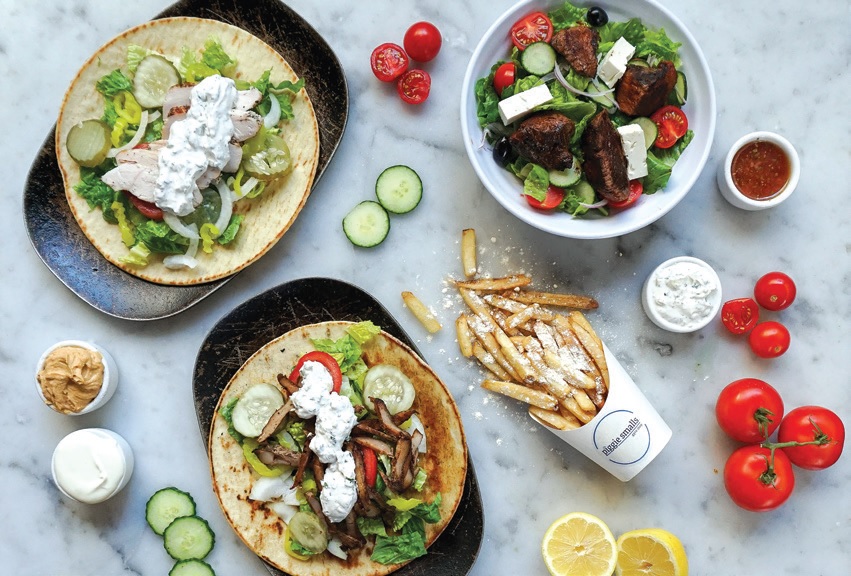 In the busy Wells Street Market food hall on the north side of the Chicago Loop, Piggie Smalls Gyro Shop is taking the beloved Greek street food staple to the next level. Owned and operated by Jimmy Bannos Jr (named James Beard Rising Star Chef of 2014 and owner of the trendy Purple Pig on the city's famed Magnificent Mile) borrows from his childhood memories to showcase classic Greek flavors, while making it approachable for those on the go. It's streamlined menu is designed to help busy people get the goods and then get back to work, offering build-your-own bowls, five different kinds of gyros, and three dips. It's open from 11 am to 4 pm Monday through Friday.
NEW ENGLAND
Neos
480 Cass Ave — Woonsocket, RI neosgreekrestaurant.com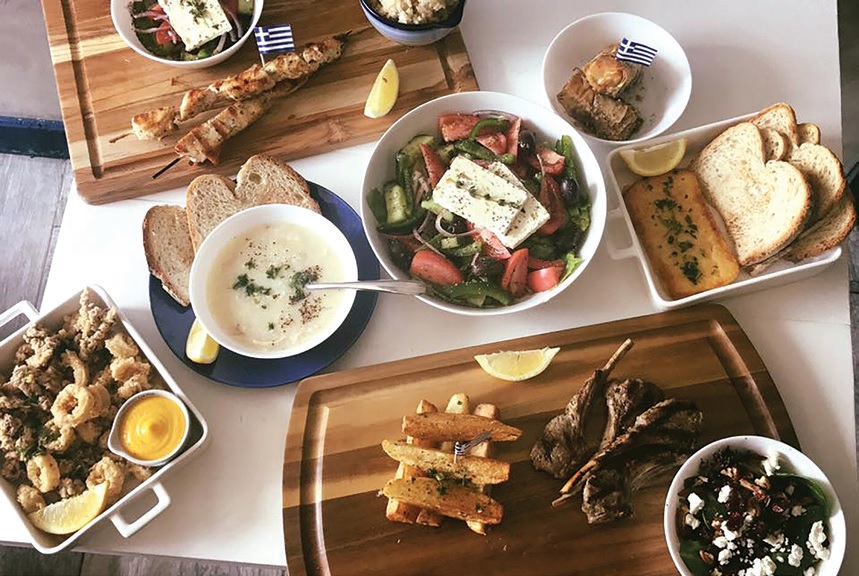 With her youngest child in school, Chef-owner Sophia Potsidis Islam returns to the kitchen with Neos, a Greek restaurant with family recipes from Kozani, the birthplace of her parents. Together with her husband, Rabi, Sophia opened a Greek/Indian fusion restaurant on Boston's South End, which they later converted into a Mexican concept, going on to open three more locations. The menu features standard Greek fare while wall murals by Quincy-based artist Mark Grundig give the space a wonderful artistic vibe.
NEW ENGLAND
Ouzo Blue
675 Main St — Watertown, CT ouzo-blue.business.site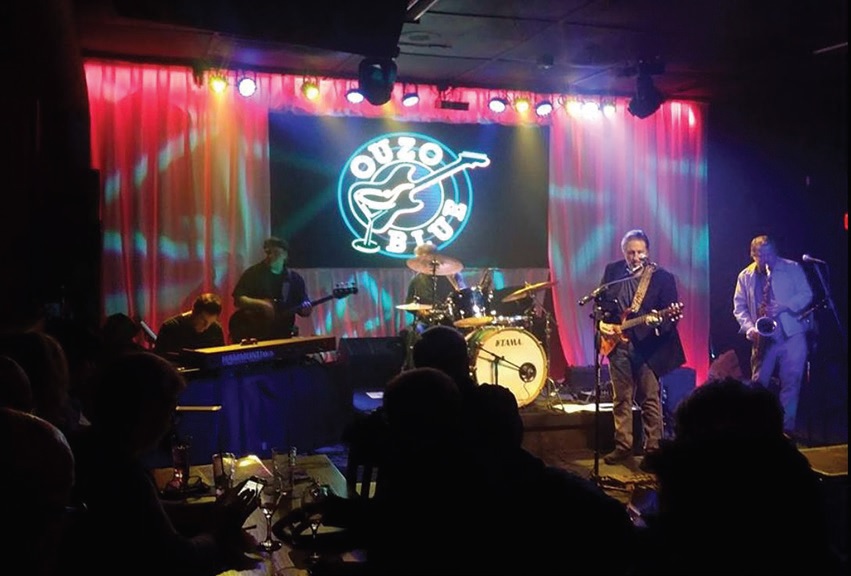 This weekend nightspot is a music hall/night club that attracts a wide array of music acts (occasionally hosting Greek nights with bouzouki and clarinet). The live music stage occupies the first floor, along with a long bar where patrons frequently stand five deep. The lower level hosts DJs. Owned and operated by partners Chris Gogas and Theo Anastasiades, the club also puts out some pretty good food – not surprising as the pair own several restaurants in the area, including the multi-unit Pies and Pints concept that specializes in pizza and craft beer.
MEMPHIS
Grecian Gourmet Taverna
412 S Main St — Memphis, TN thegreciangourmet.com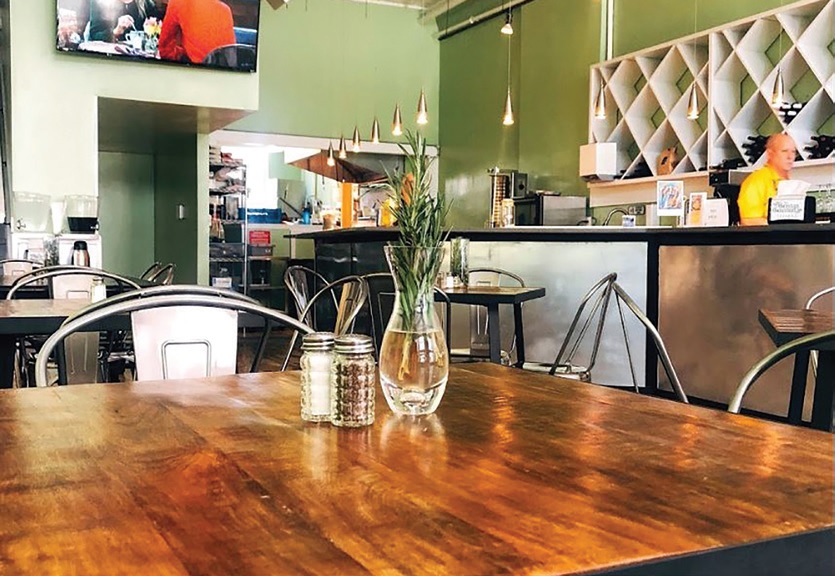 This fast casual spot opened a little more than a year ago as an extension of a line of gourmet Greek foods that shoppers can still find at a number of Tennessee's retail outlets and farmer's markets. The restaurant has a small menu of the tried and true (gyros, moussaka, pastitsio, spanakopita make up half of the entrée section), along with a few interesting curiosities, namely lamb sliders with a spicy feta dip and pita nachos. When ordering the latter, diners have the option of toppings (including gyro meat, feta dip, pepperoncini peppers and more). Everything is made from scratch and the eatery offers occasional cooking lessons, as well as catering services.
NEW YORK CITY
Estiatorio Milos
20 Hudson Yards, Fifth Floor (500 W 33rd Street) — New York, NY estiatoriomilos.com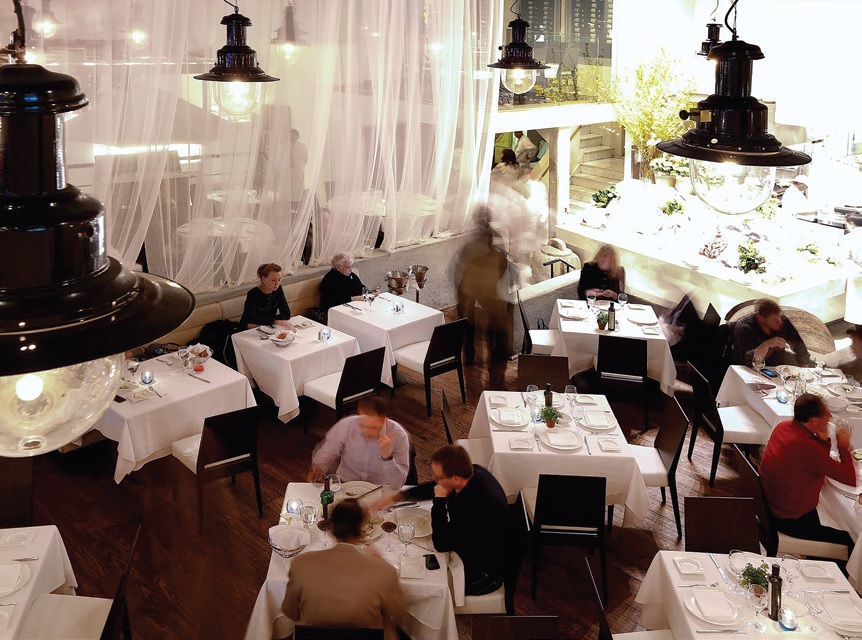 Restaurateur Costas Spiliadis has opened the most recent of his line of fine dining Greek restaurants in the shops and dining section of the recently opened high-profile Hudson Yards complex, which includes condominiums for some of the wealthiest Manhattanites, high-end offices, boutiques and a cultural arts center. Spiliadis's signature Milos brand (recognized as one of the world's finest Mediterranean seafood restaurants) are located in Montreal, Midtown Manhattan, Athens, Las Vegas, Miami and London. Other locations that are expected to open later this year include Los Cabos, Mexico; and Dubai. In a recent feature in the New York Times, food writer Alan Richman wrote: "The Milos kitchens do not dabble in haute cuisine. Their focus is meticulous cuisine. Milos is triumph of the authentic over the artistic." Spiliadis is credited by many New York food enthusiasts as being the first to bring Greek cuisine into a high profile fine dining setting.
PHOENIX
The Monroe
101 N. First Ave — Phoenix, AZ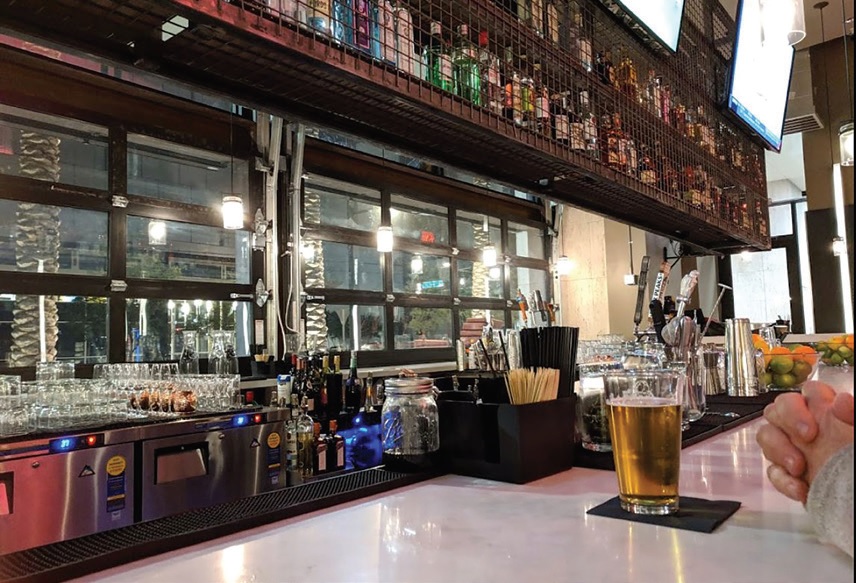 Partners Yiorgos Makris and Michael Joseph have recently unveiled The Monroe, a bar and eatery located in the busy downtown Phoenix scene. Classy, comfortable and approachable, the bar offers a signature cocktails that include the Aurora (gin, elder flower, lemon and thyme), and the Monroe (a hybrid of two classics – the old fashioned and the Manhattan). The kitchen, in the meantime, serves up some interesting small plates, charcuteries and cheese boards.
NEW YORK CITY
Kiki's Grill and Rotisserie
130 Division St — New York, NY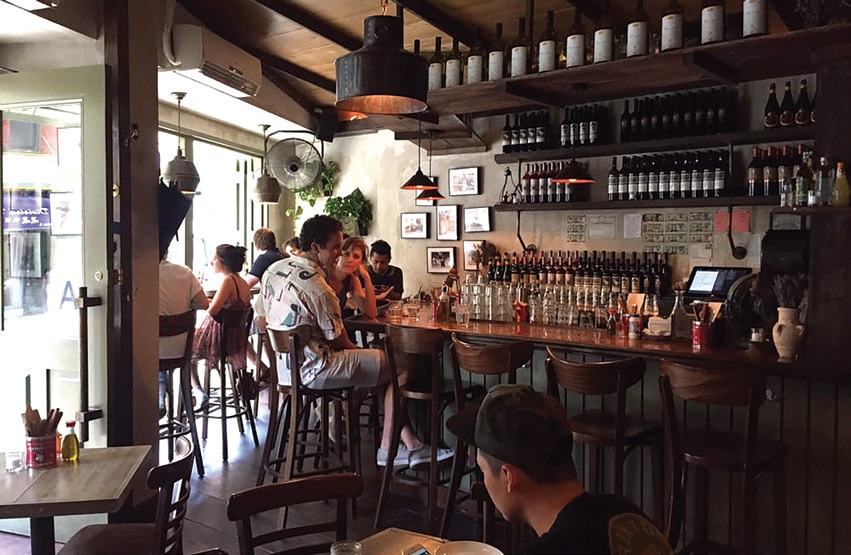 The wildly popular Kiki's on the border of the Lower East Side and Chinatown has been packing in customers since opening in 2015. Attracted by its no-frills ambiance, delicious food, inexpensive price points and generous portions, the eatery has made the unusual step of opening a second location directly across the street. Focusing on rotisseries, gyros and souvlakis, the restaurant operates in the fast-casual format, with a strong focus on takeout and delivery.
NEW YORK CITY
Empire Gyro
200 Allen St — New York, NY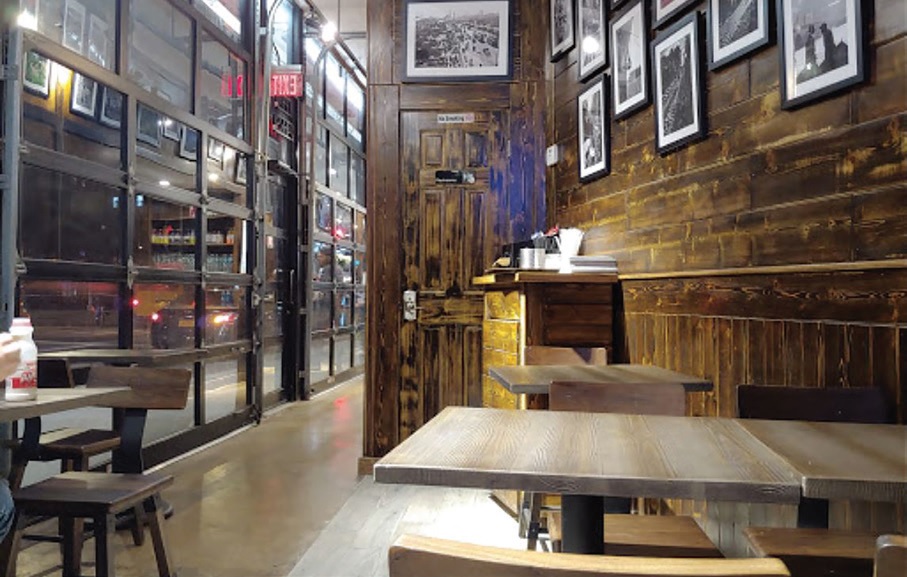 Manhattan's gentrified Lower East Side has got its first 24/7 Mediterranean eatery in Empire Gyro, nestled in the Bowery between 1st Avenue and Stanton Street. The restaurant offers lamb, chicken and mixed meat gyros, as well as lamb and chicken shish kebabs and shawarma. Opened in mid-February, the restaurant, owned by Orhan Albayrak, also serves omelets and bagels (among other things) for breakfast. With just 500 square feet of space, the restaurant focuses on takeout and delivery, utilizing services that include grubhub, seamless and doordash.
NEW YORK CITY
Karvouna Mezze
241 Bowery — New York, NY karvounamezze.com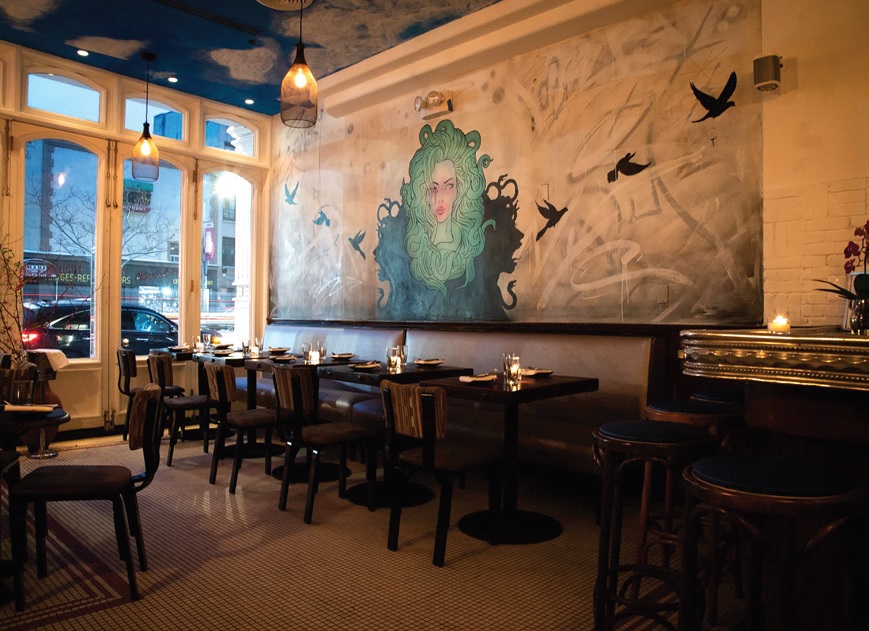 Partners Dimitris Vlahakis, Wei Chen, and Chef Giuseppe Scalco (formerly of Merakia Steakhouse) have teamed together to open this large-scale tapas bar and lounge in the heart of the Bowery. With his innovative approach to Greek classics, Scalco adds to the menu's grilled meats section with interesting offerings that include Kleftiko served as a small bite; spanakopita "buckets" that resemble beggar's purse dumplings; and pork belly with an ouzo honey marmalade. An impressive list of craft cocktails includes a riff on an old fashioned that features a hit of fig-infused vodka and peach and chocolate bitters; and an ouzo cocktail finished with blue curacao and egg whites and garnished with a sprig of fresh rosemary. Its stunning interior features photographs by Pam Zaremba including atmospheric scenic images of urban Greece.
NEW JERSEY
Faros
337 Applegarth Rd — Monroe Township, NJ farosgreekcuisine.com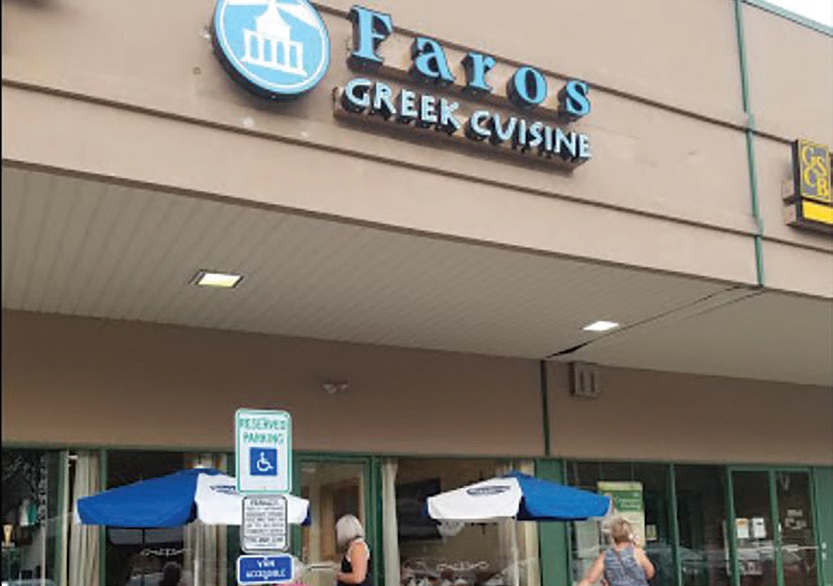 Executive Chef Gerasimos Spathis has donned his toque for this central New Jersey eatery that focuses on traditional Greek fare. Along with the requisite fresh fish, grilled meats and gyro platters, Spathis's menu features some wonderful "magieremena" classics. Diners typically need to stay within Astoria's borders to find a menu like this that includes not just the ubiquitous moussaka and pastitsio, but lamb shank fricassee (here cooked with artichokes, dill and fresh greens), lamb shank giouvetsi (in tomato sauce with orzo), moshari kokkinisto (slow-cooked beef chunks in a tomato sauce spiked with a hint of cinnamon), and yemista (peppers and tomatoes stuffed with rice, ground beef and herbs).
TARPON
Andros Greek Grill & Pan Pizza
150 East Tarpon Ave —Tarpon Springs, FL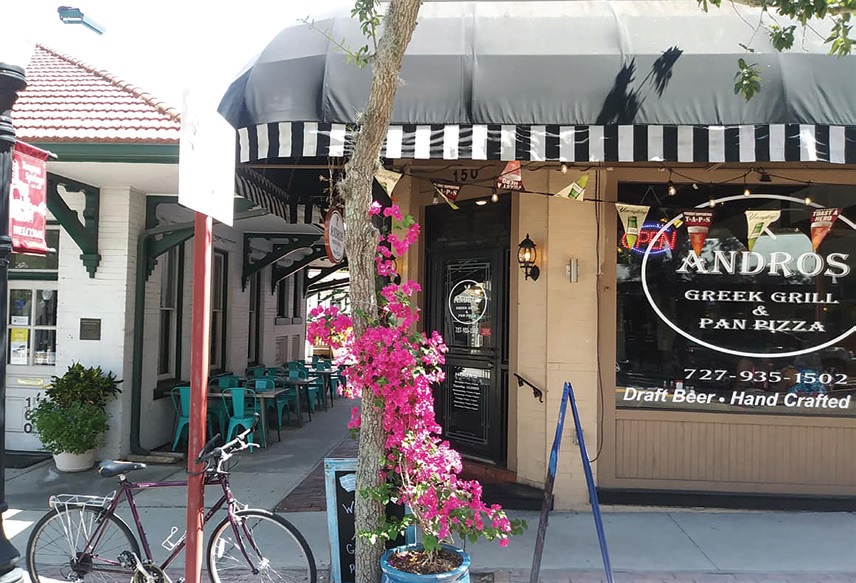 Chef Dionyis Pantzos is a proud Andriotis; so much so that he's named his business for his beloved Cycladic isle. Pantzos migrated down to Greek America's southern capital from Connecticut, bringing that state's storied Greek pan pizza with him, along with a treasure trove of family recipes. Opened last summer, the restaurant is known for its hand-crafted gyros and traditional Greek fare among the city's huge Greek population (nearly 10% of Tarpon's residents speak Greek at home).
WISCONSIN
The Greek Corner
1402 S. 8th Street Sheboygan, WI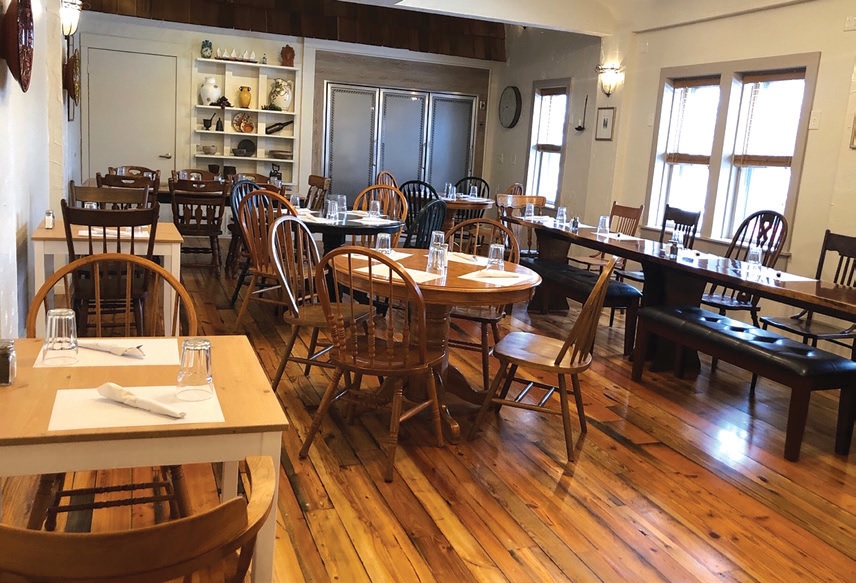 Owners Athanasios and Joanna Stavropoulos serve up authentic Greek food in this recently-opened space that features an open kitchen where customers can get a glimpse of the action. The pair migrated to the US nearly three years ago after operating a restaurant together in Greece for 20 years. A bobblehead of NBA phenom Giannis "the Greek Freak" Antetokounmpo, who plays for the nearby Milwaukee Bucks, is a signal that, like him, they intend to be superstars in their own field, specializing in Greek comfort food that is food for the soul, according to Athanasios.