Posted by estiator at 10 March, at 11 : 32 AM Print
COVER STORY
ESTIATOR  TOURS THE GREEK PRODUCT GIANT'S NEW FACILITY FOR AMERICA'S NEWEST FOOD  LOVE AFFAIR
By  CONSTANTINE N. KOLITSAS
JANUARY is a time for predictions and plans; a time when we take stock of The Year That Was and look forward to The Year Ahead.  At Estiator, we predict 2019 will be The Year of the Gyros; and our recent visit to Olympia Foods in Chicago, one of the companies that pioneered the Greek-American food staple, validates that prediction.
Whether gyro is at that inflection point where it transitions from a food that is uniquely Greek to one that is a common feature of the American street food scene (as pizza is to Italian, is gyro becoming to Greek?), is likely to be determined in these next years, if not months.  The signs are certainly there: new gyro places are popping up across the country with up-and-coming chains like The Simple Greek leading the pack.  This means that Americans in suburban or rural areas no longer need to wait until the local Greek festival rolls around to get their fix of spiced meat cooked on a rotisserie and wrapped in a pita with creamy rich tzatziki sauce.
Touring its over 200,000 square foot facility in Franklin Park, opened in 2015 and located about 18 miles northwest of Chicago, it's quickly apparent that Olympia Foods is not only of the faith that this prediction will bear fruit, but has made the investments to capitalize on it.
"Gyro as a product is definitely in an accelerated growth pattern," says Olympia's CEO Andreas Papantoniou, who, with his recently deceased brother Kostas, has been producing Greek products for the foodservice industry for nearly a half century.  "Our distribution partners are telling us that of all the categories, Mediterranean is the fastest growing," he says, indicating that, along with gyro, Americans are embracing "All Foods Greek".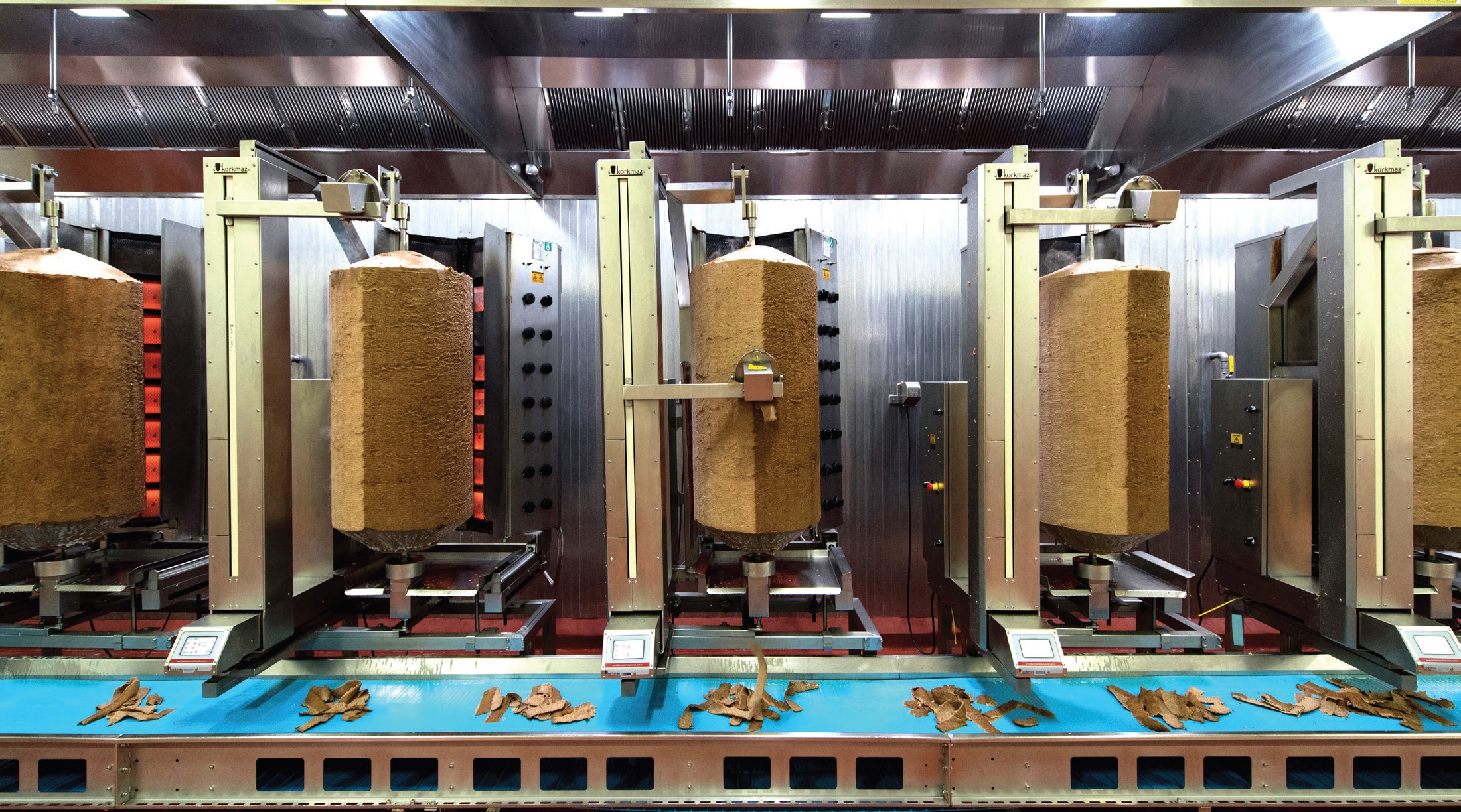 In fact, he says, the Greek/Mediterranean segment is growing so fast, that the concern in the market is whether or not the companies that produce Greek products will be able to handle the demand for gyros.
To prepare for the upswing,  Olympia is quadrupling its manufacturing capacity, anticipating the demand to impact not just gyros, but flatbreads, tzatziki (and other spreads) and ready-to-eat Greek products; all of which are manufactured and sold by Papantoniou's company.
"This machine cooks a 1,400 lb cone of gyro," says Petros Papantoniou, Executive Vice President of Olympia Foods and son of the late Kostas Papantoniou. The facility also has dozens of rotisserie machines that cook 500lb cones.
We are touring the company's immense production line, which, says Andreas, was designed by his nephew and his late brother.
The giant rotisserie is used to cook some of the company's "Off-the-Spit" product, with robotic components carving off chargrilled slices of meat as they are cooked. "The finished product is as if it were shaved to order from a spit," says Petros.
The Off-the-Spit product line is just one of many emerging lines that are changing the way that gyro is prepared at the restaurant level, as well as the offerings available to restaurant goers, says Andreas.
If gyro is Greek, it's got relatives throughout the Mediterranean.  Olympia Foods, of course, turns out products that cross over into those other ethnic niches.  Indeed, on our tour we saw workers hand-stacking whole-muscle cuts of chicken marinated in shawarma spices onto rotisserie spits; cuts of lamb and beef processing through grinders; and cases of halal gyros being moved onto trucks.
Andreas, whose company exports products to distributors around the globe, indicates that some of the fastest growing segments of the gyro category are hand-stacked whole-muscle pork and chicken gyro cones, as well as halal products.
"Halal represents much of our worldwide growth," he indicates, adding that within the U.S., there is also a growing demand for halal products.
As for the hand-stacked whole- muscle lines, these, says Andreas, represent the future of the gyroindustry.  In Europe, you don't see much of the ground meat gyros that we have here in the United States, he says, indicating that hand-stacked gyros are the most popular fast food in Sweden as well as in Germany.  On a recent tour of Europe, he said that gyro is beginning to move beyond the fast food arena and into highend table-cloth restaurants, which he discovered to be the case in Switzerland.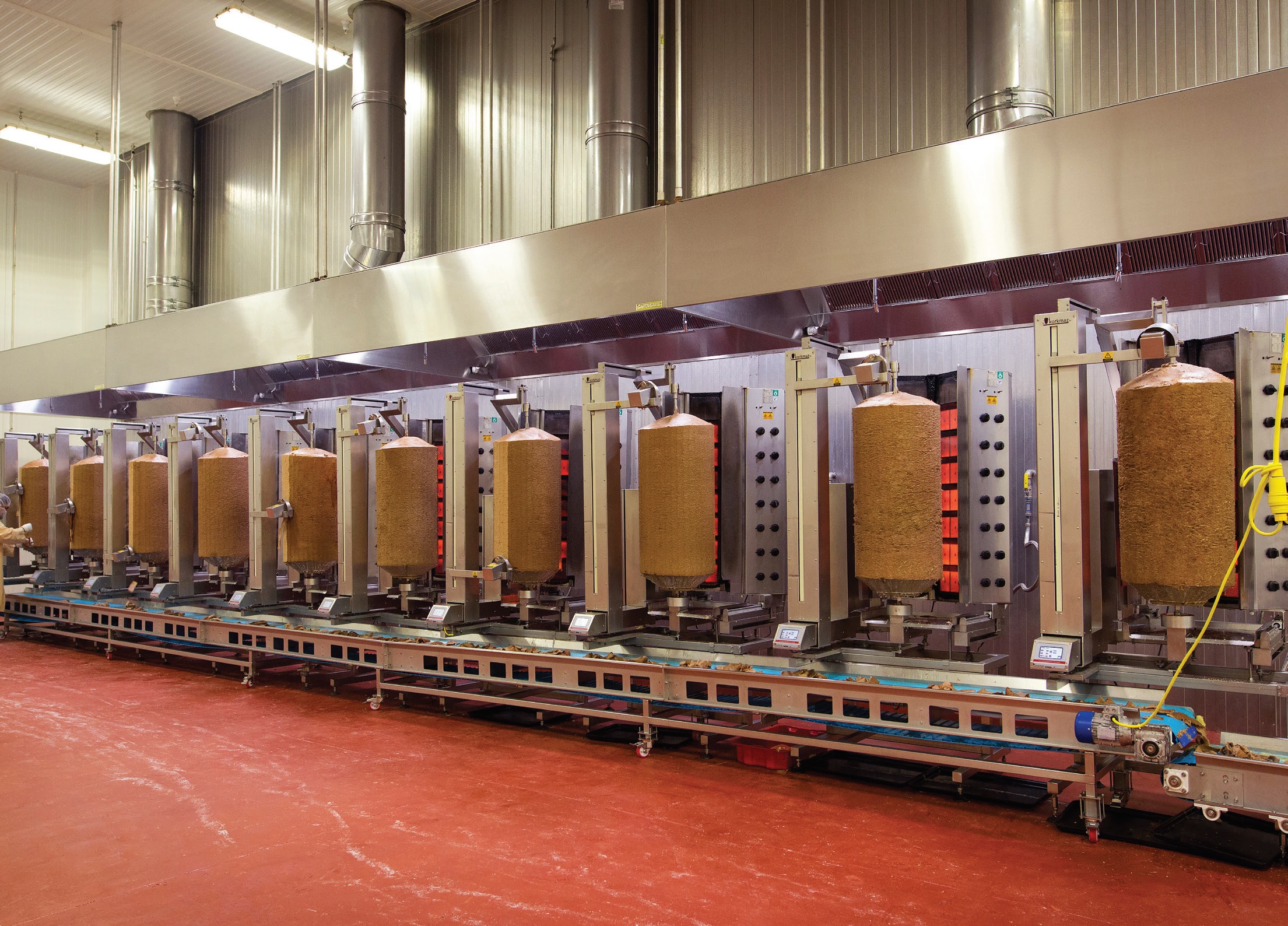 Perhaps of all of the company's products, Mr. Papantoniou is most excited about the off-the-spit products that, he says, allow any type of restaurant to get the charbroiled taste, without the having to cook it from a raw state.
"Restaurants love the product because it tastes as if it were cooked fresh on the spit but at the same time there is zero waste," he says.  In addition, the product enables a business to handle extremely high volumes without being constrained by the ability of the rotisserie to keep pace with throughput demand.  Finally, he says, the off-the-spit product is more efficient from a labor perspective; which is critical at a time when some of the greatest challenges for restaurants revolve around labor costs and staffing.
The product, his team demonstrates, not only requires less manhours to produce, it warms quickly, and offers a portion-controllable, health department-friendly solution that is also versatile in its applications.  "We are finding that in addition to being the center of a traditional gyro, the product is a superb add-on for salads, skillets, bowls, omelets, and other types of sandwiches," he says.
Olympia's facility, which spans an entire suburban block, is a state-ofthe-art USDA certified manufacturing plant that is rated at SQF level 2, a food safety and quality certification that is rigorous to meet and maintain.
"Food safety and quality are the two drivers for our company," insists Papantoniou.  Indeed, before our tour, we all donned caps, long "clean room" jackets and booties before stepping inside its food preparation areas.
For our tour, however, it is Petros that is guiding us, giving us the specifics of the production lines that he helped to conceive.  Within its over 200,000 square feet are rotisseries, conveyors, ovens, freezers, rollers, hoppers, and grinders, nearly all of which (notable exception being the ovens) are contained within massive rooms refrigerated to 40 degrees.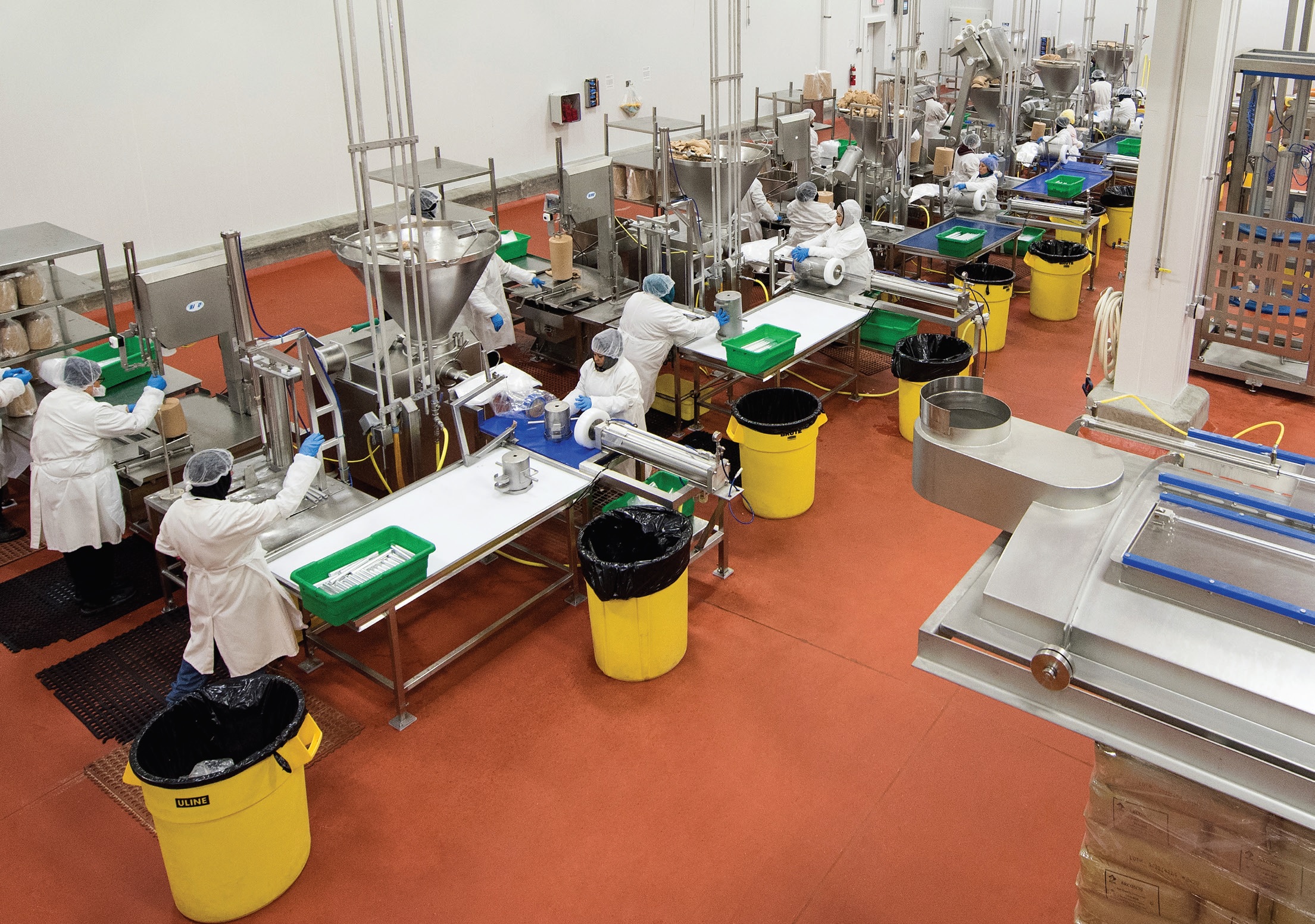 Sophisticated air handling systems outfitted with microfilters prohibit the flow between rooms where raw meat is handled and rooms where ready-toeat foods are being produced.
As for the product itself, the elder Papantoniou proudly boasts that Olympia is dedicated to producing gyros of the highest quality.  "We do not produce lesser grades for different customers," he says.
Instead, he indicates, there is just one high quality product in each of the product lines that his company offers. The list of his company's customers suggests that Papantoniou doesn't simply "talk the talk", but "walks the talk" as well.  The Simple Greek, the rapidly-expanding fast casual concept backed by TV's The Profit Mark Lemonis uses Olympia's gyro exclusively.
In the meantime, Gordon Food Service, one of the nation's largest broadline distributors lists Olympia as it's primary Mediterranean supplier in North America.
And along with its national clients, Olympia Foods proudly continues to provide their gyros to Chicago-based businesses, many of which have been customers for decades.   Nicky's on Sibley in Calumet City, which Petros indicates is one of the biggest single-unit gyro shops in the country, has over 5,000 lbs of Olympia product delivered on a weekly basis.  Owners Gus and Chris Kotsiovos say that since using Olympia products they have seen double-digit growth over the last decade.
Of course, the continual appearance of new Greek-themed fast casual eateries throughout the country that have gyro as the star is also fueling much of the industry's growth.  But the growth is not contained within our borders.
One of the most exciting phenomena, says the company's co-founder, is the growth that the products are experiencing outside of the country.  "Right now," he says, "there are people in Hong Kong, Dubai, Mexico, Canada and the Caribbean that are eating gyros made in this facility."
But growth, says Andreas, is not simply a matter of expanding geographically, but of penetrating new avenues where gyro is sold.
"Gyro is becoming more prevalent in areas where you never saw them previously," he says, listing college campuses, stadiums, casinos, cruise ships and caterers among the growing list of end users.
And Papantoniou is not finished:  "Looking into the future, we are defor end users to handle the product," he says.
In the center of the facility's footprint, with gyro production largely occupying the space to the right of the main entrance, and pita production largely occupying the space to the left, is a pair of rooms that are labeled "Future Room".
"When we were building the new facility we designated each room for various types of production," explains Petros.  "In the center were these two large rooms that did not have a purpose and we questioned whether or not to finish them.  My father said that we should finish them because we would need to have them ready for the future."   From that point, the words "Future Room" were posted on their doors and remain there today, poised to handle the capacity overload that is just around the corner.
It Started With Pita
The story of Olympia Foods begins with pita bread.  The year was 1972 and the Papantoniou brothers – Andreas and Kostas – had been operating one of many Greek restaurants in Chicago, making their own pita bread, along with their own gyro.  The brothers began selling their pita to restaurants run by friends and within a short time, had founded one of the earliest commercial producers of flatbreads in the country.  (Gyros soon followed.) In 1997, they scored big with Taco Bell, developing and producing the flatbreads for the company's famous gorditas and chalupas. Today, flatbread production accounts for approximately 40% of Olympia's manufacturing capacity, with Olympia turning out high quality pizza crusts, pocket breads and pitas.  James Beard chef Jimmy Bannos Jr has signed up to use it at Piggly Small's Gyro Shop – his new fast casual concept that he hopes to expand into a national brand.
"Through experience we learned how to mass produce pita breads and still have the handmade effect," says the company's founder.  "And we continue to work at it, making improvements," he adds, indicating that Olympia's newest flatbread product, Artopita, is an all-natural preservative-free pita bread. The product is so good, Papantoniou insists, that Zoe's Kitchen, which has 280 locations nationwide, is using this item.   "Many make good pita," says Papantoniou, in his soft-spoken gentlemanly manner, "but we believe we make the best."
---
On our cover:
From left, VP Peter Papantoniou, sοn of the late Kostas; his brother, Chairman and CEO Andreas Papantoniou (center); and Andreas' son, Executive VP Peter Papantoniou.