Posted by estiator at 16 September, at 13 : 49 PM Print
■ By George Matsoukas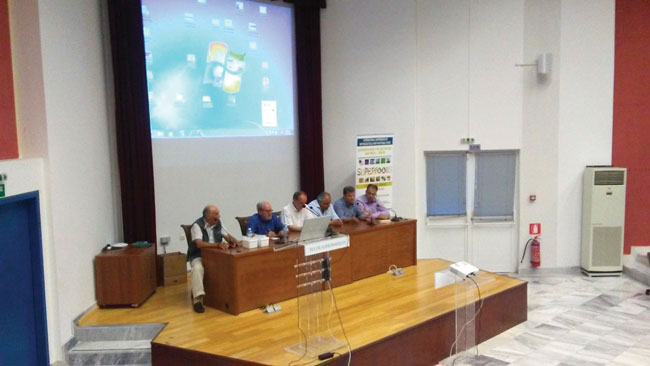 A photo of the closing sessions of the conference
This first Conference July 79, 2016 at the Technical Educational Institute of Peloponnese (TEIP) was cosponsored by TEIP with the Journal of Current Research in Nutrition and Food Science and the Ministry of Agriculture and Food. It was such a success and enthusiastically received that the participants and organizers are looking forward to planning this conference as an annual event. The cochairpersons were Professor George Zakynthinos and Dr. Israilides of the TEI Peloponnese. The students of the Institute participated as hosts, guides and resources.
More than 100 participants from all over the world attended and listened to 45 oral presentations and read 74 poster presentations. All this in two days. I participated as a board member, along with the director, Tom Amygdalitsis, representing the Sporades Islands Sustainability/ Preservation Foundation located in Glossa on the Island of Skopelos. Other participants came from Romania, UK, Malaysia, Hong Kong, Ireland, Turkey, Poland, Algeria, Chile, Russia, France, Belgium, Greece and Cyprus. The fellowship and informal sessions were delightful and informative.
The conference met its objectives of bringing together scientists from different fields (food science, engineering, nutrition production, safety, consumer science) with producers and industry representatives in the growing area of functional food and nutraceuticals. Topics of interest included food science, food engineering, nutrition, production, safety, food economics.
The three keynotes speakers were: Dr Nat Hesham A El Enshasy, University Teknologi Malaysia: Topic "Integrated platform design for large scale production of immunomodulatory using mushroom biofactory." Roger MarchantEmeritus Professor of Microbial Biotechnology, University of Ulster presented the second keynote on the Topic of "Microbial bio surfactantsbioactive molecules with potential for use in food formulations. The third keynote was presented by Professor Leandros Skaltsounis, University of Athens, "Olive Bioactives: Possibilities and Applications.
Many of the fortyfive oral presentations were interesting, especially for me, who attended as a generalist who enjoys eating and is concerned about the relationship of food to healthy living. My parents were restauranteurs and I did work in my dad's dinner during my high school years. Probiotics are the featured topic in the world of nutrition and health these days. Probiotics and ice cream and yogurt are the hot topics of the day.
The presentations covered a whole range of food items and properties from beer to ice cream. Ice cream merited two presentations. One entitled "Production of New Functional Probiotic Ice Creams with White and Dark Blue Fruits of Myrtus communis: The Comparison of Physicochemical Sensory and Functional Characteristics and Prebiotic Effects." The other "Optimizing the production of a probiotic ice cream." Ice cream is enjoyed universally no matter its properties!
Most fascinating and unexpected was the presentation "Suitability of Beer as an Alternative to Classical Fitness Drinks." The presenter made the case that nonalcoholic beer contains nutritional and hydrating properties as do the standard drinks offered to athletes.
The presentation Functional ingredients and food production in Russian Federation: State of art and future trends was most interesting and thorough. I found this to be the most informative presentation.
The wrap up round table discussion was on the importance and health benefits of virgin olive oil. The discussion focused on the mixture of beneficial compounds that contribute to this healthy food. Moreover, chemical dangers such as pesticide residues, dioxins, plasticizers need to be considered when talking about healthy foods.
As a contributor to Estiator on the unrelated topic of Orthodox Christian Laity (OCL) I thought, you the reader, might find this program on Functional Foods vs Real Foods of interest as it relates to your business interests. As Greece moves forward in its economic recovery stages you may want to know more about the work of Technical Educational Institute of Peloponnese and agriculture in Greece and offer support where you can. Check out the website: www.foodandnutritionjournal.org for your continuing education insights. The articles and research offered in this journal will fascinate and keep you updated and connected to developments in food and nutrition.