Posted by estiator at 9 March, at 10 : 58 AM Print
Greek Yogurt, Hung Yogurt, Labneh and Skyr Provide Health Benefits Without Compromising on Flavor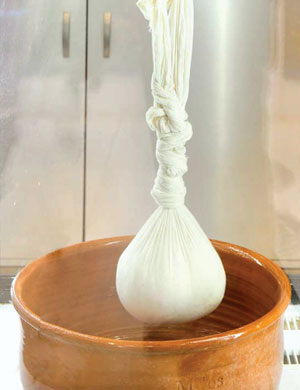 "Real Greek yogurt" is brought into Milos Café and Yogurt Bar from a goat farm in Dutchess County, NY, and strained on premises. 
AS the number of meals consumed outside the home continues to grow, restaurant goers are becoming increasingly concerned that the foods they are eating could be the source of problems ranging from weight gain to depression. While this doesn't mean that burgers and French fries are in danger of disappearing from menus, trends are indicating that consumers are balancing those guilty pleasures with foods that are more healthful, without skimping on flavor. In the trendiest restaurants, chefs are tuning into these concerns and, with the urging of dieticians, are turning to ingredients that have health benefits. Greek yogurt, long the darling of the dairy aisle, is finding its way into recipes, as are its close relatives from the Middle East, India and Iceland.
As a probiotic food, yogurt is rich in beneficial bacteria that supports proper immune system function. As a marinade or condiment, the process of lactic acid fermentation in yogurt also increases the vitamin content of many foods. Moving beyond breakfast, American diners are quickly discovering the versatility of Greek yogurt as a recipe ingredient that adds a rich and creamy texture to savory foods. And while tzatziki (no sour cream, please!) may be the most ubiquitous of the savory foods made with Greek yogurt, it's just the tip of the iceberg.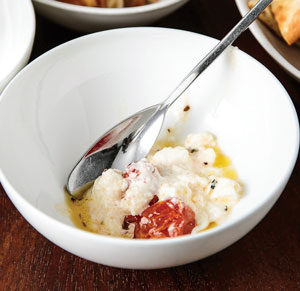 Pougi is a favorite at the popular Loi Estiatorio in midtown Manhattan.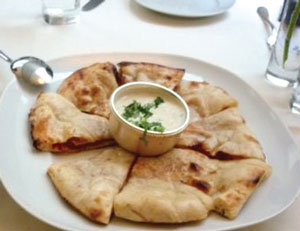 At Tamarind Tribeca, na'an bread with a yogurt mint sauce as condiment.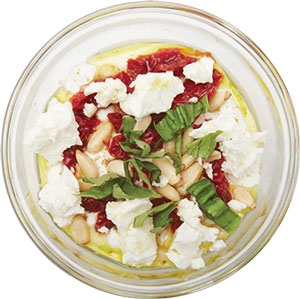 Dodoni, from the "fresca" section of Go Greek Yogurteria's menu.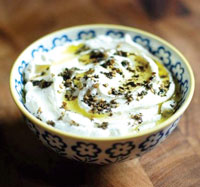 Labneh, a Middle Eastern hybrid of Greek yogurt and cheese, has a consistency close to mascarpone cheese.
At Loi Estiatorio in Manhattan, as soon as they are sat, diners are greeted with a plate of pita bread and pougi, an irresistible combination of Chef Maria Loi's house-made yogurt served warm and blended with a rich and savory feta. It's finished with roasted cherry tomatoes, giving it an extra boost of flavor, along with some color and acidity.
Avtar Walia's Tamarind Tribeca boasts several entrées that feature proteins marinated in hung yogurt (strained yogurt akin to Greek yogurt), as well as entrées that integrate yogurt sauces. Among them: chicken marinated in hung yogurt, coriander, cream cheese and carrom seeds; prawns marinated in yogurt, roasted chiles and cilantro; boneless chicken marinated in yogurt, roasted whole spices, jalapenos, ginger and garlic; and venison chops marinated in hung yogurt, pickling spices and roasted chickpea flour.
At Zohara Mediterranean Kitchen in trendy West Hartford (Connecticut's gastro epicenter), chef/owner Dorjan Puka is turning Nutmeggers on to the wonders of labneh, a yogurt/cheese hybrid popular in Iraq, Jordan, Lebanon, Israel and Syria. Close to cream cheese or mascarpone in texture, Puka serves up labneh with a smear of extra-virgin olive oil and a dusting of za'atar (a mixture of spices that generally includes ground dried thyme, oregano, marjoram, toasted sesame seeds and salt).
Manhattan's Milos Café and Yogurt Bar, a spinoff of the famous Estiatorio Milos, offers café fare such as chicken salad, lobster salad and tuna salad sandwiches. The twist, however, is that the mayonnaise traditionally found in those salads is substituted with "the real Greek yogurt," which owner Costas Spiliadis sources from a goat farm in Dutchess County, New York.
On the West Coast, Go Greek Yogurteria has two California locations (Beverly Hills and Woodland Hills) where, in addition to frozen Greek yogurt and yogurt parfaits, guests can dine on an assortment of savory fresh yogurt salads that are as beautiful as they are creative. Aseco, for example, combines mango, avocado, fresh chili pepper, Greek olive oil, lemon, hemp seeds, sea salt and crushed black pepper; while Dodoni is made with Greek sundried tomatoes, pine nuts, Greek crumbled feta, cumin, basil, Greek olive oil, sea salt and crushed black pepper.
Although still scarce on menus and in grocery stores, skyr, a nonfat high-protein fermented dairy product from Iceland, is, like labneh, more of a cheese than a yogurt. Chefs report that it doesn't have the assertive tangy pucker that characterizes most strained yogurts, making it ideal for savory applications that may be too subtle.