Posted by estiator at 4 June, at 16 : 34 PM Print
An interview with the President of the Panhellenic Exporters Association Mrs. Christina Sakellaridi
By CHRISTOS MALASPINAS
Export trade has always been a source of livelihood for the people of the country called Greece, at the southernmost tip of the Balkan Peninsula. Its coasts on the eastern Mediterranean and its seas—the Aegean Sea to the east, the Ionian Sea to the west and the Libyan Sea to the south—have been the "waterways" of Hermes, the Olympian patron of Commerce, since antiquity. Imports and exports were the main reason for colonization and trade agreements with neighboring States.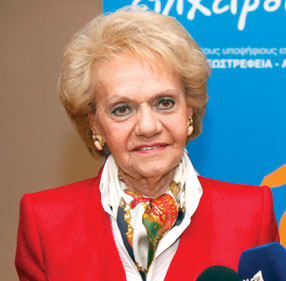 Estiator spoke with the President of the Board of the Panhellenic Exporters Association, Mrs. Christina Sakellaridis (who has held this position from 1992 until today), a woman whose name has become associated with commerce and the greatest efforts for the promotion of Greek products abroad.
The Panhellenic Exporters Association (PEA) was founded in 1945. "It is the first employers' trade union organization that is structured from one end of Greece to the other," Ms. Sakellaridis explains to us in her office on Voukourestiou Street in the center of Athens. "The PEA is a non-profit organization, whose revenue comes from its member subscriptions and the various events we hold in Greece and abroad."
The Association's members "are companies of various sizes—from small, medium to very large—all over Greece. Furthermore, we also cover the entire range of products."
The Association is greatly interested in an export-oriented approach. Some of the products it promotes: "We cover almost everything from food, oil, olives, cheeses, any kind of foodstuff, as well as industrial products, chemicals. Even Vardinoyannis' Motor Oil Hellas company, which engages in petroleum refining, is one of our members."
What does the Association offer? "We promote exports in general, as well as Greek exports. In addition, we offer support to our members when they face problems in their export activity."
The Panhellenic Exporters Association has 1,300 members. Along with the PEA, an Exports Research Centre (KEEM) has also been established. "We work through every issue, we give it wide publicity, we go to all ministries, take all the necessary steps, whatever it takes. Furthermore, we publish a monthly bulletin in which we report on the performance of export products by market. It's a review of all exports," Ms. Sakellaridis explains.
– What is the profile of exports today?
– In general, exports were initially on the rise in 2018, continuing the good course of the previous year (2017), during which a new record of trade openness was noted. Especially for third countries, there was an overall increase of 13.7%, i.e. 1,310.1 million Euros in 2018 compared to 1,152.6 million Euros in 2017.
– More specifically, for the United States?
– I have to tell you that the U.S., unfortunately, is number six on the list of countries. Keep in mind that it was a much bigger trading partner in 1980… Today, Greece's top export partner is Italy. Its second biggest partner is Germany, and the third is Cyprus. Turkey comes fourth. In other words, despite the major potential and the financially strong Greek-American community, America is sixth on the list!
– Which do you think are the problems that are keeping exports to the United States "low"?
– There is much talk about this. For example, it has been said that we do not manufacture big quantities of products, e.g. olive oil. However, I must tell you that the quantity of olive oil produced may not be sufficient, but we have never had a big American trader ask for large quantities! If such as trader were to surface, you can rest assured that the correct ways to satisfy the customer in terms of quantity will be found. For all products.
– Since you mentioned olive oil, I would like to ask you: To what do you attribute the fact that the quality of olive oil exported to the United States is not that which has been agreed?
– If this is a fact, it is unacceptable. The people are right to complain. You know, it depends on the tradesperson you buy from, who will do the job. If the deal is made through the Panhellenic Exporters Association, we will inspect the quality that will leave Greece.
– Another issue is the price of the product. Spanish oil, for example, is cheaper than Greek oil. To what is this due?
– Look, there are many reasons. For example, quantity is a criterion in determining the price. How many tons you import from Spain and how many from Greece. There is a difference between importing 100 tons and thousands of tons.
– Which are the most export-oriented products?
– The number one export is fuel oil.
– But do we produce petroleum?
– Unfortunately, no. Greece does not produce petroleum. But it imports crude oil, processes it in Greece and exports it back. 
Industrial products are the next biggest export. These also include pharmaceuticals, which are a very large piece. Also—and this is of particular interest to restaurateurs—large quantities of fish from fish farms are also exported. And this has become the third-highest value product and, at times, alternates with pharmaceuticals for second place.
For the record, the list of exportable products today includes food, chemicals, machinery, raw materials, oils, beverages, tobacco and others.
– What is the biggest problem, in your opinion, for an export company?
– Undoubtedly, the lack of liquidity. The banks are not giving money. Capital controls. You bring in money from exports and you cannot utilize it. The bank holds it and you cannot even use it unless you send it again electronically to get raw materials! Because of this, you cannot make a move, nor can you improve your business. If you want to take a trip, you have no money… Another negative is over-taxation. The government is aware of the problem, we have raised the issue directly with the Finance Minister, Mr. Tsakalotos, but a solution has yet to be found.
– Isn't there taxation in other countries?
– Of course! But when an export is made and, this is true as far as I know, all the other countries of the world do not impose any additional obligations! Here, along with the export, we pay an additional 24% of the export value. Where will the money come from?"
– Do you lose this 24%?
– The issue is that we do not have liquidity. We pay the 24% and we wait for the state to come along, for the tax authorities to conduct an audit in order to refund the amount, but that may take one or two more years!
– How about overregulation?
– Indeed, there is overregulation and uncertainty, which are fueled by the very frequent changes in the legal framework, which also makes investing difficult…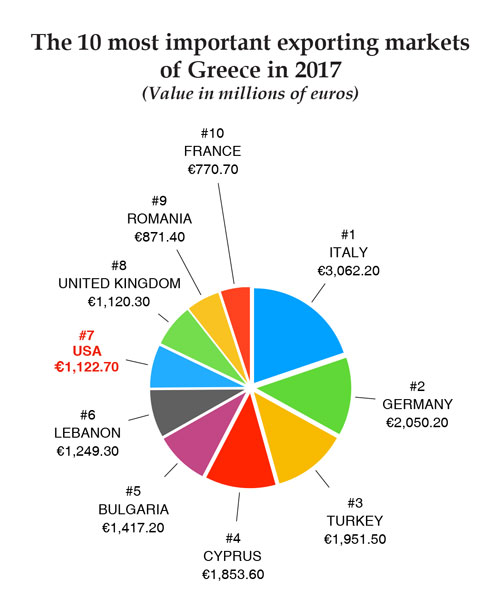 – How can we increase exports?
– This is a complex problem. One could say that it could be done by hosting various events to bring us closer. But that's one thing. If, for example, we have only one sales representative in China, what can he do? We take these issues to the Ministry, and the truth is that, in the past, the PEA had conducted a study and, on the basis of that study, seven representatives were placed in Beijing under Samaras' premiership. Now they have been removed… We raise the issue, but nothing is done. Therefore, a number of actions need to be taken.
– What actions do you plan to take in America?
– We always have America in mind, since there is a huge Greek-American community. For example, I hear the name Catsimatidis, and that he owns numerous supermarkets. Does he place Greek products in them? This is a question.
We need to approach him, to convince him to give them a try. We have good products. We need to launch a big campaign. Let's say, 15 days in New York with only Greek products. I have done this in Paris. You can have food, and you can have restaurateurs from the area prepare meals, have restaurants with musicians playing the bouzouki, etc. When I did this in Paris, it was a great success. Tourism helped me then, but you can attempt it now as well.
– Should we show him our products?
– Yes, but Greek-American experts, who know what is needed and what is in demand in America, must also come here to Greece to select products.
– Would you like to say something about the Fancy Food Show?
It is dedicated to Greek products. That is a good thing. I hope it is a success. However, in addition to these exhibitions, we can go as a country in an organized manner, and come into contact with the Greek restaurant owners in America first. We can organize a big event with the restaurants. In France, we had organized something similar in the Louvre, which was successful. A 'Greek food day,' so to speak.
– Throughout the crisis, Estiator has systematically campaigned to encourage Greek-Americans to consume Greek products.
– Yes, I see the magazine. It's exceptional, congratulations. I would say it's invaluable. I must add that, because we traditionally have always had very good relations and the Archbishop of America has always played a significant role, we would like to see him involved as well. You should know that, as an organization, the PEA does not only promote products for commercial purposes. We are promoting Greece.
This is why exports must become substantial again, as they were a few years ago. Now they have diminished. There are many opportunities here in Greece. One final example: The Mediterranean diet, which has become established worldwide, is primarily a Greek affair. We are the leaders in this field.