Posted by estiator at 4 June, at 15 : 43 PM Print
The Specialty Food Association helping Greek imports to USA
Interview with Fancy Food Show President Phil Kafarakis
By Constantine N. Kolitsas
Each year the Specialty Food Association hosts two enormous food shows: the Summer Fancy Food Show at New York City's Jacob Javits Center in June and the Winter Fancy Food Show at San Francisco's Moscone Center in January.  The shows have been launchpads for some of the most recognizable names in specialty foods: Ben and Jerry's Ice Cream, candymaker Jelly Belly, Orville Redenbacher, Kindbar and yogurt juggernaut Chobani.  This year, the New York show has Greece as its partner country, giving Greek manufacturers unprecedented access to over 30,000 visitors, nearly all of whom are qualified buyers representing distributors, grocery stores, big box retailers and eating establishments looking for the next "big thing" in food.  Online giant Amazon, which is muscling its way into the food distribution channel, will be there as well.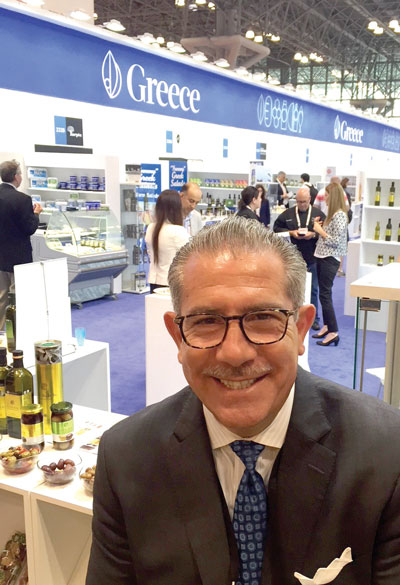 At the helm of the show is Phil Kafarakis, the president of the Specialty Food Association (formerly known as the National Association for the Specialty Food Trade), a not-for-profit association of specialty food manufacturers that has hosted the Fancy Food Show for over six decades.
Kafarakis, a veteran food industry executive who has held leadership positions with brand giants Kraft, Oscar Meyer, McCormick and Cargill, is an evangelist for the cause, updating his organization's vision in the two years since taking charge to "shape the future of food" through "championing, nurturing and connecting food entrepreneurs" to expand the consumption of specialty foods across the American market.
Anyone that has been in a grocery store in the last five years knows that specialty foods are garnering an increasingly large share of the market.  And the numbers support this perception: this segment of the food industry is growing 12-15% with specialty foods representing $140 billion in sales, and a 16% market share of all groceries.  In the next four years, the segment is expected to nearly double its sales.
Much of the segment's growth can be attributed to a growing "foodie" culture, fueled by the popularity of cooking shows and celebrity chefs, as well as to an aggressive health and wellness movement that is shaping lifestyles, particularly among the millennial generation.  As consumers across all demographic spectrums become more interested in authentic food that is minimally processed, companies in the specialty foods segment are positioned to grow exponentially.  It is his organization's role, says Kafarakis, to prepare those companies for entry into the market and to help them understand and prepare for the market's production needs.
"This is where it's at when it comes to new products, what's coming up in the business, and what consumers are preferring," says Kafarakis, discussing the emergence of specialty foods in the consumer's conscious. "The health and wellness movement has encouraged consumers to look for these products."
Whether it's fair trade bitter chocolate infused with blood orange or handcrafted haloumi from Cyprus, specialty foods are connecting with a public that is weary of mass-produced, over-processed convenience foods that are commonly connected to all manner of health issues.
But the fascination goes beyond health and wellness, he insists, indicating that increased international travel has exposed Americans to a wider range of global flavors and foods, and created demand among restaurant goers and home cooks. "People want more ethnic food," he says, adding that imports are a very big part of the segment's growth. "The Mediterranean diet is a big deal," he insists, adding that the current culinary zeitgeist and its halo effect is affording Greek companies an extraordinary opportunity to penetrate the American market.
"There are great Greek chefs in the United States that are leading the way," says Kafarakis.  "Whether it's bakery, desserts, fish, protein, 'horta', dried fruits, honey, vegetables, jams; right now the marketplace is accommodating to Greek manufacturers.  But they need to be smart enough to understand where they fit in.  That's the big challenge."
---
Cooperation with Enterprise Greece
and the American Hellenic Chamber of Commerce
---
To that end, the Specialty Foods Association has partnered with Enterprise Greece, a quasi-governmental organization established to assist Greek exports.  His organization's primary role in the relationship, says Kafarakis, is to help Greek manufacturers prepare for the American marketplace.  In the last two years, he has made several trips to Greece to speak about those opportunities, and to work with organizations and producers to take advantage of those opportunities.  He's also engaged with the American Hellenic Chamber of Commerce as well as with HELEXPO, the largest convention and exhibition organization in Southeastern Europe.
"The idea of coming to America with Greek food has changed in Greece," he says. "There are many manufacturers that now understand that just because you come to Astoria and sell your products, that doesn't mean you've entered the U.S. market."
"Serving the diaspora is old news," he adds, indicating the growing appreciation for specialty Greek foods, such as mizithra cheese and Cretan dakos.  "Now you see phenomenal Greek restaurants in Charlotte, in Austin, in Portland.  You see the emergence of Greek cuisine beyond gyro," he explains, insisting that the stereotypes of Greek cuisine are giving way to a better understanding of the country's finer offerings.
But that doesn't mean that it's a cake walk.  While there is a demand for Greek products, Greek companies must have a preparedness plan on how to approach and service the market.
"The interesting thing about Greek manufacturers," he says, "is that, depending on the size of their business and their ability to produce, they can fit into some segment of the food business. They're not just going to come to America and ship to Walmart the first day."
While the Fancy Food Show offers an introduction point into the market, his organization has extended its mandate by introducing educational and informational services for its members.  "Our education courses help businesses to build a preparedness platform" he says, adding that the Specialty Food Association has been very instrumental in helping Greek companies to make appointments with buyers as well as helping with entry into the marketplace and getting them ready for distribution. "We have big wholesalers and big distributors who are part of our membership and through our Business Builders program we're helping manufacturers get access to them."
This year's show, which will include 30-40 Greek companies among its exhibitors, a large Greek pavilion, and even host a Greek "glendi" in the middle of the Jacob Javits Center on the Saturday night of the convention, will do more than feature Greek products, among its thousands of other member exhibitors: this year it is designed to accommodate deals.  Through coordination with the Pan Gregorian of New York and Long Island and its president, Dimitris Kafhitsas, the SFA has arranged a VIP buyer program for that organization's members, an example of the synergies being made possible between food producers and food purchasers.
It's all about business-to-business, he reiterates. "In past years, the show was open to food enthusiasts," Kafarakis explains, "but now it's not just about grabbing samples, it's about doing business."  For Kafarakis and the Specialty Foods Association, that business is promoting authentic, wholesome food that the market is increasingly embracing.  With Greece as the partner country for the upcoming Fancy Food Show in New York from June 30 through July 2, this is certainly the Year of the Greek, with incredible opportunities for Greece's food manufacturers.  Of course, intimate knowledge of those products by Greek restaurateurs gives them an important edge in cashing in on the trends.
---

Phil Kafarakis spent his early life on the idyllic island of Lefkas, Greece and came to the United States in 1963 at the age of five, settling in the Washington DC area of Virginia.  Active as an altar server, boy scout and GOYA member, his faith and his heritage have had a central position in his life since his youth. 
Phil attended college at Northern Arizona University on a track scholarship, where he earned his bachelor's degree. Later in life, at the age of 49, he went on to earn an MBA  from Georgetown University.
His assignments have included leadership positions with Oscar Meyer, Kraft, Jone's Dairy Farm and Cargill.  He served as Senior Vice President of Food Service for spicemaker McCormick for over twelve years before retiring.  After serving on the board of the National Restaurant Association he was lured back to work to take the position of Chief Innovation Officer & Member Advancement Officer for that organization.  In 2016 he took the position of President of the Specialty Foods Association.
Discussing his connection to the Greek American community, Phil indicates that he and his wife, Kathy, who was his GOYA dance partner, have been members of 14 Greek Orthodox communities around the United States, following the movements of his professional career.  He took an active role in the construction of the new Saints Constantine and Helen church in Silver Springs, Maryland.  Their four grown children reside in Arizona, Washington DC and New York.
---
The Specialty Food Association was created in New York City in 1952 by a group of distributors and retailers.  Today the membership-based trade association represents over 3,500 businesses that include specialty food artisans, purveyors, importers, distributors, retailers and entrepreneurs.  
Although not all specialty food fits each criterium, the organization considers four characteristics/principles in admitting members, which, for its purposes, define what it is to be a "specialty food" producer.
1. Quality and authenticity of ingredients.  The product's ingredient statement must be "clean", steering away from an abundance of chemicals.  Traditional ingredients are important and frequently the products are organic and/or non-GMO.
2. Integrity of product creation.  The organization looks for products that are artisanal or produced in small batches.
3. Unique/relevant packaging.  Most members utilize a natural packaging, which is most often biodegradable.  
4. Social responsibility and cause-related values:  Members must have a record of "giving back" to the community; of taking care of their workforce; and of being environmentally responsible.  Sustainability in its harvesting and production are important considerations.
---