Posted by Peter J. Poulopoulos at 2 April, at 00 : 53 AM Print
How to Exceed Customer Expectations
WHEN we visit a restaurant, regardless of the type of restaurant such as fast food, mid-scale or upscale establishment, the expectations are the same. Most of us want to enjoy a good meal in a clean environment with good service; when this happens, we say that our experience was positive, and if given the opportunity we may tell others about our positive experience. Most restaurants attempt to offer a positive experience to their guests. Now imagine a restaurant with a goal not just to offer a positive experience, but to really impress the customer so much that the customer becomes eager to tell others about it. This can only happen when your restaurant has the processes in place, along with trained employees, to cause your customers to feel that their expectations were not only met, but were exceeded. Incidentally, extraordinary things are judged to be so by the customer based on their perception.  So, let's see what you can do to make the customers feel that you always go the "extra mile" for them and thus they become eager to speak to others about it.
Always collect feedback from customers and understand what they like and what they dislike.
Ensure that you incorporate valid feedback into your processes.
Have a process manual that identifies possible customer complaints and ways to address them. If a customer brings up a new problem that is not in your process manual, always involve management to deal with it; upon resolution, ensure manual is updated.
Always keep ALL employees trained. Make sure that you maintain appropriate records so you may assess training requirements.
Ensure that you receive employee feedback; evaluate such feedback and act accordingly, as happy employees make happy customers.
Always treat customers as unique individuals. People react differently in similar circumstances. Employees must be equipped to handle any situation with excellent interpersonal skills to handle any case.
When mistakes occur, never attempt to cover up for it; simply offer a sincere apology. You may go even further by offering a free dessert or drink or by picking up the check.
Collect customer data and communicate with your customer base. Sending out periodical postcards or emails is a good way to remind your customers about your establishment and to increase the value of goodwill.
Occasionally, and with no reason, offer your customers something that they did not expect: free coffee, free dessert, etc.
Ensure that all employees understand and value quality, even if this means slower service. This is very important since many of us, when in a hurry, produce output below expectations.
Anticipate customer needs and go the "extra mile." This is one very important concept that causes customers to feel that the quality and service of your business exceeded their expectations.
Treat your employees well; they are your biggest asset. If they are happy, they will go above and beyond.
In summary, customer service is not what you believe it is, but what your customers perceive it to be. Make sure that you do your best so your customers feel that they had a positive memorable experience in your restaurant and will return.
---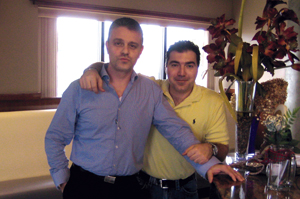 Sam Diamantopoulos and George Dertis, owners of Melrose Restaurant in Chicago inside their restaurant.
MELROSE RESTAURANT is located at 6840 S 27th St in Oak Creek, WI and the owners are Sam Diamantopoulos and George Dertis. We had the chance to meet with Sam and George at their restaurant and our first impression was these two young men are people with character. Their establishment is an impressive operation: A great-looking building, about 10,000 square feet on about 2.5 acres of land with a bustling ongoing business.
George was born in Waukegan, IL. When he was five years old he moved to Greece; when he became 18 years old, he returned here. Sam, on the other hand, who was also born in Waukegan, moved to Greece when he was nine years old and stayed there for one year. When he became 14 years old he moved again to Greece, served in the Greek armed forces, and at 21 he came back here. Let us also reveal that George's father, Zois, and Sam's father, George, were in the restaurant business, and both were successful. Sam and George dreamed of being successful as well, and their dream became a reality about 12 years ago when they purchased their current business. Three months later they closed the place down; they remodeled it and re-opened with the current name. It was an instant success, and over the years they experienced tremendous growth. About two years ago they made another move that turned out to be a wise one: they opened for breakfast and lunch only! The local community liked the change and responded positively; the new hours caused the place to be more popular. Here are some comments from their customers:  "Great food, great staff," "Love their breakfast menu and atmosphere is laid back," "Big portions, friendly people, and family restaurant style dining without being overly crammed-in like sardines!," "Love this place." Sam is married to Konstantina and they have a son that is two and a half years old. In the picture we see from left to right Sam and George inside their restaurant.
---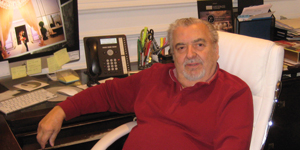 Steve Gazis, co-owner of Empress Banquets in Addison, IL, inside his office.
EMPRESS BANQUETS is located at 200 E Lake St Addison, IL and the owners are Steve Gazis and Gus Karantonis. When we stopped at Empress, we met with Steve Gazis. In the interest of full disclosure, we have known Steve for a number of years and consider him to be a friend. Moreover, from our past experiences with Steve, we have come to the conclusion that he is a very honest and honorable man.
Before we say a couple of words about Steve, let's see what Empress can offer to the public as described on their web page: "When it comes to finding the perfect place to host your party, we've got you covered here at The Empress. We have more than three decades of party hosting experience under our belt and a brand-new, modern facility that can accommodate any party vision. Allow our team of expert planners to help you host your next event. It is not only our goal to provide you with the perfect venue, but we also provide assistance with the fine details like lighting, draperies, colors, etc. to ensure your event is a visual success. Our party and event services include: Weddings, Baptisms, Cotillions, Special Events, and Corporate Events."
In 1960, Steve left Lefkada, a Greek island in the Ionian Sea, and arrived in Australia. About three and a half years later he visited his brother Peter in the Chicago area and decided to stay for good! He started working as a "salad man" at Bonfire restaurant; he was promoted to cook and eventually bought the restaurant with partners. He sold his share, and in 1970 bought Valois Restaurant and he kept it until 1972. From 1973 to 1985 he was involved as a partner with the well-known Prime Minister restaurant in Northbrook, IL. He sold his share and from 1986 to 2000 operated Thornwood Restaurant & Lounge. He had enough! Yet, after a short rest, he became partner in a bar in Matteson, IL. This experience lasted for a year; he believed that that was it! Not quite! In 2003, he purchased Empress Banquets, his current business; from 2003 until now Empress Banquets has been an unbelievable success story. Steve purchased a well-run place and made it even better! In the picture we see Steve in his office.
---
Some Interesting Restaurant News: 
From Eater Chicago: 
Chicago Institution Father and Son Pizza to Close 25-Year-Old North Avenue Location
The Old Town location of Marcello's Father and Son Restaurant, one of the 71-year-old pizza chain's three locations, will close. The family-friendly pizzeria and Italian bakery has been rumored to close for the last two years as officials looked to redevelop the Father and Son Plaza strip mall at the corner of North and Larrabee. The Old Town pizzeria also had a catering arm and is known for some of the city's best chicken wings. It's been serving Old Town and Lincoln Park for 25 years at 609-657 W. North Avenue.
Veggie Grill, America's Largest Vegetarian Chain, Opens First Chicago Restaurant
The owners of Veggie Grill are excited about the opening of its first Chicago. It's the first of as many as eight Veggie Grills pegged for the Chicago area. It's a fast-casual setting with a menu of veggie burgers, spicy protein tenders that taste like Buffalo chicken wings, salads, and more.
Moving —LINCOLN PARK— Sugar Fixe Pâtisserie 
has closed its location on the corner of Sheffield and Armitage, 958 W. Armitage Avenue. The windows are papered up. It has a suburban Oak Park location and it appears ownership plans on opening a West Town location, according to its website: "We are baking up something new. Coming to West Town soon!"
Moving —PILSEN— Fogata Village,
a Mexican restaurant at 1820 S. Ashland Avenue, has closed in preparation of moving to the North Side. It heads to 4322 N. Western Avenue.
Closed Down —SOUTH LOOP— Polk Street Pub 
has closed its kitchen at 548 W. Polk Street.
Closed Down —WEST ROGERS PARK— Meerath Kabab House,
a popular Pakistani restaurant at 2657 W. Devon Avenue, has closed. eerath Kabab House, a popular Pakistani restaurant at 2657 W. Devon Avenue, has closed.
Andersonville Barbecue Spot Pork Shoppe Shutters after Two-Plus Years
Sad news for barbecue fans. After almost two and a half years in Andersonville, Pork Shoppe has unexpectedly closed. The restaurant's telephone is disconnected and there's a sign taped to the entrance reading "closed 4 good" — complete with a frowny face — at 5721 N. Clark Street.
One of Chicago's Most-Popular Nightclubs is Shut Down by the City 
The future of Spybar, a longtime River North late-night haunt, is in question after the nightclub abruptly closed on February 23. Management also rescheduled a few events to other venues while speculation has built over the status of the bar's liquor license. A report in Crime in Wrigleyville and Boystown claimed Spybar was operating without a state liquor license.
OpenTable Infuriates Restaurants With Fake Reservations Scheme 
OpenTable, the market leader in the online restaurant-booking world, is embroiled in a scheme that affected 45 Chicago restaurants that use Reserve, an OpenTable rival. Last week, OpenTable confirmed it fired an employee who made several hundred reservations at restaurants using Reserve, which resulted in hundreds of no-shows over the course of the past three months. Reserve and several Chicago restaurant workers allege that the employee, who remains unnamed, wanted to convince those Reserve customers that OpenTable was a better product and intended to use the no-shows in their sales pitches.
Billy Corgan's Tea Shop Will Close in Suburban Chicago 
After six years in suburban Chicago, Smashing Pumpkins frontman Billy Corgan has decided to shutter his tea house. Madame ZuZu's will close on Saturday, March 18 in Highland Park, according to Corgan's Instagram page. Corgan claimed that the pending shutter had "nothing to do with the strength of the business (which thanks to all our great customers has been robust and steady)."
Inside Carson's Ribs New Riverside Location, a Revamp of an Old Favorite 
It's a new era for Carson's, The Place for Ribs, as the restaurant has moved from its flagship location in River North to a riverside location in Streeterville, a short walk from Navy Pier. The new location opens on Friday, and owner Dean Carson feels the riverside space will wow loyal diners. For 41 years, Carson's has served baby back pork ribs and thrived with a bustling carry out operation. Now there's more reason to dine in.
---