Posted by Peter J. Poulopoulos at 5 June, at 14 : 50 PM Print
Run-A-Way restaurant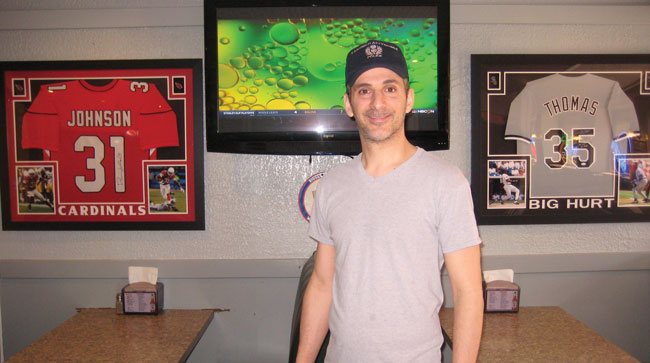 Run-A-Way restaurant is located at 120 Butterfield Rd in North Aurora IL and the owner is Jim Antonopoulos. The restaurant has high visibility; it is free-standing with able parking and is very busy. The customers enjoy a great meal accompanied by a drink if they wish and have the ability to play the slots as well. 
Jim was born in Canada, and his family was in the restaurant business. He arrived in the Chicago area when he was 18. Why? He had relatives who were also in the restaurant business, and they needed his help. Because of his hard work and excellent work ethic, he is now the proud owner of a successful business. Jim is married to Erin; they are the happy parents of a seven-year-old daughter named Katerina. In the picture we see Jim inside his restaurant.
---
News from Chicago Restaurants June 2018:

 
From Eater Chicago:

 
Diner at Chicago's Boka

 

Leaves $2,000 Tip on $769 Meal

 
A visitor from Seattle was really impressed with his Sunday dinner at Boka in Lincoln Park. The food and service from Boka Restaurant Group's flagship restaurant made him so happy that he gave each of the restaurant's 17 employees one $100 bill. That $1,700 came in addition to tipping 39 percent ($300) on his $769 meal for six. The man, only identified as "Mike from Seattle" by a Boka spokesperson, tipped a total of $2,000 during his visit.
Bill and Hillary Clinton

 

Ate Dinner on Navy Pier 
Bill Clinton's love of Italian food is well-documented, as the former POTUS has eaten at a slew of Italian spots in NYC as well as at Joe Fish here in Chicago in 2015.  Bill and Hillary Clinton reportedly ate at Riva on Navy Pier, Phil Stefani Signature Restaurant's touristy outpost downtown. There's no word on what they specifically ate, but they did pose for photos. The former first couple was in town for Hillary's speech to help launch the new Ida B. Wells Legacy Committee and recruit black women for office.
Lakeview Bar Owners' Defense of N-Word Sparks Enormous Backlash
Jake's Pub is being crushed by negative Yelp and Facebook reviews. The owners of a Lakeview bar used the N-word online over the weekend and attempted to justify its use, which led an army of Facebook and Yelp users to leave hundreds of negative reviews about the business. Users are saying to steer clear of Jake's Pub, alleging ownership is racist and unrepentant in use of the racial slur. This was all in response to a former bar regular who wrote a post objecting to the use of the word.
Six Chicago-Area Restaurant Shutters

 

to Know
AVONDALE— La Farine Bakery & Cafe, a neighborhood spot that was open for about five years, closed earlier this month at 2909 N. Milwaukee Avenue, according to the Avondale Neighborhood Association. The owners are supposedly looking for a new location.
LAKEVIEW/THE LOOP— Muscle Maker Grill, a kind of Chipotle for weight-lifters with assembly-line style cafeteria service, has closed its Chicago locations at 113 W. Jackson Boulevard and at 920 W. Belmont Avenue. The Tribune first reported the news.
RIVER NORTH— Bistro Voltaire has closed at 226 W. Chicago Avenue after seven years of French cooking. Its Open Table page confirmed the shutter and a tipster emailed to say a new restaurant is on its way. The owners were unable to be reached for confirmation on the latter. The restaurant's website has also been taken down.
SOUTH LOOP— after a little less than six years at 14th and Michigan, Square One has officially closed. The bar/restaurant reinvented itself several times for the neighborhood. As Sloopin' pointed out, they even had a self-serve wine bar at 1400 S. Michigan Avenue.
EVANSTON— Sunday, April 15 marks closing day for Prairie Moon at its current location at 1502 Sherman Avenue in Evanston. Management, according to a news release, will announce a new location in the coming weeks. They've been in the current location for 16 years and should reopen at the new space in late 2019.
Superdawg Co-Founder

 

Florence Berman Dies at 92

 
Florence Berman, a co-founder of Chicago's iconic Superdawg Drive-In, has died at 92. Berman co-founded the drive-in on Chicago's Northwest Side with her husband, Maurie Berman. The two are personified on the restaurant's roof as two giant 12-foot hot dog sculptures nicknamed Flaurie and Maurie. Her death comes almost exactly three years after her husband died in May 2015.
From Journal & Topics:
New Cafe Is City's 14th Video Gambling Location

 
A grand opening for Elsie's Place, a chain of video gambling cafes owned by Minnesota-based Lieberman Companies, took place in Prospect Heights. The location where customers can eat, drink and try their hand at video gambling is the 14th in Prospect Heights where the machines are allowed. Video gambling is regulated under the state's Video Gaming Act. Only businesses that receive a liquor license from the host municipality may apply for and install up to five video gambling terminals each. Illinois Gaming Board records show the new Elsie's Place video gambling license was approved April 12. Video gambling income is split between the state, host city, the host business and machine operators. Elsie's Place is located at 1300 N. Rand Rd.
From Daily Herald:

 
Golden Corral to replace shuttered Old Country Buffet in Arlington Heights

 
One buffet restaurant will replace another one when Golden Corral opens inside the shuttered Old Country Buffet in Arlington Heights, officials said. The empty, 10,618-square-foot space at 445 E. Palatine Road within the Town & Country Center will be renovated, and a new storefront facade is being proposed. The village's design commission is expected to evaluate the planned exterior changes.
Wheeling restaurant to be featured on "Chicago's Best"

 
A longtime Wheeling breakfast and lunch spot, The Original Granny's at 831 W. Dundee Road, is scheduled to be featured on the WGN television show "Chicago's Best."
Cafe Pyrenees ends long run in Vernon Hills and Libertyville

 
Situated at the rear of the Adler Square strip mall on the north end of Libertyville, Cafe Pyrenees appeared to be an unlikely spot for a French restaurant. Yet the business opened by Mari Loustaunau and her husband, Chef Jean-Marc, has been a favorite for many since moving to Libertyville in 2005. Founded in 1990 in Vernon Hills, the restaurant's long run is ending with a final dinner service.  
---
Should you wish to comment on this column, have any questions, or wish to share with us some news about your business, please call 773 743-2100, or email peterjp@realpoul.com