Posted by estiator at 10 May, at 17 : 22 PM Print
---
Should you wish to share news about your business with others, we are encouraging you to do so; please do not hesitate to call or e-mail: Peter J Poulopoulos, MBA Managing Real Estate Broker Licensed in Illinois, Indiana, Wisconsin REALPOUL REALTY "Commerce with Morality™" 2731 W Touhy Ave Chicago, IL 60645 Phone: 773 743-2100 E-mail: peterjp@realpoul.com visit us at: www.realpoul.com
---
Chicago Area Restaurant News and More
Personal Thoughts and Comments: Some "right" reasons to own a restaurant and one "wrong" reason.
There are many professions that attract people for some good or right reasons and also for bad or wrong reasons; being a restaurateur is no exception. In this column we are going to list some right reasons to own a restaurant and one wrong reason not to do so and should be avoided. Incidentally, these comments are the result of personal experiences and observations.
Let's start by mentioning some of the right reasons someone chooses to become a restaurateur.
Some people were "born" into the restaurant business. Their family owned restaurants for years and were successful; a son or a daughter sees the profession as a continuation of the family business and they get involved themselves in the business.
Other people started working in the restaurant business from young age, they liked the challenge, and armed with experience and the required funds, start their own business.
Yet, there are other people who possess the required funds, understand business in general, and know people who are good in the restaurant business but they lack the resources to open their own. In such case, the person partners with people who know the restaurant business and start their own.
Even though one can list many more right reasons to open a restaurant, let's assume that the above reasons suffice to illustrate our point and let's mention one wrong reason to open a restaurant.
Many of us know people who have worked for many years in "corporate" America. These people have gained business expertise, and wealth. Yet, a great number of these people retire either voluntarily or otherwise; however, when they do that they find themselves with much money and time. They want to continue working and since some of them had always dreamed of owning their own business, they feel that owning a restaurant is a good way to keep busy and at the same time realize their desire of being in business for themselves. There are two options for them: buy an existing business or start a new one.
As mentioned, some people decide to purchase an ongoing restaurant business and in these instances all they need to do is to come up with the funds to buy the business. The concept is in place; personnel to run the business are in place and based on due diligence the revenue stream and expenses are known to them. Other people decide to start a restaurant business from "scratch". They find the location, they hire contractors, engineers, architects, consultants, etc. they open a new restaurant. Both instances are problematic: Buying an existing restaurant without having experience in the restaurant business is very risky; opening a new restaurant without having experience in the restaurant business is extremely risky.
Why? It is difficult to find and keep the right employees; many hours of personal attention are required on a daily basis and consequently your "free" time is no longer there; based on industry norms, chances are that the new business will not survive which will result in a great financial loss.
In closing, if you know people who after retirement wish to operate their own restaurant because they have the funds and time to "kill", suggest to them that there is a strong probability that they will lose their funds and become unhappy with their choice.
---
Jimmy K's Gyros is located at 1422 Riverboat Center Dr Joliet, IL 60431 and the owner is Jimmy Kollintzas. Jimmy Kollintzas, we read in his resume, is a "hands on" operator who has exceled in the food and beverage industry for over a decade. Born with a natural instinct in understanding customer needs, he is a hard driving workhorse who succeeds and exceeds every goal he endeavors. He is meticulous in every detail of operations, proficient at providing outstanding service and maintaining a loyal customer base by strengthening business and interpersonal alliances, increasing inflow, customer relations and profitability in the competitive marketplace. Jimmy's brother, Theofanis, is the manager at this location and provides great support in issues dealing with customer satisfaction and food quality.
Born of Greek decent, Kollintzas' parents instilled his drive, determination, work ethic, and moral obligation as a human being. A good Samaritan, Kollintzas has been involved with many charity events, fundraisers, and missionary work. Kollintzas is a passionate individual who is continuously looking for new challenges and endeavors. His relentless drive to accomplish his goals makes him who he is.
Kollintzas has his own personal philosophy to succeed in the restaurant industry. When opening a restaurant most people emphasize location, location, location. Once you have opened, everyone will tell you that the three things you need to master to succeed are numbers, numbers, and numbers. There are annual plans, sales forecasts, operating budgets, daily sales records, inventories, prime cost and much more. Yes the numbers are part of the formula of a successful business. Providing excellent food and excellent service at the best possible price point on a consistent basis is another part of the formula. Kollintzas believes a very important ingredient in a successful operation is understanding "how everything and everyone works." Having worked at every position in a restaurant from washing dishes, prep cook, busser, bartender, serving tables, and Chef, he understands what it takes for everything to work flawlessly. Kollintzas understands what it takes from an employee to be productive. Kollintzas believes employees are the secret ingredient to a successful operation. Loyal and hardworking employees will go above and beyond to make everything run flawlessly. Assembling a Top Gun team will equal customer loyalty and long term success.  In the picture we see Jimmy inside his restaurant.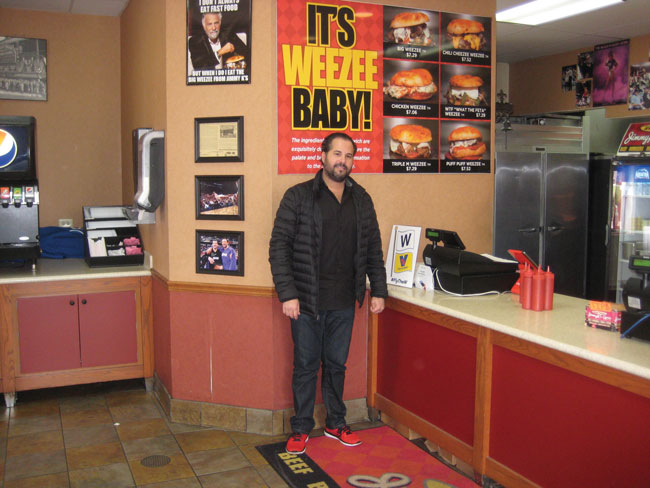 ---
Quality Inn O'Hare and Bella Sera Restaurant & Lounge are located at 3801 N Mannheim Rd Schiller Park, IL 60176 and the owner is Ron Kammo. Ron was born in Iraq and arrived in Detroit, MI in 1975. At the beginning he got involved in the grocery business where he excelled as a person who is easy to talk to and very approachable. In 1997, he arrived to the Chicago area and purchased two hotels: Quality Inn O'Hare and another in Naperville that he no longer owns. We know Ron since 2005 and are proud to consider him as our friend. As we all should know, you never know a person well unless you do business with that person. In our case, we had the chance to deal with Ron a few years ago when we sold one of his restaurants. Ron, in addition of being a good businessman is a great family man, husband and father. I must admit though that he warned us not to write many things about him; he is a very modest person.
However, I will just mention a few things. In his hotel, where he spent many hundreds of thousands of dollars for a complete remodeling, he created a fantastic banquet facility; one of his goals is to create "Greek Nights" and he is in negotiations with a Greek musician for that purpose. He and wife Margret (Ron emphasized that there is no "a" after the letter "g") have four children all either graduated from Northwestern University or now attending: Christopher, 28, graduate of Political Sciences, Jonathan, 26, graduate of Biology, Monique, 24, graduate of Speech Pathology, Marianna, 20, currently studying Economics.
The last thing worth mentioning is that both establishments owned and operated by Ron Kammo are very successful and popular destinations. In the picture we see Ron Kammo.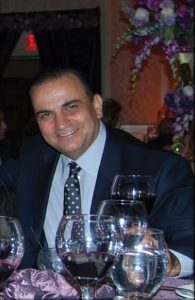 ---
Here Are Some Interesting Restaurant News.
from Eater Chicago:
Buck's, 1700 W Division Street, Chicago, IL, the former Carriage House closed down and there's a "for rent" sign at the space which changed names in late 2015 and added a more casual atmosphere to lure more drinkers. The place closed as the space had accumulated too much debt.
Toppers Pizzas leaves Chicago Market and closes 4 Locations. Wisconsin chain calls it quits in Illinois. There are 25 Toppers operating in Wisconsin, plus locations in nine other states. The chain expanded to Chicago in 2012. They had locations in the South Loop, West Loop, Wrigleyville, and DeKalb.
Another pizzeria chain has plans to infiltrate Chicagoland — this one a well-regarded one with roots in sunny South Florida. Anthony's Coal Fired Pizza, which began making ex-New Yorker Anthony Bruno's coal-fired thin-crust pies in Fort Lauderdale in 2002 before expanding to 61 current locations on the east coast, is making inroads to the Chicago market beginning with two suburban outposts this summer, Chicago magazine reports. If those two locations in Orland Park (14205 S. La Grange Rd.) and Lombard (757 E. Butterfield Rd.) do well, Bruno hopes to open as many as 20 in the area.
STREETERVILLE— Cupitol, the expansion of the Streeterville all-day cafe/restaurant, has opened inside the River East Arts Center building. Coffee and small plates dominate the day, while heartier dinner plates are offered in the evenings. Status: Certified open, 455 E. Illinois St.
WEST LOOP— the boozy deli from the 16" On Center team (Dusek's, Revival Food Hall MONEYGUN), The Ruin Daily, is serving unique deli sandwiches with a full cocktail program for patrons on weekdays. It's another all-day cafe/bar for the city. Status: Certified open, 328 S. Jefferson St.
LAKEVIEW— Whole Foods has opened what they're calling the chain's second flagship (joining Lincoln Park) Chicago location. Besides vintage arcade games, the grocery store includes a bevy of quick-serve options, including another Real Good Juice Co., and kiosks like a poutine bar. It's a replacement location for the Whole Foods just north of the address. The Tribune has more on the mochi and bar options. Status: Certified open, 3201 N. Ashland Ave.
LAKEVIEW— Chicago's first Amazon Store has opened inside the former Mystic Celt space, but it's not just books. The cafe inside boosts a cafe where Chicagoans can find drinks from Portland, Ore.'s Stumptown Coffee Roasters. Stumptown is a rare sight in Chicago…for now. Status: Certified open, 3443 N. Southport Ave.
LOGAN SQUARE— a new Indian restaurant that appears to focus on cuisine from the Northern region of the subcontinent has opened in Logan Square. It's called The Spice Room. A Yelper caught photos of the menu. Status: Certified open, 2906 W. Armitage Ave.
PORTAGE PARK— Mia's Gelateria Foccacceria is open for the season. The warm-weather seasonal spot, from Superossa, the Northwest Side restaurant known for its stuffed pizzas, opened in 2014. DNAinfo spoke with the owners. Status: Certified open, 4200 N. Central Ave.
UPTOWN/ROSCOE VILLAGE— A new Vietnamese restaurant has opened two locations to add to the "Asia on Argyle" and Roscoe Village communities. Cafe Ciat's menu includes pho and bahn mi, and there's also a hefty selection of vegan and veggie options. Status: Certified open, 1046 W. Argyle St. and 2004 W. Roscoe St.
UPTOWN— the owner of Eats and Sweets Cafe in Ravenswood has opened Satellite Cafe. It's essentially a space-themed version of the other cafe, reported DNAinfo. Status: Certified open, 942 W. Montrose Ave
---
From Restaurant News:
Starbucks Corp. is doubling down on its commitment to hire veterans, vowing to hire 25,000 military veterans and their spouses by 2025.  The goal, an expansion of a plan set in motion three years ago to hire 10,000 veterans by 2018 — a goal it has already reached. Overall, Starbucks wants to hire 240,000 people globally, including 68,000 in the U.S., by 2021, as part of the company's expansion plans.