Posted by Peter J. Poulopoulos at 15 February, at 17 : 47 PM Print
Should you buy an existing restaurant? Or should you start your own business from scratch?
The answer depends on many factors. Let's examine some of the variables that can influence your decision-making process.
When you buy an existing restaurant, the main issue is the negotiated purchase price. Most people would suggest that the restaurant is profitable, and knowing the profits, the selling price becomes an easy task. Not so fast! Unfortunately, many experienced restaurateurs place much emphasis on the profitability of the business, ignoring other factors equally important, such as: location, lease terms, condition of the premises, condition of the fixtures, furniture and equipment, trends in profits, parking availability, capacity for expansion, neighborhood trends, hours of operation, quality of personnel and their willingness to stay, etc. Let's assume that a buyer considered and addressed all the previously mentioned factors and obtained an existing restaurant. So, up to this point we have managed to have an agreement between buyer and seller on price and terms. We still need to consider legal issues, and thus an attorney's help is strongly recommended. We need to make sure that we obtain all required licenses to operate the restaurant; if a liquor license is included, additional requirements need to be satisfied and more time is needed to secure a new license. Even if we buy a corporation that owns the business and the liquor license, we still need to be fingerprinted, have our background checked, etc. Finally, your attorney will ensure that the property has no liens, the lease has been secured, and all taxes to federal, state and local authorities have been paid.
You have the closing; you become the new owner and your start running the business. Hopefully you do not cause the business to deteriorate, and you continue the operation of the business and enjoy the profits that you have verified. If you improve the business and the profits increase, that's good for you. After all, this should have been your goal anyway. Let's summarize: a sum of money was paid for the existing business, time was spent, cash flow was known, and legal help was required, due diligence was exercised.
Now let's take a look at what is involved in opening a restaurant business from scratch. Most of the things mentioned above about licenses apply; legal help is also recommended. However, there are many more factors to consider. For example, we need to select the site, negotiate the purchase of the site if we are buying the property, or negotiate lease terms if we plan to rent a vacant store. Then we need to consider the concept of our restaurant and the hours of operation, perform an analysis of the neighborhood and competition, come up with our menu ideas, and price menu items accordingly. We need to purchase fixtures, furniture, and equipment; we need to secure suppliers. We need to hire the "right" personnel, train them, develop and document policies and procedures, maintain legal and accounting representation. We need to maintain sufficient working capital to cover all expenses until the restaurant becomes profitable. We also need to worry about the correct advertising, the grand opening, etc. Let's summarize: a sum of money was paid for creating a new business, time was also spent, cash flow was zero, legal help was required, due diligence was exercised.
The main difference between the two approaches, for the most part, is the cash flow. It is true that in both approaches we require time, money, and in general due diligence. In the first instance we knew what to expect; in the second instance we spent resources without having concrete evidence of any cash flow—we only had the hope for it.
From our past discussions with restaurateurs, and we fully agree with them, buying an existing restaurant is more desirable than creating a new restaurant from scratch. What is the reason? All things being equal, as economists say, one can reduce his/her risk by buying an existing business. But because all things are never equal, creating a business from scratch can also be a viable option if one performs all needed tasks and does not mind the risk.
---
OH MY PITA is located at 401 Irmen Dr in Addison, IL and the owners are Demetri and wife Lisa Mougolias. Let's first reveal a few passages from their web site: "We are a family owned and operated business! We pride ourselves on serving our customers top quality food at reasonable prices. OH MY PITA is not Fast Food! OH MY PITA is Great Food at a Fast Pace! We are open six days a week from 10 am to 6:30 pm, and we provide take out, fast pick-up, dine in and delivery in addition to catering for all occasions."
Moreover, let's say a couple of things about Demetri. Even though Demetri was born in the Chicago area, he lived the first two years of his life in Greece. His mom, who was also born in Chicago, had moved to Greece, but when she was expecting Demetri she felt better to give birth in Chicago. She came to Chicago, gave birth, and then returned to Greece; two years later the entire family came to Chicago. Because Demetri's father, Lakis Mougolias, is a successful and well-known jeweler, Demetri followed his father's footsteps in the jewelry business. In the year 2007 he felt the need for a career change. He purchased a successful fast-food restaurant called Twins that he still owns. In 2011 he purchased another fast-food restaurant called Times Square Cafe that he renamed Moogie's Gyros; he sold it in 2016 and a bit later he purchased a property and there he opened up his new venture Oh My Pita. It is obvious that Demetri is a young man with a purpose. He married Lisa in 2003; they have two daughters, Stefanie 12 and Christina 11. In the picture we see Demetri and Lisa inside their restaurant.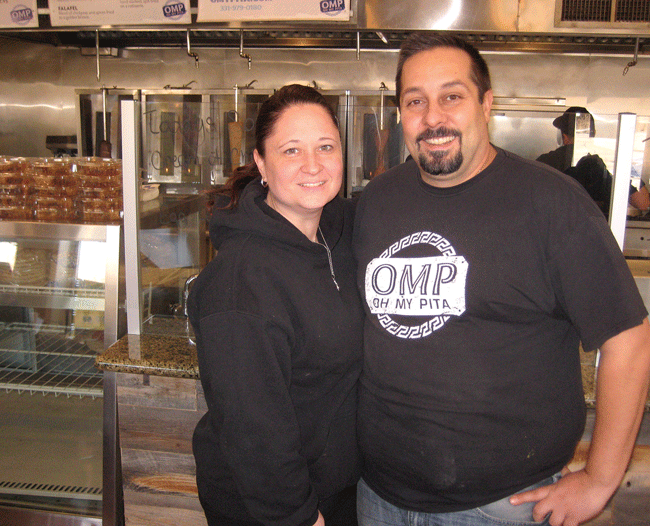 ---
CHICAGO RESTAURANT NEWS 
FROM EATER CHICAGO: 
VEGETARIAN PIONEER GREEN ZEBRA TO SHUTTER AFTER 13 YEARS IN CHICAGO
Chicago's restaurant scene will lose a vegetarian pioneer. Green Zebra, which has served acclaimed, seasonal vegetarian and vegan small plates for more than 13 years since it opened in 2004 at 1460 W. Chicago Avenue in West Town, will shutter after service on New Year's Eve, chef-owner Shawn McClain wrote in an email.
GLAZED AND INFUSED DOUGHNUTS CLOSING ALL LOCATIONS
Doughnuts aren't even immune from the market conditions affecting Chicago's restaurants as Glazed and Infused—the creative doughnut chain that started five years ago —is closing all locations.
MYTHOS GREEK TAVERNA, A GREEK RESTAURANT THAT OPENED IN 2008, CLOSED IN DECEMBER
The BYO spot was a neighborhood gem. Signs for a new Greek restaurant, specializing in street food, have gone up in the window at 2300 W. Montrose Avenue.
CHICAGO IS GETTING TWO GREEK RESTAURANTS FROM THE SUBURBAN AVLI TEAM
While 2017 saw Sumi Robata Bar close to end a five-year run in River North, there's now news of a promising replacement restaurant. Chef Louie Alexakis, the owner of Avli Restaurant—an acclaimed Greek spot in suburban Winnetka that begot a more-casual spin-off in 2016—is taking over the space. Alexakis plans on opening another Greek restaurant this summer at 702 N. Wells Street, according to a spokesperson. Alexakis hasn't shared the restaurant's name—it hasn't been finalized—but the spokesperson shared that the new restaurant will feature five dining areas, including two outdoor spaces. It's part of a grander scheme for Alexakis, who is starting his own restaurant company. No, that name hasn't been finalized either. Meanwhile, he's working on opening a second Chicago restaurant at an undisclosed location in Lincoln Park. That unnamed restaurant will be more intimate compared to the River North location and more focused on the neighborhood crowd. They're also targeting a summer opening in Lincoln Park.
AFTER 14 YEARS, DE CERO TACOS CLOSES ON RANDOLPH
There's another vacancy along Randolph Restaurant Row, as De Cero—the Mexican restaurant that specialized in serving large groups and out-of-town guests—closed right before New Year's Day. The fancy taco spot at 816 W. Randolph Street lasted 14 years and saw the West Loop morph from meatpacking center to its current trendy state. Owner Angela Lee told the Tribune that current business climate wasn't one where DeCero could sustain success. DeCero is the second Mexican restaurant to close along Randolph Street in recent months. Perez Restaurant closed in September. Newer Mexican options in the neighborhood include La Josie, Bar Takito, Cruz Blanca/Leña Brava, and Federales.
DESTRUCTION OF THE MCDONALD'S NO. 1 STORE MUSEUM IS UNDERWAY IN DES PLAINES. 
The Destruction of the McDonald's No. 1 Store Museum on the Site of Ray Kroc's First Restaurant is Underway in Des Plaines. The Tribune reports that McDonald's will preserve "anything with historical value" from the site, although it's unknown when its razing will be complete. The museum included a replica of Ray Kroc's original restaurant, which opened in 1955 and closed in 1984, becoming a tourist destination until the museum closed to the public in 2008 due to flooding.
GREENRIVER, DANNY MEYER AND DEAD RABBIT'S MICHELIN-STARRED CHICAGO RESTAURANT, IS CLOSING
Less than two-and-a-half years in, Danny Meyer's Union Square Hospitality Group will shutter its acclaimed foray into the Chicago restaurant scene. GreenRiver, Meyer's collaboration restaurant and cocktail bar in Streeterville with the folks behind NYC's Dead Rabbit, will hold its last service on January 24, according to social media posts and its representative. No specific reason was given for its closure.
AMERICA'S LARGEST VEGETARIAN CHAIN PLANS FIVE CHICAGO RESTAURANT OPENINGS.
Chicagoans who made New Year's resolutions to eat less meat have good news: Veggie Grill, the nation's largest vegetarian fast-casual restaurant chain, plans to open its first Chicago restaurant in mid-February at the northeast corner of Clark and Broadway streets. But that's not the chain's only news—it intends to open four more Chicago-area locations at an undetermined date. The locations are highlighted by a Loop restaurant at 204 N. Wells Street that should open in March.
---
Are you looking to buy a new restaurant? Need managing tips? Estiator has been serving the Greek-American foodservice industry for over 30 years! Subscribe to our monthly magazine to get the latest news in the restaurant industry, classifieds, restaurant news, news from the Hellenic diaspora, and more!
---