Posted by estiator at 11 December, at 15 : 06 PM Print
PERSONAL THOUGHTS AND COMMENTS: 
Why Some Sellers are Reluctant to Pay Commission
THERE are so many stories to share with you but the space is limited. Let me just say that not ALL sellers are reluctant to pay commission. In our experience, sophisticated sellers and successful restaurateurs never question the need to pay commission. It is understood that finding a buyer for a restaurant is a very difficult task and the broker needs to be compensated for making sure the buyer is ready, willing and able to buy the restaurant.
On the other hand, there are some sellers who believe that a broker should work for free! They would like to employ a professional to find a buyer for their place, but they do not wish to pay for his/her services. In fact, there are times that we spend time, money, etc. to find a qualified buyer with no success; from a distance, when people see a professional in meetings, showing places, negotiating with buyers, etc. they assume that all deals that a broker is involved in are easy to handle and all of them will materialize. As you can infer, each deal is a complicated process that has many elements, and these elements must be successfully addressed and managed. Just a few elements that need to be successfully managed are: (a) negotiation of price and terms with buyer and seller, (b) attorney approval, (c) landlord approval, (d) due diligence, (e) obtaining financing, (f) approval of local and state authorities, and many more. If a broker is working on, let's say, 5 different deals, the broker needs to devote much effort and many resources to have a successful transaction. At times, and for variety of reasons, no transaction reaches a successful conclusion. Someone may assume that the broker who was working on 5 transactions completed them all very successfully; and that's not true. Very often not all transactions are successfully completed, since there are many variables that can cause something to "go wrong." Some time ago a restaurateur was inquiring about our business and suggested that he understood that we were very busy; at that time, anything that could go wrong was going wrong. We commented that in order to appreciate the state of our affairs, he would have to imagine his restaurant full of people, eating and drinking and having a good time and leaving his place without paying a dime!
Now, let's talk a bit about the sellers who are reluctant to pay commission and also discuss to what extent they will use deception tactics to accomplish what they had in mind all along. Sometimes they will ask a broker to market their business just to test the market. They never had any intention to sell with a broker. They simply wanted to see what their place can sell for and later attempt to sell on their own. Other times, they wanted to see a buyer who is qualified, and they do not proceed with the sale using various excuses, and later they attempt to make the sale to the same people without the broker. Unfortunately, one thing becomes very apparent in this case: both buyer and seller are of questionable character; they join forces to deceive the broker. We do not know how common this is. We want to believe that this is not common, but is it? In closing, we must reveal why in this month's column we decided to address this issue. We did it because of two instances: one instance involves the securing of a qualified buyer for the purchase of a successful business where the seller changed his mind, and the other instance involves the ongoing process of selling a business by owner; this is the same business that we sold last year and the seller "killed" the deal with his attorney and now the same seller is selling the business to the same buyers without our involvement. You can make your own inferences about the character of these people.
---
Family Square Restaurant is located at 372 S Bolingbrook Dr. Bolingbrook, IL. Not long ago, I stopped by for coffee and met with owner Nick Pitsilos. We had a great and lengthy conversation. This is definitely a place worth visiting.
Zante's Fast Food Restaurant is located at 3619 W 169th Street Hammond, IN and the owners are brothers Bob & Dennis Giatras. From their web site we learn that Zante's is a family owned fast-food restaurant located in Hammond, Indiana. Since opening, they have continually strived to bring the best quality food to their customers at the lowest prices possible. From a small restaurant with limited amount of "core" customers, they have become a very successful restaurant, and now their business ranges from a "good place to have a burger" to a place for fast-food dinners, business lunches, takeout family dinners, and corporate catering.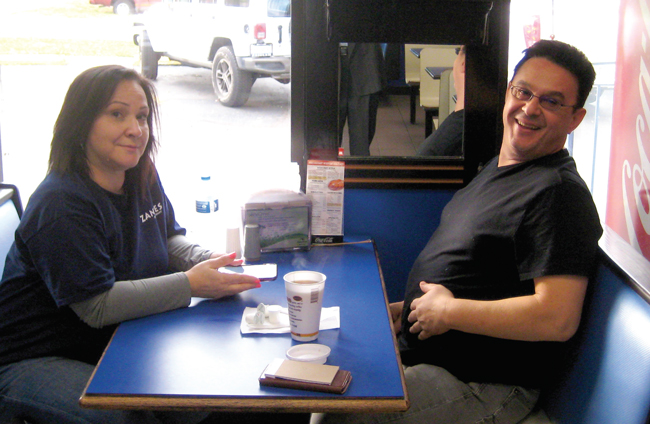 When we stopped by, we met with Bob and his wife, Maria; Bob's brother, Dennis, was not there. We spent a few minutes with Bob and Maria and learned that Bob was born in Zakynthos and arrived in USA with his parents in 1975, when he was just 8 years old. Through his high school years, Bob worked in the restaurant business. Also, in high school he met Maria Suero, his classmate, and fell in love. That was 1982, and in 1984 they got married. Maria and Bob have two children: Albert 33, an advertising director, and Bob Jr., 18. In 2007 Bob and Maria visited Greece, and they plan to visit Italy, Maria's birthplace, as soon as practicable. It is worth noting that Maria has worked as food service director in rehab and nursing establishments. Bob and his brother have owned and operated Zante's for the last 14 years. In the picture we see Bob and Maria inside their restaurant.
---
SOME INTERESTING RESTAURANT NEWS:
Daily Herald
3 Local Businesses Honored at Breakfast. Three Mount Prospect businesses were honored for their achievements and contributions during the annual Economic Development Commission Breakfast Thursday (Oct. 26). One of them was George Tselos of Emerson's Ale House and Honey Butter Restaurant who received the Budding Business of the Year award for opening and operating the two restaurants. Emerson's has been open since 2014 while Honey Butter is set to open this year.
A New Italian-American Restaurant Is Coming to Downtown Arlington Heights, IL. The eatery will be open for dinner Tuesday through Sunday. The location previously housed Day Go Dogs and 'Za, and the Riviera Restaurant.
From Dna Info/Chicago 
Just a Year After Opening, Knife Steakhouse is Done in North Center. No notice has been posted to the restaurant's storefront, nor has an announcement been made on social media, but staff at Knife's sibling, Fork, in Lincoln Square, confirmed the steakhouse shuttered.
From Eater Chicago 
Inside Downtown Chicago's Next Modern Food Hall, Now Open. It features 10 different vendors. Forum 55 is another effort to ensure Loop workers lunch better. Forum 55 stands on the concourse level of the 50-story Mid-Continental Plaza at 55 E. Monroe Street. Aimed at Loop office workers, the food hall will offer customers a choice between cheffy burgers, ramen, tamales, pierogis, and more. They'll also have access to some high-caliber caffeine from Sparrow Coffee.
Bucktown's New Shuffleboard Club Should Open in Early 2018. Brooklyn import Royal Palms is excited to expand to Chicago. Workers are making their rounds inside the empty warehouse at Milwaukee and Leavitt, the site of the Chicago location of Royal Palms Shuffleboard Club. This is the Midwest follow-up to Royal Palms' original space that opened three years ago in Brooklyn. Owners Jonathan Schnapp and Ashley Albert are world-ranked shuffleboard players hoping to open their second club in January or February at 1760 N. Milwaukee Avenue in Bucktown.
McDonald's Szechuan Sauce promotion backfires. Company promises more after Rick and Morty fans protest limited supplies. McDonald's Corp. had what all restaurant chains dream of: Long lines of excited customers standing outside of its restaurants, as fans of the cartoon Rick and Morty lined up for the chain's one-day offer of Szechuan Sauce.
An Upcoming Chicago Coffee Shop will donate all proceeds to prevent suicides. Dark Matter Coffee is collaborating with a charity to open a new Logan Square coffeehouse with the intention of donating all net proceeds to promote suicide prevention. The unique concept is called Sip of Hope and should open in the spring at 3039 W. Fullerton Avenue (the former Dill Pickle Food Co-Op space). The shop will also staff trained volunteers who are mental health specialists.
Chicago Brauhaus, the German Fixture in Lincoln Square, to Close in December. After 52 years, Chicago Brauhaus, the iconic German restaurant and beer hall in Lincoln Square, will close on December 11, co-owner Harry Kempf confirmed. Rumors swirled in March that the restaurant would soon shutter after the discovery of property listing. Kempf said they've received plenty of interest from potential purchasers, but have not finalized a sale for 4732 N. Lincoln Avenue.