Posted by estiator at 10 November, at 05 : 00 AM Print
By PETER J. POULOPOULOS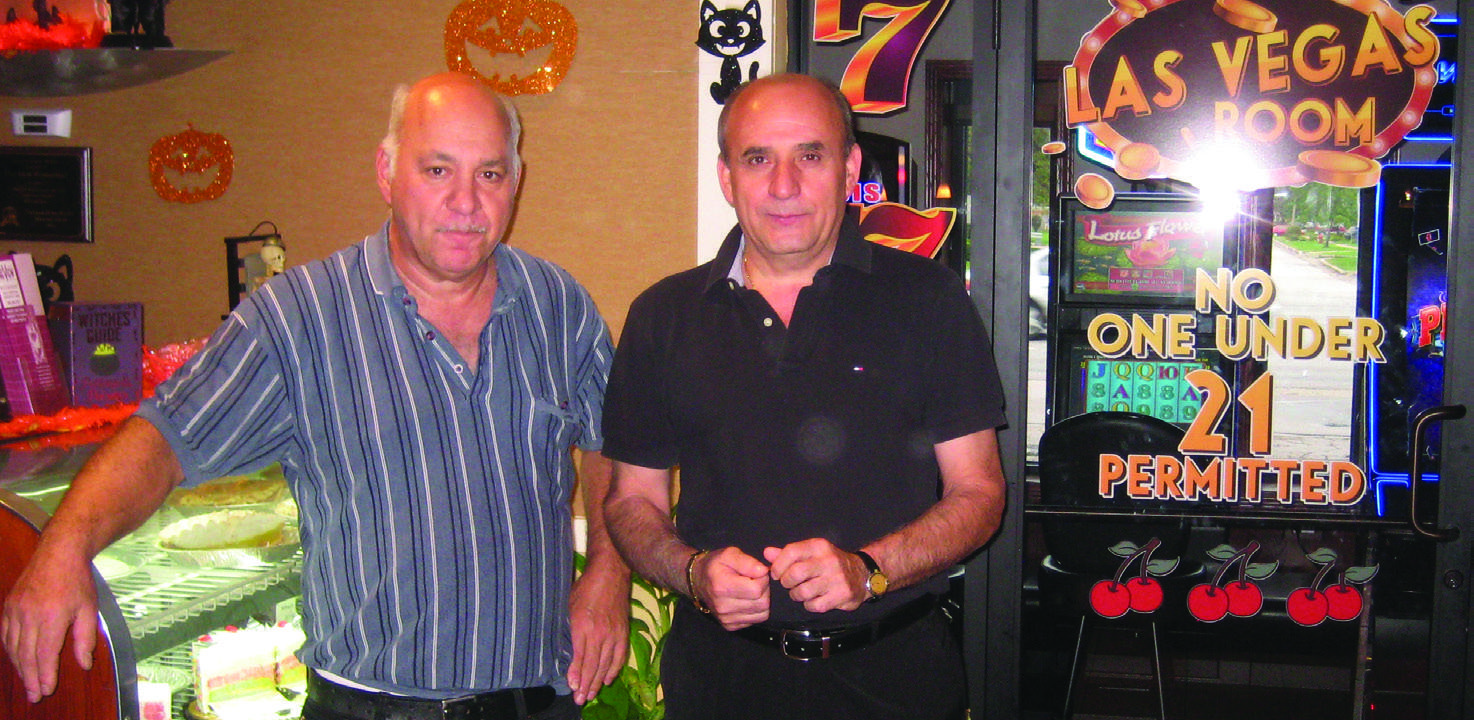 THE VIEW RESTAURANT is located at 8930 S Harlem Avenue Bridgeview, IL and the owners are Ted Skondos and Spiro Tzivas. The View is open 24 hours and offer breakfast lunch and dinner. What amazes people about this business, that resides in a free-standing structure with ample parking, is that they offer excellent food and service on a consistent basis for a number of years. Last year, and in a separate room, they installed video poker machines; the community's response was extremely positive; it proved that the owners made a smart choice. But let's see who are the owners and briefly discuss their background. Spiro Tzivas arrived in the USA from Pyrgos Ilias in 1975. In the beginning he worked with an uncle who was a chef in banquet halls; then, he opened a Hot Dog business at age 21! After this successful operation he spent time in the restaurant business and he even operated with great success a Kafeneio (Coffeehouse) for 13 years. Since 2002 he is a partner with Ted in the View Restaurant; they own both business and property! It is worth mentioning that Spiro is married to Jenny and they have three Children: Angelo, 26, is an Assistant Attorney General, Amanda, 24, studied law and soon will become an attorney and Leo who is 9 years old. Ted Skondos, a polite and easy-going gentleman, was born in USA but his roots are from Kapsia Tripolis Greece. He made a point to mention his roots since he feels very proud about it. Ted is the Chef of the business! He got involved with the restaurant business at early age since his dad was a chef as well. Ted is married to Venetia and they have a son George, 33, who is  a Statistitian with Holinger International. In the picture we see the two proud owners of the View Restaurant, from left to right. Ted and Spiro.
Here Is Some Interesting Restaurant News:
FROM EATER CHICAGO
D.C. Sandwich Icon Taylor Gourmet Shutters Both Chicago Restaurants – Both Chicago locations of Taylor Gourmet, the beloved Washington, D.C.-area sandwich-focused restaurant chain, are closed after less than nine months according to an employee at the Loop location. Representatives and management for the chain have not yet responded to inquiries about their statuses but the employee said sadly over the phone today that both the Loop and newer West Loop restaurants are now closed for good. Online ordering has been disabled and a tipster wrote to Eater Chicago that a sign is now affixed to the Loop location's door that states "Taylor Gourmet has left Chicago."
Four Chicago-Area Restaurant Shutters to Know
BUCKTOWN— Upscale Damen Avenue cocktail lounge and eatery Presidio is calling it quits. Management wrote on Facebook that "the Presidio team has come to the difficult decision that it's time to close our doors for good" and "it's the right time to begin our next chapter." Owner Patrick Cullen told Block Club that he has had the space on the market but hasn't found a buyer, expressed displeasure with local food media, and urged Chicagoans to support neighborhood spots. It opened a little over threeand-a-half years ago in the former Bluebird space next to Hot Chocolate at 1749 N. Damen Avenue.
LAKEVIEW— After more than a decade in Lakeview, Argo Tea has closed its location at 3135 N. Broadway Street. The shutter happened about a few weeks ago with furniture removed and a sign on the door reading: "Thank you for 12 years. Please visit our other Chicagoland cafés."
LINCOLN PARK— Chicago's once- larger mini-chain of orange-themed brunch restaurants has grown smaller. Orange Lincoln Park has shuttered for good at 2413 N. Clark Street, management announced on social media, after nine years in business at this location. The news leaves the Roscoe Village spot as the only one remaining.
PORTAGE PARK— The owners of Brgrbelly have pulled the plug on their creative Italian beef spinoff Beefbelly. It opened in late 2015 with eight gourmet beefs before briefly reconcepting two years later into a Mexican-themed spot named Tipsy Cow Cantina and going back to burgers three months ago. Block Club first reported the shutter announcement via a Facebook post. Brgrbelly remains open.
The Future of Chicago's Pizza Museum Is in Doubt Beyond October – The U.S. Pizza Museum was packed with guests in August in the South Loop as the Internet raged if Chicago was America's true capital of pizza. The museum was meant to last through October with the option of extending its stay. The museum's founder on Tuesday said the future of the museum is up in the air as they haven't decided if the exhibition will last beyond the rest of the month.
Pleasant House Owner Responds to Allegations That His Restaurant Mistreated a Black Customer – The owner of Pleasant House Pub, an acclaimed Pilsen restaurant, responded to allegations of racism after a customer accused the restaurant staff of mistreating a black woman. The woman, described by owner Art Jackson as a "regular non-customer," was asked to leave on Thursday after sitting at a table without ordering food. Another customer saw the incident and published her account of what occurred on Facebook. The post drew social media outrage and prompted Jackson to explain his restaurant's side of the story.
Anti-Sexual Harassment Activists Disrupted Dinner Service at The Purple Pig – Protests have been occurring outside uber-popular Mag Mile restaurant Pig since an ex-busboy leveled sexual harassment complaints in late August. But on Wednesday evening the protests went inside the restaurant, where a group of 10 activists who initially appeared to be patrons disrupted dinner service by voicing a variety of demands to management about sexual harassment policies and other workplace issues before marching and chanting throughout the restaurant and being asked to leave. The protest was captured on video on the Centro de Trabajadores Unidos Facebook page. The Tribune first reported the protest and another statement from The Purple Pig, which in part said that management "kindly asked them to leave" and reiterated the restaurant's zero-tolerance policy for harassment and discrimination.
FROM CURBED CHICAGO:
You can now eat dinner and cruise the Chicago River in this glass-enclosed boat – Chicagoans now have a new way to cruise through the heart of the city in style thanks to the highly anticipated launch of the glasstopped boat known as the Odyssey Chicago River. Custom-designed and completed in Florida this summer, the climate-controlled vessel went into service on Friday and is the first of its kind to offer regular sit-down dinner cruises on the downtown waterway. The Odyssey will also provide lunch, brunch, and cocktail excursions. Docking at the River Esplanade in front of NBC Tower, this newest addition to the Chicago River features music, dancing, and, of course, front-row views of the city's finest architecture. The Odyssey hopes to operate yearround—although service could be impacted by extreme conditions such as heavy winter ice. Individual tickets start at $64.90 for a cocktail cruise and $124.90 for the longer three-course dinner excursions. Prices are subject to change and exclude taxes, optional extras, and alcohol. The vessel is also available for private events such as weddings for up to 200 guests.
FROM THE DAILY HERALD:
Sports bar becomes first in Rolling Meadows to get video gambling – Stadium Sports Club & Pizza, the long-standing bar/restaurant on Algonquin Road in Rolling Meadows, has become the first establishment in town to get video gambling machines. The sports bar, 4015 Algonquin Road, received the city's first Class G1 liquor license for video gambling after unanimous approval from the city council. It received its state license Sept. 14 from the Illinois Gaming Board.
Microbrewery on tap for vacant Mt. Prospect building – A distinctive barnlike restaurant building that's sat vacant for nearly six years along a busy Mount Prospect thoroughfare soon will become home to the village's first microbrewery. Village officials on Tuesday recommended a Cook County tax incentive to help bring The Red Barn restaurant and tasting room on the former site of Bogies Ale House. D.J. Harrington, the former general manager of the Mount Prospect Bar Louie restaurant, will co-own and operate the new venue in the 10,000-squarefoot space at 303 E. Kensington Road. Harrington told the village board Tuesday he is working aggressively to open by August. "This is an opportunity for us to redevelop a building that has had so much meaning to so many people in the community," he said. Bogies closed in 2012 after 17 years in business.
FROM THE BUFFALO GROVE PATCH
Wheeling Town Center Adds Two Restaurants –  Eggsperience and Meat and Potato Eatery are the two newest restaurants to sign a lease at the near-completed Wheeling Town Center, which is on track to open in early 2019. These additions complement the variety of restaurants, entertainment and other retailers that have already signed, bringing the space to 83 percent occupancy.
FROM THE NEWS 7 CHICAGO:
Treasure Island Foods to close all locations – After 55 years, Treasure Island Foods is slated to shut down all operations. The chain has been a Chicago staple since 1963 and called itself Chicago's culinary destination. Owners of the family-run business announced their decision to close earlier in the week. "You can just even look at the changes and how upset they are that they're about to lose their jobs, they just found out this past Wednesday too," said customer Michael Dentato. "So it's a big loss in many ways, not only for the convenience, but for the people who we've come to know after all these years." Many customers were surprised by the news, as several stores had been recently remodeled and an Uptown location was scheduled to open later this year. No final date has been given for the closure, but all items are now on final sale.