Posted by estiator at 8 April, at 16 : 07 PM Print
By PETER J. POULOPOULOS
Personal Thoughts and Comments
SILENCE IS GOLDEN. If one searches a dictionary for the definition of this maxim, he will find the following description: "Keeping one's mouth shut is a great virtue, as in Don't tell anyone else about it—silence is golden." Although this precise phrase was first recorded only in 1848, it is derived from a much older proverb, "Speech is silver and silence is golden." When our office is hired to sell a restaurant, our goal is to secure a qualified buyer. Then we ask the buyer to sign a confidentiality agreement. When the prospective buyer signs the confidentiality agreement, he or she is entitled to receive confidential financial data regarding the restaurant.
Usually, a buyer does not rely solely on the financial reports provided. Instead, a buyer will request to meet with a seller face-to-face for either clarification of data or to obtain additional information. Very seldom does the buyer request only one of these meetings. The number of requested meetings depends on various reasons, such as how many partners are involved in the purchase, what is the availability of all partners to meet at the same time, etc. Our instructions to the sellers are always the same: Answer all buyers' questions truthfully and completely; however, there is no need to volunteer information or opinions that don't directly relate to the question being asked.
Yet some sellers believe that, in addition to being good chefs or entrepreneurs, they are also excellent negotiators! Many times, we remind them that we do not need their negotiating skills but only the truthfulness of their answers. So why in this month's column do we talk about adage "Silence is golden"? Because in a couple of recent examples, despite our warnings, two of our sellers elected to carry on negotiations without our presence. In both instances, the verbal agreements made during these negotiations were ultimately useless. In closing, if you are a seller, be straight and honest with your answers but keep quiet during negotiations!
(Note: should you wish to comment on this column, have any questions, or would like to share news about your business, please call 773-743-2100, or email peterjp@realpoul.com.)
OF INTEREST
Wicker Park Barbecue Lillie's Q to Temporarily Close
Lillie's Q, the Wicker Park barbecue restaurant that opened nine years ago, will close temporarily, a spokesperson said, updating information previously provided. The restaurant, 1856 W. North Avenue, introduced many Chicagoans to different barbecue sauces from across the country, and owner Charlie McKenna later began selling the sauces and rubs in stores. A bottle of the Lillie's Q Carolina-style sauce even appeared in a gift basket Steven Colbert gave to presidential hopeful Senator Kirsten Gillibrand of New York. A spokesperson teased a "new direction" for Lillie's Q.
Chicago Restaurants Facing Criticism for Playing Music With the N-Word
In January, Eric Williams, the proprietor of the Silver Room—a business centered around African-American culture—started a discussion about racism in the city's restaurants. The Facebook thread, which has continued to grow, hit on several topics, including restaurant playlists, cultural appropriation, and gentrification. Williams, who is African American, started the discussion by sharing that he's heard the N-word in music played at Fat Rice in Logan Square, as well as Wicker Park's No Bones Beach Club and Furious Spoon. "Maybe I haven't been out in a while, but it seems like the trend is for restaurants to play uncensored pop rap music. (Furious Spoon, Fat Rice, No Bones Beach Club – Chicago) just to name a few," Williams wrote. "[N-word] this, 'B' that…. This is not a club, it's a restaurant where I'd like to take my 10-year-old daughter and not be subjected to this nonsense."
Misconduct Surrounds Chef's Departure at Michelin-Starred Entente
News broke recently that acclaimed chef Ian Davis was no longer in his shortlived role as co-executive chef at Michelin-starred restaurant Entente. The departure follows several stories of misconduct announced on Instagram and two misconduct claims made by females during his prior job at Michelin-starred brewpub Band of Bohemia. It's unclear if those two women are part of a group of eight who may have come forward with claims against Davis featured in the aforementioned anonymous Instagram account that surfaced earlier this month.
Inside Wrigleyville's New Arcade and Bowling Bar Restaurant
Lucky Strike Social is a video game arcade in Wrigleyville that further transforms the neighborhood that last year welcomed the Hotel Zachary across from the Friendly Confines. It brings much of the same type of fun as its older siblings in Streeterville, Lucky Strike and FTW arcade. This 30,000-square-foot space is spread out on two floors. There's bowling, table tennis, and more than 100 video games. Once the scaffolds disappear, customers will also get unique views of Wrigley Field from the windows. Food wise, there's tons of French fry options, burgers, and wings. There's also pizzas and salads. For drinks, there's house cocktails, wine, and a standard draft beer list. Folks looking for all-inclusive party packages should look no further. Lucky Strike Social offers options.
Chicago Restaurant Under Siege Online After Owner Bailed Out R. Kelly
The woman who posted $100,000 bail to release R. Kelly from Cook County Jail also owns a Chicago restaurant now under internet siege from people angry at her support of the Chicago R&B star who has been charged with 10 counts of aggravated criminal sexual abuse. Valencia Love, who owns the near south suburban restaurant Love on the Blu, was revealed in multiple news reports as the person who paid to free Kelly after originally only identified on the bond slip as "friend." Since then the restaurant's Yelp page has been flooded with angry reviews including "The owner supports a pedophile…I would never support such a place" and "I really don't need to frequent a restaurant whose owner is OK with bailing out R Kelly…Bad, bad move, lady."
Former Chicago Couple Opens Indianapolis Pizza Shop to Help Employ Homeless
A new pizza shop in Indianapolis is offering pizza with a purpose to help the homeless. Tom and Angie Wilhelmi's love for pizza and helping the homeless started a few years ago, when they moved to Greenwood, Indiana, from Chicago. In December, they found a way to combine their two passions. That's when they opened Agape Pizza. The Wilhelmi's only employ former homeless people living in transitional housing—something Tom knows about firsthand. "For a couple of weeks, when I was transitioning from selling drugs and running a gambling operation to trying to go legit, I was homeless myself," he said. "There are 15,000 homeless people around Indianapolis and there are not enough people to love and help them back." Tom and Angie want their pizza shop to be a new beginning for their employees and they continue searching for volunteers as it keeps growing.
Fire Destroys South Chicago Restaurant Capri's Pizza; Cause under Investigation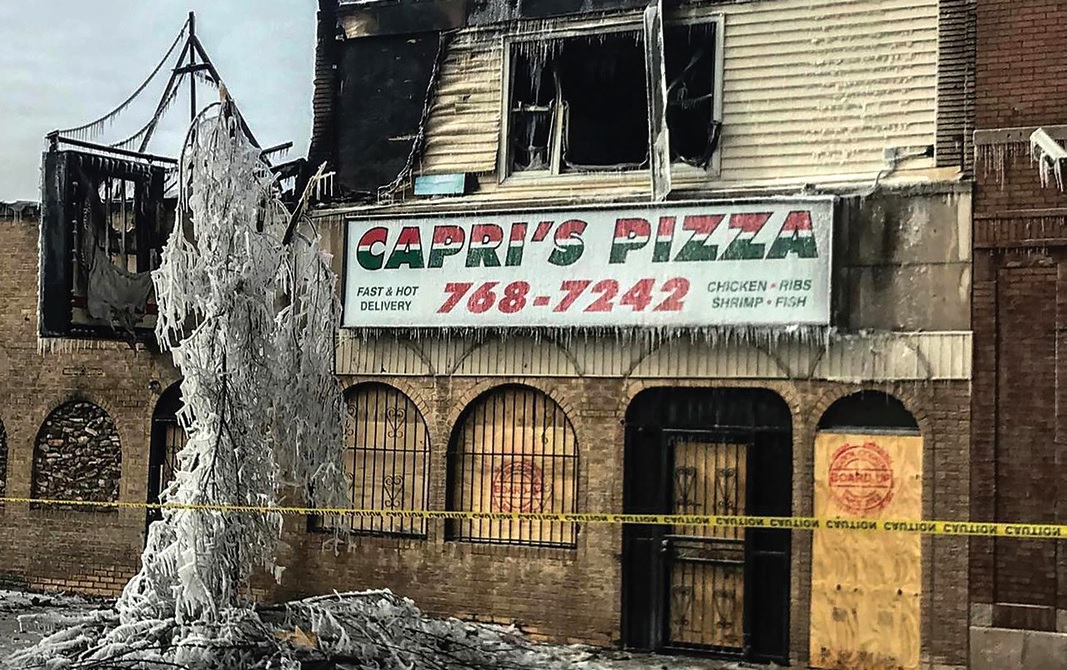 FIRE RIPPED through several buildings on Chicago's South Side, and one of them was a restaurant that's been there for generations. Capri's Pizza has been in business for more than 60 years. The owners are devastated and heartbroken by this fire. "I'm a little emotional. My father brought me to that store when I was 8-years-old and it just breaks my heart," said Capri's co-owner, Len Ciannamea.
It took five hours for firefighters to put out the flames. At around 2:30 p.m., the fire broke out at 8820 South Commercial Avenue. The fire department said more units were called to work the fire as it spread to two other buildings and the effort was complicated by high winds. "This was a very, very quiet place," said neighbor Barbara Frison. "It's just amazing to see this because you don't see fires like this".
The popular family owned restaurant in South Chicago has been serving the community for generations. Capri's Pizza opened in 1955 and the owners say they are thanking God that no one was injured. While the loss is still fresh for the Ciannamea family, they are certain they will make a comeback.
Chicago-Area Restaurant Closures
The Irving Park location of Chicago stuffed pizza pioneer Nancy's Pizza is closed. The Lakeview flagship remains open as well as other franchised locations in the suburbs and out of state.
White Oak Tavern & Inn—formerly John's Place since 1994 before an acclaimed farm-to-table re-concept in 2014—officially closed after the news broke of the pending shutter on February 7. Owner John Manilow thanked "the entire extended White Oak Chicago family" after its last service yesterday at 1200 W. Webster Avenue. John's Place Roscoe Village remains open.
Ownership of Sapori Antichi Bar Italiano, the downtown Italian spot from a gelato stalwart, says the restaurant at 22 W. Ohio Street has closed. But he also teases that there could be more to the story—and the Yelp page says it is scheduled to reopen on June 1—so stay tuned.
Honeygrow, the Philadelphia-based fast-casual stir-fry chain, is officially out of the Chicago area. The suburban Schaumburg location, which was its only Chicagoland restaurant that remained open after the three city spots closed in November, has been removed from the chain's website, is listed closed on Yelp, and its phone number is disconnected. The chain arrived in the Chicago market in August 2017.
Burnt City Brewing started as a gastropub with a bowling alley called Lucky Strike back in 1996. Steve Soble and team began brewing beer in 2012 as Atlas Brewing until switching names again in 2016 to Burnt City due to a trademark claim. Now one of Chicago's first brewpubs is packing up to move to West Town. The new space should open this spring.
Lockdown Bar & Grill, the prison-themed dive that specializes in burgers, is closing after the owner unsuccessfully tried to sell the business. Owner PJ Zonis said he needs the break after nine years of running the restaurant. Lockdown opened in 2010 with big burgers with names like "Arson" and "Hawaii 5.0" while playing loud metal on the sound system. If anyone is interested in saving the restaurant, Zonis invites investors with ideas to contact him.