Posted by estiator at 15 February, at 17 : 56 PM Print
Thousands protest against the name "Macedonia" – Greece is turning the page – Avramopoulos: "Solidarity cannot be à la carte" – Τhe goal is feasible and achievable – Τourist couple found dead on Greek island – Demand for asylum – Schools association protests ban – A turf war between rival gangs is feared – Turkish officers could be tried in Greece – New Democracy against Justice Minister – Homes will be auctioned off online – Per capita income in Greece data released – Souvlaki restaurant in Melbourne is featured in the NY Times – Half as many migrants landed in Europe in 2017 – Restaurant Week takes place in Athens – The first cosmonaut of Greek descent – Greece, Europe and the refugee crisis – "Avgi," the Mesolithic teenager, is revealed – Varoufakis told Tsipras…
Thousands protest against the name "Macedonia"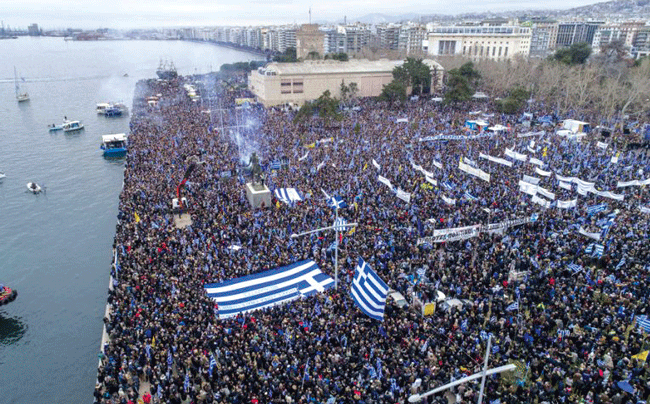 Tens of thousands of Greeks gathered in Thessaloniki to protest against the use of the name "Macedonia" in a solution to a dispute between Greece and the Former Yugoslav Republic of Macedonia (FYROM). Τhe Bishop of Thessaloniki Anthimos called on Greeks to join the rally, which comes amid a new United Nations–buffered push for a solution on the name spat.
---
Greece is turning the page
Greece and its lenders need to clarify whether and on what conditions there will be a "precautionary support program" for the country after its bailout ends in August 2018, the Central Bank said in a report. The European Commission's chief spokesman, Margaritis Schinas, told Greece's private E television that it is now a common conviction that Greece is turning a page and chapter, and that this is because of the trust that has been built up in Greece/EU relations over the last seven to eight years.
---
Avramopoulos: "Solidarity cannot be à la carte" 
Dimitris Avramopoulos, the executive European Commission's migration chief, has called for a more fair distribution of refugees among the states of the 28-member bloc.
---
Τhe goal is feasible and achievable
The economic conditions for a clean exit from the supervision in August 2018 have been formed. The country is on a growth course, the goal is feasible and achievable, said State Minister and government spokesman Dimitris Tzanakopoulos. Asked if the social benefit measures have a pre-election campaign character, he said that those who support it "can't understand the logic and the policy of this government." Tzanakopoulos' statement coincides with Attica Bank's chairman Panagiotis Roumeliotis, who was the former representative of Greece to the IMF. He said in an interview with ANA-MPA that developments in the last two years show clearly an improvement in the course of the Greek economy.
---
Τourist couple found dead on Greek island
Greek authorities say a young tourist couple has been found dead in a house they were renting on a western island, with initial indications pointing to a double suicide. Police said the couple, whose bodies were found on the island of Cephalonia, had been identified as a 30-year-old German man and a 23-year-old woman of Bulgarian descent.
---
Demand for asylum
The 66 public figures blast as unethical the government's effort to reverse granting of asylum. Sixty-six of Greece's best known academics, authors, and journalists have signed a petition blasting the Greek government's petition.
---
Schools association protests ban
The Hellenic Independent Schools Association has come out in opposition of a ban on school trips abroad imposed by Education Ministry. The Minister says only schools of Greeks abroad will visit students from Greece.
---
A turf war between rival gangs is feared
Investigators are concerned that the assassination of 57-year-old Vassilis Stefanakos in western Athens may spark a turf war between rival gangs, as one of the convictions that had landed him in prison was for running a protection racket. Police sources expressed these concerns amid mounting evidence suggesting that the assassination of the convict last week was carried out by professionals, likely hired by a business rival.
---
Turkish officers could be tried in Greece
In a sudden major twist in the affair of the eight Turkish military officers allegedly involved in the 15 July, 2016 attempted coup d'état . Greek justice minister says Turkish officers could be tried in Greece. Athens would consider honoring such a request by Ankara.
---
New Democracy against Justice Minister
New Democracy has accused the government of a systematic attempt to meddle in the judiciary, citing 22 cases in a lengthy parliamentary question for Justice Minister Stavros Kontonis. The text speaks of "an organised plan to control the judiciary," and says there have been continual government interventions in the judiciary over the entire three years the Syriza-Independent Greek government has been in power.
---
Homes will be auctioned off online 
Homes, building plots, agricultural land, and stores will be among the categories of assets that will be auctioned off online due to tax, insurance debts.
---
Per capita income in Greece data released 
In 2015, GDP per capita in Greece was 16,294 euros, a 0.7 percentage point drop from 2014. The wealthiest Greeks are the residents of Attica, who have the highest income level in the entire country, despite years of deep recession. According to regional data released by the Hellenic Statistical Authority, Attica in 2015 had GDP per capita of 22,192 euros (a 0.9 percentage point increase compared to 2014), followed by the Southern Aegean (18,153 euros, a 0.6 percentage point hike over the previous year), Western Macedonia (15,642 euros, a 4.2 percentage point drop) and the Ionian islands with a 2015 per capita income of 15,039 (a 0.2 percentage point rise).
---
Souvlaki restaurant in Melbourne is featured in the NY Times 
If army cook Thomas Deliopoulos had been told a decade ago that one day his food would be the subject of a review in The New York Times, he would have simply laughed out loud. Yet Kalimera, the souvlaki restaurant he opened in the Melbourne suburb of Oakleigh six years ago with his wife, photographer Sylvia Gabriel, prompted a tribute in the respected American newspaper to its pork gyros—and a well-earned one.
---
Half as many migrants landed in Europe in 2017 
Slightly fewer than half as many migrants reached Europe by sea in 2017 than 2016, the International Organization for Migration (IOM) said, with curbs finally cutting traffic on the deadly route from Libya to Italy.
---
Restaurant Week takes place in Athens 
After 12,500 foodies attended last year's event, the third Dine Athens Restaurant Week, organized by Alpha Bank, returns this year with more special offers to choose from at the 120 restaurants taking part in the initiative.
---
The first cosmonaut of Greek descent 
Cosmonaut Fyodor Yurchikhin Grammatikopoulos was welcomed by the President of the Hellenic Republic, Prokopis Pavlopoulos at the Presidential Palace. He is the first cosmonaut of Greek descent. Fyodor managed to be included in 5 spaceflights. Yurchikh has logged a total of 537 days on one space shuttle mission in 2002 and three long-duration missions on the International Space Station in 2007, 2010, 2013 and 2017. He ranks seventh in the world for time in space, just ahead of Whitson. Fyodor was born at January 3rd 1959 in Batoumi Georgia from parents of Greek – pontiaki descent, Nikolai and Mikroula Grammatikopoulou, who both live in Sindos.
---
Greece, Europe and the refugee crisis 
On the refugee crisis Greece see three short term priorities: First, the Greek islands need to be decongested immediately. More than 12,000 people are being forced to stay in overcrowded, ill-equipped hotspots. Second, asylum processing must be properly resourced—so that individuals who have a right to stay because it is not safe for them to go home are allowed to do so, and those who do not qualify for asylum are returned. Third, it is long past realistic to assume that Greece and Italy can carry the bulk of the responsibility for this response. Currently approximately 30,000 refugees are stranded on the Greek mainland.
---
"Avgi," the Mesolithic teenager, is revealed 
The reconstruction of the face of "Avgi," a teenager who lived in 7,000 BC, was revealed at the Acropolis Museum during an event bringing together scientists lecturing about the aspects of life in Mesolithic Greece. The remains of the girl named by orthodontist Manolis Papagrigorakis and his team after the dawn ("avgi") of civilization in Greece, were found in 1993 in the cave of Theopetra in central Greece. The reconstruction of her features involved an international team and a Swedish laboratory specializing in human reconstruction.
---
Varoufakis told Tsipras… 
Ex-finance minister Yanis Varoufakis has said he asked Alexis Tsipras whether he was "completely stupid" after the Greek prime minister agreed to a demand by international creditors in 2015 for large primary surpluses.
GREECE Cephalonia, FYROM, greek economy, Greek politics, Macedonia, protest, refugees, Thessaloniki