Posted by estiator at 6 February, at 20 : 24 PM Print
■ By BOB NICOLAIDES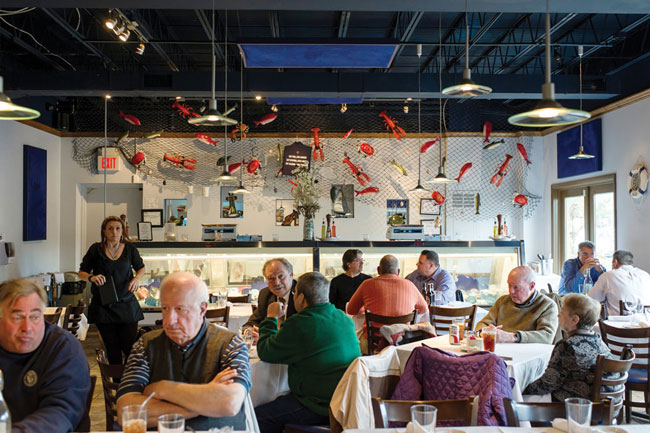 Since his school days, Michael Karamanis learned to love what usually filled his family's table, which was seafood, his father, Stelios, being in the wholesale business that provided it to markets and restaurants for 35 years, from his outlet called Pacific Fish Market (317 Cox Street in Roselle, NJ). Later on Michael got involved in the business, working every phase of it to the point that one day six years ago, he crowned this experience with a greater feat yet: He opened a restaurant where he would make use of his father's seafood, an idea as brilliant as one could ever think, using the merchandise from wholesale to retail and as a service in one step. Yet Michael didn't have to give his place a fancy name. Pacific Fish, or P.F., existed already from his father's business, so he simply called the establishment P.F. Market Restaurant.
Little did Michael know of the complexity of this business he was venturing into. Especially taking into consideration that whatever Michael has available on the menu for his guests is also available for purchase to take home and prepare for cooking. All he knew was that he was embracing the enterprise with all his heart, not only as an extension of his father's wholesale business, but as an exciting venture that opened new vistas for him and his bride, Philio, as they embarked on creating a family.
To be certain he as well accepted the long hours that went with the new venture, much longer than those he put in as a partner in his dad's business. Here, what was involved was much more than rising as early as 3 a.m. to go to the fish market and chose the best of the catch. Here he needed to interact with the kitchen and dining room staff, and with his customers, from noon to dusk. It meant that he had to stick around much longer after the last customer exited the door in order to assess the day's performance, discuss with his staff what transpired during those long hours, and to think ahead for the next day's activities.
How Michael decided to open a restaurant is an easy question to answer, but the story of finding the location is a bit more complicated. For some time, the younger Karamanis had his eye set on a certain location on Bloomfield Avenue in West Caldwell, near where he lives, and he watched two Italian dining establishments open there and then close. Undaunted by these businesspeople's failures, the young entrepreneur proceeded to obtain that space and transform it into what it is today.
Regrets he has none. Other than admitting to hard work, he has no complaints. The two floors' 20-odd tables bring in more than adequate profit for him to be satisfied. He looks for no expansion, either, kind of strange for a restaurateur. He is satisfied with what he's got and he looks for no more, knowing that one day, sooner or later, the entire Pacific Fish Market will be totally in his hands when his father decides to retire. Offers for partnership in more restaurants have been plenty, but all have been turned down for the same reason: the desire to enjoy a full life with his family and his two young children, Stelios and Melina, while they are growing up; maybe take a few trips with the family to the island of Chios, where his father was born.
Meanwhile the 16 regular items on the menu sell very well. Whole branzino and dorado, Chilean bass, tuna steaks, and salmon filets are all on display in a giant display case, each one accompanied by the retail price, should you want to buy some after you tasted it as your meal. Above the display, a giant net holds a myriad of plastic seafood and fish seemingly swimming on their paunches, ready to provide dinner for a predator. The seafood theme echoes the message on the waiters' backs, which proclaims "Eat fish, live longer; eat oysters, love longer; eat salmon, look younger." One must admit that's a powerful and convincing motto.
The décor is simple on the ground floor, and the second floor has the elegance of linen, candles and glass. Perhaps the ground floor was meant to evoke the informality of the seaside tavernas on their island of Chios, duplicated in island after Greek island in the Aegean and Ionian seas. At least so thought the New York Times critic Fran Schumer in describing the space in a very complimentary review three years ago.
P.F. Market is BYOB, since there is no liquor license; however, this deficiency is about to be wiped out any day now as management is getting a special wine license to carry a specific New Jersey-grown brand called Old York Cellar. Guests can still bring in the beverage of their preference, but it provides the comfort of knowing that if you have forgotten to pick up your favorite bottle, there will be some wine waiting for you!
Among the exceptional specials at P.F. Market are the calamari Chino, tuna tartare, squid, jumbo wild Alaskan king crab legs, fresh Maine lobster, Florida softshells offered any style you like, yellowfin tuna, Florida red snapper, and Eastern halibut. Whole fish imported from Greece are the branzino (lavraki) and the dorado royal.
The raw bar offers East Coast oysters, Bluepoint from Connecticut, Beausoliel from Canada, and Hood Canals from the West Coast, as well as Little Neck and Cherry stone clams.
It must be noted that Michael is not the only entrepreneurial person in the Karamanis family. His sister Viviane, who is getting married this September, is also in business, importing high-quality extra-virgin olive oil from Greece (one of which is called Artion, a product of Crete), honey, herbs, and herbal tea called Oreanthi for each mood.
P.F Market Restaurant is conveniently located at 1090 Bloomfield Avenue in West Caldwell, NJ (973-227-1007), not far from major arteries such as Routes 80, 46 and 280.